I did it! 
I finally made my dream a reality and can now play golf 365 days a year! You may be in the similar situation to where I was several years ago.
I know the feeling and the thoughts going through your head! Should I really spend the money to buy a golf simulator? 
Do I have the space? 
How much should I spend? 
Do I need financing? 
Will it help me improve my game?
These are all vital questions to making your SkyTrak home setup a reality!
From my perspective, after 700 plus rounds, it is well worth the money and I am thankful I made the leap several years go.  The amount of fun has been amazing, the game improvement has been impressive and most of all I have a place where I can play regardless of the snow, rain, cold weather or even the time of day.
No longer am I shut down between December and March as the snow blasts across the great lakes region of the United States.  Even in season, I have my own driving range and access to most of the top 100 courses in the world.
You have a great opportunity for fun with family and friends and the game improvement as been satisfying!
There are many questions that those who are researching the possibility of purchasing a home golf simulator have.  Below, I will help answer many of the questions and provide the different options and some thoughts on what is the best option.
There are many decisions to be made, but at the end of the day, it is worth it!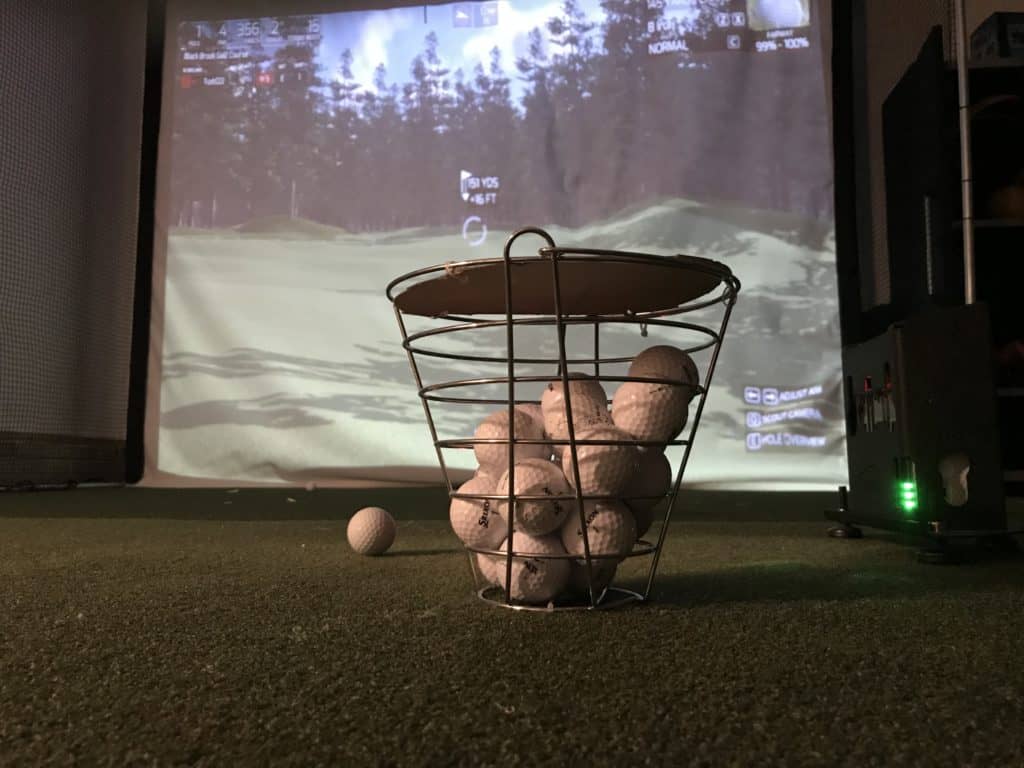 What are the essential parts of a SkyTrak Home Setup?
There are many essential parts to your SkyTrak Home setup..  These include: a space for your simulator, a hitting mat, a net or impact screen, a projector or monitor, and a computer or Ipad.
Overall the basic setup of a SkyTrak is simple and is a reason many select the SkyTrak.  Simply taking it out of the box, charging it, downloading software on your computer or ipad and then connecting. 
The directions are simple to follow and before you know it you will be hitting your first shot.  Before we get to that point, we know there are many questions to be answered.
I will take you through the different decisions that need to be made.
Should I purchase the SkyTrak?
We know we need the brains of the operation.  This is the launch monitor that you will purchase.  I highly recommend the SkyTrak for many different reasons. 
Affordability, accuracy, simplicity in setup, and the ability to use indoors and outdoors.  It also is compatible with arguably the best software on the market – The Golf Club (TGC) software.  The graphics are amazing on TGC and it brings your SkyTrak to life!
The simple out of the box setup is difficult to match in the golf simulator market!
For more detail – Check out my post – Top 11 reasons to buy a SkyTrak!
How much space do I need for my SkyTrak?
You will need a minimum of 10 feet wide by 8.5 feet in height.  As far as depth you will need around 15 feet. This is often times the first question prior to pricing out the cost of a golf simulator. 
Most people dream of installing a golf simulator as it provides an opportunity to play golf 365 days a year and not have to worry about snow, rain or cold weather.  
This is a key question that you must answer.  Find your dream space, whether in your basement, garage, spare room in the house of even a shed. 
Clear the space out, pull out the tape measure and figure out what you have to work it.  Some people are able to build a dream setup with at least 16 feet of width, 25 feet of depth and a high enough ceiling. 
Others just simply need a space to swing the club.  Regardless, it is worth it and can be rewarding!
Complete Overview – How much space do I need?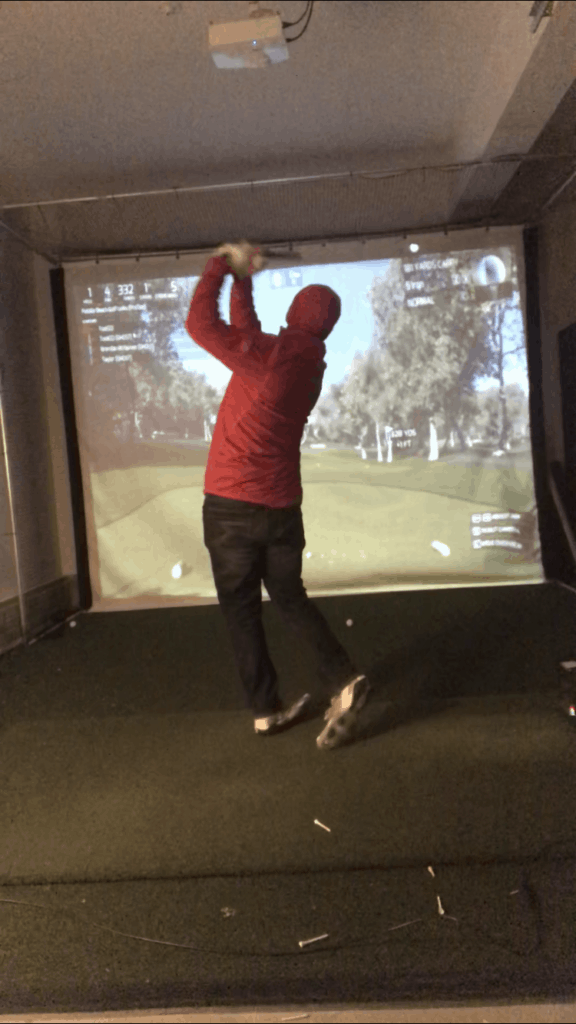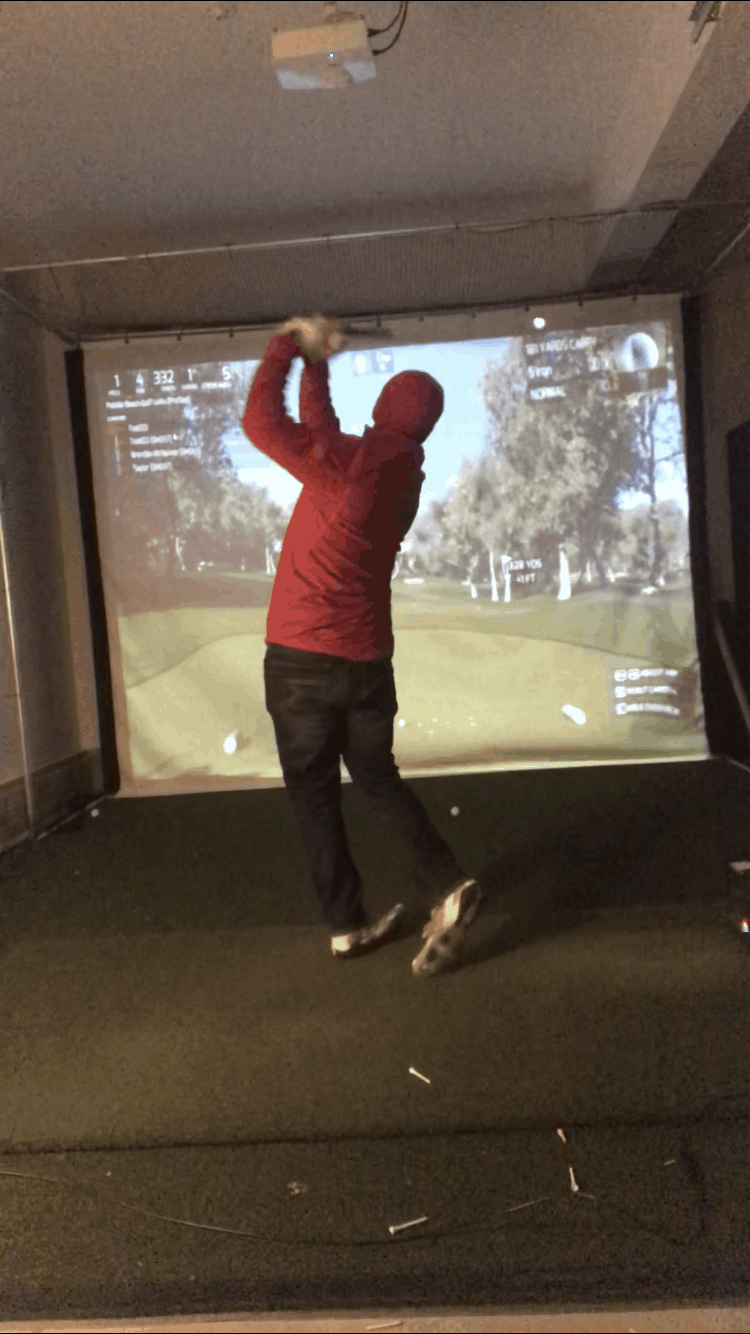 Which hitting mat is best for my SkyTrak?
You want a quality hitting mat that will last, is large enough and is easier on the hands and arms.  The last thing you want to do is take the cheap options and not be able to hit as many shots as you want or to accommodate both right handed and left handed golfers.
I went with the wider mat, one that is 9 feet wide and it has been stable, soft on the hands and allows me to use a real tee, which was important to me!  Over 700 rounds later and many practice sessions and the mat is holding strong and is still in play!
I will recommend spending some decent money on this part of the purchase.
Here are my TOP 3 recommended hitting mats!
Should I buy a net or enclosure/impact screen?
If you want the full experience go with the enclosure and impact screen setup.  I would highly recommend the options at Rain or Shine golf as they have the right enclosure and impact screen for different sized spaces and different budgets. 
They also have some great financing offers where everything can be packaged together for a low monthly payment!
If you are on a tight budget, getting a net with an monitor can serve the purpose of allowing you to hit shots and get some great feedback from your SkyTrak Launch Monitor.  The screen and enclosure is something you can add at a later date!
Here are my TOP 3 recommended Enclosures/Impact Screens
Should I buy a projector or monitor?
If you have the right budget to purchase the enclosure/impact screen and projector, go ahead and go all out with the projector.  If you are building in sections, the monitor paired with a net can get you by for the time being.  Someday you will probably want to add these two components.  
Make sure when picking out the projector that you go with the short throw projector which allows you to setup somewhere in the 6 to 8 foot range from the impact screen. 
This allows for the best setup and one that looks professional!  The projector can be placed on the floor or mounted on the ceiling!
Best Golf Simulator Projectors
Golf Projector Placement (2 options)
Should I buy a computer or Ipad for my Skytrak home setup?
The computer will allow you to pay for and set up the TGC software, which in my opinion helps make the SkyTrak a great option.  One that is realistic with access to many courses.  You can go with the Ipad if you simply want to use the SkyTrak driving range.
Understand that you will need a gaming computer with a quality enough graphics card that is compatible with the TGC software!
I would recommend buying everything in a package from Rain or Shine Golf.  When you combine the package with financing you can get started and make your dream a reality!
Rain or Shine Golf has excellent options and customer service:
Can I get financing?
Yes, Rain or Shine golf has some excellent options to get you started.  This allows you to buy everything at once for a monthly payment.  I went all out with my simulator setup the first time and I haven't regretted the purchase at all!  
How much money can I expect to spend on a SkyTrak Golf Simulator setup?
You can expect to spend between 5-7 thousand dollars for a quality setup.  If you want all the bells and whistles, maybe even slightly more. 
Or you can find ways to cut some of the corners and use existing mats, monitors, computers, etc to reduce your overall investment and just start with the SkyTrak which is only a percentage of the total golf simulator build budget!
The great thing about the SkyTrak is that it can be used indoors or outdoors and is versatile!
How accurate is the SkyTrak?
I find it very accurate.  Quick story, the SkyTrak has a slight delay (no big deal to me) and I was playing with my father the other day.  I would hit a shot and be able to predict where I missed it! 
I would hit and say, I think that is going to over draw left and sure enough it would overdraw to the left.  I continued on and on and didn't realize how much my feels had aligned with how I was hitting the ball and accuracy of my feels. 
This has helped me build my feels and understand what a good swing feels like and what a miss feels like.
Check out this complete post on the accuracy of the SkyTrak!
Final Thoughts: My Secret To Golf Improvement
Let's face it, in order to get really good at golf, we must practice frequently.  About three years ago, when I made the leap and invested in a golf simulator build for my garage my game improved greatly! 
I obviously went with a SkyTrak Launch Monitor and the TGC software and now play over 100,000 courses including Augusta, Pebble Beach, Bethpage Black, Whistling Straits. St. Andrews and many other of the top 100 courses in the world.
This golf simulator setup, which is more affordable that you might imagine, has been a game changer.  I can now practice or play golf everyday of the year regardless of rain, snow, cold weather or time of day (a complete game changer in your journey to improve!).  
I can practice or play rounds of golf.  I can stand in the 11th fairway at Augusta and with the auto-rewind feature I am able to practice my approach shots from various differences.
It is worth checking out through Rain or Shine Golf as they offer some incredible packages along with financing offers that are difficult to beat.
Some direct links to Rain or Shine Golf for pricing and financing: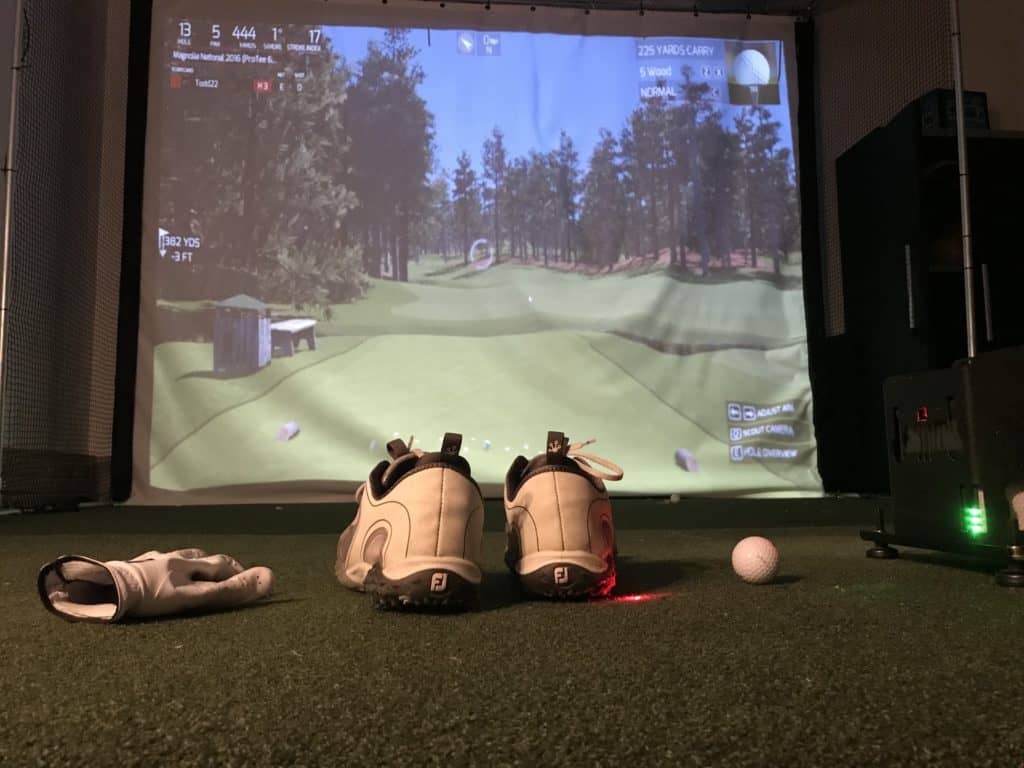 Take Action – What You Can Do Today to Get Better
What does this mean for you?  I believe in the following recipe to get better:
1 – Improve your motion in the golf swing by identifying a golf instructor.  Here are some options:
Here is a list of golf instructors that we have reviewed:
2 – Train to swing faster and improve your swing speed.  Here are some options:
Looking to gain more Speed and Distance in your swing. Two Options:
3 – Understand course strategy and work to break through your next barrier.  Here is a series on breaking through:
We have provided guides on how to break 100, 90, 80 and 70. Check out more below, if interested.
4 – Practice Frequently
Did you know that I build a golf simulator in my garage and have played over 500 rounds of golf on my SkyTrak system?  It has been a game changer and one worth checking out. Here are some of my other posts on golf simulators frequently asked questions: