For those of us that love the game of golf, we enjoy looking back at the best golf swings of all time and marveling at the power, consistency, accuracy or tempo that a golf swing had.  There are many that come to mind when you start to create a list, but we did our best job through much debate and discussion to identify our top 15.
Our goal at golfjourney365 is to learn from these swings.  What can we take away from these golf swings that can help us play better?  That is our goal here, to identify something in the swing that provides us with a little bit of insight into something we can apply to our game. 
We have broken the top 15 swings down into our #1 for tempo, accuracy, power, driver, irons and my overall favorite. We wrap it by providing our number one takeaway from the all time great swings.
We believe we are all on a journey with the game of golf and we want to play our best and hope that our content can help you play your best.  Golf is the greatest sport in the world and we hope that you get to play often and enjoy the many benefits of a round of golf and being on a journey to improve physically and mentally.
Check out our Top 10 Weirdest and Most Unique Swings of all time.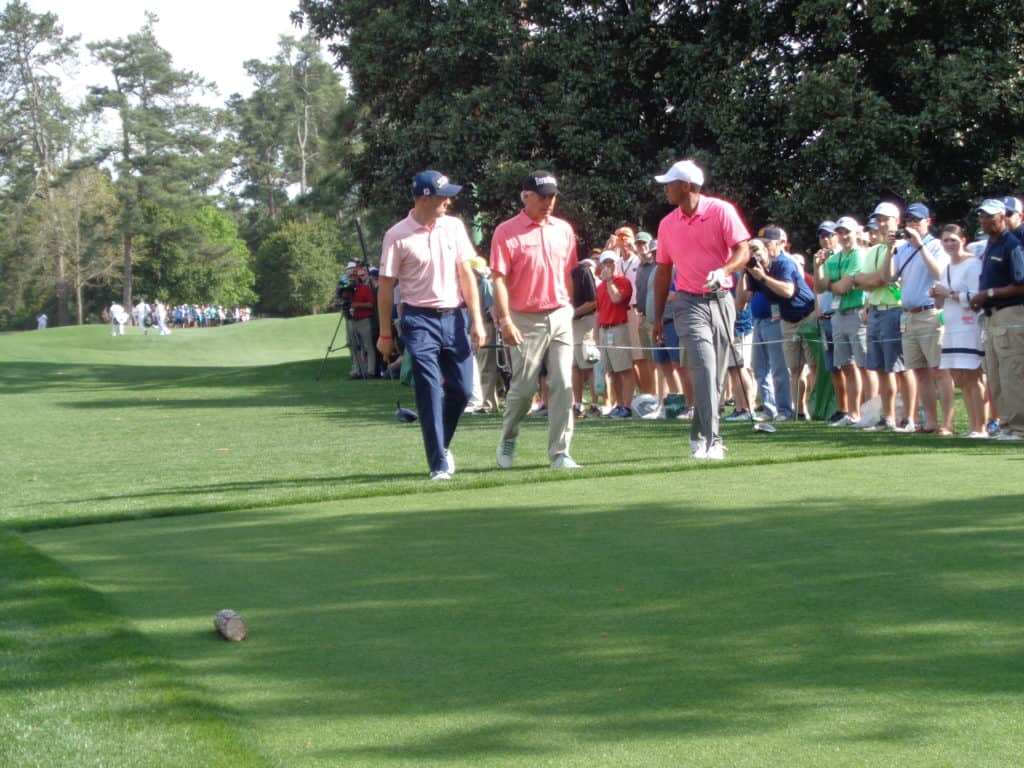 Here is our list: Best Golf Swings of All Time
Tiger Woods
Ben Hogan
Sam Sneed
Bryon Nelson
Tom Watson
Fred Couples
Ernie Els
Jack Nicklaus
Bobby Jones
Arnold Palmer
Michelle Wie
Rory McIlory
Seve Ballesteros
Steve Elkington
Lee Trevino
Update: Some golfers might be missing from the list include Gary Player, Walter Hagen, Gene Sarazen and Harry Varden. One thing we see in the game today is more of a return to a free flowing swing with a complete turn as we move away from the hip resistant swings of the 1990s and 2000s. These swings more closely match the "old school" swings that had a complete turn and looked more fluid than the more modern swing.
Will golfers like Brooks Koepka, Dustin Johnson and Justin Thomas eventually make it on the list? We will see how many more majors they can add int he coming years!
Best Swings of All Time: Tempo
There are several on the list that jump out for the amazing tempo that they swung the club with. We always notice the tempo in a golf swing and sometimes if it has a great tempo it can rank higher on a list than probably it should.  Fred Couples, Ernie Els and Steve Elkington all had tempo that the majority of us would love to have.  
Check out Fred Couples' Tempo:
What can we learn from Fred Couples' Golf Swing?
The tempo is truly amazing.  The compilation video above might make you better just from watching.  He appears to remain so calm and smooth in the swing and allows the club to do the work.  At times it appears that he is barely swinging, although we know that he is swinging hard especially with the driver.  
For those people that love positions in the golf swing than Fred Couples swing might not appeal to you.  He swings the club high, the elbow is flying, but then he is able to slot it and the club just falls from the sky and boom, he delivers with such power and grace. 
Maybe a golfer that should have won more, but struggled with back issues the majority of his playing career.  If I could pick the tempo of any golfer that ever played the game and put it into my game, I would take Fred Couples tempo.  Simply amazing! What we can learn from Fred Couples:
Be patient
Let the club work
Throw the club down the fairway
Best Swings of All Time: Accuracy
We have all at one time or another dreamed about hitting every driver down every fairway and keeping the game simple.  Accuracy is sometimes overlooked in today's game, but the ability to play from the fairway and the stress free rounds that can be produced from knowing the driver is on that day can make the game so much more fun. 
There are some golfers on our list with incredible accuracy including: Ben Hogan, Tom Watson, and Byron Nelson. The one that jumps out the most is Ben Hogan
Check out Ben Hogan's Golf Swing:
What can we learn from Ben Hogan's Golf Swing?
Ben Hogan's golf swing might be the most studied golf swing of all time. Books have been written, entire youtube channels created all in a journey to better understand what Ben Hogan was doing in his swing.  
At one point in his career, he was able to solve his issue he had with hooking the ball and was able to develop the go to fade shot with the driver that helped him with 9 majors and could have been much more, but didn't have the same opportunities as others due to different circumstances.  Ben Hogan was a true hero to many because of his path to greatness and the amazing golf swing that he carried.
He never shared his "secret" and instead that the secret is in the dirt.  This led to many people studying his swing, watching video and claiming they know what Hogan's secret was.  Being too young to ever watch Ben Hogan live, I turned to the replay of the match on Shell's Wonderful World of golf between Ben Hogan and Sam Snead, what an amazing treat to watch.  I don't think Ben Hogan missed a fairway or green for the entire round.
The most amazing part about his accuracy was the power that he also possessed.  He wasn't just steering the ball out there, but had great speed though his swing.  What we can learn from Ben Hogan's swing:
The simplicity through the swing plane
The centering of the weight shift
The fluid motion through the ball
One of the most popular books of all time, Ben Hogan's book can be found below:
Best Swings of All Time: Power
Many of the names on the list above exhibited some excellent power in their golf swings throughout the course of their careers.  Michelle Wie changed the women's game forever with her power and was able to play in some PGA tour events.
Jack Nicklaus overpowered courses and hit clutch shots his entire life and Tiger Woods changed the game forever with his power and overall athletic ability.  Arnold Palmer swung with all his might and played a sweeping draw during his career. Overall, there is a great deal of power.  
Check out Arnold Palmer's Golf Swing:
What can we learn from Arnold Palmer's Golf Swing?
Arnold Palmer is someone who owned his swing.  He wasn't trying to replicate some swing that he saw from the past or in some major golf publication.  Instead he owned his swing and made the most of it. From the stories we hear, he loved to emphasize the importance of the grip.  He wanted to keep the game simple and play his game.
His mindset and mentality are something we could all benefit from.  He didn't back down from challenges at all, he loved to drive the ball and to embrace the challenge. 
I have a personal story as I was fortunate to play a course Arnold often played while he was in the Coast Guards.  He played a course called Pine Ridge Country Club where he would try to drive the 330 yard dogleg left par 4 9th hole.  
While I never got to play the hole with Mr. Palmer, the stories about the great shots he hit there were often told by the old timers that did play with him or caddie for him at one point.  I heard from at least 5 people the stories of Arnold Palmer driving that 9th green.
I tried many times after that and wasn't ever able to. I would have loved to witness this in person, but the stories were always amazing to take in.
Best Swings of All Time: Driver
There are so many great drivers of the ball on the list, but the one that stands out the most to us is Rory McIlroy.  A perfect combination of speed, power, control and athletic ability provides us with a great deal we can learn about Rory McIlory and his ability to drive the ball better and maybe the best of all time.  People rave about his ball striking and his overall power and accuracy with the driver.  
Check out Rory's Driver Swing:
What can we learn from Rory McIlory's Golf Swing?
Rory does just about everything perfect in the golf swing.  The setup is textbook, the takeaway and smooth and in rhythm, the transition is flawless as he engages the group for extra power and then there is nothing holding him back as he fires through the ball and hits a driver unlike most golfers ever have.  The driver swing might be the most beautiful site in golf today.  
My biggest takeaway from Rory is that you can train your swing and your body to get additional distance and accuracy.  When he first turned pro, he was a soft looking young man without much muscle and some excess body fat.
He transitioned his body to match the type and style of game that he wanted to play.  Some may criticize him for this, but I believe it has helped his game, his brand and his overall confidence. We can learn the importance and the power of training for what we want.
If you are someone that wants to train for higher swing speeds, we would highly recommend the SuperSpeed Golf System.  Here is our complete review.  
The complete story isn't finished yet with Rory as he bursted on the scene winning 4 majors and we expect him to win many more in the coming years.
Bonus – Rory talking about hitting the driver:
Best Swings of All Time: Irons
In today's game, it seems that everyone wants to talk about distance with the driver and we can understand why, but we all know that you must be able to stick the iron shots close to have the best chance to make the birdie putts. 
I think many people would agree that the best iron player of all time is Tiger Woods. We have been fortunate enough to witness his ability to control the ball flight with his irons. He can hit any of the 9 patterns of golf shots on demand.  
Check out Tiger Wood's iron swing:
What can we learn from Tiger Woods' Iron Swing?
The number one takeaway from Tiger's iron swing is his ability to work the ball and control the distance of his irons.  Some might go right to the power that he exhibited early in his career. Tiger feels confident that if played a match from 5 iron on he is the best in the world. 
In his prime he seemed to hit everything pin high and truly control his distances. HIs ability to flight the ball and play in any conditions is truly amazing. He won the British Open several times playing irons off of many tees.  His ability to hit the stinger shot was highly impressive.
Overall, Tiger Woods has many years of dominant golf.  His ability to hit iron shots and give himself a chance for birdie on a high percentage of the holes made him fun to watch and so dominating.  His short game and putting and the ability to scramble for par made him the most dominating golfer possibly ever.
Bonus – Tiger Woods on how to hit the stinger:
Best Swings of All Time: Winning
On our lists the golfers have won several hundred tournaments and many major championships, but there is no better all time great when it comes to winning than Jack Nicklaus. 
He is the current leader in the clubhouse with 18 total majors and Tiger Woods currently sits at 15 majors. Jack Nicklaus has a swing that is powerful and clutch. While his swing is not studied like Ben Hogan's I often wonder if we are missing out on something great as he won more big tournaments than anyone in the history of golf. 
His flying right elbow and powerful follow through are easy to spot from several holes away. He changed the game with his power and his overall size and strength.  
Check out Jack Nicklaus' golf swing:
What can we learn from Jack Nicklaus' Swing?
Jack had great power and precision, he swung hard and was maybe the best clutch player of all time.  He kept his swing simple and at the beginning of every season would spend time with his swing coach to make sure the basics were all set: grip, posture, stance and alignment. 
My major takeaways from Jack's swing is that it doesn't have to look perfect to be the best golfer of all time. Too many of us spend way too much time trying to get into the perfect positions to play our best golf.  Instead can we make a commitment to trying to hit the shot that the course calls for?
Can we worry more about the motion we are making and less about whether we are hitting p4 or p6 in our golf swing? I think the golf world could experience better way with less focus on certain positions in the golf swing.
My Favorite Swing of All Time: Sam Snead
I absolutely love the golf swing of Sam Snead.  He was so smooth and fluid and wasn't worried about using a high speed camera to figure out if he was hitting certain positions.  He also wrapped the club inside a bit and his hands had a slight over the top movement, but he owned his swing.
He was able to repeat it frequently and hit the shot that was needed.  I also love the full turn and the follow through which is so graceful. The leg action and the straightening of the back knee was so perfect. He maximizes his swing speed and uses tempo to stay online and be one of the best.
Check out Sam Snead's swing:
What can we learn from Sam Snead's swing?
One bottom line with Sam Snead, own your swing and be fluid.  Stop trying to get into so many positions and worry about maintaining flex in your back leg or taking the club straight back.  These are highly promoted by many of the instructors out there today.
Instead make an athletic motion and play more target based golf where you see the shot and then hit the shot.  We are all athletic in some way and many of us overthink the golf swing trying to hit certain positions that we see in golf magazines. 
Final Thoughts
We often hear the standard golf instruction that includes the following list:
Set up with a straight spine
Take the club straight back
Keep flex in your right knee
Move your head off the ball or don't move your head off the ball
Squat and Turn through the shot
Make sure your alignment is square
Make sure you have the perfect grip
And what do we see in all of these swings?
Some of the golfers aimed right like Arnold Palmer, others aimed left like Jack Nicklaus or Lee Trevino.  Some had strong grips and then some had weak grips like Ben Hogan. Some took the club straight back like Rory McIlroy, while others wrapped it more inside like Sam Snead.  Ben Hogan fought a hook until he weakened his grip.
Tiger Woods changed his swing many times and went from moving off the ball to staying more stacked on the ball. The point being is that there are many different ways to swing the golf club, one must own their swing and be able to repeat their swing.  You don't have to hit all the positions in the golf swing, but instead you should swing through the positions.
I believe it comes back to the three fundamental expressed by Andy Plummer and Mike Bennett:
Control the bottom where the club hits the ground.
Control the curvature of the ball and be able to predict it.
Have enough power to play the course
These truly are the three fundamentals and the commonality among these great swings.  Their swings let them strike the ball solid just about every time, they could control the curve of the ball (some played a fade, while others played a draw) and they all had enough power to play a course.
Don't forget to check out our Top 15 Weirdest and Most Unique Golf Swings
Take Action
What does this mean for you?  I believe in the following recipe to get better:
1 – Improve your motion in the golf swing by identifying a golf instructor.  Here are some options:
Here is a list of golf instructors that we have reviewed:
2 – Train to swing faster and improve your swing speed.  Here are some options:
Looking to gain more Speed and Distance in your swing. Two Options:
3 – Understand course strategy and work to break through your next barrier.  Here is a series on breaking through:
We have provided guides on how to break 100, 90, 80 and 70. Check out more below, if interested.