We have all dreamed about that perfect round.  You know, the one where things always go right and putt after putt finds the bottom of the hole.  You are blasting your driver and splitting the fairways. Hitting the greens in regulation and making even plenty of one putts for birdie or maybe even an eagle.
Even when you miss a green in regulation, you chip the ball to within 2 feet for a no pressure tap in par.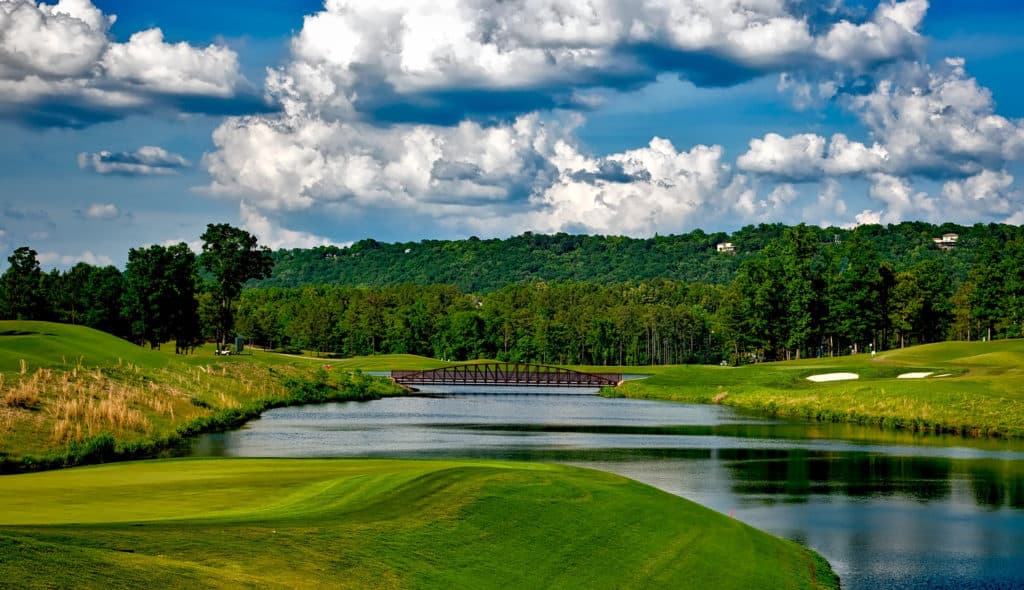 Yes, we can all dream about the perfect round, but the reality of it happening is probably pretty slim.  Even the rounds on tour where a person shoots 59, they probably remember the one or two shots that got away.
This past summer at the Golf Club of Dublin in Dublin, Ohio, I was fortunate enough to shoot a 68.  I learned a great deal from this round and share my story and my tips – what I learned from this round of golf and how I think it can help me moving forward and more importantly help your game as well!  My career best round of all time took place in 2016, when I somehow shot a 65 on a 6300 yard course called Legend Lakes Golf Club in Chardon, Ohio. I reflect on this round as well and share some insights that can help your game.
One of my secrets to breaking 70 is playing year round in my golf simulator. Learn more about how you can make this possible!
So what does it take to break 70 in golf?  Here are my top 10 insights or tips to help you break 70 in golf at some point in your career.

1 – You have to be patient
2 – Your short game must be clicking
3 – You have to save par when you miss the greens
4 – You have to manage the course golf and your game
5 – You must catch some breaks
6 – You must take advantage of birdie holes
7 – You must give yourself a shot for birdie on a higher percentage of holes
8 – You have to believe that you can
9 – You have to avoid the distractions
10 – You have to enter with the right mindset
Round of 65 – October 2016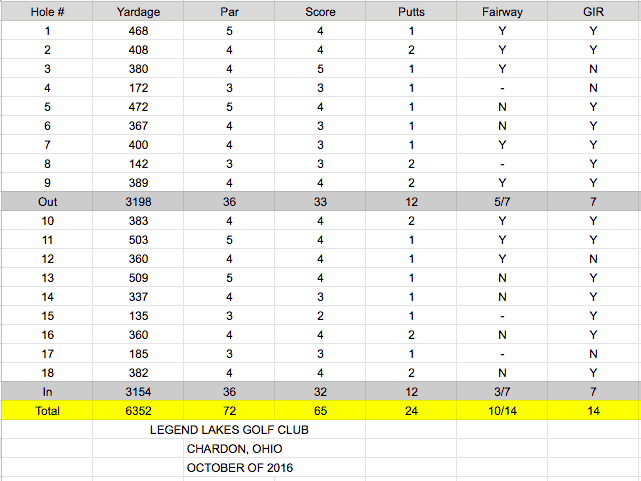 Round of 68 – July 2019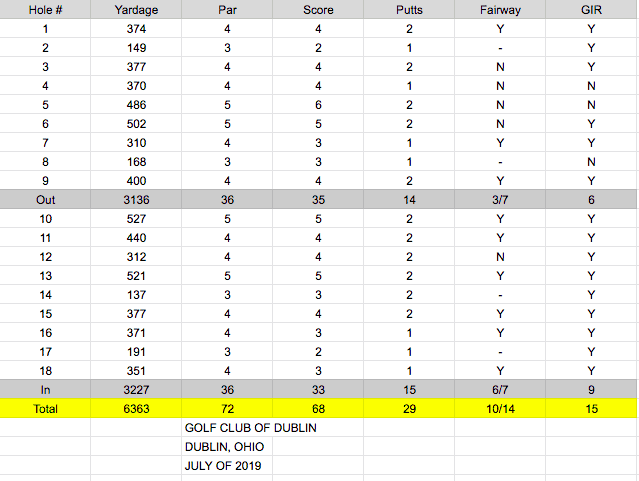 Looking to gain more Speed and Distance in your swing. Two Options:
SuperSpeed Golf – Read our Full Review
Gain 30-40 yards in 30 Days – Swing Man Golf
1 – You have to be patient
We have all fallen in the trap of rushing our start and trying get 5 under par on the first hole even though we all know it is a 4 hour journey in our round of golf.  We must keep in mind that that we are going to have peaks and valleys during any round of golf and how we manage that will be key. In the first couple of holes for the round, you should focus on your routine and the swing feels for that day.  Rushing through or having too high of expectations will only lead to disappointment, frustration and the end result will be a higher score than your goal. On of these two days, I didn't set out to shoot 65 or 68, but instead I was out to enjoy a round of golf and the challenge that the game of golf brings.  I stayed within my game and managed everything pretty well.  
Tip: Focus on the process, not the results.  You can't force results! But with the right process and mindset they will happen!
Check out our Recommended Products page on Golf Swing/Training Aids, Golf Balls, Golf Shoes and more. 
2 – Your short game must be clicking
The old saying, "drive for show, putt for dough" was very accurate in each of my rounds.  On the 68 round, one of my playing partners hit his driver more frequently past mine and straighter than my ball, but I was able to sink putts at key times and keep the pressure on him.  In the round of 65, I only had 24 putts and hit 14 greens. I was able to roll in 8 birdie putts. Simply, it was a magical day with the putter. In the round of 68, I had 28 putts and hit 15 greens.  
Best Golf Practice Games – 22 Games Your Can Try
Tip: Trust your line when putting.  Make your read, line up your ball and commit to that line.  Too often we can second guess our line which only leads to an uncertain stroke with the putter.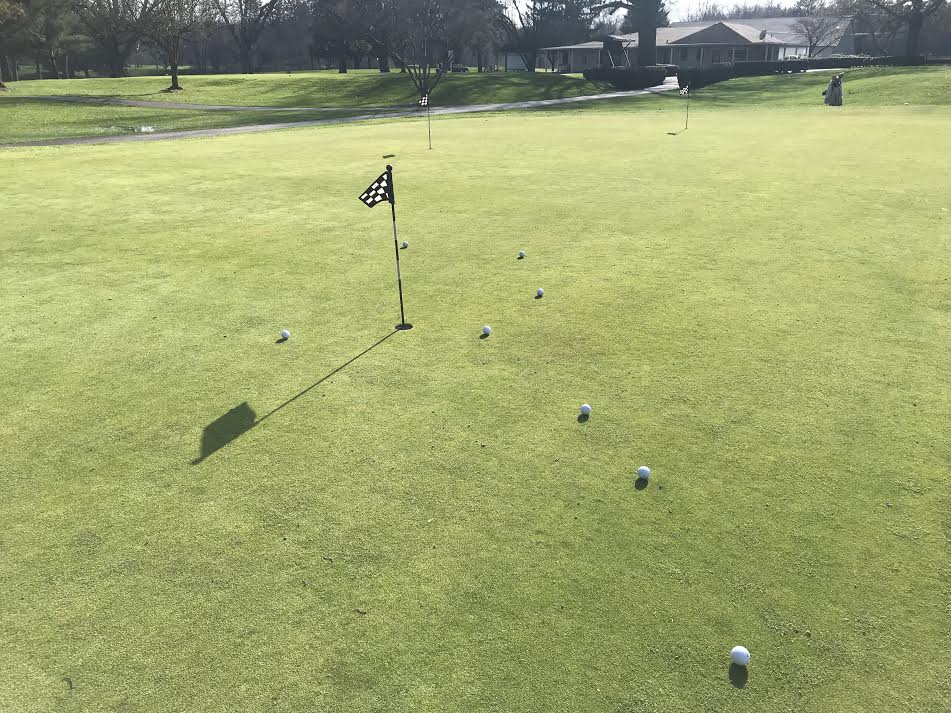 3 – You have to save par when you miss the greens
The number one way to keep momentum going on a round is to get up and down for par when you miss the green in regulation.  In my round of 65, I was able to get up and down 3 out of 4 times. One was even to save a bogey. In my round of 68, I was successfully 2 out of 3 times saving par with my short game.  In the round of 68 I had two penalty strokes. One came on a par 4 where I had hit my drive into the water right. I took my drop, hit my approach shot on and made the putt to save par. On the next hole, I hit my drive again into the water, but could only manage to score a 6 on a par 5.
Tip: Too many golfers get frustrated when they miss a green.  It is going to happen. Stay with your routine, have a go to shot and keep it simple.
4 – You have to manage the course golf and your game
The course designer is trying to tempt you to hit certain shots in certain places that bring higher scores into play.  Play smart, keep yourself in play and know that the truly dream round happens when you can hit greens in regulation and your putter turns hot.  Everyone wants to hit the big 280 yard plus drive, but the true key is putting. Yes, overtime the longer hitter will more than likely score lower, but once again let the round come to you and be patient.  On the round of 68, I hit 3 wood off of 3 tee shots in the back because of water trouble and giving up two penalty shots on the front nine. I ultimately caught a hot putter starting on hole 16 and was able to birdie the last 3 holes.  The approach shots that are comfortable distances are key to hitting it close and providing a good opportunity to make a birdie.
Here is a breakdown of our top 5 online golf instructors
Tip: Know what your comfortable distance into a hole is on a shorter par 4 and take advantage of that distance.  Reverse engineer the hole and think about where you want to play your approach shot from.
5 – You must catch some breaks
The reality is that you must catch some breaks and be able to take advantage of them.  Keeping your mindset of being patient and letting the opportunities come to you will be important.  When you hit the shot that is headed left and hits a tree keeping you play, make sure you are dwelling on the bad driver swing and instead focus on the next shot and how you are going to make par.
Tip: It is difficult to force a birdie and not bring a big number into play.  Playing the percentages over the course of a round will ultimately lead to the lowest score possible for you.
6 – You must take advantage of birdie holes
When there is a birdie hole, you want to take advantage of it.  Par 5s and short par 4s are usually our best opportunities. Stay within your routine and hit the shot that the hole calls for.  If you don't make birdie do not beat yourself up as you head to the next hole, instead look around and be thankful that you get to play such a great game.  Keeping perspective after bad things happen will help you in the long run.
Tip: Keeping the mindset that you can only control your response to events that happen wil lead to better outcomes.  You do not control the events or the outcomes only your response. Manage your response on the golf course and in life.
Need some speed in your game – Here is our review on SuperSpeed Golf
7 – You must give yourself a shot for birdie on a higher percentage of holes
Scrambling for par all day can be a stressful way to try to break 70.  While it can be done, I think one needs to hit about 12 of the 18 greens in regulation.  This will not only help reduce the number of times to save par, but will also give you the birdie opportunities that you need to sink some putts.  Realizing that three birdies is the minimum number of birdies needed to break 70 on a par 72 course. It also helps reduce the stress in your round, by not grinding away all round. This keeps you fresh and ready to take advantage of a hot putting streak.  You want those 5-10 footers dropping for birdies instead of pars.
Tip: go with your "go to shot" for that round. Find your swing within the first couple of holes and ride that shot pattern.  Too many times we can get caught into the trap of playing the perfect shot, instead of what we have that day.
8 – You have to believe that you can
Too often how we all respond after a bogey or a penalty stroke is not good.  We let our emotions get the better of us and next thing you know there is a double bogey on the scorecard.  Keeping in mind that we can only control the controllables, but more important a positive self talk routine will go a long way in reaching the goal of breaking 70. Face the situation head on and speak in the positives. For example, hit the right side of the green or talking to yourself about the 3 yard fade for the tee shot will keep you in the moment. 

Tip: look at where you want the ball to go, tell yourself to hit it there and stay positive.  What not to do…look at the water hazard and tell yourself don't hit it in the water. The brain doesn't understand the "don't" in that statement.
9 – You have to avoid the distractions
Funny story about my round of 68. On the 12th hole, which is a shorter par 4, there was a water hazard completely down the left side.  I had already taken two penalty strokes that day from water hazards. I pulled my 3 wood and my playing partner starts razing me about not hitting driver.  I tee off and safely down the right side, he proceed to hook his shot in the water. I had a 12 foot birdie putt, he made double bogey. It would have been easy to get sucked into the ego part of hitting the driver, but I held firm and played my round.
Monte Scheinblum – 10 Things We Love About Monte!
Tip: your ego can be a distraction, don't let it be. Also, play your game and don't get distracted by what others are doing. Pre planning your round, if you have played there before, can help keep the emotion out of your decisions.
10 – You have to enter with the right mindset
Sometimes work, family, or other things on your mind can be difficult to set aside. However, enjoying the weather, your friends and the opportunity to play golf can be helpful in your overall mindset.  It's difficult to play golf angry or with anxiety. Try to relax and enjoy, your score will thank you.
Tip: before each shot, look around and have a positive thought about how lucky you are to be playing golf! Enjoy the outdoors, the weather and always remember that a bad day at the golf course is better than a good day at work.
8 Holes That Standout And Made A Difference
Hole #4
I drove the ball in the hazard to the right. Having never played the course before I was unaware of the water hazard and thought I had hit a decent shot that was going to be in the right rough.  Boy was I wrong! However, I took my drop, remained calm and hit a decent approach shot on the green and made the par putt. What a round saver!
Hole #7
After two frustrating penalty strokes on holes 4 and 5. I came to this difficult, but short par 4.  There was water all down the left side and a perfectly placed tee shot sets up a birdie, but a faulty tee shot can lead to a double bogey.  I focused in, eyed my target and hit the spot, leading to a birdie and moving to one under par. There was no bail area with the tee shot.
Hole #8
I found the bunker on this par three, but got it out of the there, onto the green and ran in a 25 footer for the par save.  Another round saver!
Hole #9
There is trouble on both sides of the hole.  I opted to hit the safe three wood, hit the green and made my two putt.   I thing spectacular but I avoided the big number and kept the round at one under as I made the turn.
Hole #12
Pulled the three wood and was razed by my playing partners and playing conservatice.  Keep in mind I was still one under and they weren't. I hit a safe shot and gave myself a twelve foot birdie putt that I was unable to omconvert.  However my playing partner hit drive and found the hazard.
Holes 16-18
Played these holes perfect. Hit fairways on 16 and 18, hit the greens and ran in a 4 footer and a 25 footer.  The 17th is a par 3, hit it to 12 feet and made the putt. I finished with three birdies and got to four under for the round!  I was able to capitalize on some quality approach shots and found the putter late in the rounds. This helped me break 70 for sure! After the 17th hole and second birdie in a row, I pointed out that I was now three under and had a chance to break 70. I was told not to say things like that because it would create pressure.  One of great funny s about golf is finding pressure situations to put yourself in. I stepped up and made a birdie on 18 to shoot 68. Embrace the challenge and the pressure! It will help!
The takeaway from these holes is the mindset and staying calm and making shots.  Getting yourself worked up, good or bad can result in disaster.
What's next?
Keep practicing the three fundamentals of golf.  Which are: Being able to make solid contact, being able to control the curve of the ball and having enough distance to play the course.  And ultimately get your sort game to its highest level possible! This is the ultimate stroke saver that will save the day when in trouble. Be known as the guy or girl with the best shirt game around.  Consider spending 70% of your practice time from 125 yards and in!
Other areas to consider training are your overall swing speed and your mindset…golf is not a game of perfect is an all time great read!  Let your journey begin and go conquer your goals!