Our top 30 Golf Practice Games:
Simulate the course
Play HORSE
Closest to the pin
Fairways Hit
9 Point
Up and Downs
Chipping closest to the pin
6 Ball cricle
1 2 3 Putting Challenge
Lag Challenge
2 Putt Challenge
Par 18 – Chipping and Putting Game
Short, Middle, Long – Putting or Chipping
21
Random Distance
Curve Control
Par 3 Challenge
Hole in One Challenge
Green in Regulation
Difficult Course Challenge
Total Distance Challenge
Bingo, Bango, Bungo
2 Man Scramble
2 Man Worst Shot
3 Club Challenge
Odds and Evens
Call the shot with a partner
20 Yard Pull Back
Re Hit Challenge with a partner
Red Tee Challenge
In our journey to improve our golf game and shoot lower scores, we are always looking for ways to make practice time more fun.  We know that practice is essential if we are going to improve our game and reach our goals, but we want to make it fun and competitive at the same time.  
Trying to simulate the pressure situation, whether that is a round of golf with your buddies or tournament play is a key to make sure you can handle the pressure in those difficult settings.

The grind it out method of hitting ball after ball at the driving range can become boring and actually cause you to lose focus and possibly start developing some bad habits.  
I am a big fan of trying to make the practice session as real as possible and to simulate the actual golf experience as much as possible. The development of the mental side of golf is just as important as the physical swing.  More and more information about the mental approach to golf is becoming available.

Below is a complete list of the different practice games I have used personally and with my golf teams as I helped these youth golfers get to new levels and to love the game of golf at the same time.  These games are great for any level of golfer and especially youth golfers who typically love to compete and make it fun. One awesome golf experience I had recently that made practice fun was TopGolf. It is worth checking out if you haven't done so yet!

I have also in the past year added a golf simulator in my garage and provide a section on game improvement games you can play on a golf simulator to challenge and help you grow your skill set in your golf game.  
These games are unique because for many of them you are able to use a course and not hold up the group behind you or worry about leaving 50 ball marks on a green if you want to hit shot after shot from 75 yards.  The possibilities are endless!
Update: The golf simulator in my garage has allowed me to play over 1,000 rounds of golf over the past 5 seasons. The game improvement has taken my game to the scratch level. The combination of Simulator Golf, SuperSpeed Training, and drills like the 9 point challenge have been game changers!
We break the golf practice games into 3 categories:
At the Range
Around the Green
Simulator Golf
Here is our list of the Top 22 Recommended Golf Games to not only help you improve, but to bring about some fun and enjoyment in your golf journey!
Golf Practice Games – At The Range
#1 Simulate the Course
My number one go to game, whether I am by myself at the driving range or with a friend, is to simulate a course that you have played or would love to play.  Here is how it works: you start at the first hole and let's say it is a 405 yard par 4 with a hazard to the left at 220 yards, but a slight bailout area to the right.  Set the parameters with different markers out on the driving range.
Go through your pre-shot routine and see if you can hit the targeted area you are trying to hit. Based on that drive, let's say you have 165 left to the green.  Pull the appropriate club, set the target with some parameters and go ahead and make that shot as well. Keep track of how many times you can hit execute the intended shot. Over time, track your progress and see if you are getting better during your practice rounds.
This game is a great way to prepare for a round of golf the week leading up to a tournament or even the day of to help bring the power of visualization and help yourself feel comfortable that you have hit the shots many times before the actual tournament.  Standing and hitting at a driving range that is 150 yards wide probably will not bring the pressure that you need to prepare for the round, but mark something as the out of bounds that may appear on the course and all of a sudden it seems a bit more real.

#2 Play HORSE
Many of you are probably familiar with the game of HORSE in basketball.  Where one person takes a shot and if that person executes the other person has to match it or they get the letter H.  You then proceed and are trying to get your competitor to spell HORSE before you do. You can take this same game to the driving range and call out different shape shots prior to hitting.
For example: if you call a draw shot that starts right of a marker and then draws at least 7 yards and you execute it, your competitor than has to hit that same shot or he or she would get an H.  This is a great game to help you start to develop a draw and fade on demand and to start working on different trajectories.
#3 Closest to the Pin
Pick a distance that is easy to see and play a closest to the pin competition.  Pre determine how many points you will play to and see who can get there first. This is an excellent way to bring some pressure.  When your playing competitor sticks a shot to 6 feet from 100 yards, you will be feeling the pressure. These are great ways to see how you respond and to get you used to playing with some pressure.  If you are by yourself, set a reasonable range of a distance that is acceptable.
For example, if you are hitting fromm 100 yards, you may say I want to hit every shot within 20 feet. Keep track over your different range sessions to see how many times out of 10 you are able to do this.  If you really want to mix it up, take different distances and alternate the distances so you are trying to hit.

#4 Fairways Hit
Set your parameters for your fairway and and keep track out of 10 driver swings how many times you can hit the driver in the fairway.  Challenge yourself and say all 10 shots must be a draw or must be a fade and then switch after the first 10 shots. You can develop your go to fairway seeker from playing this game and change it up every now and then on what area is the fairway.
#5 Nine Point
This is the ultimate challenge to help you work the ball and hit the 9 different shots on the golf course.  You might be thinking, 9 shots? I thought there were only 3 shots, draw, fade and straight. Well that is three ways to work the ball, now bring in the low and hit shots.  So challenge yourself and see if you can hit these 9 shots:
Straight
Draw
Fade
Low Straight
Low Draw
Low Fade
High Straight
High Draw
High Fade
You can measure and track your progress with this game be tracking how many shots it takes to execute these 9 shots.  At first, it may take you 20 shots because it could take you several times to hit the high draw, but keep working at it and track it over time.  When you get on the course, in a competition, you will be more comfortable with working the ball.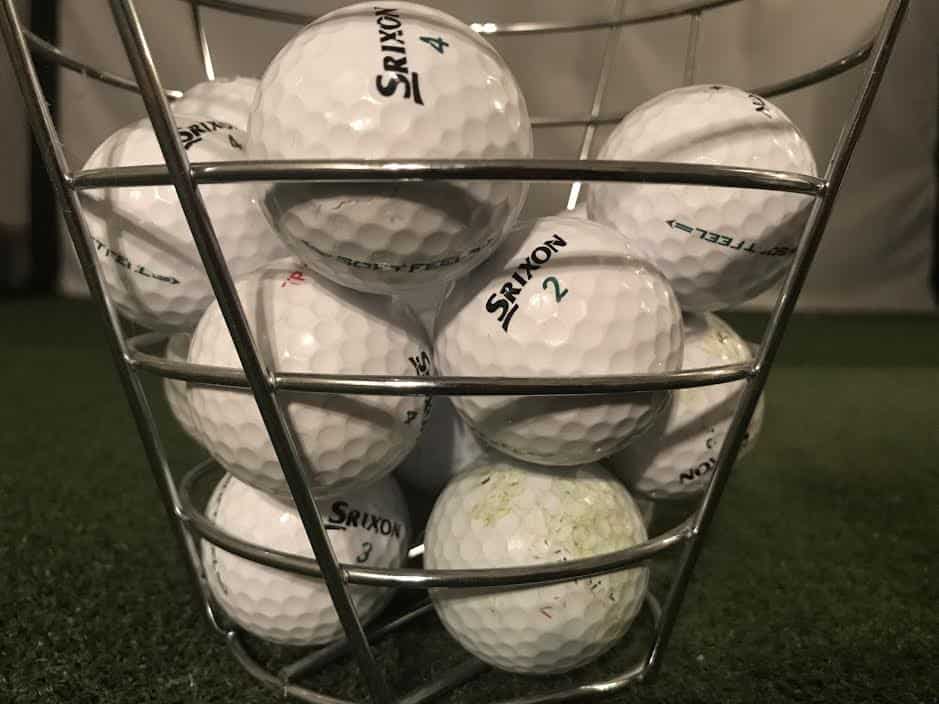 Golf Practice Games – Around the Green
One of the best and most inexpensive ways to practice your game is around the green.  Walk up to any public golf course and utilize their practice green to get better. Don't worry, more than likely there won't be many people there as the majority are probably pounding balls at the driving range.  Here is where you can get your advantage.

#6 Up and Downs
One of the secrets to breaking 80 in golf is to be able to get up and down from around the green in 2 shots or less 50% of the time.  This is assuming you are in the 10-20 yard range from the hole. The current leader on tour does this at an 80% success rate. The great part about chipping and putting is it doesn't take high end club head speed or expensive equipment or lessons, but rather a simple technique and lots of practice.
The game here is to take one ball and pick a spot from off the green. Go ahead and hit the chip shot and then see if you can make the putt. Pick 10 different spots around the green and track how many times out of 10 you were able to get up and down in 2 shots or less. You can also play a competition against another person at the green and see who can get up and down the most times out of 10 or play some match play.  Once again the little competition will help prepare you for the actual course and the pressure that you may face.
#7 Closest to the Pin
Track how many times out of 10 you are able to chip a shot to within 3 feet.  This is the magic number and if you can get a couple shots to 3 feet or less and create tap ins during a round, it greatly reduces the stress during a round of golf.  Constantly trying to make 8 footers can grind your day, but instead, if you get it inside that 3 foot circle, your round of golf just became more stress free. Once again you can compete with another golfer to bring about some competition.
#8 6 Ball Circle Challenge
Take 6 balls from any distance around from the hole (maybe start at 4 feet) and line up the balls around the hole.  Start at one point of the circle and see if you can make 6 consecutive putts from that distance as you complete the circle.  If you miss one, go back to the beginning and start over. See how many times it take you to complete this circle from 4 feet, then 6 feet, then 8 feet and then 10 feet.  You will definitely feel the pressure as you get to the 5th and 6th putts in each series.
#9 1 2 3 Putting Challenge
Line up a ball from 3 feet, 6 feet and 9 feet in the same line.  Start with the 3 foot putt and if you make it progress on to the 6 foot putt. See if you can make these putts for 3 consecutive rounds.  This is an excellent drill before a round of golf to help you get the speed down from the different distances that you will face on the green.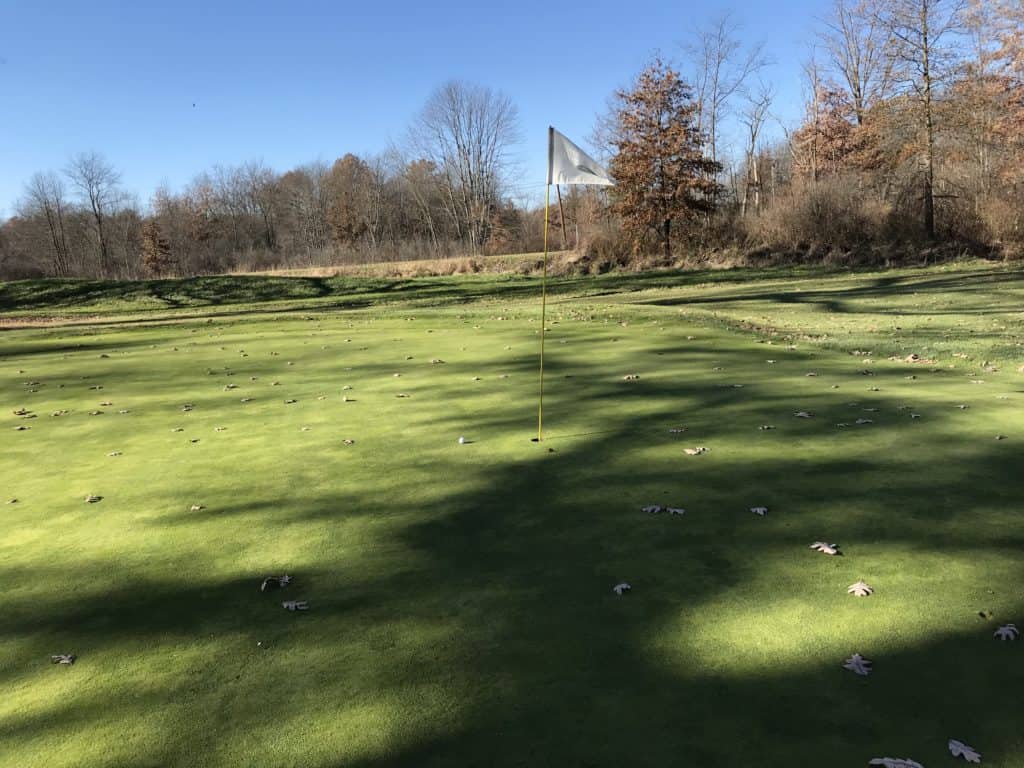 #10 Lag Challenge
Mark off a spot 40 feet from the hole.  Then place golf tees or ball markers around the backside of the hole and create a 3 foot radius. Take 10 balls and see how many out of the 10 you can get to within 3 feet from 40 feet.  Once again, if you can do this at an 80-90% success rate you will help make your golf round more stress free.
#11 2 Putt Challenge
Similar to the challenge above, now just take one ball and putt from 40 feet again and see if you can 2 putt – 10 straight times in a row. Keep track over the course of a month and see if you improve from these distance.  In putting, the most important putts are those lag putts and the short putts. The 20 foot putts are not as significant and even the make percentages are pretty low on the PGA Tour.
Many people believe the best shot Tiger Woods hit in his final round on Sunday the Masters in 2019 was the lag putt on number 9, which left him a simple tap in and his par.  It's amazing to think with the incredible shot he hit on the 16th hole that day and some other impressive shots, that the most important was a lag putt that left him par. Putting can either destroy your round or make your round. There is nothing worse than a great ball striking round being destroyed by 3 putts throughout the course.
#12 Par 18 Chipping and Putting Game
Pick your 9 spots around the practice green and see if you can shoot par or better with every hole being a par 2.  Keep track over time and see if you make progress. You can make the spots you pick as difficult or as easy as you need to improve your game.  
#13 Short, Middle, Long – Chipping or Putting
Pick three targets on the green, a short, middle and long target.  Take three balls and see if you can get each shot to within three feet of the target.  This will help you with distance control and not allow you to get in a grove where you are hitting the same distance every time.  While there is some merit with ingraining certain feels around the green, when you get out on the course, you only get one chance to hit that shot.  Make it count!
#14 21
This is a putting game where you compete against others.  A made putt is 3 points, a lip out 2 putt is 2 points, and straight up 2 putt is one point.  If you three putt you get 0 points. The first person to 21 points wins and you must hit this point total even, you can't go over 21 or you head back to 15.  Vary the distances throughout the game and take turns picking the spot.
Golf Practice Games – Simulator Golf
If you are fortunate enough to have a golf simulator, you can play golf 365 days a year and develop you game daily
(It might be more affordable than you think).  
No longer can the rain, snow or cold weather stop you from enjoying the game that you love. Why I love my golf simulator! Below are my top golf simulator practice games.
#15 Random distance
Since a golf simulator will give you the exact carry distance that you hit a club, pick a random number and try to carry an iron that distance.  See if you can get to within 3 yards either short or long and within a certain range from your target right and left.
See how many times out of 10 you can be within 3 yards of the random distance.  You can use a driving range setting or pick your favorite hole (#11 at Augusta for me) and play this game, just turn on the auto rewind.
Once you get really good, let's say your distance was 152 yards and you hit your 8 iron and hit it that distance, now take your 7 iron and see if you can hit that 152 yard distance, were you successful? How about the 6 iron?  
This can really help you develop ball flight and control of your irons. This can be a difficult game, but depending on the level golfer that you are, you can vary the acceptable range. Maybe you use within 8 yards of the intended target, which is only 24 feet.  Most people would be content with a 24 foot birdie putt on every hole!
#16 Curve Control
Many of the golf simulator driving ranges will provide you a centerline on the screen.  See if you can hit 10 straight shots that start right of the target line and draw, but do not cross over the line.  Once you are successful, see if you can do that with a fade shot. This is quite the challenge to be able to do both handed.  Track your total for the 10 shots and monitor over time.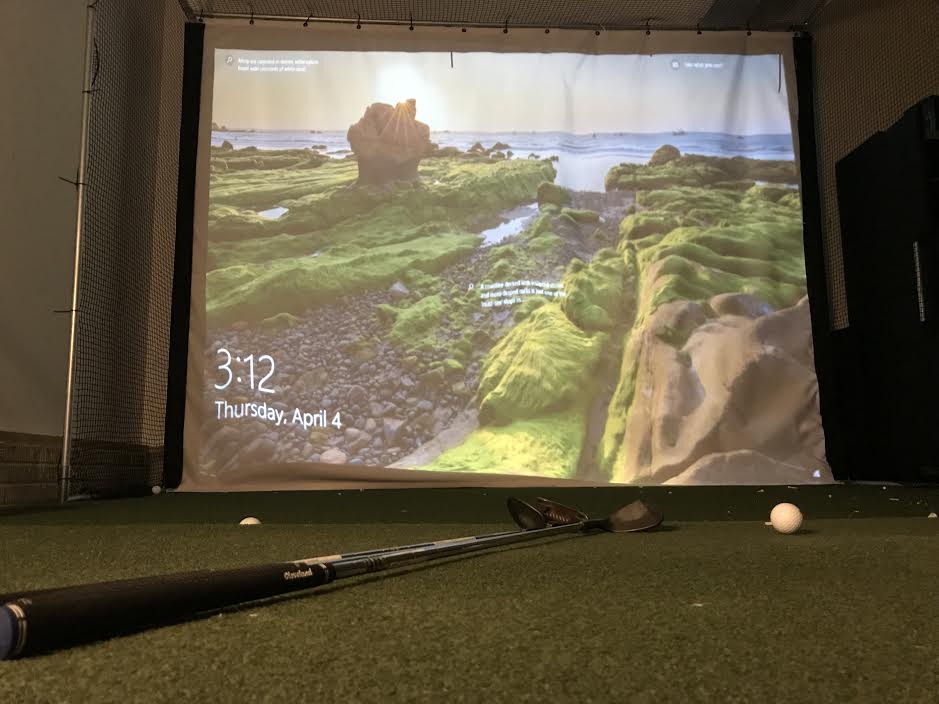 #17 Par 3 Challenge
Find an island green on your golf simulator and see how many times out of 10 or 20 you are able to hit the green.  Or count and try to set a new record for yourself on how many times you can hit the green consecutively.
Can you hit it 50 or 100 consecutive times?  The auto rewind function on a golf simulator is an amazing feature. Nothing like standing on the 17th green at TPC sawgrass and trying to hit that green 50 times in a row.  If you want a greater challenge, alternate hitting a draw and fade every other shot.
#18 Hole in One Challenge
Find a fairway shot from 50 yards and put on the auto rewind and see how many shots it takes you to hole out or lip the shot.  This will help you become laser focused on the target and hitting the shot that you need. Vary you shot height and spin rates to try different shots and develop your game.
#19 Green in Regulation Challenge
Take a difficult par 4 and see how many consecutive times you can hit the green in regulation.  Just continue to play that hole over and over again and see if you can consistently hit the drive required and then control your distance and accuracy to hit the green in regulation.
#20 Difficult Course Challenge
Pick the most difficult course that you can find.  For me it is the Hoodoo Hills course, which has a ton of water issues and out of bounds areas that I must avoid.  See what is the best score you can shoot and challenge every portion of your game. I enjoy playing a very challenging course when my game is going well and I am feeling confident.  Go out and challenge yourself and see if you got any better in the past month or so! It's not like you have to worry about losing a ball or wasting money on a green fee!
#21 Total Distance Challenge
A golf simulator provides a great opportunity to measure your swing speed and/or ball speed.  I believe it is good to try to stretch yourself out every now and then and see the max ball speed or swing speed you can reach.  Set yourself up at a par 5 and let it rip for about 10 shots. Monitor your average ball speed and swing speed and your best two ball speeds/swing speeds of the session. Looking to improve your swing speed – 5 Tips to Improve your swing speed.
One way to gain distance is through the SuperSpeed Golf.
Golf Games to Play on the Course
#22 Bingo, Bango, Bungo
On each hole there are three points up for grabs.  The first person to hit the green receives one point.  Once everyone is on the green, the person closest to the pin gets the 2nd point and the 3rd point is awarded to the person who holes out first (longest putt made).  
This game will challenge you, but brings everyone into play regardless of how good or bad of a golfer you are. If you hit a 270 yard drive and your buddy hits it 268 and then hits the green, he will get one point and you never really had the chance to get the point.
#23 2 Man Scramble
Most golfers have played a 2 man scramble before. This time you play a 2 man scramble by yourself and hit shots from every shot. Of course, late evenings when golfer courses are less crowded is the ideal time to play this game. The goal is to build confidence of how low you can go and see how many pars and birdies you can make. We have to build the confidence that we can make certain shots and so many pars and birdies. It is a great game to build skill and confidence!
#24 2 Man Worst Shot
Similar to the 2 man scramble game above, but this time you have to hit the worst of the 2 shots. This requires you to be discipline and hit a quality shot 2 times in a row. This becomes really tough on those putts inside of 10 feet when you roll the first one in. Once again, we are trying to build some pressure, build some skill and test our ability to hit 2 quality shots in a row.
#25 3 Club Challenge
Pick only 3 clubs and play 9 or 18 holes. This can help you learn to hit a variety of shots and manage your swing and your game without the ideal golf club. It can help you learn how to hit different recovery shots and shots that are not at the ideal level to play a shot.
#26 Odds and Evens
This is similar to the challenge above, but this time you have to eliminate your odd number clubs or your even number clubs. You can do every other wedge to help you get a full experience of this challenge. Once again, if you are left with an ideal 6 iron, you have to decide whether to hit a lesser 5 or go harder at at a 7. You are building the skill of hitting a variety of shots which will pay off in the long run.
#27 Call the Shot With Partner
Your parter gets to decide what shape shot you have to try to hit. For example, on the tee box they call a draw, if you don't execute a draw, you have to pull the ball back 10-20 yards. Or on an approach shot, if you don't hit the draw, you have to place it in the nearest bunker. This can help you learn to hit the shot you are uncomfortable with and develop your shot making skills.
#28 20 Yard Pull Back
If your course is on the shorter side and you want a challenge of playing a longer course, on the par 4s and 5s after your tee shot, you have to pull your driver 20 yards back. This will force you to hit an extra club or 2 on every approach shot. When you play that 460 yard par 4 on a different course, you will be better prepared for the longer approach shot.
#29 Re Hit Challenge With A Partner
In a match against an opponent, you each get 2 opportunities to make a partner re hit a shot after a quality shot. For example, if they bomb a 300 yard driver, maybe you use a re hit option. Or if they sink a 30 foot putt, maybe you make them attempt the putt again.
#30 Red Tee Challenge
Play the shortest tees on your golf scores and see how low you can score. This will help many golfers get better with their wedges and get comfortable with being under par possibly. Too many golfers panic if they get 1-2 shots under par in a normal round! Give it a shot!
Golf Practice Games: Final Thoughts

The games above are all fun to play and help you compete and get better.  They almost all bring an element that you can track and monitor over the course of time to help you make progress.  One additional suggestion I would make is to create a golf journal and anytime you practice or play, log your stats and some key swing thoughts or feels that you had for that practice session or round of golf.  
This will help you during good times and bad times and help you see what you were thinking maybe during a time when you were playing really well.

The golf simulator games can be a ton of fun for those that have a golf simulator.  The options are endless on the games you can create and the courses that you might have access to.  The great part about the golf simulator is you can go and play the most difficult courses and truly challenge yourself.  
Even if it is just for 4-5 holes and then you go back to a more realistic course that you can handle. These stretch opportunities help you push your limits and challenge your game.  It is great feedback in your journey to get better.

Ultimately, golf is supposed to be a fun game and to make it more fun we all want to golf our best.  Practicing is vital to game improvement and we want to help you have fun during your practice. If you are working on getting your kid started in golf, remember to keep it fun and add in some games where they can feel successful! You are only limited by your imagination and I am sure you all have some games you have played that aren't listed!  Mix it up and try some new games and love the game and the journey!