Top 3 Recommended Products
Carl's Golf Simulator Enclosure with Impact Screen – All Sizes (Click to Check Current Price on Amazon) – Carl's is a go to place for golf enclosures. They provide a wide range of size and quality options.
The Rukket 10×7 Golf Practice Net – (Click to Check Current Price on Amazon) – A great option for those on a budget that might use a larger TV screen on the side for the view of the shot.
The Complete Golf Simulator Package
Skytrak, GC2 and Optishot – Golf Simulator Packages for Sale (Click to Check Current Price on Rain or Shine Golf) – Rain or Shine Golf has many great deals on a variety of packages that allows you to buy the simulator, enclosure, hitting mat, projector and all of your accessories that are needed.
Rain or Shine Golf will help with any questions at info@rainorshinegolf.com or through a phone call at 1-888-831-9489
Why I Picked Rain or Shinge Complete Package – Golf Simulator Enclosure
After many hours and days of comparing, I felt the products at Carl's stood out for several reasons.
Safety – It provides a complete enclosure to stop the worse of the shots. You never know when a shank might occur. Protect you and your investment.
Quality – Provide a prefer or premium screen, along with steel corner fittings for the frame.
Support – Provide detailed instructions for assembly.
Features to Consider When Purchasing Your Enclosure and Impact Screen
Space – The first major item to consider is the size of your space.  You need to have accurate measurements and understand what it take for ceiling height, depth and width.  These are important factors and helps you to customize your purchase to meet your space.
Are You a DIY Person? The majority of the systems can be installed by someone with a decent knowledge and the ability to follow instructions.  You may need someone to assist on some of the parts. The AllSportsSystems detailed installation guide was very helpful.
Longevity – How long will your impact screen last.  Make sure you are buying a quality impact screen that will not only make the graphics jump, but will provide you with a good return on your investment.
Budget – If you have the budget and the space, but the widest possible enclosure and impact screen.  You may be disappointed and regret that you didn't go wide once it is setup in your space. The wide you can go ultimately makes it seem more realistic and allows you to be a bit further from the screen, which helps with the longevity.
Movable – Some may need an enclosure and impact screen that can be movable depending on the situation.  The enclosures and impact screens can often sit in the back of a garage and no take up too much space.
Dual Usage – Some will utilize a sharp looking impact screen and spend the extra money on the HD material not only for golf purposes, but also to utilize their space as a movie theater.  This is one way to get your significant other to ok the major investment you are going to make.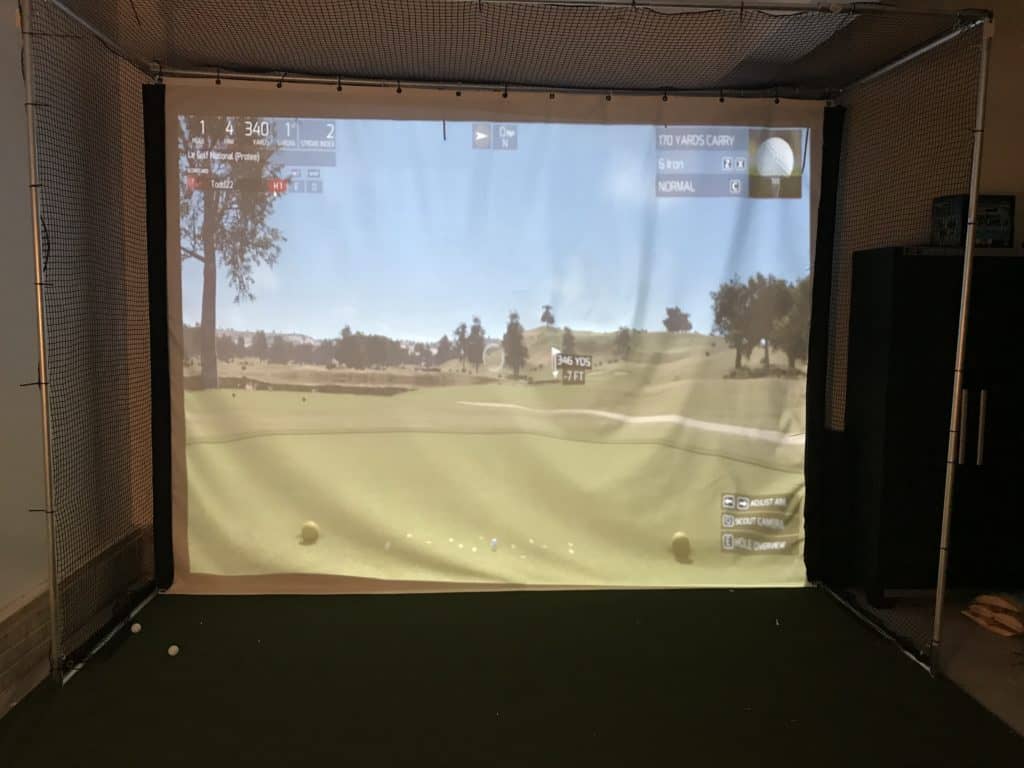 So Much Fun!
The overall research and time spent contemplating and researching led to one awesome setup, which has brought about a great amount of fun and game improvement.  I have now played over 450 rounds of golf and have spent many more hours working on specific shots around the course.
Living in a midwest state in the USA has not stopped me from enjoying the game of golf 365 days a year.  I no longer have to worry about the rain, snow or colder weather or even the time of the day. What a great way to unwind from a stressful day of work. Even it its 8pm on a December evening, I am still able to unwind and enjoy the game I love!
The Enclosure and Impact Screen brings the game to life through the wide, crisp image on some of the world's top 100 courses.  I went with The Golf Club (TGC) software which has high end graphics and over 150,000 courses to choose from including: St. Andrews, Pebble Beach, TPC Sawgrass and many of your favorite courses to watch on TV!  Now you can bring those courses to your house and enjoy the game 365 days a year!

Summary
Buy quality and do not be afraid to upgrade in this area.  If you go out and buy the SkyTrak and combine with the TGC software and a HD projector, but ultimately cut corners on the enclosure and impact screen it isn't going to have the same affect and cut down on your overall satisfaction.  
I personally had 13' of width and purchased the 12' wide enclosure. If I had 16' I would have spend the extra money to buy the 16' wide enclosure. While I am thrilled with my 12' setup, the 16' would the ultimate from a visual perspective.  At the end of the day, no matter what you select, getting into the game and expanding your opportunities to play will bring greater enjoyment and possibly game improvement opportunities.

Get started today and know that we are here to help.  The experience of simulator golf is the next best thing to real golf and can be utilized year around.  I have found the simulator setup beneficial even in the summer from a game improvement standpoint or warming up prior to a round of golf.  My ball striking has never been better and the ability to work the ball both ways has been improved!