A golf simulator can cost anywhere from $500-$40,0000 with a reasonable average price of between $5,000 and $7,000.  This cost will vary based on the level of product in each of the essential categories. You will need a launch monitor, enclosure, hitting mat, and projector.  
The golf simulator that I built cost $7,000 and I was able to get a Skytrak Launch Monitor, an HD Projector, TGC software, gaming computer, a 6'x10′ hitting mat, an HD quality screen and a quality enclosure. I don't feel like I had to cut corners anywhere.
As of late 2022, I have played over 1,000 rounds on this initial $7,000 investment and am thrilled with my amount of rounds, game improvement and total amount of entertainment with family and friends!
Are you dreaming about owning your very own golf simulator?
I have been in your shoes and have dreamed about this and spent many months during research. My dream became a reality and I made the investment and I have enjoyed every opportunity to play simulator golf!
Everyone has a budget they must stay within when they are researching, planning and then building their golf simulator. We know there are many decisions and we are here to help!
Updated November 2022
| | |
| --- | --- |
| Item | Average Cost |
| Launch Monitor | $2,000 |
| Country Club Elite Mat | $500 |
| Screen and Enclosure | $2,500 |
| Projector | $700 |
| Gaming Computer | $1,200 |
| TGC Software | $1,000 |
| Total | $7,900 |
These are quality products at this price. You have an above average setup with top of the line in some of the areas!
How much does a golf simulator cost?
There are many factors to consider that impact the overall cost. How much a golf simulator cost is one of the first questions many people ask as they dream about the possibilities.  I asked this same question several years ago when I began the research and ultimately built a golf simulator in my house.
Rain or Shine Golf has Excellent Golf Simulator Packages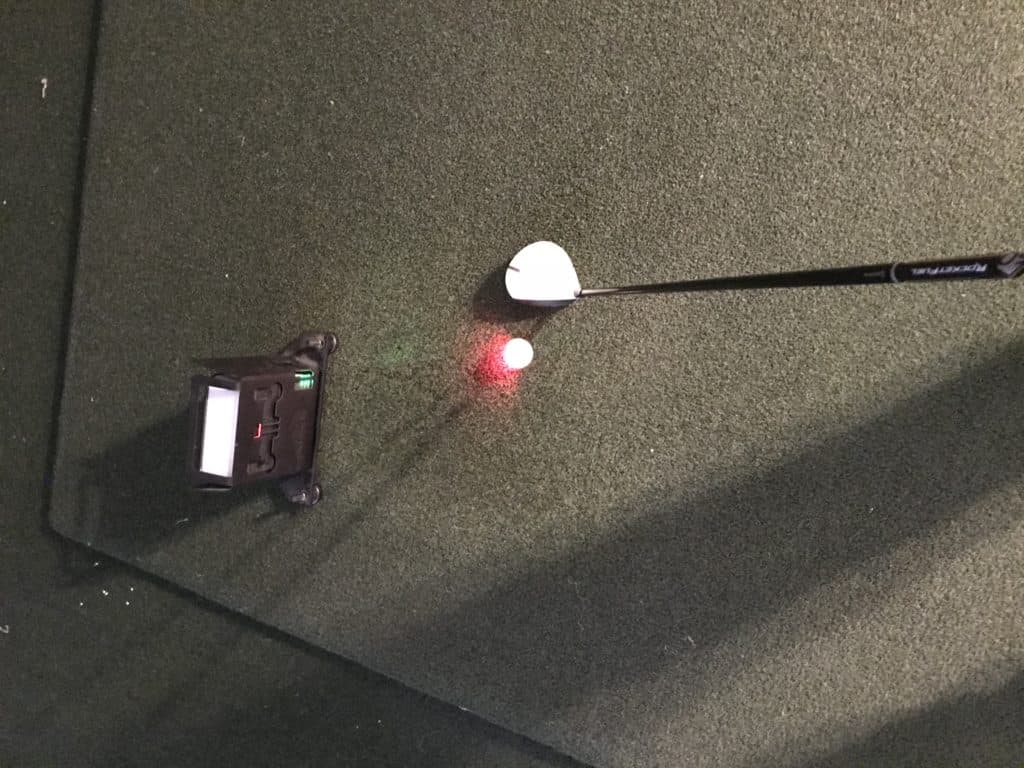 It truly was a dream come true.
The guide below will help you determine your potential cost as you can choose to go low end or high end in each of the categories.  We provide advice on how to enter at the extreme low end all the way up to the high end and make the recommendation on what to spend.   
At the end of each category, we provide the range of the cost for each essential piece and what is realistic for an excellent, but affordable golf simulator for your home.  
Essential items for a golf simulator include:
Launch monitor system
Computer/Laptop/Ipad
Projector
Enclosure/impact screen
Hitting mat  
*Each category will have a range of money that one could spend.  Here is a list of items and important points to consider. This is followed by the recommended suggestion if you have $5,000 to $7,000 to invest.

What is the Cost of the actual Golf Launch Monitor?
The cost of a golf launch monitor will range between $299 to $8000 for a reasonably priced golf launch monitor. As your spend more money, the overall reality and accuracy of the simulator will improve.
I believe my experience with the SkyTrak is very realistic as I have compared my scores between simulator golf and actual golf and have found the scores to be extremely simulator.
Starting off with the launch monitor or the brains of the system that is completing the analysis on the strike of the ball or the swing of the club provides several quality options.  
The options within this category range from the Optishot at $299, to the SkyTrak Golf system at around $2,000, to the ProTee system at $3,000, to the Foresight GC2 at an average cost of $6,000, to the Trugolf system at around $8,000.  
Each system has pros and cons and a question to consider is your ultimate goal or goals. Are you looking for pure entertainment or are you seeking to improve?
My personal experience is that the SkyTrak Golf system can provide both. I have used the SkyTrak for close to two years and have played over 700 rounds of golf and am completely satisfied with the accuracy and realistic results that the SkyTrak produces.  
The Protee system is also highly recommended and I have used this system with success through a friend.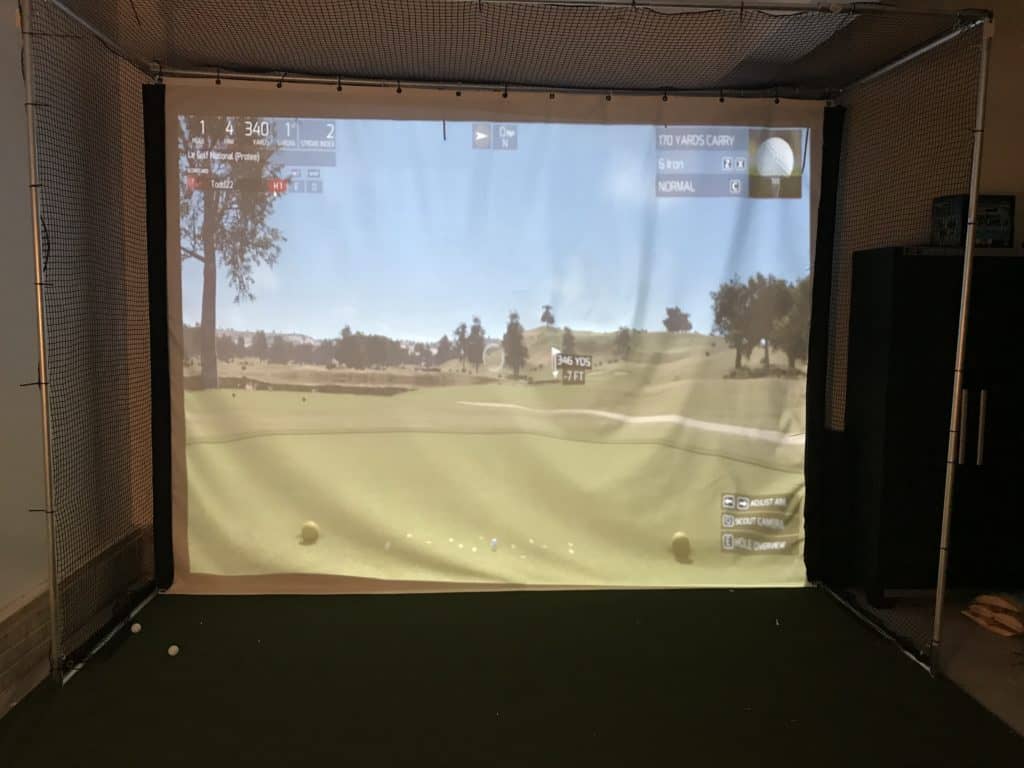 The entry point of between 2-3 grand for this level of golf is truly remarkable considering where the cost of golf simulators where just 10 years ago. Many times in the past this cost exceeded $30,000. Please note that each system will run certain software and may be included in the price.
Recap for cost:
Overall Range = $299 to $8,000 for a Launch Monitor
Realistic Cost and my recommendation = 3,000

What is the Cost of a Golf Simulator Computer/Laptop/Ipad?
You can expect to spend between $300 and $1000 dollars for a computer, laptop or Ipad to run the software that you select.
With the majority of the systems, you will need a computer or Ipad to read the data provided by the launch monitor or system.  
Some systems could operate simply off of a used Ipad at around $300 or a simple computer/used computer. Other systems will require you to have a higher speed computer with a quality video graphics card at around the $1000 price point.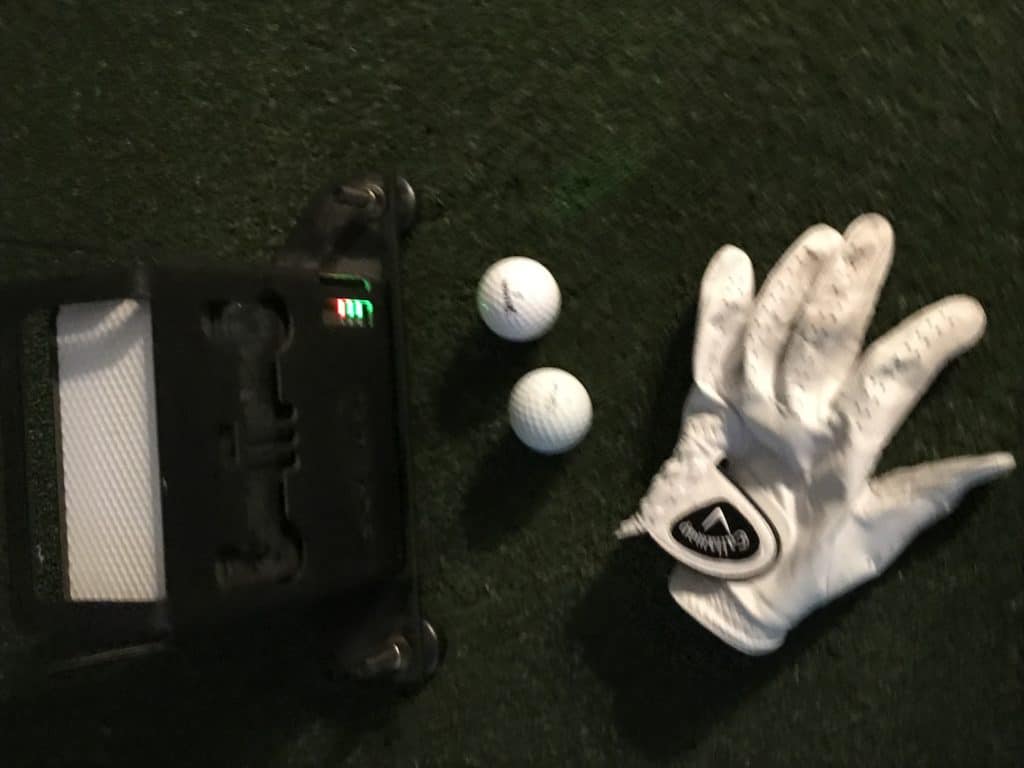 The Skytrak system recommends a NVidia 970 or higher graphics card. This allows for a smooth transition and allows the projection to occur without issue. The recommendations below maximize the high detail and resolution provided by high end software.   
Both the Protee and the Skytrak can run the The Golf Club (TGC) software, which is arguably the best in the industry. The software for a SkyTrak system that works flawlessly with the TGC software has the following recommendations for the computer:

OS: Windows 7, 8, 8.1 or 10
Processor: Intel Core i5 or equivalent minimum; Intel Core i7 recommended
Memory: 4 GB RAM minimum; 8 GB RAM recommended
Graphics: NVidia GTX 670 or AMD 7850 w/ 2 GB (or better) minimum; NVidia GTX 970 recommended
DirectX: Version 11
Network: Broadband internet connection
Hard Drive: 20 GB available space
Sound Card: DirectX 9.0c compatible
Now if you go the simple route such as the Optishot, you could use an Ipad or an refurbished or older laptop.  Also, even though the GC2 is initially more expensive, the amount spent on a computer or laptop will be less than the SkyTrak/ProTee and the TGC route.  
After much research I decided on the HP route with the Nvidia 970 graphics card and the experience has been wonderful. I enjoy playing just about every day of the year.  
Please note that the difference between a laptop graphics card and a desktop graphics card performance can vary. I would recommend the desktop version to ensure you are maximizing the graphics card that you are purchasing.

Recap for Cost:
Overall Range = $300 to $1,000 for the Computer/Laptop/Ipad
Realistic Cost and my recommendation = $1,000
What is the Cost of a Golf Simulator Projector?
Golf Simulator Projectors can range from $150 to $1,000 depending on choices such as High Definition (HD), 4K, 3D, and the ability to projector from a short distance (short throw projectors).  
Visit our Recommend Products Page to see what we recommend for projectors, enclosures, and other golf simulator related products.
You once again have various options for a projector.  
One low cost approach is a larger monitor such as a TV, which could help reduce the cost for the need of a projector screen as well. If you want a studio style golf simulator the high end projector route is your best option.  
You don't want to spend a decent amount of money on the overall system, only to be let down by the projection quality. However, everyone has a budget and an older TV or with the lost cost of new TVs you can get into the game at around $300.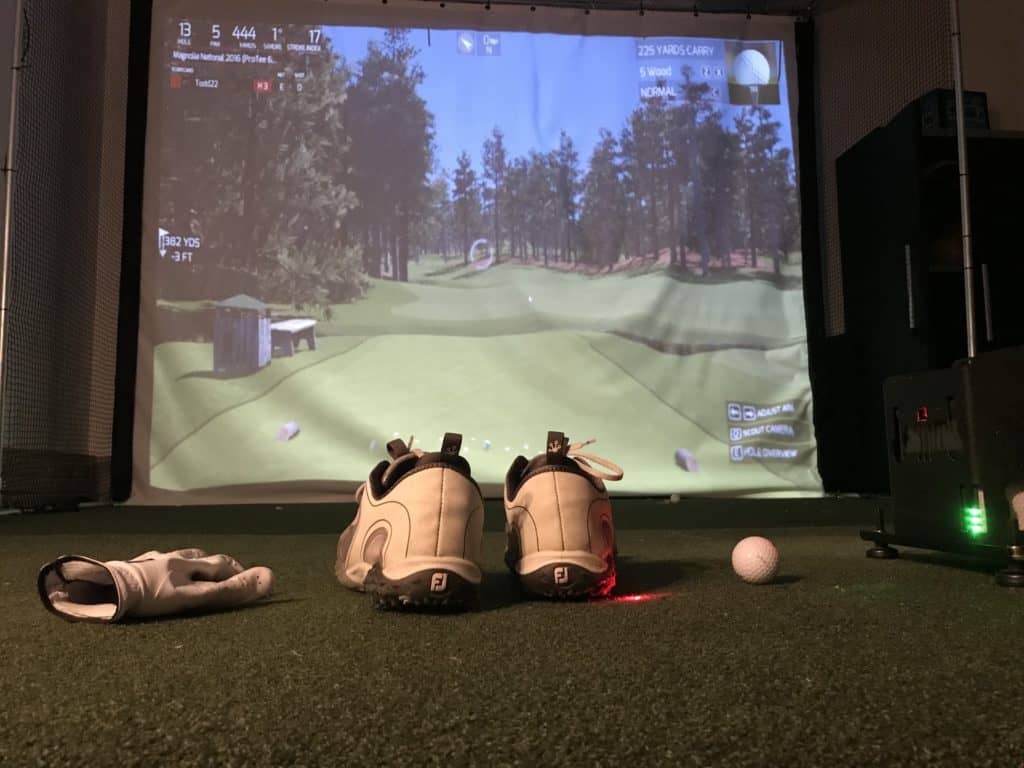 Ultimately, we are here to help you figure out your entry point to allow you to play golf 365 days a year. I personally went with an Optoma short throw projector and have not been disappointed by the quality.
I would recommend checking out Rain or Shine Golf for their projector options!
The realistic view of Pebble Beach, St. Andrews, and other favorite courses has been phenomenal.  Projectors can be placed on the ground (protected by a box at an additional purchase cost is highly recommended) or mounted from the ceiling at a very reasonable cost.

Recap for Cost:
Overall Range = $150 to $1,000
Realistic Cost and my recommendation = $800
On average for a quality enclosure and impact screen you can expect to spend anywhere from $600 to $1700.  If you decide to go the low budget route with a TV in the previous category you can purchase a net for around $70.  
I can't speak for the quality, but you can enter in at this price point and then expand at a later time.
For $1700 you can have a commercial quality product that provides the greatest realistic experience.  We all want to have as close to realistic experience as possible, but must work within the budget.
I purchased a 9'x14' enclosure package and upgraded to an HD quality impact screen for around $800. I have been pleased with this purchased and have zero regrets.  
Areas to consider include overall safety for the space you are utilizing and the overall quality and experience that you desire. With over 300 rounds of golf and many additional shots at the range, my impact screen looks great and has held up as advertised.
The enclosure and netting has also helped stopped some errant shots (by my kids and friends) and has provided an extra layer of safety.  I would recommend an enclosure style system that comes out from the screen several feet.

Recap on Cost:
Overall Range = $70 to $1700
Realistic Cost and my recommendation = $800
What is the Cost of Golf Simulator Hitting Mat?
You can expect to spend between $325 and $1200. The quality of the hitting mat and the overall size will have the great influence on the total cost.
Some of this will depend on the size of the mat and the overall quality that you desire.  If you go the Optishot route as a low entry point, a hitting mat is included with the purchase of the launch monitor.  However, some Optishot users upgrade their mat as well.
You can go the high end route with a product like the Country Club Elite, this professional grade mat will run you anywhere between $325 and $1200 depending if you go with a 3×5 or a 5×10 size mat.   
One factor to consider is if both right handed and left handed golfers will be utilizing your golf simulator space and if your launch monitor system is movable as you might be able to move the mat around to increase the longevity. One area that was important to me was being able to utilize real tees.  
After much research, I purchased the 4×9 TallTurf Dual Stance mat for $475 in 2017. My sons are both left handed and the mat has worked out well. After over 300 rounds, the mat is still in good shape and I am able to hit from different spots with my SkyTrak system.
Hitting from different spots also helps increase the longevity of the impact screen. The ProTee system does require one to hit from a fixed location.
Recap of Cost:
Overall Range = $0 to $1200
Realistic Cost and my recommendation = $475
Summary – What Would We Recommend?
My recommendation is to budget around $6,000 and you can have a pretty impressive golf simulator setup in your garage, basement or extra room within your house that will be the envy of your family, friends, and colleagues.  
However, if your budget is strictly limited you can get started for around $500. At the end of the day, either route will bring entertainment and help you to improve your golf game.
My experience with the simulator for around the $6,000 entry point has been wonderful and is enjoyed by myself almost daily and provides a setting to spend time with family and friends even during the cold winter months.  
Now that you have a better understanding of the options, you can weight the pros and cons of each category and determine what is most important to you.
If you have an unlimited budget and the space required, a simple phone call to various companies and you can spend between $30,000-$40,000 and have a commercial type of feel for your golf simulator.
However, many choose to go the DIY route which is doable and affordable.  The quality of the mid level golf launch monitors in today's market makes playing golf 365 a possibility.