Have you spent time wishing you could play golf 365 days a year in the comfort of your own home, but budget constraints always create a barrier to your dreams?  Well we are here to help you build your own golf simulator for under $1000 and not be held back by the snow, rain or cold weather.
Many of us get frustrated living in a climate where golf can only be played 5-6 months a year.  Let's get started and help you achieve your dreams and goals.
So Can I Build a Golf Simulator Under $1000? The short answer is yes, the long answer is that we must budget money for the different major components of a home golf simulator.  Having researched and built my own golf simulator and have now played over 300 rounds, I am here to help guide you and lay out the different options.

Some key areas that you must consider:
The net or enclosure
The hitting mat
Computer or Ipad
Once you take care of these four areas, you can start having fun with your golf simulator.  We provide your best option for each category.
1 – The Best Golf Simulator for Under $1000
There are many options in today's market if you have an unlimited budget, but since we have a limit of $1000, we are going to highly recommend the Optishot 2.  This incredibly low priced product can be purchased for around $299.  Yes, you read that right, you can get started for $299.  Here is what is promoted on the Optishot website,
"With OptiShot you can get your game on anytime – rain or shine, day or night. Why should great golf simulators only be accessible to the pros? Our team of designers and engineers are leaders in the world of golf analytics. Optishot comes pre-loaded with 15 courses.
Check out our recommended products page, as we recommended products for all budgets.
What Does the Optishot Track?

The optishot 2 will give you the following data found below with each shot.  It is reading your club face and not the ball. It is not a launch monitor.  This has positive side that it does not require a ball to be hit. So if you have limited space or budget, you could get started for as little as $299.  However, for the most part, the majority will want to hit a ball into at least a net, so continue on with us and we will show you how you can accomplish this for under $1000.  Here is what the Optishot 2 Tracks for you:

Distance
Clubhead Speed
Face Angle
Tempo
Path
What Comes with the Optishot 2 for $299
You get the Optishot 2 swing pad, which reads the club as it passes the IR readers and the game software that is pretty impressive from a graphics standpoint.  Or you can even play without a ball or an almost real golf ball depending on your space and setup. The point here is that you are getting into the game at such a low cost.  No longer is the time of year or the time of day going to keep you from enjoying the game you love and possibly getting better. Below is what is in the box when you order from amazon.
Included in the box for $299:
Infrared Optical Swing Pad
Optishot 2 Software (My mac doesn't have a disc drive, so I just downloaded from their website)
2 Foam Balls
10 Foot USB Cord
2 Adjustable Rubber Tees
Quick Start
What Courses Does the Optishot 2 $299 deal come with?

• The Golf Club Scottsdale
• Long Island Black
• Torrey White
• Torrey Black
• Palm Desert Mountains
• Palm Desert Canyons
• Barsebäck Golf Club
• Black Mountain
• The Canadian Club
• West Maui Plantation
• Warwick Hills Golf & Country Club
• Fylde Links
• Cogs Corner
• Twisted Twig.

These are some pretty impressive courses with an excellent graphics package with the Optishot 2.  The overall visual presentation in the Optishot comes close to comparing to some of the high end software.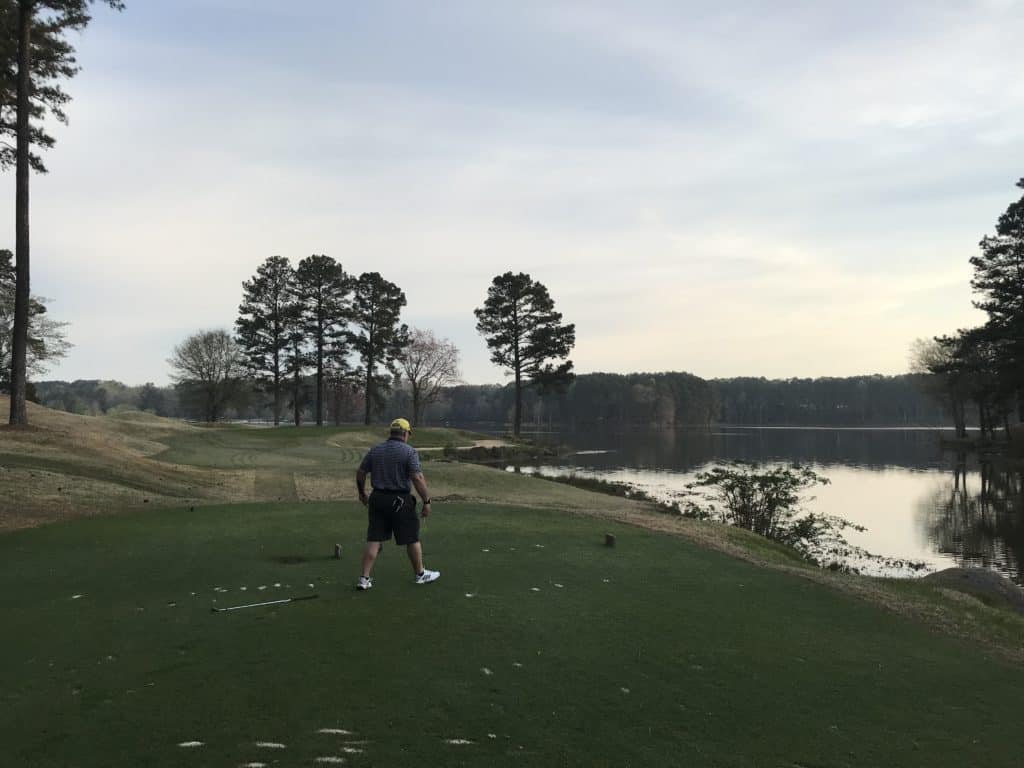 What Technology Does Optishot 2 Use for Accuracy

"With unparalleled 16 high-speed 48MHz infrared sensors, OptiShot is precisely tuned for tracking club swing data. Calibrate your favorite clubs, see your shot patterns, and get instantaneous feedback on every shot."

The technology used for the Optishot 2, which sells for around $299 is limited from an overall accuracy standpoint.  However, it is good enough from an entry level standpoint. A golfer could later upgrade to something like the SkyTrak (more information below) if the additional money could be spent in later years or if the budget increases during the research process.
2 – The Net or Enclosure – Estimated Cost $159
There are many quality options on amazon that get you into the game.  You can spend as little as $50, but we are recommending the net pictured below for around $159.  You should ensure your space is safe and can always use foam balls with the Optishot 2 if needed.
Read about all different net or enclosure options, here.
So to recap so far we have the following cost:
Optishot 2 = $299
Net = $159
Total so far = $458 (2 Items Left)

3 – Hitting Mat for Optishot 2
You can save money and use the hitting mat that comes with the Optishot 2 or you can consider an upgrade with the item pictured below.  I would recommend this upgrade to ensure you have solid footing and that the mat stays stable upon the strike. For only $100 you can get this stability and make your system more commercial like.

4 – Computer to Run Optishot 2
Here are some of the basics that Optishot recommends:
Windows System Requirements: Windows Vista, 7, 8 or 10, Graphics Card: 256MB available Adapter RAM with OpenGL 2.0 support and the latest Video Drivers, 3GB HDD Storage, 4GB RAM, USB 2.0 port
Mac System Requirements: Mac OS X 10.8, Intel Core 2 Duo, NVIDIA GeForce 8600M GT or ATI Radeon HD 2600 or Intel Iris Pro or better, OpenGL 2.0 Support, 3GB HDD Storage, 4GB RAM, USB 2.0 Port
There is way to check the compatibility of a current computer, you will want to check if you are purchasing a computer that it will run Optishot 2 by visiting the link below:
https://helpdesk.optishotgolf.com/hc/en-us/signin?return_to=https%3A%2F%2Fhelpdesk.optishotgolf.com%2Fhc%2Fen-us%2Farticles%2F200516384-Will-my-computer-run-OptiShot-
Update on the Total Cost
So to recap so far we have the following cost:
Optishot 2 = $299
Net = $159
Hitting Mat – $99
Computer = $300
Estimate Cost = $850 plus Tax
Keeps you below the $1000 goal!

You will be the owner of a system that provides you a great deal of fun and achieving your dream of access to golf 365 days a year.  No longer, can the rain, snow, colder weather or outings and slow play keep you from enjoying the game you love.

Can you Increase Your Budget to $1200?

Another offer from Optishot includes:

"Golf-In-A-Box 2 comes with everything you need to have your very own golf room. OptiShot is an award-winning golf simulator system that is built for all types of golfers. With 15 world renown courses included, realistic 3D environment and the ability to play up to 4 players, OptiShot is a leader in golf simulator technology. Along with the OptiShot2 simulator, you'll get the Pro Series Net Return net, as well as the hitting mat specifically designed to fit the OptiShot2 Simulator"

Other potential add ons

Another item to consider is a television or larger monitor to make the simulator golf more realistic and easy to view.  Once you exceed the $1000 price barrier a golfer could consider an impact screen and enclosure and pair that up with a projector to get a similar setup to the image at the top of the article.
Can You Go Above $1000 or Do you Want More?
Other Upgrade Options – SkyTrak Golf Quick Review

If you are able to expand your budget, I think the best option for your money is the SkyTrak Launch Monitor that typically retails around $2,000.  For the money, in my opinion, it is the best and easiest system to use. The setup is extremely simple and it has great versatility.

It can be used in the indoor golf simulator space or taken to the range with your Ipad for data while building skill in the game of golf.  It can also accommodate right handed and left handed golfers if you space is limited due to being able to move it around.

You can enter into the simulator world with a premium golf simulator for around $2500.  However, one must consider their budget and can always upgrade later on.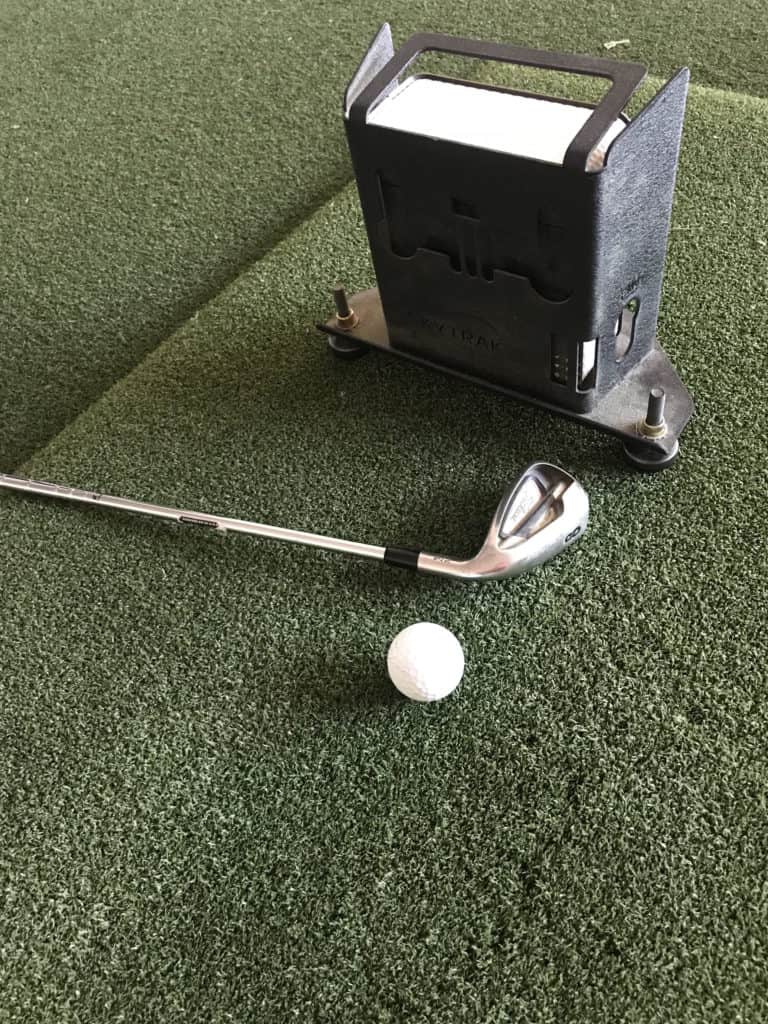 What Software Would you Recommend with the SkyTrak?
The Golf Club (TGC) is phenomenal and a commercial grade software that can be purchased for just under $1000.  It brings the game to life and the graphics are very impressive. When I have played commercial simulator golf, the software just doesn't compare to the TGC software.  Plus the access to over 150,000 course puts TGC at the top of my list for software. You can play most the top 100 courses in the world including Pebble Beach, Augusta National, St. Andrews, Bethpage and many more.

SkyTrak Review – Personal Story
I have played over 300 rounds of golf on the SkyTrak with the TGC software and have not only had a great level of entertainment, but have decreased by 18 hole average score by four shots from 78 to 74.  The realistic nature of the SkyTrak and the realistic accuracy that results is hard to beat for the $2000 entry price.

What Data Does the SkyTrak Measure?
Ball Speed
Club Speed
Path Angle
Launch Angle
Spin Axis
Protective Case
I would highly recommend the protective case with the SkyTrak if you are a high handicap player, have buddies who struggle with the game or if kids are going to be using the system.  The low price of $150 is worth it to protect your $2000 investment.

Summary
If you have a budget of $1000 or less, you can get into the game and not let the rain, snow or cold weather stop you from playing.  Ultimately, you will have a system that is great for entertainment and could bring some game improvement to your playing skills. The Optishot 2 provides with the opportunity to reach your dream and you could always upgrade at a later time to the SkyTrak Golf Launch Monitor, which is truly a special system.  Years ago, one would have to spend $30,000 to $40,000 just as an entry price We can get you started for under $1000 by following the advice above.