When I was first completing all of my research on the numerous golf simulator options, I came across the SkyTrak Golf Launch Monitor and was highly impressed by the reviews and the price point for such an impressive product. 
However, one of my concerns at the time was the durability due to how close the SkyTrak sits to the ball. I was nervous about friends and family shanking shots into the SkyTrak and destroying my investment.
As I dove further into the research SkyTrak had finally produced a metal protective case and it was a no brainer to purchase this add on with my golf simulator package.  Over 30 months later, the SkyTrak Golf Simulator package that I purchased has allowed me to play golf year round regardless of the rain, snow or cold weather.
I feel blessed to be able to play at any time of the day or year and not be held back from a sport I love.  Simulator golf has provided an outlet to improve my game and get some great stress relief from the rigors of balancing life, work and family. I have now played over 500 rounds of simulator golf and have learned a lot.
When we make a commitment and investment such as a golf simulator purchase, we want to ensure that our investment and fun is maximized by performance and length of time that products will last. 
Having now played over 500 rounds I have my 5 lessons learned about recommendations I would make as you explore and research the possibility of building a golf simulator in your house or garage.
When you are ready to purchase, I would highly recommend Rain or Shine Golf as they offer great customer service, financing options and highly competitive pricing especially on the complete packages.
Below I will take you through the top 5 lesson learned from purchasing a golf simulator and start with lesson #1 – Buy the protective SkyTrak Metal Case.  
In this first lesson I will provide some details on the SkyTrak Protective Case and then dive into other lessons to extend the life of your golf simulator investment.
5 Lesson Learned
#1 – Buy the Protective SkyTrak Metal Case
If you are going to spend several grand on a golf simulator, you must protect the brains of the operation.  Buying a SkyTrak and not adding on the Protective Metal Case would be like playing football without a helmet…a bad idea.  I don't care how good of a goler you are, it is often about friends of family who want to try out your simulator. Make sure you buy the SkyTrak Protective Case.  You will hit thousands of shots on your golf simulator and might never hit it, but for the extra $150 it is worth the peace of mind.
SkyTrak Protective Case – Check Price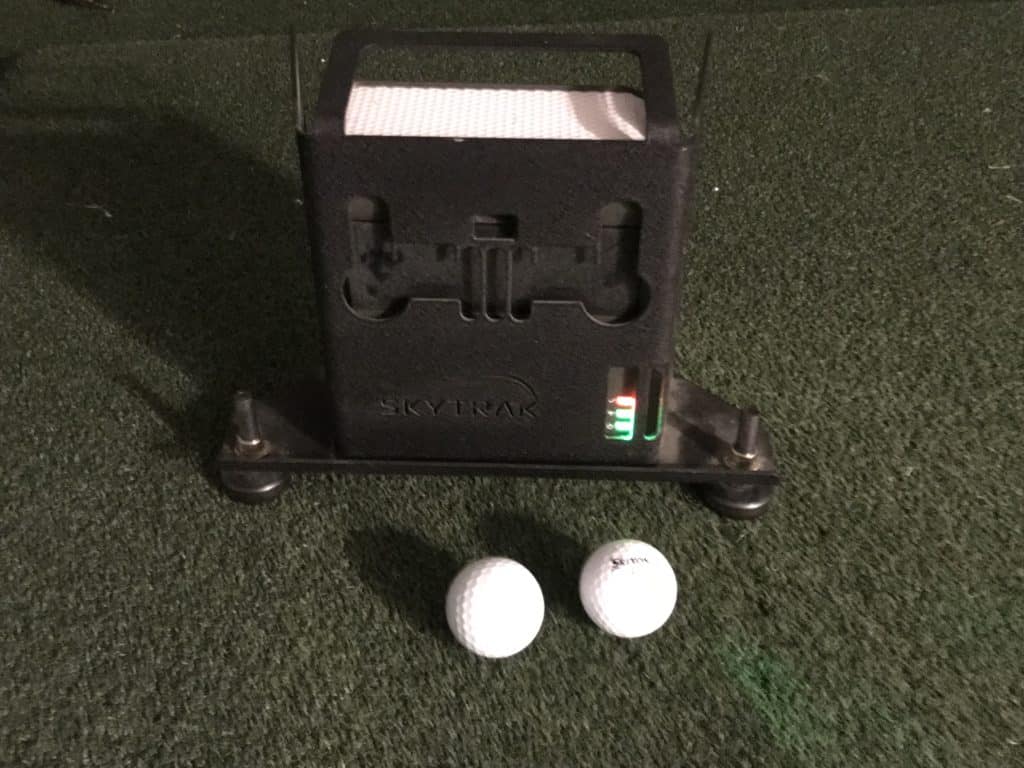 Some of the features of the SkyTrak Protect Case include:
You never have to take your SkyTrak out of the case.  There is easy access to both the power button and the plug in for the charger system.  I am able to carry my SkyTrak from my charging area to my garage and keep the protection on the SkyTrak at all times.
The LED lights that signal when the different modes that the SkyTrak is in are visible and easy to see.
The metal protective case provides balancing legs if you need to raise or lower your SkyTrak to help it read your launch angle better.
The SkyTrak is a black powder metal finish that looks sleek.
Doesn't cause a lost in performance of the SkyTrak
Has your protective case been hit?
Yes, I have three young kids and several friends who are newer to the game of golf.  My SkyTrak Metal Protective Case has saved at least 4 shots that I can remember from hitting my SkyTrak.  It made the investment of the protective case well worth it and I am thrilled that I added it on when purchasing my SkyTrak package.
#2 – Store your SkyTrak Somewhere Safe
Your SkyTrak will need to plug into an outlet somewhere between rounds of golf.  Make sure this is in a safe location. I never leave my golf simulator in the garage because my kids leave the garage open as they come and go on their bikes. 
I want to protect my investment and make sure it charges and is stored in a safe place. As I mentioned above, you never have to take your SkyTrak out of the protective case and the balancing leg feature on it is top notch and very easy to use.  
#3 – Use New Golf Balls on Your Impact Screen
So you have made a several thousand dollar investment into building a golf simulator, please make sure you purchase some new golf balls that you can utilize in your golf simulator space.  The last thing you want is to try to cut edge on using balls you have used on the course and have some scuffs on them.  
You might ask why! Your impact screen will have some wear and tear over the years, a fresh golf ball, free of cuts and scuffs will be easier on the screen. 
Think about this for a second, your impact screen is stopping a ball sometimes traveling between 140-160 miles per hour off to the driver and it is probably only 8 feet away.  Multiple this by over 500 rounds and that is a lot of shots that it is stopping.  
Make sure you use new golf buys and you spend the money to make a quality investment in your impact screen.  One that not only displays the image at a high level, but also will last a long tie.
I have found that I prefer to hit a Chrome SuperSoft or Srixon SoftFeel with my driver and 3 wood, but prefer a Chrome Soft or Titleist Pro V1 with my irons.  Some will report that the Titleist can be difficult on a screen, but I have still used it from time to time and haven't had any negative issues yet.
However, the number one tip for this category is to use a new ball. The balls won't last forever as some will crack or completely wear down.  That is ok, you want to maximize your performance on the launch monitor, while protecting your screen.
Best Golf Balls for Golf Simulator Play – Complete Post
Check Price on Amazon on Recommended Golf Balls below: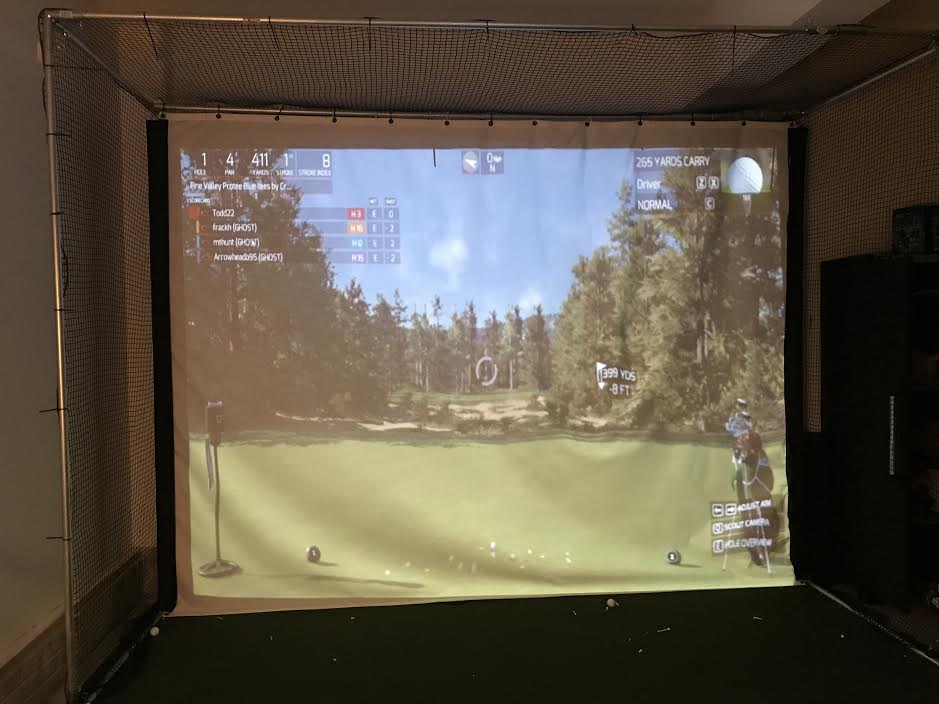 #4 – Buy a Quality Mat
There are many mat options out there.  Have you ever gone to the driving range and hit off oa cheap mat?  Now multiple this by using a cheap mat everyday or for over 500 rounds.  The mat is a major investment where you should not cut corners. You also don't want to have to replace the mat after 24 months of use.  Instead spend the little extra money and make sure you buy something quality.  
Rain or Shine Golf has the best options on the market.  I went with a larger mat sized at 5×9 because my two sons are lefty golfers and I play right handed. 
This provides plenty of space for us to both play. I have also found the bigger mat helpful in that I can use different parts of the mat as I can move my mat around as one area starts to look a little worn.  The other major feature I considered when selecting a mat is if I could use a real tee. I wanted to be able to utilize a real tee and not use one of the driving range tees.
Here are my recommendations for hitting mats.
#5 – Buy a Quality Gaming Computer
The graphics on The Golf Club (TGC) software is phenomenal.  It is maybe the best software on the market and it is compatible with the SkyTrak system.  You have access to courses like Augusta, Pebble Beach, Whistling Straits. St. Andrews, Bay Hill and many of the other top courses in the world. 
Overall, there are overall 100,000 courses with amazing graphics. I have played golf on other simulators and the software even on 30,000 dollars setups doesn't come close to the TGC software.  My point being, buy the right computer to ensure you have the processing speed and graphics card to maximize this software. Trust me, you won't be disappointed as your system will run flawless and at the right pace.
Gaming Computers, check price on Amazon.
Related Questions
Can I finance a golf simulator?
Let's face it, a golf simulator is a major investment for many of us and many of us will need financing.  The financing options at Rain or Shine Golf are quite impressive and worth checking out.  You can take on a monthly payment to pay for your golf simulator over time.
How long will a hitting mat last?
My mat has lasted now close to 3 years and over 500 rounds.  The softness of the mat is still there and it is easy on my hands, wrists and forearms.  I never feel any pain and the an actual golf tee can be used
What other posts do you have on golf simulators?
I have written quite extensively about golf simulators and the SkyTrak system.  Here is a list of many of our posts:
Take Action
Take action and get started on enjoying golf year round.  Are you tired of the snow, rain or cold weather stopping you from enjoying the game you love?  Then it is time to figure out a way to get your very own golf simulator. 
I do not regret the purchase at all as it has improved my golf game, given me extra special time with friends and family and been a great stress relief as I can take 30 minutes and go hit balls at the best golf courses in the world or play a round of golf.  It only takes 40-45 plays to play 18 holes of golf on your own golf simulator. Take advantage of the great opportunity and the decreasing price of golf simulators as compared to 10 to 20 year ago.  
It is now a technology that the consumer can afford and take advantage of.  Don't forget to check out the golf packages at Rain or Shine Golf.
What You Can Do To Play Better Golf Today
Outside of purchasing a golf simulator and playing everyday, there are some other options.
What does this mean for you?  I believe in the following recipe to get better:
1 – Improve your motion in the golf swing by identifying a golf instructor.  Here are some options:
Here is a list of golf instructors that we have reviewed:
2 – Train to swing faster and improve your swing speed.  Here are some options:
Looking to gain more Speed and Distance in your swing. Two Options:
3 – Understand course strategy and work to break through your next barrier.  Here is a series on breaking through:
We have provided guides on how to break 100, 90, 80 and 70. Check out more below, if interested.
Don't Forget to Check out our 15 best golf swings of all time.