Many of us dream about having a golf simulator at our house. Whether the simulator space is built in a garage, the basement or an extra room, the ultimate in playing golf 365 days a year starts with the right golf simulator for your budget.  There are many options in the market and you might be surprised to learn just how affordable some of the quality products are.
More than a decade ago, a golfer could expect to spend 30 to 40 thousand dollars to make the dream of a golf simulator a reality.  I was able to build a pretty impressive golf simulator space for right around $7,000. I have been fortunate to play over 300 rounds of golf on the simulator on many of the top 100 courses in the world. No longer does the rain, snow or cold weather keep me from enjoying the game I love!

We all have different budgets, different amounts of space and different overall needs for what we are looking for in a golf simulator.  As a result, we have compiled our list of the top 10 options on today's market. You will see a range of options both from a budget standpoint and the features that each product offers.
The first step is to determine your budget and then be sure to measure the amount of space you have in the location you decide on.  Third, you will want to figure out what features are most important to you. Some people might just be seeking pure entertainment, while others are seeking not only entertainment, but game improvement opportunities. Many of the PGA Tour Pros have built simulators in their houses to continue to fine tune their game and more than likely to have some fun as well.  You too can have a golf simulator in you house for a reasonable price.
Interested in owning your own Golf Simulator, Rain or Shine Golf carry some great complete packages, here.
So what are the best golf simulator options?  
Here is a list of our Top 10:

R-Motion
Optishot2
ProSwing
ProTee
Flightscope xi
SportsCoach Systems
TruGolf
Flightscope xi+
R-Motion
Pros: The R-Motion setup is one cheap and easy way to get started in the golf simulator world.  The simulator clips to a club and reads the club path and speed to predict the shot that you hit.  It can be used at the range or in your house. The greatest advantage to the R-Motion is that is utilizes The Golf Club (TGC) software for your game play, which comes highly recommended and offers some of the highest quality graphics in the golf simulator world.  I have played over 300 rounds of golf on the TGC software and it truly is incredible. You can play with multiple players and move the clip from club to club.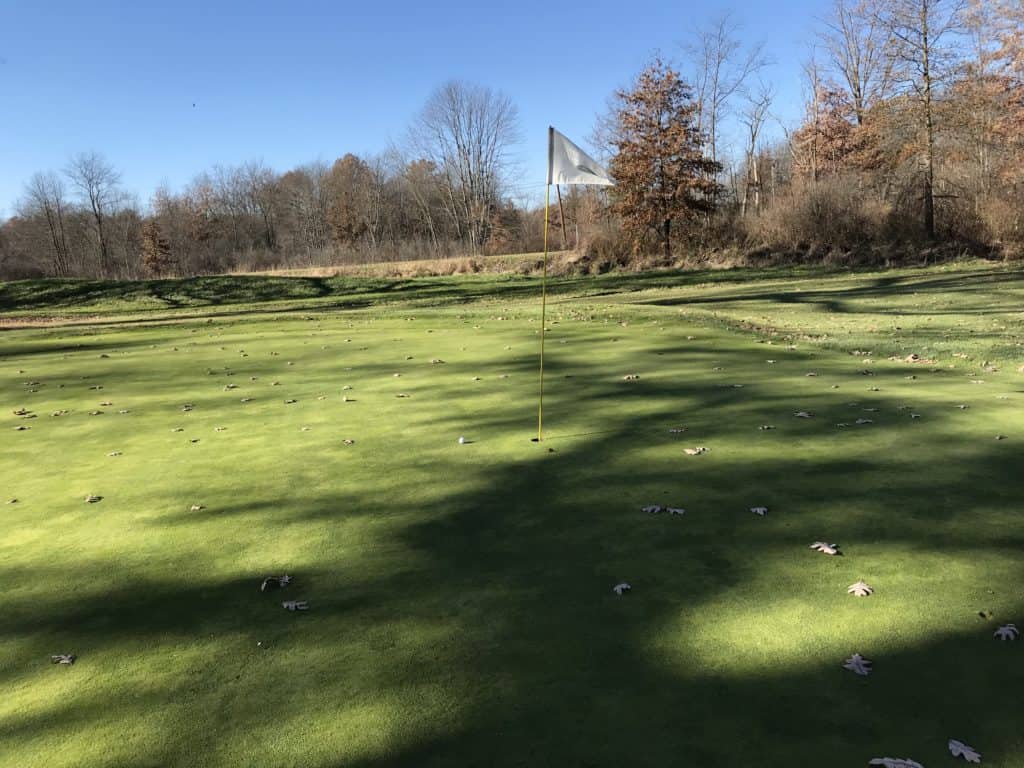 Cons: What you might lose in overall accuracy, you save with your budget.  It comes down to what is most important to you – the entertainment or the game improvement side of it.  While you might be able to get some game improvement, the inconsistency in the accuracy might be a drawback.  However, if you have a limited budget, it just might be the perfect option for you.
"AN AFFORDABLE ALTERNATIVE TO HITTING THE LINKS, WITHOUT EVERLEAVING YOUR HOME"

Digital Trends
Optishot2
Pros: The Optishot2 is another entry level product that gets you playing golf anytime and anywhere.  You have probably seen the infomercial from Dancin Dogg promoting the product. The positives of the Optishot is that it can bring a great deal of entertainment and get you started in the golf simulator world.   You are provided 15 impressive courses and the graphics of the game system are pretty decent. They do offer some decent packages that can get you started for under $1000. Ultimately, it comes down to what type of budget you have.  If your budget is limited and you want to get started, then this might be the option for you. I think you can improve your game from the constant practicing and swinging of the club even if the feedback isn't 100% spot on. They do provide an online live social play feature that allows you to compete against other golfer.  The versatility of being able to use in a smaller space is a strength as you can use an almost golf ball or no golf ball at all.

Cons: The overall accuracy and realistic nature of the Optishot2 leaves a little bit to be desired.  However, with a limited budget, it still can provide a great deal of entertainment and just swinging the club daily should help you improve.
Check out our recommended products, here. We have plenty or recommendations on golf simulators, enclosures, projectors and more.
"OptiShot Golf designers and engineers are leaders in the world of golf analytics. Through continuous research and development, the award-winning OptiShot2 has a swing and ball shot accuracy that is just like playing real golf. OptiShot2 has sixteen precisely-tuned, high-speed 48MHz infrared sensors. Each is calibrated to track your favorite clubs, before, during and after contact, giving you precise and instantaneous feedback on every shot."


Optishotgolf Website
P3ProSwing
Pros: The P3ProSwing is the next level up from the R-Motion and the Optishot2.  It might require some taping of your woods and putter, but overall it provides a decent amount of feedback.  The features include: club path, club face, club head speed, angle of attack, and a dynamic ball flight model.  The club face promises to measure within 1/10th of 1 degree and the club path within 1 degree. Depending on the package you buy into, you can have anywhere from 4 courses to 132 courses.  All of the packages include the ability to play online and compete against others. The system utilizes 65 infrared optics as they reflect light off the bottom of the club/club tape and back to the pad.  From there it sends the information to the computer and processed by the game software.
Cons: The one drawback at this price point is the need to tape your woods and the putter.  You can upgrade the system and it does offer a variety of package, although these packages can get expensive.

"The P3ProSwing uses patented technology to allow Golf Facilities, Teaching Pros, Businesses and Home Golfers around the world to play golf on a professional Simulator & Swing Analyzer system that gives extremely accurate data of the club before, at and after impact with the ball.  Our technology and system design has allowed us to break the high costs and large area requirements of other systems on the market."


P3ProSwing Website
SkyTrak Golf Launch Monitor
Pros: The SkyTrak Golf Launch Monitor is what I selected for my golf simulator build.  I have now played over 450 rounds of golf, which has brought about great entertainment, game improvement, and quality time with friends and family.  The realistic nature of the SkyTrak is pretty impressive considering the price point. When compared to more expensive models, it typically competes quite well and holds it own.  You can take it with you to the driving range of use in your golf simulator build. The amount of data provided through the SkyGolf 360 website is impressive and easy to use.

Ultimately, the greatest strengths besides the versatility and the limited space needed to use the SkyTrak is the ability to play The Golf Club (TGC) software, which has allowed me to play the majority of the top 100 courses in the world.  My favorites include Pebble Beach, Whistling Straits and St. Andrews. Oakmont isn't too shabby itself! Overall, the quality of the product for the price point was the ultimate deciding factor for me. Plus I have two sons who are both left handed and we are able to play fairly seamlessly and enjoy the time together.  The out of the box, ready to go simplicity of the SkyTrak is attractive to many who don't want to spend significant time setting things up or may lack the ability to do so.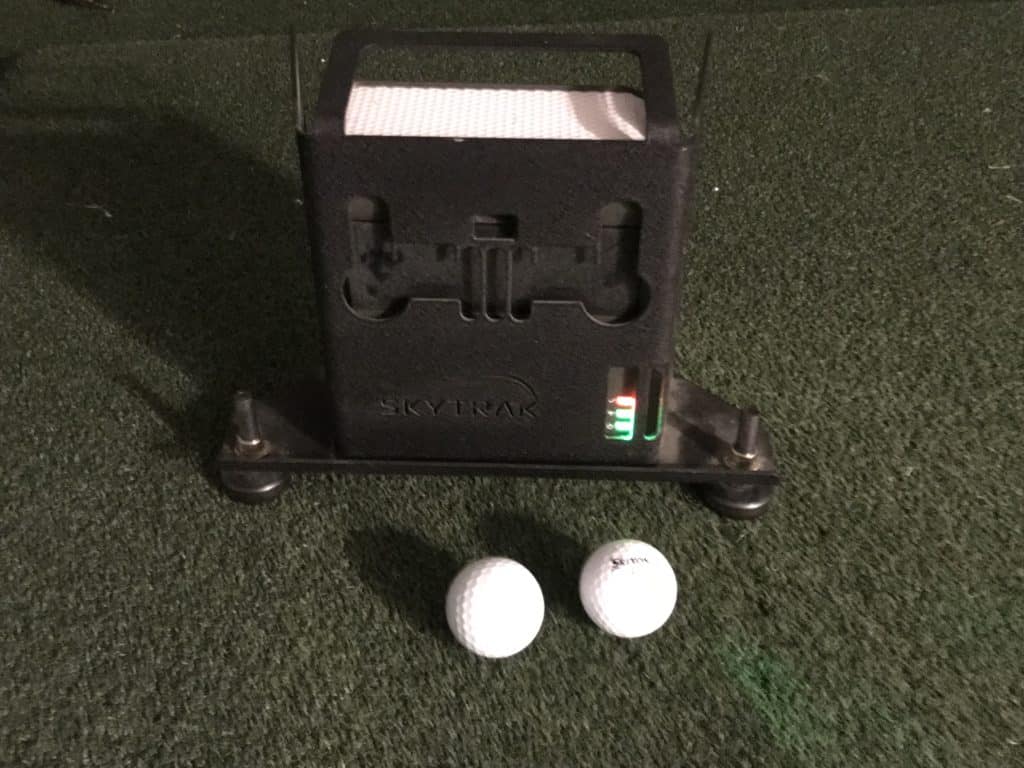 Cons: The Skytrak has about a 2-5 second delay from when the shots are hit.  While other simulators might produce immediate results, the SkyTrak has a slight delay.  To be honest, after awhile, you really don't notice the delay and it becomes sort of standard.  One benefit I have been able to use is that I can analyze what the shot felt like and predict the outcome of the shot.  I believe this has helped me advance my feel for my swing.
"Imagine having the technology to play golf anytime and in any way, and the insight to take your game to the next level. SkyTrak is a personal launch monitor that delivers instant and real-time 3D shot analysis and ball-flight data. Plus, enhance your SkyTrak experience with a high-definition simulation package."

Practice and play like a pro.

SkyTrak Website
ProTee
Pros: Another phoneomical option in this similar price range to the SkyTrak Golf Launch Monitor.  Similar to the SkyTrak, it also utilize the TGC software for game play. This software system truly is in the top echelon when it comes to the course play software.  The accuracy and realistic nature of it competes when simulators two to three times the price point of the ProTee.
I highly considered this option as I believe at this price point the realistic nature, combined with no delay makes it an excellence choice.  My one concern was the amount of width in my golf simulator space. You can get by with 14' and have your ProTee setup right in the center. One of the pretty cool features of the TGC software is the amount of tournament and tour play that takes place. There are websites and forums that oversee the weekly tournaments.  
Typically, the tour, through the website, will be playing at whatever course the PGA Tour is at that week. This allows you to hit some of the same shots that the Pros are experiencing during their tournament play. Whether this is the 17th tee shot at TPC Sawgrass or the drive on number 18 at Pebble Beach, you get to experience those same challenges and see how you hold up under the pressure. The customer service, from what I hear, is top notch as you setup your ProTee.
Cons: The one drawback to the ProTee is that the setup can be quite complicated and take hours.  However, once setup, you are ready to go and have a very solid system at this price point and the customer service will guide you through the process.

Flightscope xi and Flightscope xi+
Pros: As the price begins to increase significantly, so does the accuracy the overall data that is provided to the user.  The technology is a doppler based setup that needs 21 feet from hitting space to read the shot. The accuracy of the data and the technology utilized to provide this data is at a pro level.  The launch monitor is compatible with E6, which provides a quality game experience for those that choose to go the route of the Flightscope xi or xi+. Many places will use this technology and simulator for club fitting due to the accuracy of this simulator option.  This technology makes sense for the very low handicap players that wants to dive into the advance data provided to the golfer. While not for everyone, the serious golfer that needs that accurate data could be the best candidate.
Cons: The one drawback is that it does not read putts.  It also take a significant amount of time to charge.  If you are using all the time in an inside setting where you are not moving it from space to space ot use it everyday is not a problem.
SportsCoach Systems
Pros: The company has been around for over 25 years.  It provides not only a golf simulator option, but provides opportunities in other sports.  The simulator is for those that have needs beyond golf and have kids or friends that would benefit from the wide range of activities that can be utilized.  A portion of the list of current sports includes:
Football
Tennis
Basketball
Basemeball
Softball
Field Hockey
Rugby
Ice Hockey
All of these options can bring a great deal of entertainment and skill development in a variety of sports.  The possibilities are almost endless as they wide range of sports could be the ultimate of what you are looking for.  From a golf angle, the simulator uses high speed camera technology to capture swing path, impact and ball flight. They are working on including over 160 GPS courses into their new technology.  Different current packages include anywhere from 23-40 sports.
Cons: If golf is your only need you may be over buying for what you truly want.  It also has some complex requirements that may required your setup to be taken care by professionals.

TruGolf
Pros: The one stop shop option provides you with everything that you need to get started playing simulator golf.  They market that they are the short game specialist. As the amount of the money increases once again the accuracy and the features also increase.  Ultimately, one has to decide what exactly they need out of their golf simulator. It also has a multisport feature that includes basketball, soccer, slap shot hockey and foot golf.  The golf software that it runs is the E6, which is an impressive software option. The simulators on their websites appear to be very impressive and the setup looks amazing.
Cons:  Everything is sold in complete packages, which some people may appreciate, while others want the ability to pick and choose the areas where they will spend their money.
Pros: The versatility of the GC2 allows you to take it with you to the range of use in your golf simulator setup.  The accuracy is top notch and there are certified pre-owned models available for sale at less expensive price point. It is a quick and easy setup and ready to go in minutes.  They promote state-of-the-art imaging which assures reliable ball find and lock. Once you enter into the GC2 HMT+, you start to bring in the club data in addition to the ball data.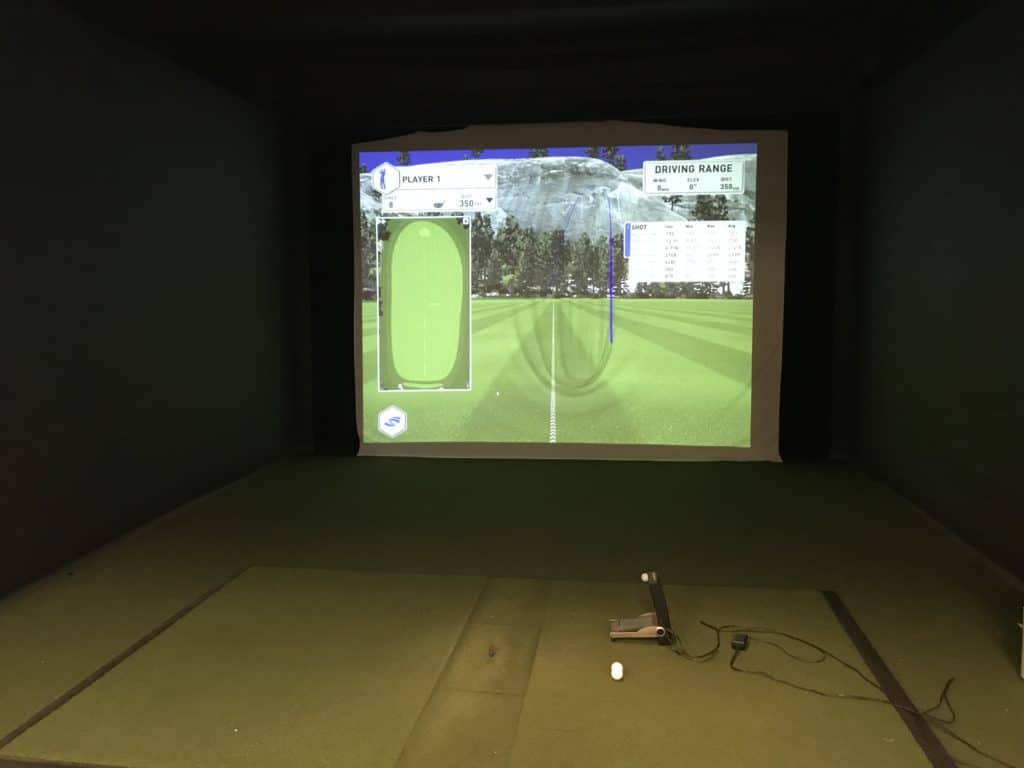 The biggest benefit is the accuracy and consistency. I have seen these models at both Dick's Sporting Goods and the PGA Superstores. Through their game software (FSX) they offer course options such as Pebble Beach, St. Andrews and SpyGlass.  If I had the greater budget at the time, this would have been a phenomenal option. They have close to 80 courses, which includes many of the top courses throughout the world.
Cons: The difficulty in playing right handed and left handed play can make it a bit complicated.
Related Questions
What are your top 3 Golf Simulators?
As someone looking at it from a pure golf standpoint and the price points of each simulator, my top 3 that would meet the different price ranges are the SkyTrak Golf and the Foresight GC2 for golf simulator purposes, but I would also love a flightscope Xi+ to use at the range for that precise and accurate data.  The options today are simply amazing and keep getting better. The market and the technology are consumer friendly and offer many options. You can build a simulator for anywhere as low as $500 all the way up to $40,000. Bottom line, the golfer will have fun no matter what and be able to play golf 365 days a year!
Can a golf simulator improve my game?
Absolutely!  I believe no matter the system you have, one can improve their game.  The daily act of hitting shots in different settings and at different targets will improve one's ball striking and bring about improvement.  In my own game, I have noticed an improvement in my ball stiking and consistency. My irons are ultra crisp and there is a difference. I have also experience a drop in my 18 hole average by 4 strokes.
What do you most enjoy about your golf simulator?
In my SkyTrak setup I am able to play anytime I have an extra 20 to 30 minutes.  It is a simple grab and go from where I charge it to my garage where I am playing within 3 minutes.  Regardless of the weather outside, I am able to play golf 365 days a year on some of the most amazing courses in the world.  I truly love playing St. Andrews, Oakmost, Whistling Straits or the course the pros are playing that week to see how my game holds up on the best courses around the world.  It was truly sensational to play Le Golf National during the Ryder Cup 2018. What an amazing course and experience. I also enjoy the time spent with family and friends playing the game we enjoy and love.
What if my budget is limited?
Get started with something like the R-Motion or Opishot2.  If you build the enclosure and the hitting mat, you can always upgrade to a SkyTrak or ProTee at a later time.  See how often you will use it and if you want to upgrade. You might be satisfied with the entry level options.
How long does a round of simulator golf take?
I can complete a round of simulator golf – 18 holes in about 30 minutes.  I choose to setup my simulator options to 2 putt anytime I hit the green, unless I am within 6 feet than it counts as a one putt.  Ultimately, I want to be able to hit many full shots and chip shots and develop my game in the short time that I might have that day.  There are times when I have family or friends playing that we will putt it out or if I am playing in a tournament. I have been able to play over 300 round in about a year in half in addition to the many rounds I have played outdoor during this same time period.
Can I finance my golf simulator?
I wrote a post here about 8 excellent options to finance your golf simulator.  While the cost can seem expensive, if you are able to make monthly payments it can seem more bearable over the long run.
What else do you use your golf simulator setup for?
My family has watched moves on the big screen during the summer months, when we can open the garage and enjoy the fresh air.  My sons have also utilized the big screen to play video games. This provides additional ways to get a return on your sizable investment for your golf simulator.  If you setup your simulator up in your basement or in an extra room, you can utilize this space frequently.
What Next?
Check out several of my posts on FAQs around Golf Simulators
How Much Space Do I Need For A Golf Simulator?
Can A Golf Simulator Improve My Game