Many golfers are seeking a way to improve their game.
They spend money on new drivers, new irons, the flashy new putter, but still struggle to get any better.  Some even head out and take a lesson or a series of lessons.  They spend time at the driving range and hit buckets of balls all summer long.
Yet, golfers always seem to play and shoot similar scores once they reach a certain peak in their game.
This can become frustrating for golfers.  
So they settle in and can only hope for game improvement at some level.  Maybe that new driver does provide an extra 5-10 yards.  Or that putter that felt great in the store, helps you make another putt or two per round.
According to the USGA website:
Did you know that only 29% of golfers are single digit handicap golfers and less than 10% of golfers have a handicap below 10%?
Resource: https://www.usga.org/content/usga/home-page/handicapping/handicapping-stats.html
If the above describes you or you aren't a single digit handicap, I have a solution that just might finally help you take your game to the next level!
Through a SkyTrak Launch Monitor and a home setup of a golf simulator, I was able to reduce my average score from between 74-78 down to 68-74.  This was in my late 30s with 3 kids at home and working in a career that required 50-60 hours of work per week, I was able to make this reduction.
There wasn't some swing secret, yet I had the opportunity to play and to play frequently!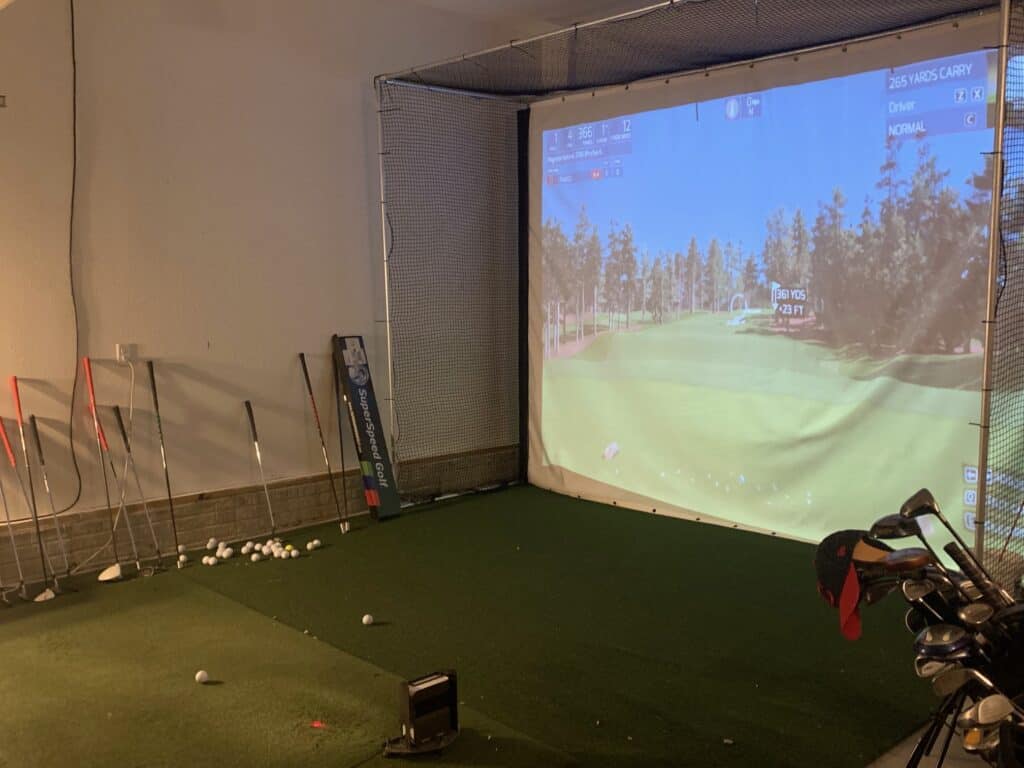 How Can A SkyTrak Help Improve Your Game?
The access to play golf 365 days a year with it only taking 45 minutes per round, a golfer finally has the opportunity to get in the repetitions that it requires to become very good!
Many of us have heard that it takes 10,000 hours to achieve true mastery of a skill.  Malcolm Gladwell spoke about this in his book "Outliers"
Let's do some quick math.  If you play two rounds a week and practice for one hour.  This is a total of 9 hours per week.  If you live in a location where you can only play 7 months out of the year because of the weather, you have around 28 weeks of golf times 9 hours.  This is a total of 252 hours.  At this rate it would take you 39 years to achieve a true mastery of the skill required for golf.
Here is a list of the reasons why SkyTrak Is The Ultimate Game Improvement Tool
Reduces the time it takes to reach 10,000 hours
The SkyTrak provides excellent feedback
The amount of repetitions is a major key
You can play golf and build skill of hitting golf course type of shots
Provides a space to experiment and train
Resource: Where is the best place to buy a SkyTrak?
SkyTrak Golf Launch Monitor: Reduces the time it takes to reach 10,000 hours
If 10,000 hours is the amount of time it takes to reach a mastery level with skill associated with golf, it would take the majority of golfers 39 years.  I don't know about you, but most people don't want to take 39 years to reach a level.  
Now mastery might be considered better than scratch in golf, but even if we cut those hours down to 5,000 hours to reach a single digit level, it would take a golfer 18 years.
Here are some quick numbers.  
I have owned a SkyTrak with my golf simulator setup for 3.5 years or 42 months.  I have played close to 850 rounds or about 20 rounds per month.  With another 10 hours or so coming each month with practicing different shots around the courses on my golf simulator through my SkyTrak. 
I am averaging around 7 hours per week on the SkyTrak, but really this is equivalent in golf to around 90 hours per month when you use the typical translation of a 4 hour round.  
Now if you also work in the number of rounds played outside, you will see that this 10,000 hours could be reached in a 5-6 year period of time.
Plus if you want to just reach the single digit handicap level it might only take 2-4 years to do so!
At the end of the day, the ability to play golf 365 years and play quick rounds where you are still hitting the equivalent number of golf shots, you are able to build the skill necessary to take your game to the next level.  Most golfers would be thrilled with a 5-7 shot reduction and that is possible with the right amount of time after 1-2 years!  
The SkyTrak provides quick and easy access.  With the ability to play golf in your garage, basement, home or shed you have the ability to play 1 hour a day and get in the same number of shots it would take you 4 hours in an outdoor round.  It truly is about the practice and the amount of repetitions!
SkyTrak Golf Launch Monitor: Provides excellent feedback
In any learning situation, it requires the right feedback at the right time to maximize your growth as an athlete or a learner.   This is part of the reason why having a coach or a teacher work one on one with you is so important in the learning process.
While you may not have a one on one instructor, having the feedback on the shot you just hit is important.  With the SkyTrak you get the following data after every shot:
Ball Speed
Carry Distance
Total Distance
Spin Rate
Spin Axis
Launch Angle
Path
Not only do you get to see the ball flight and the ball tracer within the software, but you get the data.  Did you swing speed drop?  Did you launch angle increase too much?  Was your path too far to the inside? 
These are some of the factors that influence your swing and your results.  Having this data at your fingertips is essential for game improvement and maximizing your time with practice.  
If you are simply standing at the driving range hitting bucket of balls after bucket of balls with no real data and no coach, you aren't going to make the same amount of progress!
One of the benefits of the SkyTrak is that it can be used indoors in a golf simulator setup or something as simple as a net and a hitting mat or can be taken with you to the driving range or golf course.  THis allows you to maximize your driving range sessions if you wish during the nice weather months.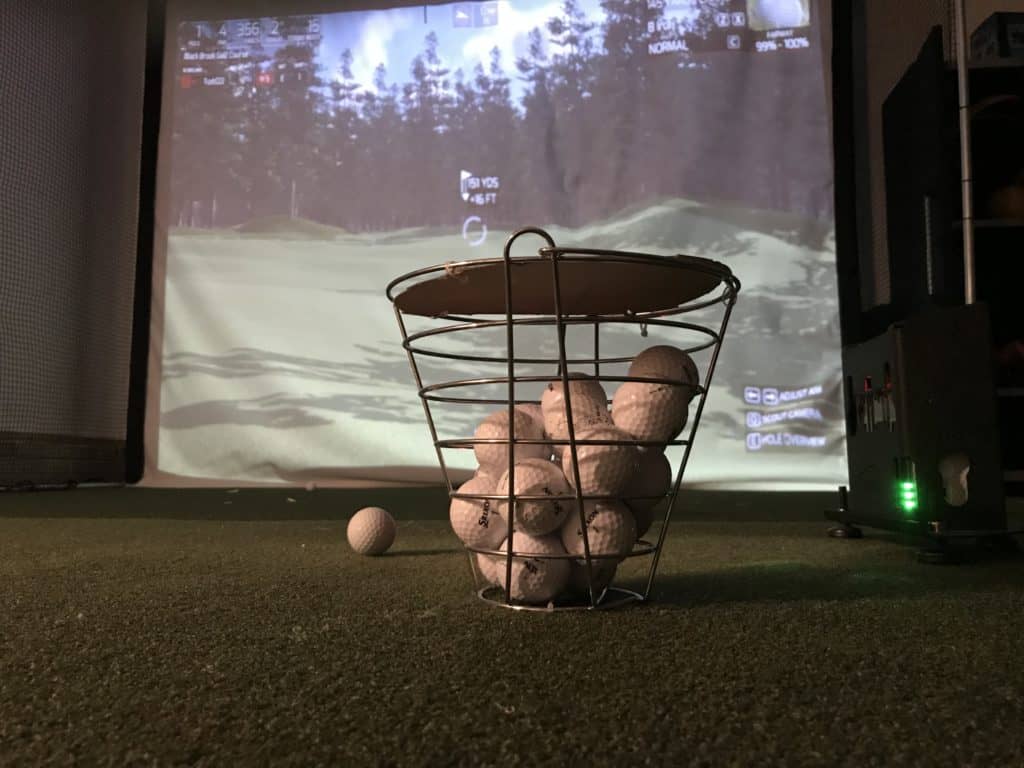 SkyTrak Golf Launch Monitor: The amount of repetitions is a major key
I got into this a bit in the 10,000 hours, but when we are learning something it requires repetition after repetition.  Nobody became great or really good at something from a secret in the golf swing or a secret in another sport.  The best are developed from practice and quality practice makes it that much better.
Being able to get the instant data and play golf frequently, is a quality and the fastest way to get better quickly!  You have to dive in and commit to the process of putting in the time and utilize the data and some golf instruction to improve your overall performance through experience and better mechanics.
If you need to work on hitting a draw, you can stand on a par 4 approach shot that requires a slight draw.  With the right drills, training devices or instruction hitting a draw and then being able to pratice it over and over again is made possible with the SkyTrak and a launch monitor.
Resource: Is SkyTrak Worth It?
SkyTrak Golf Launch Monitor: You can play golf and build skill of hitting golf course type of shots
It is one thing to practice golf at a driving range.  Yes, you can get better and improve your swing.  However, it is even that much better to play actual golf.  Through a simulator setup, a golfer is able to hit actual golf shots.  For example, if you are playing a par 4 that has a slight dogleg, you have to be able to hit a shot that draws left if the hole bends that way.  
Resource: How to get good at golf fast (7 tips)
Playing golf and building the experience of hitting shots that need to fly high or low, or maybe draw or fade will go a long way in the overall development of a golfer.
I often think about the junior golfers in certain parts of the world where they can play year long and what an advantage they have over those that can't.  The golf simulator setup is an equalizer for those in bad weather areas in the winter months.
Now you can hit shots, shoot a score and feel the pressure of producing during your golf round.  There are opportunities to compete against others and test your ability to take your swing "to the course."
Many of the all time greats are critical of junior golfers who practice too much on the range and don't play enough golf.  Playing the actual game helps a golfer learn how to score.  For example, how to make par when you miss the fairway in the trees.  Or how to scramble and score on those days when your ball striking is a bit off!
As someone that grew up in Ohio, the opportunity to get enough golf like situations in the winter was nearly impossible.  You had to get out there on 35 degree days when there wasn't any snow.  There was the only chance, but once again it wasn't consistent.  With a SkyTrak and a golf simulator setup you can get these daily reps of golf course shots and build the skill.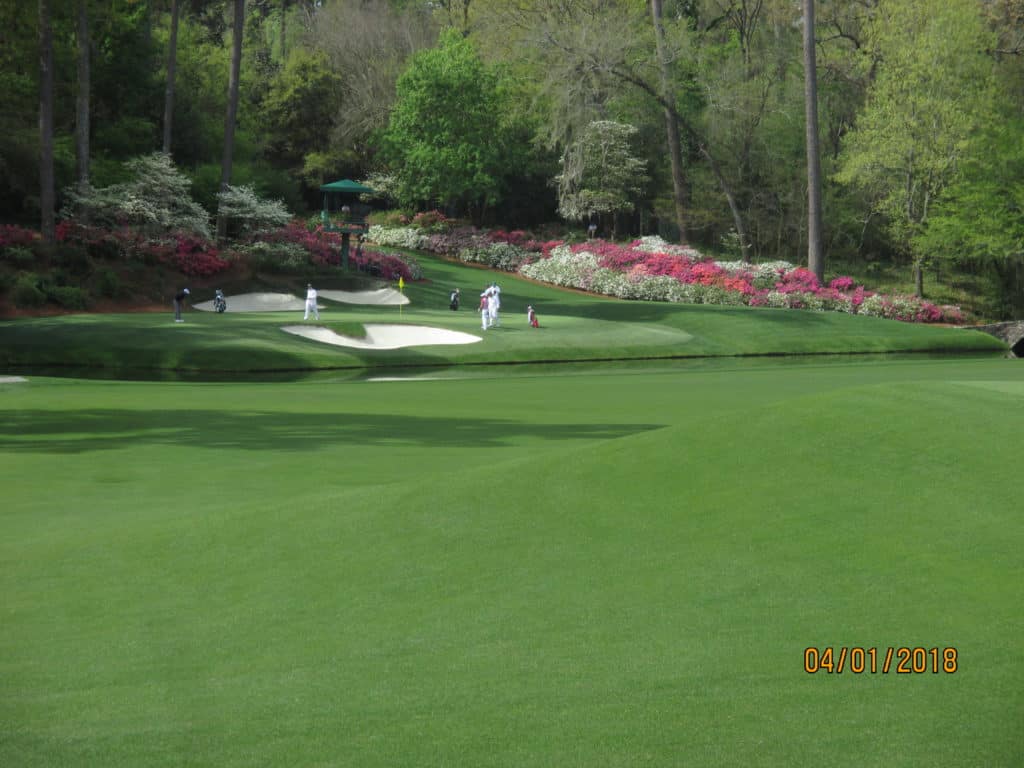 SkyTrak Golf Launch Monitor: Provides a space to experiment and train
Golf is a journey, both physically and mentally!  We must be able to control our emotions if we are going to shoot the scores we desire.  The golf simulator setup with a launch monitor like a SkyTrak provides the perfect space to learn about the swing, experiment with swing changes and train for speed and accuracy.
I think of it as a laboratory to play, experiment and grow your game!  You can get a lot of shots in in a short period of time in a controlled environment where it is easy to get feedback and use other tech tools like a smartphone to record your swing and track your overall progress.
If you swing coach can't be right there, you can record your swing, send the numbers from your session and get feedback on what drills or changes are needed.
I spend many hours studying the best online golf instructors in today's golfing world.  They have helped me grow my knowledge of the swing and develop my own swing into a more power, consistent swing than 3.5 years ago when I first setup my SkyTrak based golf simulator.  I enjoyed every minute of it and the experimentation that went along with the learning!  There are ups and downs, but at the end of the day it is golf and something that many of us love to do!
Resources: Seeking Alternatives to the SkyTrak?
Key Resources to Building a Golf Simulator
Other Keys for Improvement
Speed Training
For years people would often say, "drive for show, putt for dough" when the reality is that distance is important not only to overall scoring, but to consistency in the scoring.  Those that have the greater distance have shorter shots into greens.  This means hitting it closer on average, which results in more putts made.
Check current pricing on SuperSpeed Training System
There is a big difference between someone that can swing a driver 85 miles per hour vs someone swinging at 105 miles per hour.  Even an increase in 5-8 miles per hour can mean 30 yards of extra distance.  The really neat part is that recently there have been research studies on the best way to increase swing speed.
What we have learned is that overspeed training with lighter clubs can help train the mind and body to be able to swing faster.  My example is that I used to swing between 98-101 miles per hour.  After training with the SuperSpeed program I am now between 105 and 108 miles per hour.  In order to swing faster, you have to train by swinging faster. 
With the lightest club in the protocol by SuperSpeed, I am swinging between 122 and 129 miles per hour.  This than coverts to between 105-108 miles per hour with my actual driver when playing golfer.
The difference of 20-30 yards is important and one of the fastest ways to get better at golf.  Would you rather be hitting a 7 iron from 155 or a PW from 125 after your drive? 
If you give yourself the shorter shot over the course of 18 holes, you are going to hit more greens in regulation, hit the ball closer to the hole, which then gives you a better chance of making the putt.  The formula is simple.  The important part is to start training for speed using SuperSpeed Golf and improve your speed and gain 20-40 yards.  It will make a massive difference!
Here is the training drill at the first protocol level:
Knowledge of the golf swing
If you are practicing the wrong things, you might still get somewhat better from grooving a swing and manipulating it at key times, but true growth comes from following a system of instruction and dedicating your game improvement using the swing knowledge out there. 
The great news is that in today's golf world, there are so many free resources of affordable golf memberships online that help make growing your knowledge of the golf swing easy and accessible.
I would recommend checking out the review on some of our top rated online golf instructors.  Here are some helpful links:
Here is a list of golf instructors that we have reviewed:
Course Management
Growing the mechanics of your game and swinging faster is a great combination.  Being able to practice everyday and frequently is essential.  The last part of the equation is course management.  You must be able to work your way around a course. 
The golf simulator experience provides this opportunity to practice and improve in your course management frequently!  You are challenged to produce a score and the score always reflects your course management skills in some manner.
We have provided guides on how to break 100, 90, 80 and 70. Check out more below, if interested.
Take Action – What You Can Do Today to Get Better
What does this mean for you?  I believe in the following recipe to get better:
1 – Improve your motion in the golf swing by identifying a golf instructor.  Here are some options:
Here is a list of golf instructors that we have reviewed:
2 – Train to swing faster and improve your swing speed.  Here are some options:
Looking to gain more Speed and Distance in your swing. Two Options:
3 – Understand course strategy and work to break through your next barrier.  Here is a series on breaking through:
We have provided guides on how to break 100, 90, 80 and 70. Check out more below, if interested.
4 – Practice Frequently
Did you know that I build a golf simulator in my garage and have played over 500 rounds of golf on my SkyTrak system?  It has been a game changer and one worth checking out. Here are some of my other posts on golf simulators frequently asked questions: