Personal launch monitors in the game of golf continue to grow in popularity and for good reason!
They can be a game changer in several different ways!
Golfers have several different options when it comes to the launch monitor in the $500-$2000 price range, which is much better than paying $16,000 for a Trackman unless you are a professional golfer or give lessons for a living.
The SkyTrak when compared to the Trackman has competed well and the accuracy of the data is fairly reliable when compared side by side with the Trackman.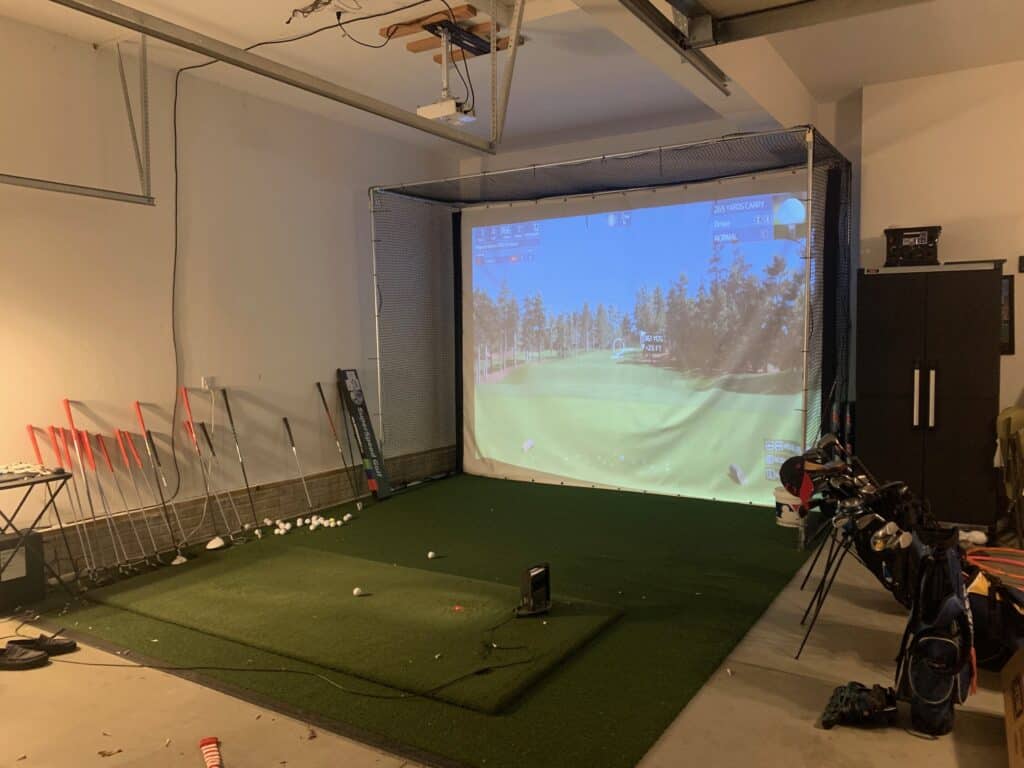 Is SkyTrak Worth It?
SkyTrak is definitely worth it.  The versatility in being able to use the SkyTrak indoor in a golf simulator setup or outdoors at the range or on the golf course can help a golfer improve their overall game, while having a ton of fun enjoying the game during the winter months!
SkyTrak Overview
The SkyTrak is a personal launch device that can be used indoors or outdoors.  It delivers instant and real time 3D shot analysis and ball flight data.  It is compatible with multiple software options, with the most basic option being the SkyTrak software that costs around $99 for the year. 
SkyTrak also offers a Play and Improve Package for around $200 for the year.
The greatest and most significant benefit from my perspective is the ability to play golf 365 days a year.  With a quality indoor setup, a golfer can play the world's best courses regardless of what the weather is doing outside of the time of day.
This can lead to some serious game improvement.  For those that live in parts of the world where winter brings the snow and cold weather and wipes out golf for 2-5 months, this is a wonderful option and well worth the investment.
I can play golf at places like Augusta, Pebble Beach, St. Andrews, Whistling Straits, and BethPage Black.  The ability to play these courses in January or February when there is 6 inches of snow on the ground and challenge and grow my game has been the single most important aspect of my game improvement. 
Being able to play golf 12 months a year is a true game changer and one that I would highly recommend if you want to take your game to the next level!
The data provided by SkyTrak is instant and can help you improve your game.  The launch monitor uses high-speed cameras and sophisticated algorithms to calculate the ball's flight path and distance.
With every shot, you get the following data:
Carry Distance and Total Distance
Ball Speed
Club Speed
Spin Axis
Spin Rate
Launch Angle
Complete Overview of the data that SkyTrak provides.
Is the SkyTrak Worth It?  Here are the 4 major areas that make the SkyTrak perfect for your typical amateur golfer:
Affordable
Entertaining
Portable 
Innovative
Accuracy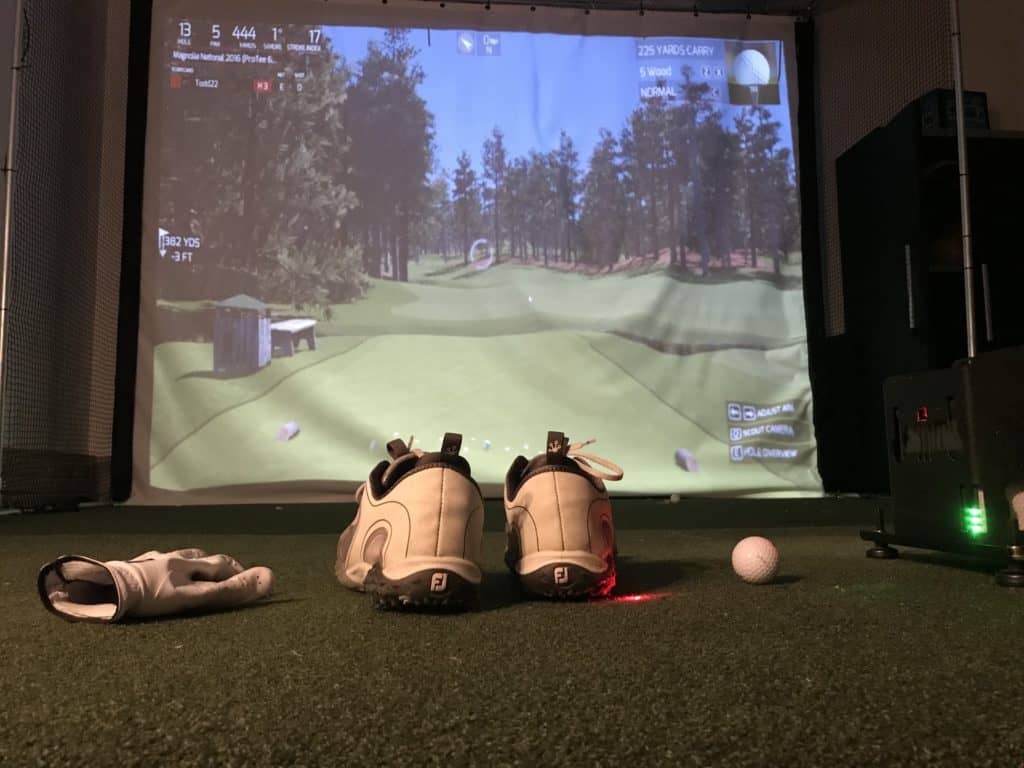 Is SkyTrak Worth It: Affordable
The SkyTrak will run around $2000 to purchase.  Check price here at Rain or Shine Golf.  I highly recommend Rain or Shine Golf based on their customer service, excellent simulator packages and the ability to finance.  You will be impressed with the offerings and you can start dreaming of building a golf simulator in your garage. 
If you only have around $2000 to spend at first, start small and add pieces one at a time.  A SkyTrak purchase along with a net and a simple mat will get you started.
If you want to go full out it will cost you around $6000-$7000 for a pretty impressive setup.  One that will be the envy of your friends.
The other important components include:
Enclosure and Screen
Gaming Computer
TGC software
Projector
Hitting Mat
How to Build a Golf Simulator?
There are different entry points, but the financing options at Rain or Shine, you may be able to get the full package right away for a low monthly payment.  It is a game changer and the quality of life when you can play golf 365 days a year is better!
Is SkyTrak Worth it: Entertaining
The ability to play golf 365 days a year at some of the best courses in the world is impressive and highly entertaining.  The graphics when the SkyTrak is paired with The Golf Club (TGC) software is some of the best you will find.
I have played simulator golf on many different setups over the years and I still find the TGC a difference maker in the world of simulator golf.  Even at commercial setups in store fronts, the graphics do not match TGC.  
One of the major benefits of SkyTrak that makes it worth the money is the compatibility with TGC.  In addition to the incredible graphics, the ability to play over 100,000 courses, with many of the world's top 100 being in that 100,000 keeps the experience fresh and exciting.
Can you imagine having your friends over to play Augusta or Pebble on a winter day?  The excitement is real, the competition will be fun and everyone will leave refreshed because they have the ability to play golf.
During the actual golf season, I find myself being able to work on my game.  If I didn't like the way I struck the ball, I can work on my swing for 20-30 minutes in my golf simulator in my garage. 
I no longer have to head to the range and find that the work on the simulator, even in a driving range setup, is better due to the data at your fingertips.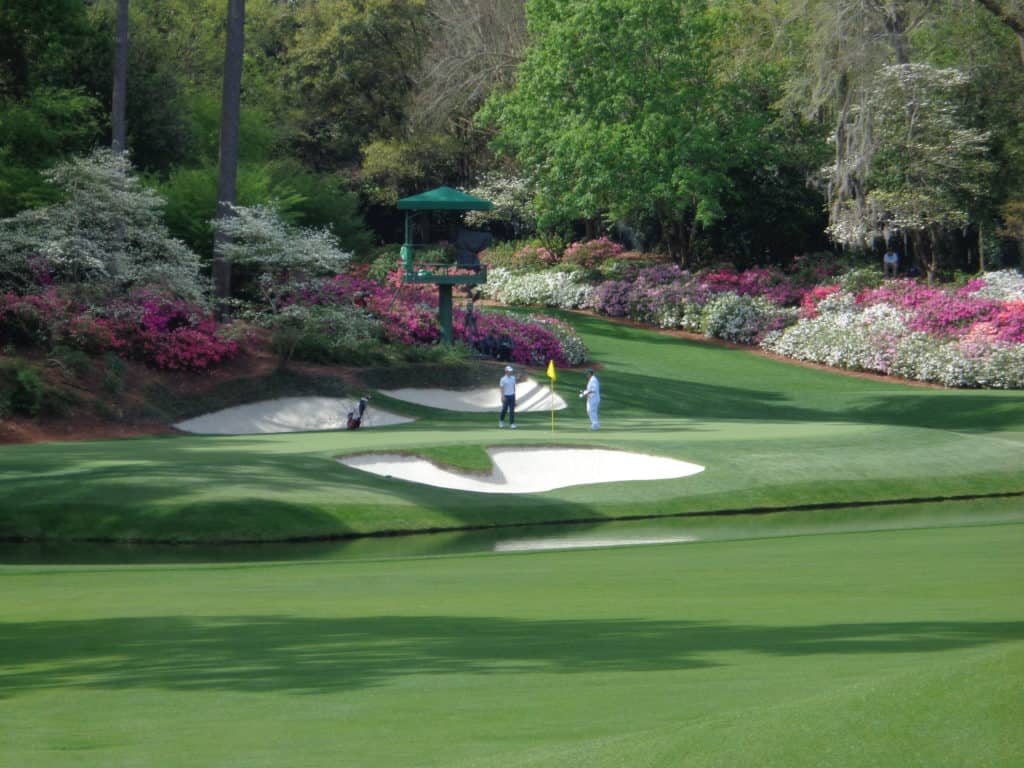 Is SkyTrak Worth It: Portable
For the $2000 price tag, you want to maximize your investment.  The ability to take it with you to the range or the course has many benefits.  If you are someone that likes to watch the ball fly and then compare it to the data you are getting on your smart device, this portability is important.
The SkyTrak will connect via wifi or a direct connect to allow you to use it in different settings.  The SkyTrak is lightweight and easy to take with you on the go.  Simply set to the side, connect to your smart device and  you are in business.
If you check out any PGA Tour event in a local town, you will find the professional golfers using launch monitors to measure, improve and maintain their swings.  With the improvement in technology, amateurs can now have similar data to help them with their games!
Is SkyTrak Worth It: Innovative
If you had told me 20 years ago that golfers would have access to this level of technology at this price point, I would have thought you were crazy.  However, the dream has become a reality and amateur golfers can have access to impressive feedback and a simulator setup that would have cost 30-40 thousand dollars in the past. 
The technology in today's golf world can be a game changer and now amateur golfers have access to it!
When I have viewed the side by side comparisons between the top models on the market and the more affordable products like a SkyTrak I am blown away by the accuracy. 
Is SkyTrak Worth It: Accuracy
One question I often get is how realistic is the SkyTrak. 
I did a little comparison of golf scores to measure up the realistic nature of the SkyTrak.  What better way than to actually compare scores shot over the past 15 rounds, both outside and with my SkyTrak Golf Simulator setup.
| | | | | |
| --- | --- | --- | --- | --- |
| Golf Simulator Score | Relative to Par | 15 Total Rounds | Real Golf Score | Relative to Par |
| 72 | 1 | Round #1 | 76 | 4 |
| 75 | 0 | Round #2 | 78 | 6 |
| 72 | 3 | Round #3 | 74 | 3 |
| 81 | 9 | Round #4 | 71 | 0 |
| 75 | 3 | Round #5 | 70 | -1 |
| 73 | 3 | Round #6 | 71 | 0 |
| 75 | 3 | Round #7 | 72 | 0 |
| 71 | -1 | Round #8 | 73 | 1 |
| 71 | -1 | Round #9 | 72 | 1 |
| 72 | 1 | Round #10 | 74 | 3 |
| 73 | 3 | Round #11 | 74 | 3 |
| 72 | 1 | Round #12 | 74 | 4 |
| 72 | 1 | Round #13 | 72 | 1 |
| 72 | 1 | Round #14 | 73 | 3 |
| 76 | 4 | Round #15 | 73 | 2 |
| | | | | |
| 1102 | 31 | | 1097 | 30 |
| 73.47 | 2.07 | | 73.13 | 2 |
Accuracy of Golf Simulator vs Reality – Data Breakdown
Total Strokes (15 Total Rounds) = 1102 in Simulator Golf and 1097 in Real Golf
Total Strokes Over Par (15 Total Rounds)  = 31 in Simulator Golf and 30 in Real Golf
Average Score = 73.47 in Simulator Golf and 73.13 in Real Golf
Average Strokes Over Par = 2.07 in Simulator Golf and 2.0
Overall the numbers speak for themselves, but below I will talk about some of the differences in Simulator Golf vs Reality.  How crazy that after 15 rounds there is only a 5 shot difference? Having never done a data comparison before, I must say I am even more impressed with simulator golf.
Is SkyTrak Worth It: My Personal Story
Let's face it, in order to get really good at golf, we must practice frequently.  About three years ago, I made the leap and invested in a golf simulator build for my garage.  
My average golf score range has decreased from 74-78 to between 68-74.  This has been a major change and some excellent growth at this point in my golf journey.

If you are someone looking to take your game to the next level.  The SkyTrak can be the difference maker!
I went with a SkyTrak Launch Monitor and the TGC software and can now play over 100,000 courses including Augusta, Pebble Beach, Bethpage Black, Whistling Straits. St. Andrews and many other of the top 100 courses in the world.
This golf simulator setup, which is more affordable that you might imagine, has been a game changer.  I can now play golf everyday of the year regardless of rain, snow, cold weather or time of day.  I can practice or play rounds of golf.  I can stand in the 11th fairway at Augusta and with the auto-rewind feature I am able to practice my approach shots from various differences.
It is worth checking out through Rain or Shine Golf as they offer some incredible packages along with financing offers that are difficult to beat.
Some direct links to Rain or Shine Golf for pricing and financing: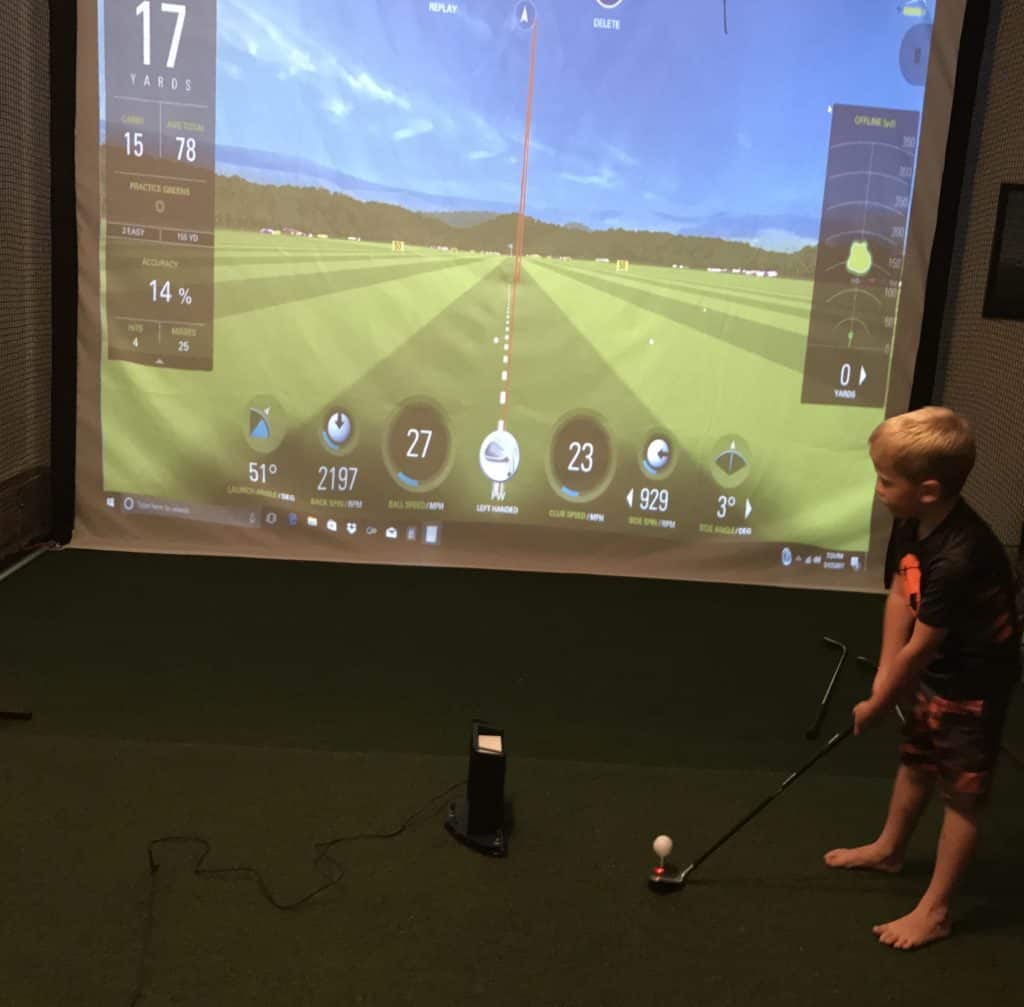 SkyTrak Launch Monitor: FAQs
How Much Space Do I Need?
What space is needed for a golf simulator?  You will need a minimum of 10 feet wide by 8.5 feet in height.  As far as depth you will need around 15 feet. This is often times the first question prior to pricing out the cost of a golf simulator.
What are the price ranges to build a golf simulator?
You can build a golf simulator setup with a SkyTrak for between $3000 and $7000.  However, I would highly encourage checking out Rain or Shine golf and considering the financing options.  Being able to buy the best at each level will make the overall experience better.
The software, gaming computer and overall look at the impact screen will impress if you go with the high end and make the overall feel as realistic as possible.
What other accessories should I consider for my golf simulator?
Items like televisions, furniture and training systems help compete your setup.
Alternatives to the SkyTrak Launch Monitor
There are many different options there that fall into all different price ranges.  Recently, I created a post on alternative to the Trackman, but it also applies in this case.  Here are 5 options in the golf simulator world.
FlightScore has produced the Mevo and Mevo+
I would say these are closest comparison to the SkyTrak, but only the Mevo+ has a simulator option.
They are worth checking out below at Rain or Shine Golf:
Take Action – What You Can Do Today to Get Better
What does this mean for you?  I believe in the following recipe to get better:
1 – Improve your motion in the golf swing by identifying a golf instructor.  Here are some options:
Here is a list of golf instructors that we have reviewed:
2 – Train to swing faster and improve your swing speed.  Here are some options:
Looking to gain more Speed and Distance in your swing. Two Options:
3 – Understand course strategy and work to break through your next barrier.  Here is a series on breaking through:
We have provided guides on how to break 100, 90, 80 and 70. Check out more below, if interested.
4 – Practice Frequently
Did you know that I build a golf simulator in my garage and have played over 500 rounds of golf on my SkyTrak system?  It has been a game changer and one worth checking out. Here are some of my other posts on golf simulators frequently asked questions: