For years as someone that loved to play the game of golf, every winter was a struggle.
Sitting at home, looking outside at the snow covered ground while watching the professionals play golf in Hawaii, California, Florida and Texas.
There I sat without the opportunity to practice my game or to actually play the game.
The frustrations grow and the envy is real.  On occasion I would take a winter trip to a warmer destination to play golf for several days.
But, what if there was a solution to the issue that so many golfers face every winter?  One that could help golfers play the game, have fun and actually get better.
How to play golf at home?
The golf simulator market has changed winter golf forever for the golfers who truly need to play 365 days a year. The affordable cost to enter the golf simulator world has made the golf simulator a possibility for many people.  The cost is much more affordable than 10-20 years ago.
I made the investment close to 5 years ago and have played over 900 rounds on my golf simulator.  
The combination of my Skytrak Launch Monitor with The Golf Club (TGC) software has been an incredible combination.  Add a projector, gaming computer, hitting mat and enclosure and the dedicated golfer has one impressive setup at an affordable price.
I spent many months researching and figuring out the best setup for my garage.  I can now play courses like Augusta, Pebble Beach, Whistling Straight, St. Andrews and many other top rated courses right there in my garage.  I no longer have to worry about rain, snow, cold weather or lack of daylight. 
Key Information To Make This Possible
Create a budget
Measure your space
Determine your device
Consider financing
Have fun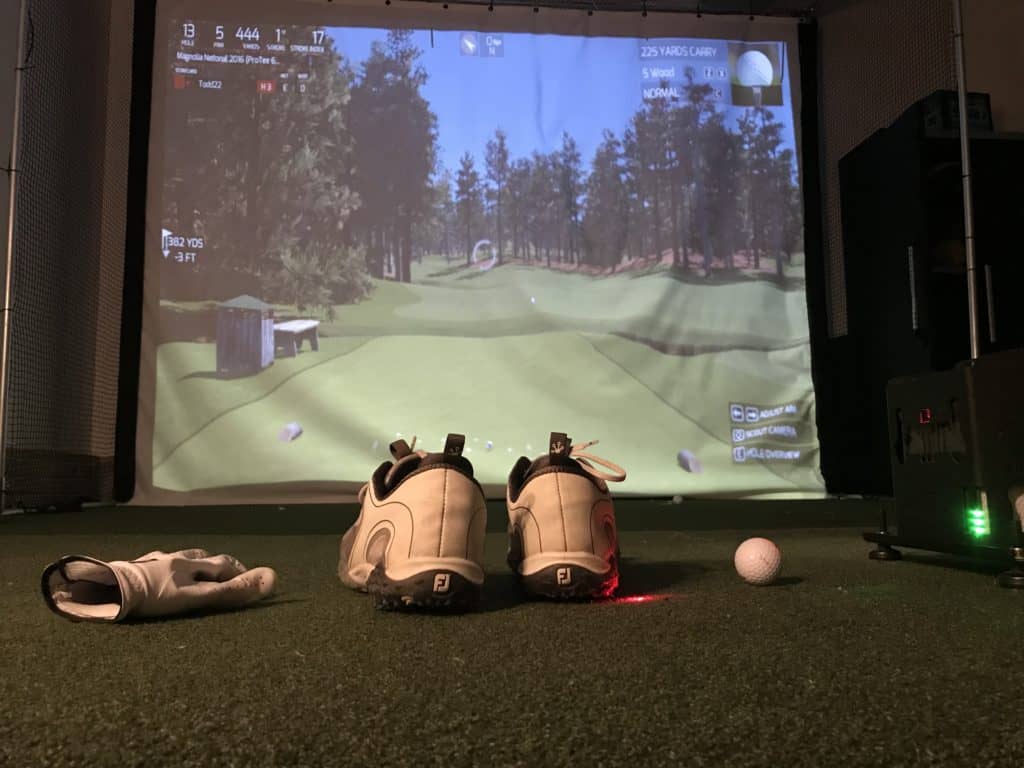 Key #1: Create a budget
As with most projects or purchases, there is a wide range of money that can be spent.  Someone can enter the space for an amount as low as $1000 or spend close to $40,000.  The reasonable amount to build a quality setup that is pretty realistic is close to $7,000.  You can build a quality setup at this price point and have realistic results with a true game-like feel.
I would recommend spending the quality money on the device (launch monitor) and software to create the most realistic experience.  Other items like an enclosure and upgrade HD impact screen can always be added at a later date.
Related Post:
Key #2: Measure your space
The next step is to measure your space.  You can make this happen with space at a minimum of a 10'x12' with a ceiling of at least 9 feet.  While you might feel restricted in this space, you can make it happen.
The space I have in my garage is around 14' wide by 25' deep with plenty of ceiling space.  I went with a 12 foot enclosure and hit the golf ball from about 8-9 feet from the impact screen.
Once you have measured your space, you can better dive into your budget and determine each of the line items of where you are going to spend your money to build your ultimate golf simulator space!
Related Post:
Key #3: Determine your device
Your launch monitor is going to be important.  This can be impacted by the amount of space that you have.  The Skytrak is great for limited space as it sits close to the ball and can be shifted around in your space depending on your needs.  Some golfers with limited width will hit a shot that is off centered from the enclosure.  The Skytrak is also a quality option if there is a righty and lefty playing at the same time in limited space.
Another option is Mevo+, but you will need more space in the total distance from front to back since it sits behind the ball and down the line for the shot.
It all comes together in making these decisions as your budget, space and device choice are all impacted.
Quick Tip: Make sure you take into consideration the computer or laptop you are going to use to operate the software and what is compatible with the device.  One of the most important parts of any gaming computer is the graphics card as most software is high end and needs a certain level graphics card.
Related Post:
Key #4: Consider financing
Vendors like Rain or Shine Golf now offer financing offers that enables a golfer to get into the golf simulator space for an affordable monthly payment.  This may allow you to up your budget based on what you can afford per month.  
When you start breaking down the number of rounds you might play in a month and what you would be paying "per round" your golf simulator will be very affordable at the cost per round compared to what you pay per round in actual golf.
Helpful Links:
Key #5: Have fun!
It will be an awesome experience.  You can play a round of golf in around 40 minutes, reduce some stress, have some fun and enjoy time spent with family and friends.  Oh yeah, and your average golf score will more than likely get better!  
The opportunity to play golf in the comfort of your home, on some of the best golf courses in the world during the winter months makes this investment well worth in my opinion based on my experiences!
Related Post: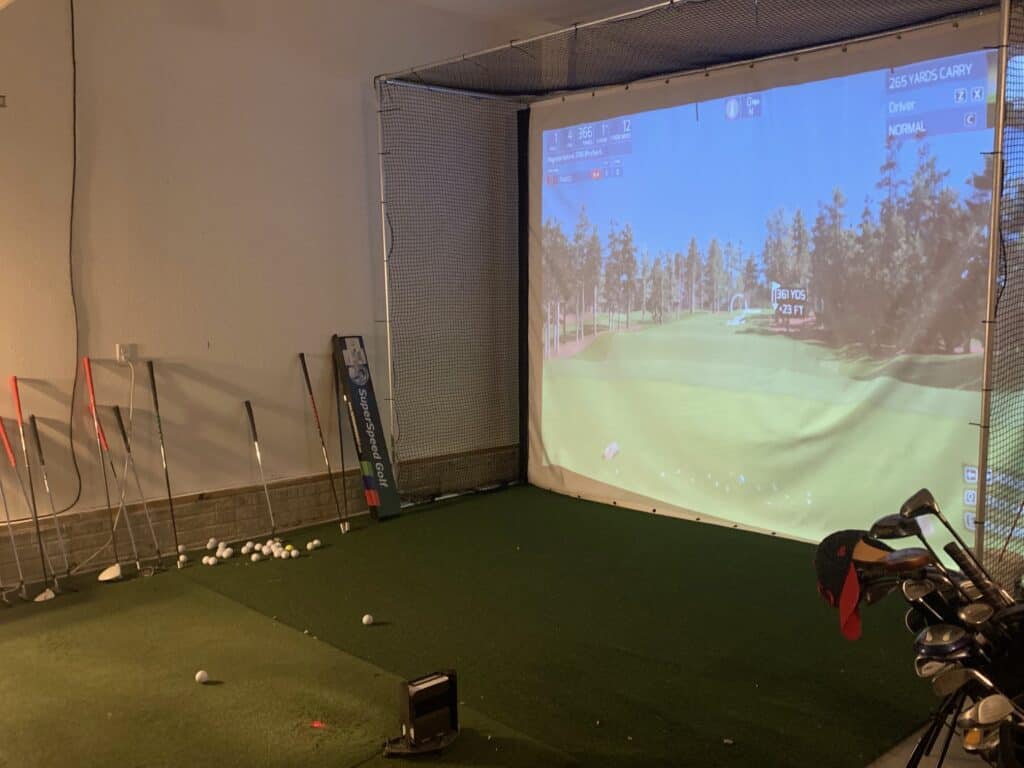 How Realistic Are Golf Simulators?
With my Skytrak and TGC setup, I have compared data on actual rounds vs golf simulator rounds and have found the scores to be very close in comparison.  The bottom line is that after many rounds, I have the same successes and struggles in simulator golf as in real golf.  I tend to over draw the ball and it gets me in both forms of golf.  
When I hit a bad shot, it is a bad shot on the simulator.  When I pure one, it is pure on the simulator.  It is a realistic form of golf.  The only thing that doesn't seem as realistic is the putting, but there are ways to get past that.
Here is a complete post on this topic:
Final Thoughts: My Own Experience
I am thrilled with my investment and the opportunity to play golf.  My scores have improved and the opportunity to play daily, even if it is only 30 minutes of hitting a repetitive shot on a par 3 or working on my driver, has been a game changer.
The golf simulator world is growing and there are tournaments a golfer can compete in and can connect with others to play a friendly round.  There are plenty of people who want to play golf 12 months per year and the community is pretty neat!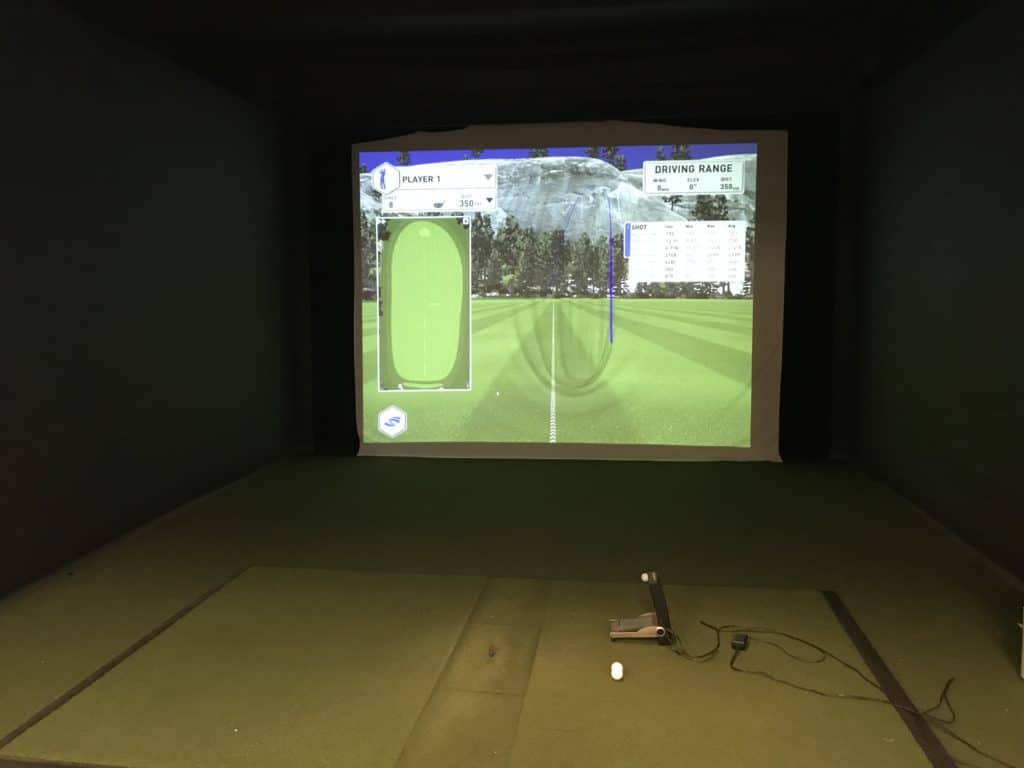 Take Action – What You Can Do Today to Get Better
What does this mean for you?  I believe in the following recipe to get better:
1 – Improve your motion in the golf swing by identifying a golf instructor.  Here are some options:
Here is a list of golf instructors that we have reviewed:
2 – Train to swing faster and improve your swing speed.  Here are some options:
Looking to gain more Speed and Distance in your swing. Two Options:
3 – Understand course strategy and work to break through your next barrier.  Here is a series on breaking through:
We have provided guides on how to break 100, 90, 80 and 70. Check out more below, if interested.
4 – Practice Frequently
Did you know that I build a golf simulator in my garage and have played over 500 rounds of golf on my SkyTrak system?  It has been a game changer and one worth checking out. Here are some of my other posts on golf simulators frequently asked questions: