The great news for golfers today is that there are many options when selecting a launch monitor.
These launch monitors can bring hours of fun, opportunities to practice 365 days a year and great data to get improve your game.
The most stressful part is selecting what launch monitor is best for your game and budget and deciding how you are going to use it. 
Is this something you will only use at the driving range or are you hoping for 365 days of opportunities in your house, garage, basement, or even a stand alone shed?
The SkyTrak vs Trackman debate will continue on for years to come. 
My goal is to provide the pros and cons of both items and then share my experience on how they compare.  
At the end of the day, the golfer must decide if the Trackman is worth the extra $16,000 or so extra over the SkyTrak.  Or can the SkyTrak provide the data and experience that you need for game improvement and fun!
I made the golf simulator and launch monitor investment several years ago and have reaped the many benefits of a golf simulator. 
I can play 365 days a year regardless of the rain, snow, cold weather and even the time of day!  This has brought about significant game improvement and many hours of fun with family and friends. 
I went with SkyTrak and have been extremely satisfied! 
Check out finacning, packages, and pricing options:
Over the past 5 years, I have played golf on many different systems and have used a Trackman at my local club fitting experience and at a local place where I have taken lessons.
Let me tell you, there is nothing like spending 4 to 5 hours on a weekend playing golf with my Dad or my sons on a cold winter day!
Ready?  Let's dive into the SkyTrak vs Trackman and help you decide which one you should buy?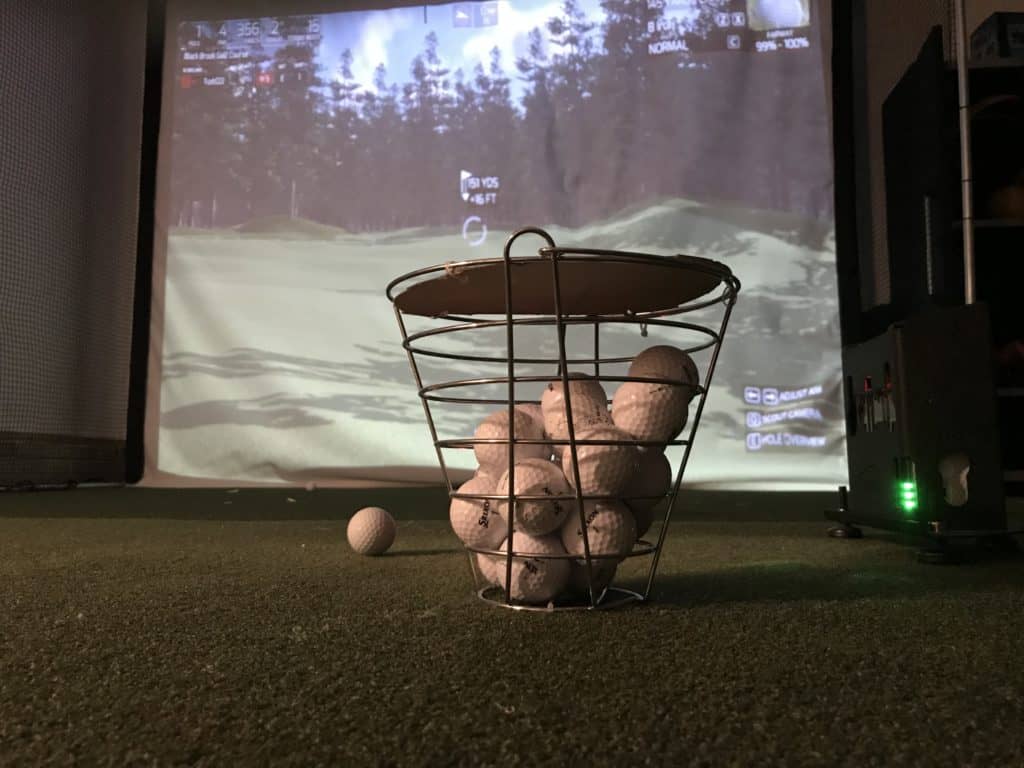 SkyTrak vs Trackman: Which One Should I Buy?
Here are the topics I will cover:
Goals of purchasing a golf launch monitor?
Pros and Cons of the Trackman
Pros and Cons of the SkyTrak
The price difference between the SkyTrak and Trackman
SkyTrak vs Trackman: Head to head comparison
Final Verdict!
Other Option
Goals of Purchasing A Golf Launch Monitor?
In most things we do in life, we should start with the why!  The why will drive a great deal of the decisions.  My specific why was because I wanted the opportunity to play golf 365 days a year. 
Living in a part of the United States where winter runs December thru March, I didn't want to go 4 months without playing golf.  As a kid, I often dreamed of having a golf simulator and being able to play on those cold, snowy days!
I also wanted to get better.  Some of those early season rounds or late seasons rounds were a struggle because you don't get to play as often as in the heart of the season. 
I can now play quality rounds in April or November and have my ball striking be spot on.
I answered my why, set my budget, completed all my research and have benefited from having a golf simulator build in my garage!
Here are some questions to consider:
What is your main why for getting a golf simulator?  Are you looking for the perfect data and complete analytics on your swing.  Or are you looking for above average data with an awesome game experience where you can play 365 days a year?
What is your budget?  Is it close to unlimited or do you have some restraints on your overall purchase?
What courses do you want to be able to play?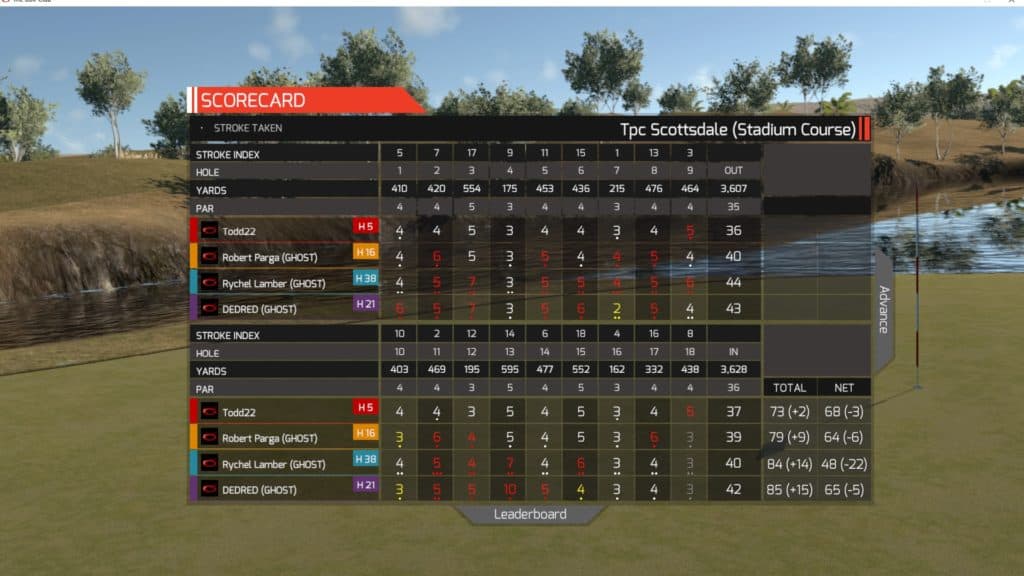 Pros and Cons of the SkyTrak
The SkyTrak is an affordable golf simulator option that can be used indoors or outdoors. 
This mid level price for a golf simulator measures the ball immediately after impact and gives data based on ball speed, spin, launch angle and other measurements that provide an overall high quality experience.
The SkyTrak can be paired with a gaming computer or ios device to allow for immediate feedback and a quality game experience.  There are multiple software options depending on your budget.
There are some people who simply buy a launch monitor and utilize a hitting mat and net to get the feedback and experience they need. 
While others go the full route and buy the projector, impact screen and enclosure and gaming computer and pair it up with The Golf Club (TGC) software that allows for an amazing golf simulator experiences.
Pros of the SkyTrak:
Affordable
Amazing simulator experience when pair with TGC software
Provides multiple software options
Helps bring about game improvement
Can be used indoors or outdoors
Can play live against others with TGC software
Cons of the SkyTrak:
Has a shot delay
Can be difficult to align
Sits next to the ball, which requires a protective case
Occasional no read
I must note that when the SkyTrak is paired with the TGC software the access to high end graphics on the TGC end and what seems like an unlimited number of courses with many of the courses being ranked in the top 100 in the world.  
I have played on many different golf simulators that are more expensive than the SkyTrak, but leave feeling not satisfied because the graphics on the software are below average.  This can even be said about the commercial experience in many cities.  
The TGC software is truly incredible and provides the opportunity to play Augusta, Pebble, Whistling Straits, St. Andrews, Bethpage Black, Oakmont and many of the top 100 courses in the world!  The graphics truly bring the experience to life!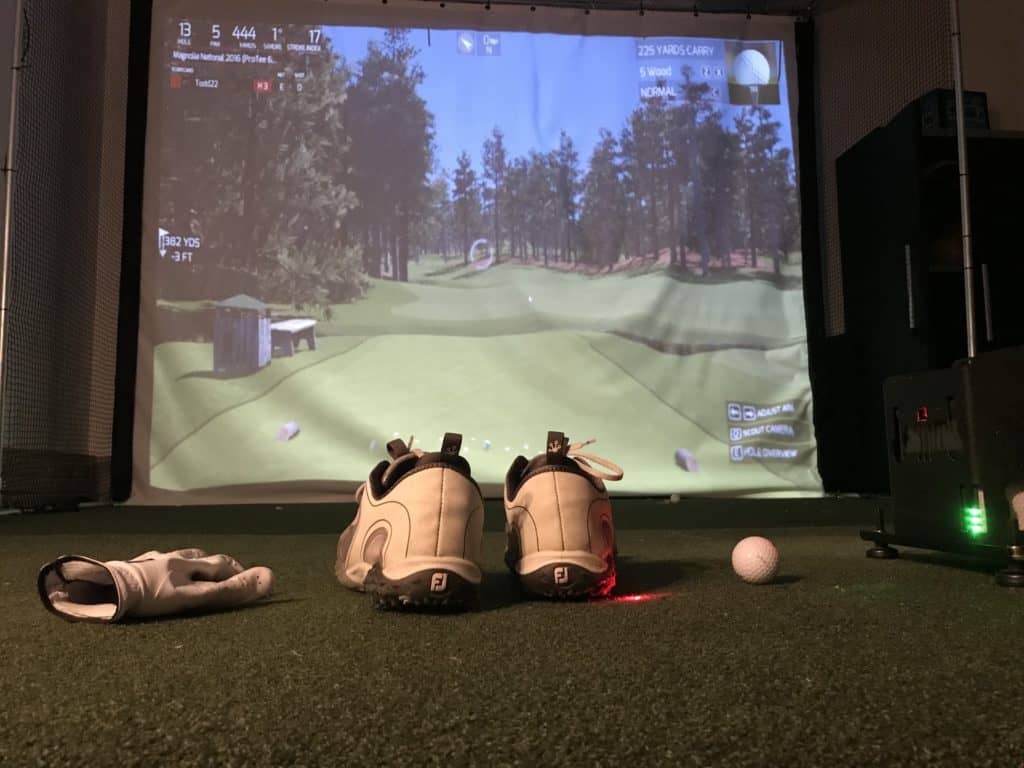 Pros and Cons of the Trackman
The true leader in the golf launch monitor world.  The best technology possible with so much data you might not be able to use all of the data provided. 
This is the launch monitor that many of the pros utilize week in and week out on the PGA Tour.  
You will see caddies pull the Trackman out of the bag and set up for the pros and they utilize their phone for immediate details on everything about their swing.
Golf instructors throughout the world also rely on the Trackman when giving lessons.  It is arguably the most accurate launch monitor with many, many features that can help bring about game improvement if you have the right guidance on how to utilize the data. 
It is hard to find any fault with the Trackman and if you have an unlimited or high budget, then you should highly consider the Trackman.
Pros of the Trackman:
Unbelievable amount of data on club and ball (Dual Radar Technology)
Can be used indoors and outdoors
Can be used as part of a simulator setup
The leader in everything launch monitor
Compare your numbers to pro golfers
Cons of the Trackman:
Very expensive
Requires plenty of space
Less courses than competitors
The Price Difference Between the SkyTrak and Trackman
While the SkyTrak can be purchased for around $2,000 the Trackman will cost you around $18,000. 
Here is the ultimate difference maker for most.  While many would love to own a Trackman the practicality for the average amateur to own a Trackman isn't there.
If you are a golf instructor, high level amateur aspiring to pro golf, or want the key data then the Trackman might be worth the investment.  The opportunity to use the Trackman as a tool to give lessons or make money might make the investment worth it!
For most people, the SkyTrak will provide an amazing simulator experience with good enough data for game improvement.  The true game improvement comes from being able to play 365 days a year, not from the actual data you are receiving.
If you are getting quality instruction or guidance on your swing, the ability to practice and play at any time of day or the year regardless of weather, you will get better!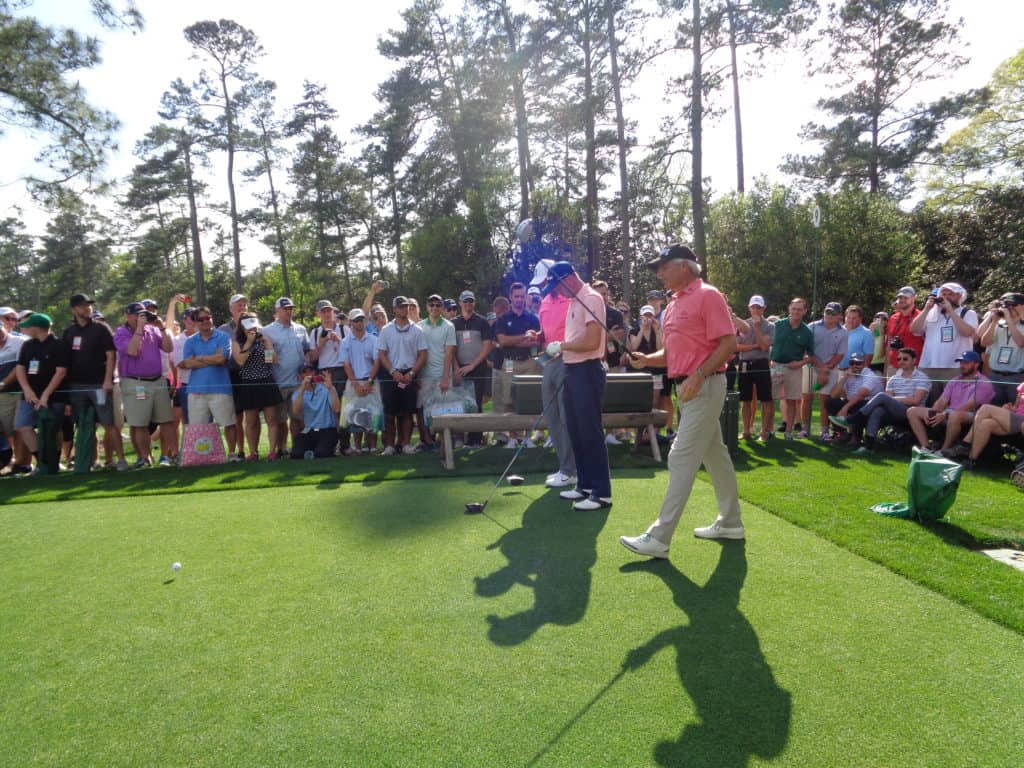 SkyTrak vs Trackman: Head to head Comparison
While the two have a $16,000 gap in the price difference, I wanted to spend some time to share some of my learnings when I have compared the two. 
Keep in mind that I have played over 700 rounds of golf on my SkyTrak and TGC set up in the garage and have seen a 4 shot reduction in my average score and an increase in swing speed of 5-7 miles per hour.
Over the years, I have occasionally hit on a Trackman and here is what I can take away:
I find the carry distance between the two to be spot on.
The spin rates might be slightly off on the SkyTrak.
The overall shot direction is highly comparable.  The alignment of a SkyTrak might be the cause.
I came across this video the other day and felt that is was spot on with my experience between the SkyTrak and the Trackman.
Check it out:
Major Takeaways:
Overall, the SkyTrak holds up really well considering that it is ⅛ the price of the Trackman.  Think about that for a second. 
For a fairly reasonable price, you get a device that can be compared to the something that is an industry leader in the accuracy when it comes to golf technology! 
Don't we live in a great time?  The amateur golfer can now setup a golf simulator experience and have high end results for a fraction of the price.  No longer does it take 30-40 thousand dollars to setup a a golf simulator experience at your residence!
I have taken advantage of this improvement in technology!  Are you ready to reap the benefits?
Here are some additional posts I have created over the years that could be helpful!
Final Verdict!
My recommendation is the SkyTrak if you have some limit on your budget.  I would highly recommend checking out Rain or Shine golf as they offer financing offers, great pricing, awesome customer service and excellent packages for a one stop shop for all of your golf simulator needs!
Here is one last set of data that might help you decide.  I did a comparison between my last 15 rounds of simulator golf and compared it to my last 15 rounds of actual golf.  The numbers were mind boggling!
| | | | | |
| --- | --- | --- | --- | --- |
| Golf Simulator Score | Relative to Par | 15 Total Rounds | Real Golf Score | Relative to Par |
| 72 | 1 | Round #1 | 76 | 4 |
| 75 | 0 | Round #2 | 78 | 6 |
| 72 | 3 | Round #3 | 74 | 3 |
| 81 | 9 | Round #4 | 71 | 0 |
| 75 | 3 | Round #5 | 70 | -1 |
| 73 | 3 | Round #6 | 71 | 0 |
| 75 | 3 | Round #7 | 72 | 0 |
| 71 | -1 | Round #8 | 73 | 1 |
| 71 | -1 | Round #9 | 72 | 1 |
| 72 | 1 | Round #10 | 74 | 3 |
| 73 | 3 | Round #11 | 74 | 3 |
| 72 | 1 | Round #12 | 74 | 4 |
| 72 | 1 | Round #13 | 72 | 1 |
| 72 | 1 | Round #14 | 73 | 3 |
| 76 | 4 | Round #15 | 73 | 2 |
| | | | | |
| 1102 | 31 | | 1097 | 30 |
| 73.47 | 2.07 | | 73.13 | 2 |
Accuracy of Golf Simulator vs Reality – Data Breakdown
Total Strokes (15 Total Rounds) = 1102 in Simulator Golf and 1097 in Real Golf
Total Strokes Over Par (15 Total Rounds)  = 31 in Simulator Golf and 30 in Real Golf
Average Score = 73.47 in Simulator Golf and 73.13 in Real Golf
Average Strokes Over Par = 2.07 in Simulator Golf and 2.0
If Trackman is assumed to be spot on, what about when the SkyTrak is compared to actual golf!  The numbers are impressive!
SkyTrak vs Trackman: Other Options
There are some excellent options for all golfers in the $500 to $2000 range that can provide you with instant feedback and numbers to improve your game. 
You can make educated decisions at the range and as you practice your swing. No longer do you have to guess on what the fixes or what is going on in your swing.
That is why the launch monitors are so important to have!  Check out these three great options below.  These fall withing the price range mentioned above:
Take Action – What You Can Do Today to Get Better!
What does this mean for you?  I believe in the following recipe to get better:
1 – Improve your motion in the golf swing by identifying a golf instructor.  Here are some options:
Here is a list of golf instructors that we have reviewed:
2 – Train to swing faster and improve your swing speed.  Here are some options:
Looking to gain more Speed and Distance in your swing. Two Options:
3 – Understand course strategy and work to break through your next barrier.  Here is a series on breaking through:
We have provided guides on how to break 100, 90, 80 and 70. Check out more below, if interested.
4 – Practice Frequently
Did you know that I build a golf simulator in my garage and have played over 500 rounds of golf on my SkyTrak system?  It has been a game changer and one worth checking out. Here are some of my other posts on golf simulators frequently asked questions: