Golf can be a wonderful game.
It can also be a rather frustrating game.
For the golfer that wants to get better, but is struggling, we have some tips.  End the years of frustration and follow the tips, drills and steps below to lower your handicap fast.
Stop settling for a lack of improvement and let's get to work!
How To Lower Handicap Fast?
Here is a list of steps you can take with the most important steps first:
Become an expert short game player
Increase your swing speed
Control your low point
Develop a stock shot
Keep the ball in play
Avoid the double bogey
Make birdies on par 5s
Play year round
Track your stats
Know how far you hit each club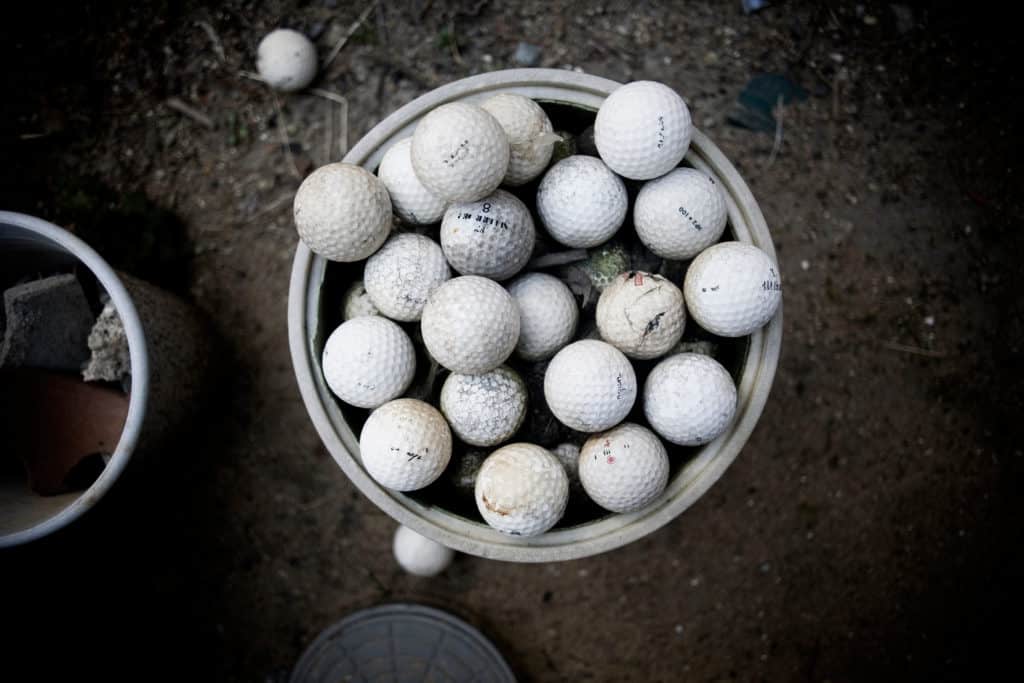 Step #1: Become an expert short game player
The great news for most golfers is that becoming an expert short game player does not take a great deal of size, speed, or athletic ability.  Instead it takes some time committed to practice and building a simple, reliable chipping technique and getting better with 3-10 footers in addition to 3 putt avoidance.  Here are the biggest return for your time in the short game and areas you should focus on:
Chip every putt inside of 10 feet
Make 50% of 8 footers and 100% of 3 footers
Avoid the 3 putt
The good news is that we have several posts that can help you improve with technique or different drills and games you can play to make practice fun, yet to build the pressure to help you perform when it matters most.
So check out some of our posts above and let's get to work.  One more piece of good news, practicing your chipping doesn't cost any money.  Simply read to your local public course and spend 1 hour a day, 3 days a week and you might be surprised how fast your handicap is lower.  Your friends will wonder how you are shooting your best scores yet!
Step #2: Increase your swing speed
There is a direct correlation between how far a person can hit a golf ball and their golf handicap.  The bottom line, the faster you swing, the better chance you have of lowering your handicap.  Of course, it doesn't guarantee a better score or lower handicap, but it certainly increases your chances.  When you combine the swing speed training recommended below with the other 9 steps on this list, you will get better and you will lower your handicap…fast!
I believe many used to believe, well this is just how fast I can swing.  
Recent training tools have started to change many minds.  We have seen many of the professional golfers get longer and longer with their tee shots as a result of additional swing speed.  You will find many touring pros using the SuperSpeed System, which I highly recommend.
SuperSpeed Golf is one option to increase your swing speed through a science based overspeed training approach.  In simple terms, you train by swinging a lighter club (20%) faster than you swing your driver.  Over time, by training at a higher speed, your mind and body feel safe to swing that fast with your normal driver, resulting in an increase in driver swing speed.
The SuperSpeed System provides 3 different weighted sticks and takes the golfer through a training protocol every other day for about 15 minutes.  The golfer can expect to see a 5-8% increase in swing speed, resulting in 20-30 yards for most golfers.  The great news is that the 5-8% can be expected as early as the first training session.  The additional speed will become more permanent after about 30-60 days of training.
Check current pricing on SuperSpeed Golf here!
My own experience has been an increase of 7-10 miles per hour on average from between 98-101 all the way up to 106-109.  My goal is to hit the PGA Tour average of 113 mph in the coming months.  I will continue to train every other day and watch in amazement as I am hitting drivers longer now than ever before!
Phil Mickelson has been known to increase his swing speed in the past year or so and is close to 120 miles per hour in his swing speed.  There are potential results for golfers of all ability levels and age!  
Check current price on SuperSpeed Golf System, here!
| | | | |
| --- | --- | --- | --- |
| Original Swing Speed | After 4-6 Weeks | New Carry Distance | Total Distance |
| 95 | 102 | 245 | 265 |
| 100 | 108 | 259 | 279 |
| 105 | 113 | 271 | 291 |
| 110 | 118 | 283 | 303 |
Step #3: Control your low point
The best golfers are able to control the low point in their swing.  The best golfers control their low point 99.9% of the time, while the highest handicap golfers might struggle to control their low point even 50% of the time.  If you currently struggle with your low point control, leading to poor contact, poor distance control and poor scores, we have an excellent drill for you!
Take some yard paint and paint a 1-2 yard long line if you are in the grass area.
Setup with 55% of your weight on your front side.
Try to hit the target side of the line and see how many times out of 10 you can do this successfully!
Repeat this drill every day for a month, tracking your progress and your ability to to this successfully in trials of ten.
You may need to start with half swing and progress to full swings.
If you are struggling, put more weight forward and work on keep your head still to help control the low point in the swing.
When we are working with our students, we promote three basic fundamentals or skills that golfers need to be successful.  They include the following
The ability to control the low point of the golf swing. (Impacts the quality of the strike)
The ability to control the start line and the curve of the ball.
The ability to have enough speed to play the course.
This low point control drill works with number 1 on our list above.  The next drill work on #2 and speed training helps with number 3.  We have you set with drills or training to help build these three key fundamental in the game of golf.
Step #4: Develop a stock shot
The best golfers are able to step up to a shot and have a high level of confidence in the direction their ball will start and what direction it will curve.  Their start line is rather consistent and they work the ball the direction they are intending to.  When a golfer can do this, they are able to eliminate one side of the golf course and manage their game around the demands of a golf course.
Golf becomes a very fun game when you have an idea of where your ball is going to fly to.  When you complete the speed training above and have extra distance with the ability to hit a stock shot, watch out!  Your scores will improve fast!
Set up an alignment stick about 6-8 yards in front of you, straight down your target line.
If you have a second alignment stick, set the stick 2-3 feet right of the first stick (for a draw) or left of the first stick (for a fade).
Complete your initial assessment see how many times out of 10 you can start the ball to the right or left of your target.  Pick one side and measure your game at this point.
The goal is to eventually get 7 out of 10 shots to start to the correct side and draw back towards the target.
Here is the drill being explained by Kyle Morris:
Step #5: Keep the ball in play
If you think we are contradicting ourselves by saying train for speed, but keep the ball in play, the good news is that speed and distance doesn't mean a sacrifice in accuracy.  When you can develop a stock shot, you can eliminate the danger on most courses by controlling your aim and start lines.  
The important reason for keeping the ball in play is to eliminate the big number.  Many big numbers in golf can be caused from a drive out of bounds or deep into the trees. When you have a clear shot on your 2nd shot on a hole, chances of making at least a par or highly increases vs being in the trees or hitting one out of bounds!
Step #6: Avoid the double bogey
Right above we talked about the importance of keeping the ball in place.  There are also several others things you can do to avoid the double bogey:
Hit every chip shot on the green (avoid the chunked or bladed chip shot).
Aim for the safe portion of a green and play the percentage on your approach shots.
Become an excellent wedge player and be wiling to punch the shot in the trees out into the fairway.
Avoid the 3 putt
Avoid hazards
If you can keep these three things in mind when playing, you can almost completely eliminate the double bogey or worse!
Most of this comes down to course management and managing your emotions.  If you hit a poor chip shot and hav 20 feet left for par, keep in mind the make percentage isn't very high.  Don't go speeding the ball past the hole and leave yourself with a 5-6 foot comeback because you are upset with the shots you have hit on that hole.  Instead, give it a decent roll and if it falls in great, if not take your bogey and go to the next hole!
Step #7: Make birdies on par 5s
The best players take advantage of the par 5s.  They can either get there in two, or they are very good from 120 yards and in.  Either increasing you swing speed or mastering your wedge game is vital to being a great par 5 player.  Most courses will have 4 par 5s, take advantage and give yourself a reasonable birdie putt on every par 5 on the course.
Train for Speed and/or Become a great wedge player!
Drill putts from 5-15 feet!
Step #8: Play year round
If you live in certain parts of the world this may seem difficult, but have your consider a golf simulator?
I was able to take my handicap from the 6-7 range down to scratch to 2 range.  How?  From building a golf simulator in my garage and playing year round.  The ball striking, course management and ability to take advantage of par 5s has been noticeable. 
In addition to the game improvement, it is a ton of fun to golf on in the middle of January when there is a foot of snow outside.  Find a way to get better in the winter and the golf simulator is an amazing option and might be more affordable than you realize.
I would highly recommend Rain or Shine Golf due to their customer service, affordable package deals and financing.
I would also recommend checking out the Skytrak packages and seeing what your entry price point is!  Once again, it might be less than you anticipate!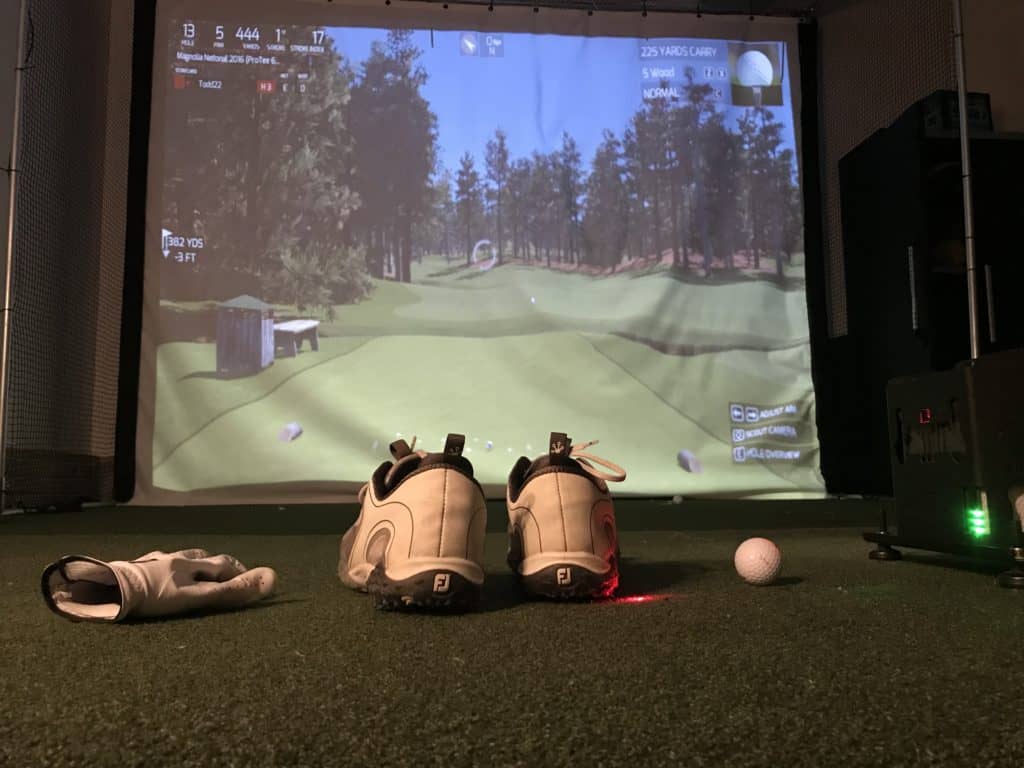 Step #9: Track your stats
Find a quality golf app or create your own google form to track your stats.  Recently, I have started to track my proximity to pin.  Here is my process:
I use my laser on every approach shot and write it down on my scorecard.
I walk off my distance left to the hole and write it down on scorecard.
When I get home, I enter my data into a google form.
Overtime, I can see my average proximity in different ranges to see where I need the most improvement and then can work on my golf simulator.
Step #10: Know how far you hit each club
I would highly recommend each golfer create a distance chart like the sample below:
| | | | |
| --- | --- | --- | --- |
| Club | Carry Distance (100%) | 90% | 80% |
| 2 Utility Iron | 210 | | |
| 4 iron | 190 | | |
| 5 iron | 181 | | |
| 6 iron | 171 | | |
| 7 iron | 163 | | |
| 8 iron | 153 | | |
| 9 iron | 143 | | |
| P Club | 130 | 123 | 115 |
| Pitching Wedge | 118 | 110 | 102 |
| SW Club | 105 | 97 | 91 |
| LW Club | 90 | 82 | 74 |
This might be the most important information you can use to help you play quality golf.  I have heard so many stories and have seen it first hand where golfers completely over estimate how far they hit each iron.
They hit one 7 iron 165 yards one time and think this is their carry distance.  So they step up to a 165 yard shot, hit the 7 iron and end up in a bunker.  They blade it out of the bunker and are looking at a double bogey as their reality.  Instead, if they had the right club and hit the 6 iron, their chance of hitting the middle of the green would increase greatly!
How can you create your own chart?
Option 1: I would highly recommend a launch monitor!
These portable devices can be used at the driving range, golf course or set up in your home net or golf simulator.  These devices are game changers not only on being able to map your bag and know your distances, but they also provide quality feedback after on every shot and provide the following information:
Carry Distance
Spin Rate
Launch Angle
Spin Axis
Total Distance
Ball Speed
This information will help you map your bag, decide on which clubs are best for your game, develop a stock shot and much more.  I love using my SkyTrak 365 days a year in my golf simulator setup.
The process for mapping your bag can looking something like this:
Hit 5 shots with each club in your bag.
Log the carry distance and total distance for each shot.
Eliminate any outlier numbers (poor hits or low spin rates).
Take the average and create a map of your bag.
If you visit any PGA Tour event you will see plenty of golfers utilizing their launch monitors.  While most can't afford a Trackman, there are some very affordable options in the 500-2000 dollar range.  I own the SkyTrak and think the world of it.  
Here are the top 3 options to check out:
Option 2: Use a Driving Range or Open Field
If you can't afford a launch monitor at this time, here is another option.
Find an open driving range or open field
Take 10 balls of the type of golf ball you play
Pick a target and either walk it off or use a rangefinder.
Hit 10 shots with each club in your bag and take an average.
Your rangefinder can help you get a specific distance.
Go ahead and create a chart of each club and their carry distance like the one above.
Final Thoughts: Improving Your Distance Control
If you can improve your ball striking, have great information on how far you have to hit a shot and then have an accurate distance chart, you will be on your way to more enjoyable golf and lower golf scores!
Take the time to practice and get better, get the right technology tools and understand your distances.  Commit to the process and watch your game improve!  
Take Action – What You Can Do Today to Get Better
What does this mean for you?  I believe in the following recipe to get better:
1 – Improve your motion in the golf swing by identifying a golf instructor.  Here are some options:
Here is a list of golf instructors that we have reviewed:
2 – Train to swing faster and improve your swing speed.  Here are some options:
Looking to gain more Speed and Distance in your swing. Two Options:
3 – Understand course strategy and work to break through your next barrier.  Here is a series on breaking through:
We have provided guides on how to break 100, 90, 80 and 70. Check out more below, if interested.
4 – Practice Frequently
Did you know that I build a golf simulator in my garage and have played over 500 rounds of golf on my SkyTrak system?  It has been a game changer and one worth checking out. Here are some of my other posts on golf simulators frequently asked questions: