Looking to get better at chipping?
Smart move!  
Becoming a great chipper of the golf ball is the single fastest way to lower your scores if you are someone shooting in the 80s, 90s or 100s.  
Reducing your number of shots inside of 30 yards is a score saver and might be the easiest thing to accomplish in golf.
While people might struggle to add distance to their driver or the ability to work the ball with their irons, most people can become quality short game players and see their scores quickly be reduced.
How can you improve your chipping?
It all starts with practice.  A golfer has to find the right drills that help control several variables in chipping: contact, direction, speed control and pressure.  When you can master these four variables in the short game, you are on your way to being able to break 80.
As someone that used to hang out around a practice green for hours, we created many different drills, games and competitions to bring out the fun and help us improve.  I still dream about having the time I once did and truly feeling 100% comfortable over my chips shots, knowing that the ball might go in the hole.
Today, I still have moments of that brilliance, but do not practice as much as a I should when it comes to the short game.
If you want to take your game to the next level, spend 1-2 hours per week around the practice green working on these drills below.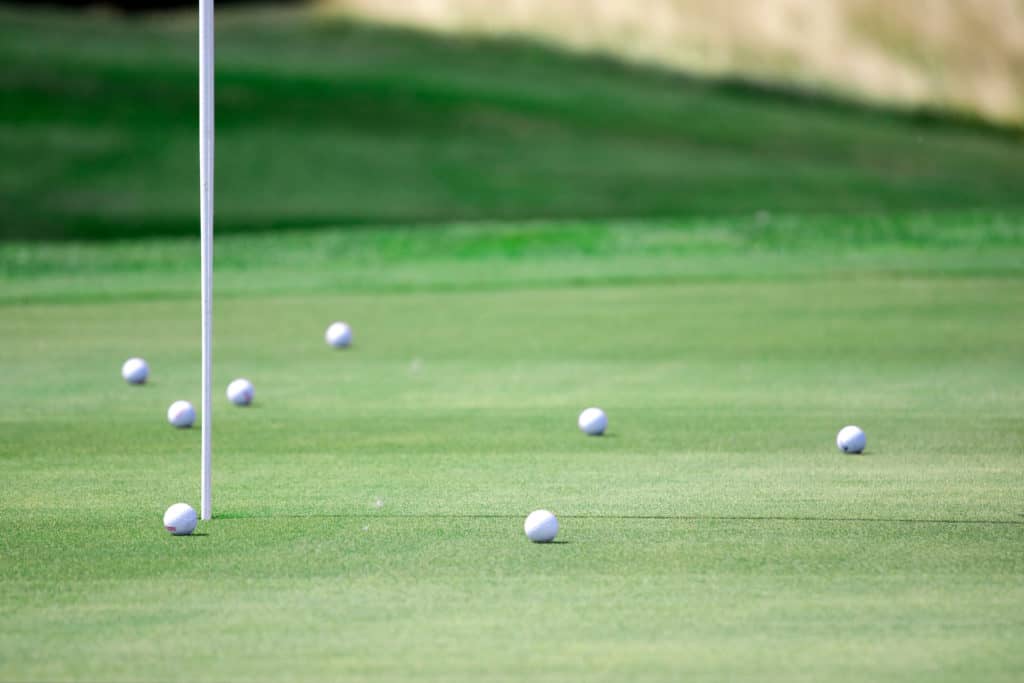 Golf Drills For Chipping
#1: Block Practice
This is the most basic drill and most common as well.  Take 3-10 golf balls and hit the same shot to the same hole.  Go collect the golf balls and pick a different hole with a different shot.  As you work on the various shots, consider the speed of your swing, the ball positions and how open your club face is.  This is considered block practice and can help you groove quality feel in your short game.
#2: Variety Practice
Take 3-5 golf balls and hit each one to a different hole that requires different length or loft to hit a quality shot.  Repeat this drill for at least 5-10 rounds.  This drill will help you force yourself to adjust to the different ball positions, loft and distance you have to hit a shot.  You can no longer groove a shot and must be able to adjust your feels to hit a quality shot.  I would recommend starting with the block practice for around 10 minutes and then shifting to this variety practice for the next 10 minutes.
Related Post: How to practice chipping at home
#3: 5 Foot Circle Drill
Go ahead and place golf tees in a 5 foot diameter around the hole.  Take 5 golf balls and see how many you can hit in the circle.  The goal is to leave yourself a putt within 5 feet to save your par.  The key here is to hit a variety of shots.  Go ahead and track your results.  Log these results in a journal or on your smartphone and compare your progress over time.  Set a goal for yourself to help increase the pressure to simulate the pressure you might feel on a golf course.
Helpful Post: How to use a 60 degree wedge (key tips)
#4: Play HORSE
If you have a teammate or friend nearby, go ahead and play HORSE.  Similar to the basketball game, you have to call your pin placement and see who can hit the chip closer.  Our goal here is to try a variety of shots with the pressure of a competition in place.  Play until someone spells HORSE and loses the competition.  Go ahead and repeat and even try requiring certain height or requiring the person to hit the chip shot with a specific club.
Helpful Post: When to use a 60 degree wedge
#5: Up and Downs (My Favorite Drill)
One of the secrets to breaking 80 in golf is to be able to get up and down from around the green in 2 shots or less 50% of the time.  This is assuming you are in the 10-20 yard range from the role.  The current leader on tour does this at an 80% success rate.  
The great part about chipping and putting is it doesn't take high end club head speed or expensive equipment or lessons, but rather a simple technique and lots of practice.  The game here is to take one ball and pick a spot from off the green.  
Go ahead and hit the chip shot and then see if you can make the putt.  Pick 10 different spots around the green and track how many times out of 10 you were able to get up and down in 2 shots or less.  You can also play a competition against another person at the green and see who can get up and down the most times out of 10 or play some match play.  Once again the little competition will help prepare you for the actual course and the pressure that you may face.
Helpful Post: Chipping with a 9 iron
#6: 5 Club Challenge
Take 5 golf balls and pick out a hole on the practice green.  Pick a location around the green and hit all 5 bals from that spot with 5 different clubs.  For example, you might select your LW, SW, PW, 9I, and 8I.  See if you can get every shot within 10 feet of the hole.  The goal here is to learn to manipulate the loft and the speed of the shot with different clubs.  The best golfers are experts around the green and can control the clubface and hit the shot they need.  
#7: Hole Out Challenge
Set up a really simple bump and run shot.  Take your 7, 8 or 9 iron and hit 10 balls towards the same hole.  The goal should be to make one out of the 10 chip shots that you hit.  This drill will teach you to be aggressive and give yourself the chance of making a chip shot on these simple, straightforward shots when you barely miss the green.  
#8: Impossible Lie Challenge
Go ahead and give yourself the most difficult lie you can create.  Try to get the ball on the green and within 15 feet of the hole.  Repeat this drill at least 10-15 times to build skill in getting the club face on the ball and the ball onto the green within a reasonable distance to the hole.
Helpful Post: Chipping from a tight lie (5 tips)
#9: Barrier Drill
Go ahead and place your golf towel on the green about 10-15 feet short of a hole.  See if you can land the ball beyond the towel, but before the hole.  This will force you to learn to use the loft.  It is a great drill to simulate the situation on a course where you have short sided yourself and have a different up and down to save par.  Learning to use loft will help you quickly improve your chipping and allow you to be more aggressive with your approach shots when playing a round of golf.
Helpful Post: What degree wedge is best for chipping (overview)
#10: Hard Pan Drill
Try to find some hard pan around the practice green.  If you are fortunate to practice somewhere that doesn't have any, consider bringing a smaller patience of plywood to practice how a club will react to the hard pan.  This teaches you to strike the ball solid and hit right at the ball to ensure your club doesn't go scooting across the wood or the hard pan.
#11: Opposite Handed Challenge
There could be a time on the course or around the green where there is a tree or another barrier that prevents you from setting up with your normal stance.  Practice what you would do if your ball was up against a tree and you had no option then to hit it left handed (assuming your right handed). How will you advance the ball and possibly get it on the green.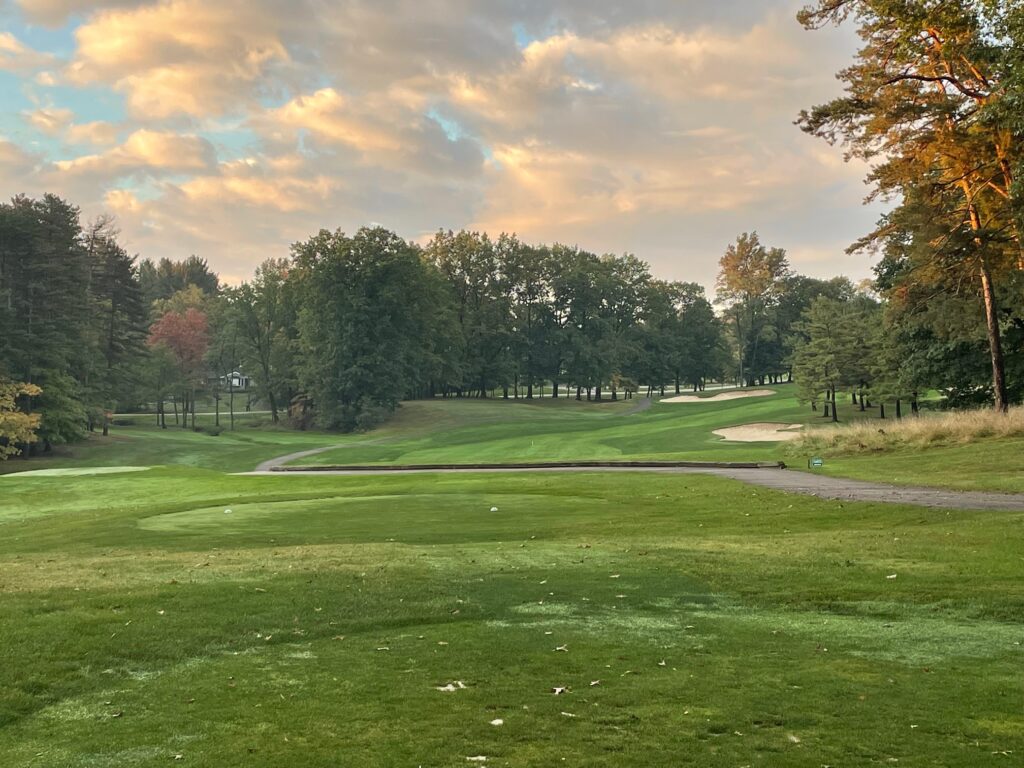 Key Tip: Track Your Results
I would recommend using your smartphone or a little journal you can keep in your golf bag and track your results.  Maybe you don't need to track every drill, but pick your 2-3 that you will track.  Not only will it help you see your results over time, but you will build the pressure up to try to replicate how you might feel during a round of golf. 
Anytime you can compete with a teammate or friend in any of these drills, you are also replicating the pressure of a game situation.  Find someone to compete with and keep it fun!
Key Tip #2: Put in the Time
Once again, the short game isn't about speed, athletic ability, or size, but rather the willingness to put in the time, find your system and handle the pressure of producing when it counts.  The great news about practice greens is that there is no charge to use them.  Unlike a driving range, which costs money, the practice green is 99% of the time free to use and open to the public at public golf courses. 
Be the person that is always around the practice greens and chances are you will be the person shooting the best scores!
Take Action – What You Can Do Today to Get Better
What does this mean for you?  I believe in the following recipe to get better:
1 – Improve your motion in the golf swing by identifying a golf instructor.  Here are some options:
Here is a list of golf instructors that we have reviewed:
2 – Train to swing faster and improve your swing speed.  Here are some options:
Looking to gain more Speed and Distance in your swing. Two Options:
3 – Understand course strategy and work to break through your next barrier.  Here is a series on breaking through:
We have provided guides on how to break 100, 90, 80 and 70. Check out more below, if interested.
4 – Practice Frequently
Did you know that I build a golf simulator in my garage and have played over 500 rounds of golf on my SkyTrak system?  It has been a game changer and one worth checking out. Here are some of my other posts on golf simulators frequently asked questions: