Golf is a difficult enough game.  
The last thing you want to do is not have the proper number of clubs in your bag.  Being strategic in how you set up your clubs in your set is essential to your overall success as a golfer.
The best golfers spend a significant amount of time testing, practicing and ultimately deciding on what clubs give you the best chance to score well.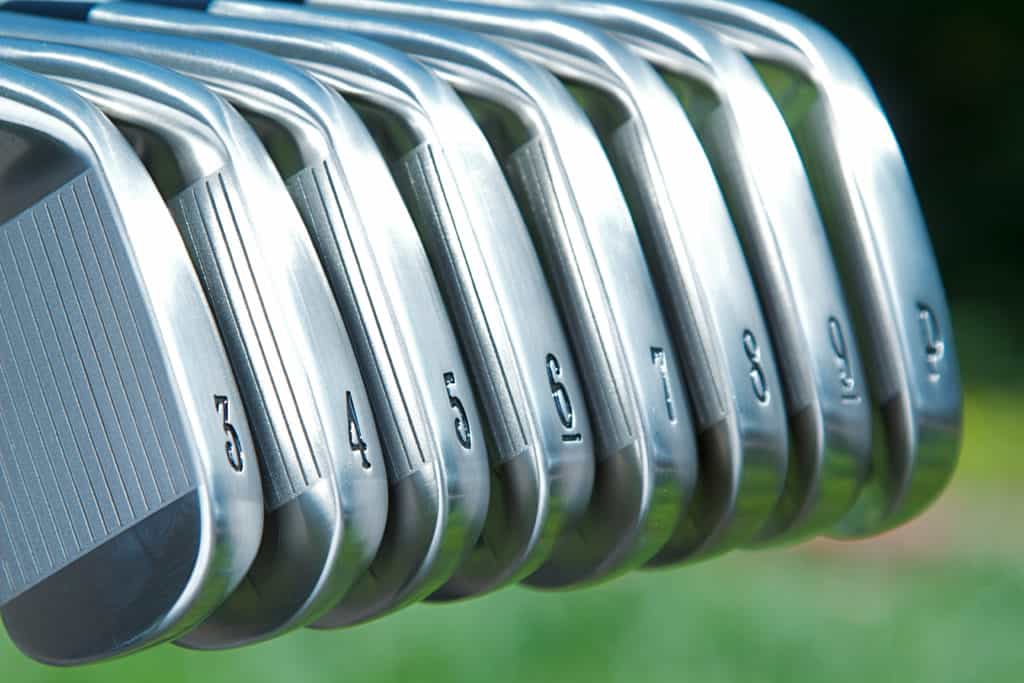 How many golf clubs are in a set?
There are 14 clubs in a set of golf clubs.  Typically, this consists of a driver, fairway wood, hybrid, 8 irons, 2 speciality wedges and a putter.  A golfer can carry less, but should carry 14 to reach their full potential.
What clubs are in a set?
The typical setup includes 3 woods, 8 irons, 2 wedges and 1 putter.  However, this can vary depending on the strengths and weaknesses of the golfer.
Below, I will give you the purpose of the different clubs in the bag.
Driver: This club is the longest club and also the one with the lowest loft.  The goal with the driver is to hit far and as straight as possible.  Most drivers now have large heads, up to 460cc and a graphite shaft.  The graphite shafts come in different flexes.  The faster the swing speed the stiffer the shaft.  Many golfers spend significant money on their driver and love hitting the long ball.  It is an important club because it is used on most par 4s and par 5s on a course.  The driver will range in loft between 8 degrees and 12 degrees on average.
Fairway Wood: Many golfers will carry a 3 wood and sometimes a 5 wood.  These clubs are used off the tee, and out of the fairway or rough.  These versatile clubs are important especially for the beginner golfer and the beginner golfer could be hitting these clubs often.  For the more advanced golfer the fairways woods are important on par 5s that are reachable in two.  The fairway woods will range in loft between 13 and 21 degrees for the 3 wood and 5 wood.
Irons: The irons are typically used for approach shots into greens on par 3s, 4s, and 5s.  The accuracy of irons is essential as a golfer typically wants to carry an iron a specific distance.  A shot that is supposed to fly 150 yards and instead flies 140 or 160 yards might leave the golfer in a bad spot around the green.  Irons are built with both steel shafts and graphite shafts.   They also come in three different styles that range from easier to hit to most precise on working the ball and flying it a specific distance.  The loft of irons will range from around 21 degrees on a 3 iron to 48 degrees with the pitching wedge.  Over the years, the loft of irons has decreased.
Wedges: Most golfers will carry at a minimum a pitching wedge, sand wedge and a lob wedge.  Some golfers will add a 4th wedge such as a gap wedge.  The best golfers try to eliminate any gaps in distance so they can dial in shots from 125 yards and in.  These are the distances when a golfer feels that they can score the best and the analytics back it up.  The best golfers seek precision in distance control and accuracy.  The difference between a 5 foot putt and a 20 putt putt is massive!  Overall, wedges are vital clubs and the golfer should spend time and money to ensure there is a quality setup.
Putter: This club on average counts for the highest percentage of shots of any club in the bag during a round of golf.  Most golfers will average between 30 and 36 putts per 18 holes.  The putter is the club used on the greens and can help change a round for better or worse depending on the performance each day.  It becomes essential to be able to putt well to score your best.
Helpful Resources:
What clubs should a beginner have?
The beginner golfer should carry a driver, 2 fairway woods, 2 hybrids, a 5-9 iron, pitching wedge, sand wedge, lob wedge and a putter.
I would recommend the fairway woods and hybrids because they are often the easiest to hit clubs for the beginner.  As a beginner advances that could replace one or two of the hybrids or fairway woods with a 3 or 4 iron or another wedge to fill certain gaps.
I would recommend Callaway irons for beginners as they seem very easier to launch hight and far. Here is the irons I would recommend:
For the Driver I would recommend the Callaway Brand as well. I currently hit the Mavrik and its the best driver I have ever owned. The ability to adjust and the overall solid feel is impressive. Check it out below:
How far will each club travel?
The total distance a golf ball flies with each club depends on a combination of swing speed, centeredness of hit, spin rate and launch angle.
Below is a general chart of what you can expect on a golf course with a well struck shot.
| | | | | |
| --- | --- | --- | --- | --- |
| | Senior | Average | Low Handicap | Tour Pro |
| Driver Swing Speed | 91 and Below | 91-101 | 102-112 | 113-123 |
| Driver Distance | 210 and Below | 210-235 | 235-275 | 275-300 |
| 3 Wood Distance | 200 | 220 | 230 | 243 |
| Hybrid Distance | 190 | 205 | 215 | 225 |
| 4 iron Distance | 170 | 185 | 195 | 203 |
| 5 iron Distance | 160 | 175 | 185 | 194 |
| 6 iron Distance | 150 | 163 | 173 | 183 |
| 7 iron Distance | 140 | 153 | 163 | 172 |
| 8 iron Distance | 130 | 143 | 153 | 160 |
| 9 iron Distance | 120 | 131 | 141 | 148 |
| pw Distance | 110 | 121 | 131 | 136 |
| sw Distance | 90 | 100 | 110 | 120 |
| lw Distance | 70 | 80 | 90 | 105 |
How to increase swing speed?
Golfers of all abilities levels are often seeking additional speed in their swing and for good reasons.  The further you can hit the ball with the driver, the shorter shot you are left with into the green.  From there the analytics will show that the closer you are to the hole, the closer your next shot will be.  The putting is then improved from hitting short putts.
Check out SuperSpeed and current pricing here.
So simply adding some distance can be a game changer for most golfers.  The solution I would recommend to add swing speed is the SuperSpeed System that involves overspeed training utilizing three different weighted swing sticks. 
Following the easy to follow protocols laid out a golfer can train every other day and expect to see a 5-8% increase in swing speed which could mean an additional 20-30 yards with the driver.  Over the course of a round of golf this is a significant amount of distance and will help lower the average score.
The system is easy to follow and is based on science.  Training your body and mind to be able to swing faster can occur because you are swinging a lighter club and the mind can adjust to the speeds and to be able to stop and keep the body safe.  Sounds crazy, but we can only swing as fast as your mind feels that it can safely stop at the end of the swing. 
This is where the overspeed training works!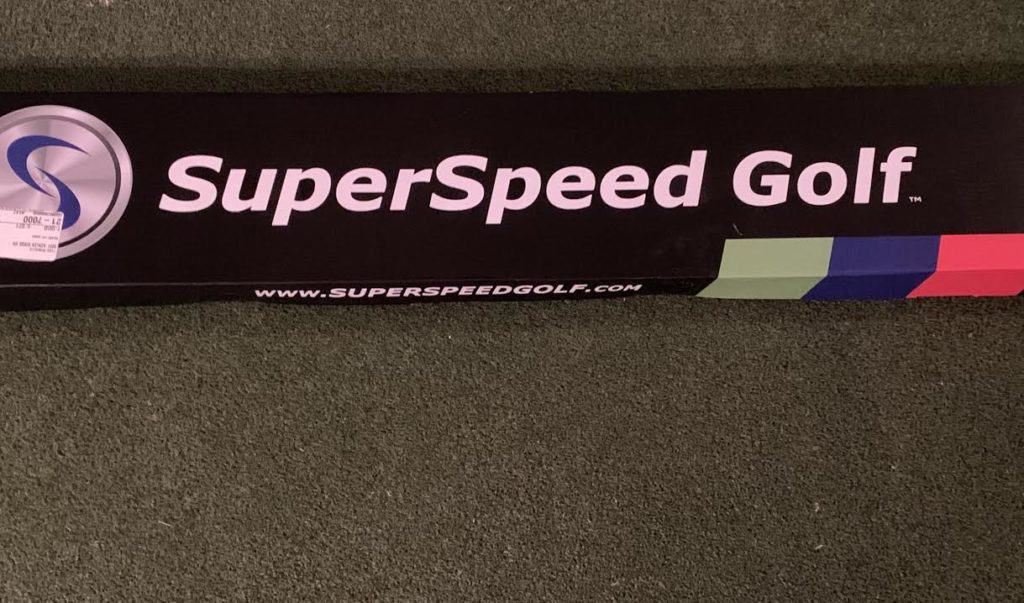 How to measure what clubs should be in your set of golf clubs?
With all of the different options available for golfers, how can one determine what is best for their golf game? 
I would highly recommend a portable launch monitor that can be used in a home setup with simply a mat and a net, in a golf simulator setup or at the driving range or golf course.  The ability to get the following data is a game changer for most.
SkyTrak: The ultimate game improvement tool!
Ball speed
Launch angle
Spin rate
Carry distance
Spin Axis
This set of 5 data points can help you determine golf club selection, which shafts are best for your game, and how far each club travels.  Knowing your distances, especially from 150 yards and in is very important to playing your best golf!
If you visit any PGA Tour event you will see golfer working with their Trackman or other high end device.  I know most can't afford that Trackman and that is just fine because there are plenty of quality options at the entry level that hold up quite well in comparison to other high end launch monitors.
5 Alternatives to the Trackman!
Here are our top three recommended.  Check out the links below for current pricing: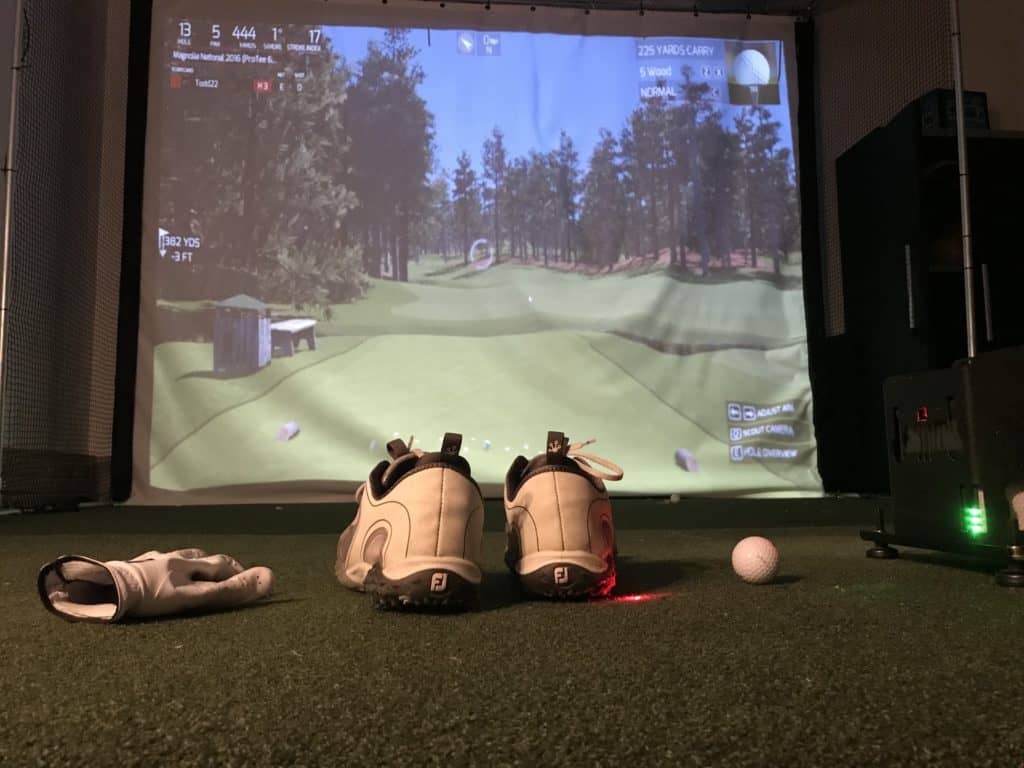 Final Thoughts: My Secret To Golf Improvement
Let's face it, in order to get really good at golf, we must practice frequently.  About three years ago, I made the leap and invested in a golf simulator build for my garage.  
I went with a SkyTrak Launch Monitor and the TGC software and can now play over 100,000 courses including Augusta, Pebble Beach, Bethpage Black, Whistling Straits. St. Andrews and many other of the top 100 courses in the world.
This golf simulator setup, which is more affordable that you might imagine, has been a game changer.  I can now play golf everyday of the year regardless of rain, snow, cold weather or time of day.  I can practice or play rounds of golf.  I can stand in the 11th fairway at Augusta and with the auto-rewind feature I am able to practice my approach shots from various differences.
It is worth checking out through Rain or Shine Golf as they offer some incredible packages along with financing offers that are difficult to beat.
Some direct links to Rain or Shine Golf for pricing and financing:
Take Action – What You Can Do Today to Get Better
What does this mean for you?  I believe in the following recipe to get better:
1 – Improve your motion in the golf swing by identifying a golf instructor.  Here are some options:
Here is a list of golf instructors that we have reviewed:
2 – Train to swing faster and improve your swing speed.  Here are some options:
Looking to gain more Speed and Distance in your swing. Two Options:
3 – Understand course strategy and work to break through your next barrier.  Here is a series on breaking through:
We have provided guides on how to break 100, 90, 80 and 70. Check out more below, if interested.
4 – Practice Frequently
Did you know that I build a golf simulator in my garage and have played over 500 rounds of golf on my SkyTrak system?  It has been a game changer and one worth checking out. Here are some of my other posts on golf simulators frequently asked questions: