Trying to figure out the best 14 clubs for your golf game?
The rules of golf provide us with flexibility on deciding what 14 clubs are going to set us up to shoot our lowest score possible.   
The greatest variability of any golf bag usually starts after the pitching wedge, which is typically a 48 degree wedge.
The sand wedge, typically a 54 or 56 degree club is a versatile club that can be used out of the fairway, rough, fairway bunker or greenside bunker.
If you break down your shots per round, you will most likely figure out that between 60-65 percent of shots in a round of golf take place within 100 yards of the flag. 
These numbers show the importance of not only having a solid short game, but ensuring you have the right club setups.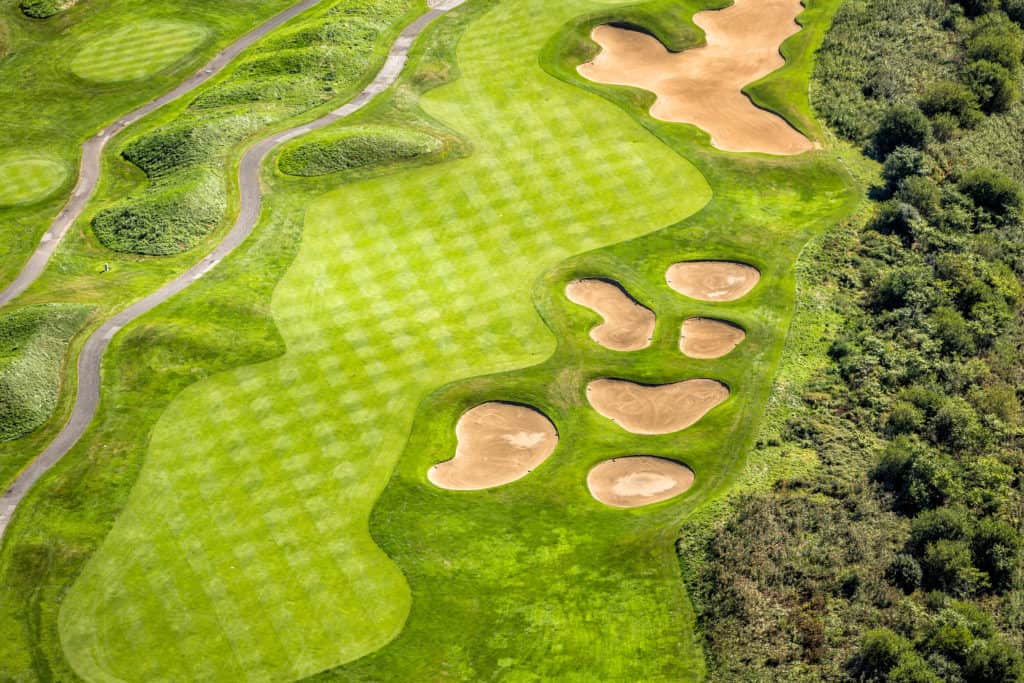 Do I Need A Sand Wedge?
Yes, the majority of golfers should carry a 54 or 56 degree sand wedge.  This club provides flexibility on shots inside 100 yards and can be used in the fairway, rough or bunkers.  The sand wedge is a necessity for just about every golfer.
However, there are some things to consider when selecting your sand wedge and figuring out what clubs you should select between the 48 degree pitching wedge and up to a 64 degree club.
Quick Fact:
Did you know that the proximity to the pin on the PGA Tour from 100 yards is 18 feet?  This fact will help us proceed with realistic expectations as we analyze our own games and the clubs we select to set us up to shoot the lowest scores possible.
With 60-65% of our shots in a round of golf taking place inside 100 yards, we must ensure we have considered these 5 items below.
5 Items To Consider
How many clubs do you have left to select above the 48 degree pitching wedge?
What yardages have you struggled the most with over the years or the most recent golf season?
What type of courses do you typically play? (Rough, Undulations, Sand Traps, etc.)
What is your scrambling percentage?
Do you know your exact yardages with your wedges?
Item #1: How many clubs do you have left to select above the 48 degree pitching wedge?
Most golfers will have 2 to 3 clubs to choose in that 50-64 degree range.  There are two different routes you could take to determine the best 14 clubs in your bag:
First pick your wedges that eliminate any gaps in approach shots and chip shots around the green.
Select your other clubs and then see if you have two or three slots left.
Standard Set up for most golfers:
Driver
3 Wood
Hybrid
4 Iron thru Pitching Wedge (7 clubs)
Putter
3 Additional Wedges
If you have a standard setup and your pitching wedge is indeed a 48 degree club, I would recommend having the following clubs:
52 degree wedge (Gap Wedge)
56 degree wedge (Sand Wedge)
60 degree wedge (Lob Wedge)
Other golfers may select to have an additional hybrid or even a 3 iron in their bag and only carry two wedges.  In this case I would recommend the following wedges:
54 degree wedge (Sand Wedge)
60 degree wedge (Lob Wedge)
Need Additional Guidance? (Excellent Resources)
Item #2: What yardages have you struggled the most with over the years or the most recent golf season?
You can take the following action.  Over your next 5 rounds, track any shots you have inside 100 yards and mark off your proximity to the pin.  Track this over the next 5 rounds and figure out your proximity to pint from the following distance:
90-105 yards
75-89 yards
60-74 yards
45-59 yards
If you find that you have a gap in one of these four ranges it is due to one of two reasons:
You have too big of a gap between your wedges.
Your technique from these distances might not be sharp.
It may simply be practicing more from a certain distance or closing the gap with an additional wedge.  If you feel that you have to swing too light or too hard, chances are you have a gap issue. 
Make sure you track your data over at least 5 rounds to make a sound, analytical.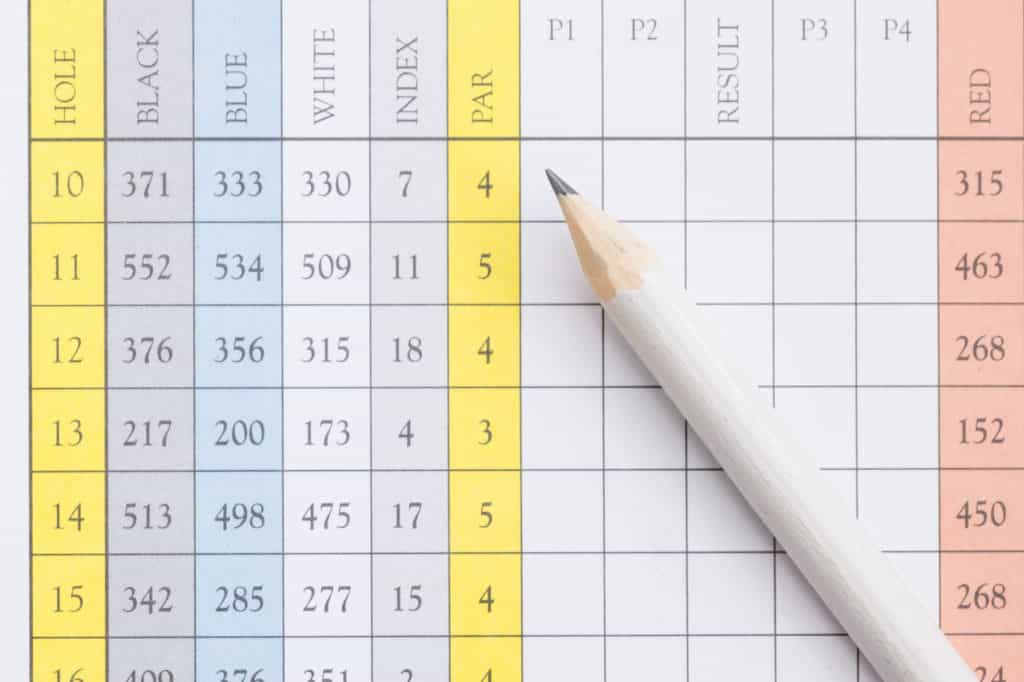 Item #3: What type of courses do you typically play? (Rough, Undulations, Sand Traps, etc.)
The style of course that you play most often can dictate if you need a sand wedge and how many wedges you should carry.  If you play a relatively flat course and can manage your 48 or 52 degree wedge, you may not need anything more lofted than a 52 degree wedge.
Personally, I think the 60 degree wedge is one of the best club options around.  So you may be able to skip the sand wedge in the 54 or 56 degree area and go with a pitching wedge and a 60 degree wedge. 
You might find a slight gap at that 70-100 yard range, but if you are solid and can play a shot that comes in lower and runs up with a 48 degree wedge, you might be able to add an extra hybrid, 5 wood or other longer club.
However, if you are playing a more modern course where there are plenty of deep green side bunkers, and difficult undulations, you might want to add several wedges to ensure you have the right club for the demanding shots you will be faced with on your difficult shots inside of 100 yards.
I would recommend having 15 to 16 clubs that you have access to to set up your bag and adjust based on the course that you are playing. 
If you play a relatively flat course one day and a very rolling course with plenty of bunkers, maybe you use the hybrid one day and then switch to the wedge the next day.  There are options and flexibility that you will have!
Tips on Chipping with your 7 Iron
Item #4: What is your scrambling percentage?
If you playing this game and have a desire to lower your scores and work your ways towards scratch, you have to check out these stats below:
What Does Scratch Golf Look Like – Stats Breakdown
THE STATS – The Recipe
| | |
| --- | --- |
| Greens in Regulation | 67% |
| Fairways Hit | 53% |
| Putts Per Hole | 1.67 |
| Scrambling | 54% |
| Sand Saves | 59% |
| Average Driving Distance | 251 |
Check out the scrambling data above!
The number that jumps out most to me is the scrambling and sand saves percentage.  At 54% the ability to get up and down for par is paramount to our ability to be a scratch golfer. 
Even if you are a 90s shooter right now, improving the short game, which starts with the right equipment will be vital to helping you play your best golf possible.
The best part about the scrambling percentage is that it doesn't take great strength, power or speed, but rather time spent practicing your chipping and green side bunker shots. 
Just about every practice green at public courses are free to use and usually pretty empty.  Give yourself the advantage and head to your local course and start practicing with those new wedges.  Figure out if you prefer to chip with your 52, 56, or 60 or do you want to use all three? 
There are great golfers that use both approaches.
Go ahead and find your secret to the short game and see your scores plummet!
Item #5: Do you know your exact yardages with your wedges?
One of the best things that helped my game is when I purchased my SkyTrak Launch monitor which helped me truly dial in my distances with all of my clubs, but most especially my wedges. 
I know that a full 54 degree wedge is going to fly 105 yards and a full swing with a 60 degree wedge will cary 78 yards.
I do carry a 54 and a 60 degree wedge and can control my distances through ball placement and controlling the length of my backswing.
I would highly recommend getting your own launch monitor or finding a friend with a launch monitor to measure your distances and know how far you hit each club. 
Understanding that the chances of having those exactly distances come up with your round are slim, so it is important to have a feel on the variation.  I know a slightly smaller swing will send my 54 degree wedge around 100 yards.  The flexibility is important and it starts with knowing your distances.
Here are two excellent launch monitor options.  One that is a bit more expensive, but both can accomplish what we need for this situation.
Financing is available at Rain or Shine Golf for their launch monitors or golf simulator packages. They are worth checking out!
Many of the golf pros have access to the data that will help them improve. Now this technology is available at an affordable price for amateurs as well!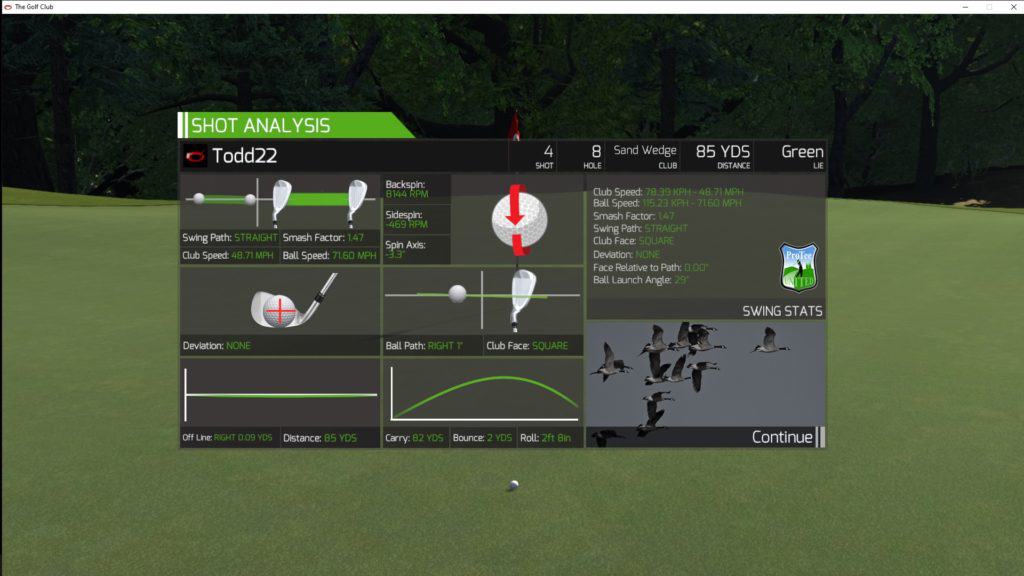 My Secret To Golf Improvement
Let's face it, in order to get really good at golf, we must practice frequently.  About three years ago, I made the leap and invested in a golf simulator build for my garage. 
I went with a SkyTrak Launch Monitor and the TGC software and can now play over 100,000 courses including Augusta, Pebble Beach, Bethpage Black, Whistling Straits. St. Andrews and many other of the top 100 courses in the world.
This golf simulator setup, which is more affordable that you might imagine, has been a game changer.  I can now play golf everyday of the year regardless of rain, snow, cold weather or time of day.  I can practice or play rounds of golf.  I can stand in the 11th fairway at Augusta and with the auto-rewind feature I am able to practice my approach shots from various differences.
It is worth checking out through Rain or Shine Golf as they offer some incredible packages along with financing offers that are difficult to beat.
Some direct links to Rain or Shine Golf for pricing and financing:
One last thing that has helped me gain significant distance is the SuperSpeed Training Sytem.  This overspeed based system where you train every other day for about 10-15 minutes with different swing sticks can help you increase your swing speed by 5-8% which can be 20-30 yards.  Who wouldn't want an extra 20-30 yards.  Plus it helps improve your mechanics.
SuperSpeed Golf – Use Discount Code Golfjourney365 for some savings!
Take Action – What You Can Do Today to Get Better
What does this mean for you?  I believe in the following recipe to get better:
1 – Improve your motion in the golf swing by identifying a golf instructor.  Here are some options:
Here is a list of golf instructors that we have reviewed:
2 – Train to swing faster and improve your swing speed.  Here are some options:
Looking to gain more Speed and Distance in your swing. Two Options:
3 – Understand course strategy and work to break through your next barrier.  Here is a series on breaking through:
We have provided guides on how to break 100, 90, 80 and 70. Check out more below, if interested.
4 – Practice Frequently
Did you know that I build a golf simulator in my garage and have played over 500 rounds of golf on my SkyTrak system?  It has been a game changer and one worth checking out. Here are some of my other posts on golf simulators frequently asked questions: