The short game can be a great score saver on any day of the week.
Are you someone that has struggled with your short game over the years and are now seeking some help?
If you are, you have found the right place.  Our 5 tips below on how to chip with a 7 iron can help you save par on those chip shots where you barely miss the green.
The 7 iron chip is one of the easiest shots in golf as essentially it is a longer putt.
I remember growing up as a kid and a rising golfer I was fortunate enough to have an older gentleman who was a 3 time state amateur champion pull me aside and go over the basics of the 7 iron chip. 
It became a game changer for me and helped me save many shots over the years.
The great thing about the short game is that even if you aren't striking the ball great that day, you can still get up and down for pars and turn in a respectable score.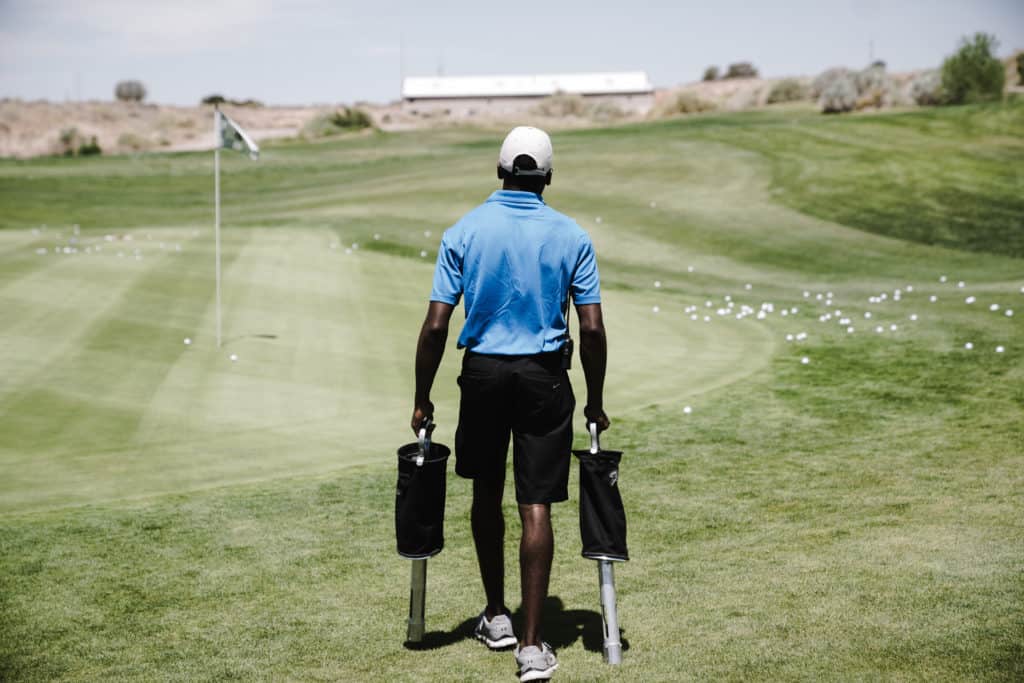 How to chip with a 7 iron?
With a 7 iron you should take a putter like stroke and follow these simple tips below:
Before we dive into these 5 basic tips to chip with a 7 iron, let's first talk about when you should hit this shot. 
When to chip with a 7 iron?
Anytime you have a basic bump and run shot and it doesn't require you to carry a bunker or a significant amount of land prior to getting to the green.
Unfortunately, we see this shot less and less in today's game as we see more and more undulation around the greens.  Many of the modern courses built in the last 30 years or so have seen an increase in the bunkering around each hole and very little space to bail and save yourself from a bad position. 
This has led to more and more demand on hitting the flop shot around the greens or at least a higher lofted club like a 56 or 60 degree wedge.
Additional Resources:
However, if you play to the bigger parts of greens and do miss the green slightly, you are left with the options of several different clubs. 
Avoid short siding yourself on the course and you will have more and more opportunities to hit a bump and run with a 7 iron at these key times.
One major benefit of the 7 iron chip or bump and run is that you have an opportunity to make the chip.
Setting realistic expectations…
What would you think is a good percentage for par saves.  I came across these numbers recently and thought they would be beneficial to all.  Check out the scrambling percentage amongst the different numbers:
Scratch Player – Key Stats
| | |
| --- | --- |
| Greens in Regulation | 67% |
| Fairways Hit | 53% |
| Putts Per Hole | 1.67 |
| Scrambling | 54% |
| Sand Saves | 59% |
| Average Driving Distance | 251 |
Check out the scrambling percentage.
The 54% seems like it is something many people could accomplish with enough practice.  As a kid I spent hours up hours around a putting green waiting for my mother or a friend's mom to pick us up from the course. 
This was a major benefit as we stood around playing game after game, competing against each other for bragging rights.  The final outcome as a really solid short game.
The great news is that the short game is easy to pracitce and most putting greens at most public courses are free and open to the general population.  Take advantage of this!
Let's dive into the 5 tips:
Tip #1: Read the green
Take your time and make sure you read the green when you get to a shot that requires a simple 7 iron chip or bump and run.  Walk around the shot and see it from behind the ball and from behind the hole. 
Similar to when you are trying to make a putt you want to look at which way the ball will break and if the green runs away from you or if it is more up hill.  This will make the speed and line that you play when hitting the chip.
We want to keep this process as simple as possible.  Make sure you check out the green and make a decisive decision on your line and go with it!  Find that target starting point and keep it in mind as you approach the ball to setup to possibly make the chip with the 7 iron!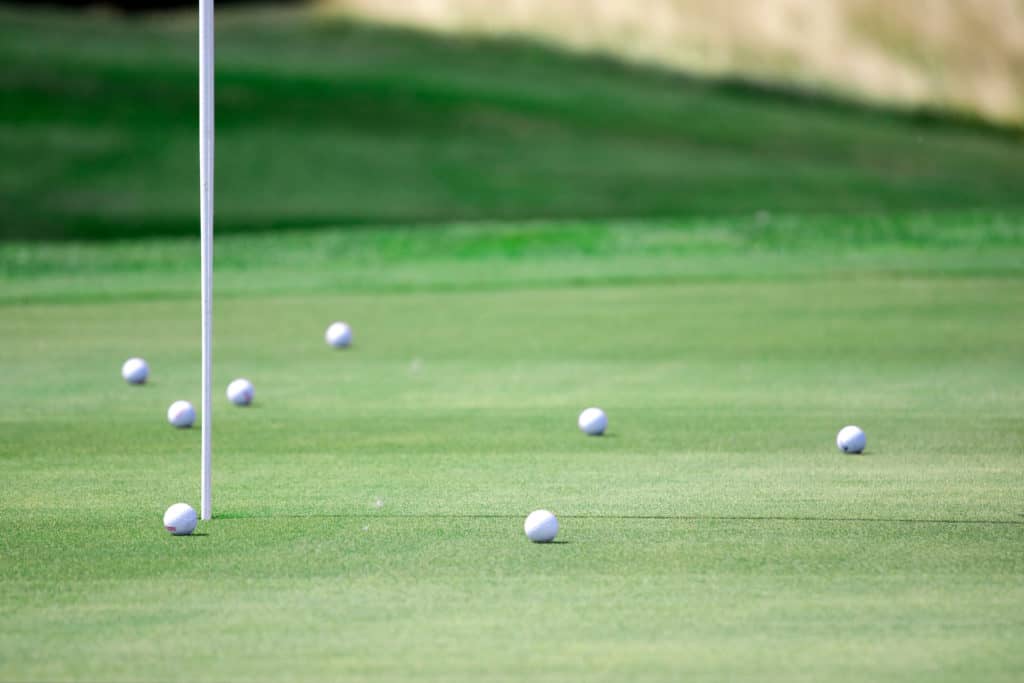 Tip #2: Feel the speed
Now that you have read the green and have an idea on the total speed of the shot, make sure you take several rehearsals to feel the speed that you want to swing at. 
Watch any professional event on television and you will notice around the greens the players take 2, 3 4, and sometimes up to 5 practice rehearsal swings. 
Not only are they potentially testing the rough or lie that they have, but they are also ingraining the distance of swing that they want to produce over the shot.
Get a good feel of the green through practicing putting and chipping prior to the round, so that you are prepared upon your first 7 iron chip throughout the round of golf!
With a 7 iron, I can take a similar distance stroke to my putt as the ball seems to respond somewhat similar between the putter and my 7 iron.  If I want to play less of a distance I will take a similar stroke with an 8 or 9 iron and hit the simple bump and run!
Tip #3: Place the ball in middle of your stance
So you have read the green and make your rehearsal practice swings, as you approach the ball setup with your feet fairly narrow with the ball in the middle of your stance. 
However, you can slightly shift this location back and forth spending on the lie.  Move it forward to hit a touch higher and slower or back to get the ball to come out lower and quicker.
Our goal is to use the most simple approach with this shot.  The ball placement in the middle allows you to utilize a fairly neutral stroke with very little compensation. 
In your pre shot rehearsal see where the club strikes the ground slightly and place the ball in that same spot for the actual shot.  This should be right around the middle to slightly forward.
Tip #4: Use your putting grip
With my 7 iron chip and bump and run, I will shift to my basic putting grip which is a reverse overlap.  This grip has my left forefinger running down the fingers of my right hand. 
This is a common putting grip for Tiger Woods and many other professional golfers that have remained more traditional with their putting approaching.
This grip takes the hands slightly out of the swing and allows you to rely on the movement of your arms and shoulders to make this chip shot as simple as possible!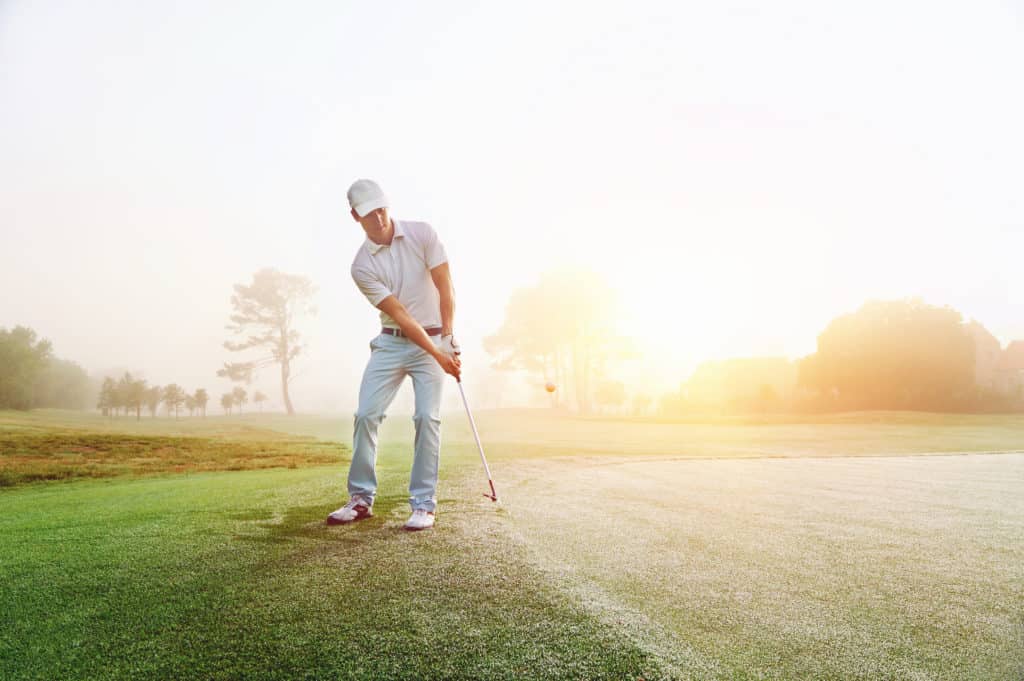 Tip #5: Utilize your shoulder and arms
The key to keep this shot simple is to not get wristy.  When we get too wristy or handsy with the club, we have a tendency to potentially yip or generate too much speed through the ball. 
The great thing about chipping is that it doesn't require speed, but rather a quality touch and an idea of basic chipping movements.
Rock your shoulder and arms back and forth and keep the club head stable through the hitting zone.  This will help you control your start line and the overall distance.  Remember the key here is to hit that start line where you need the ball to start to help it break towards the hole based on the reading of the green you completed earlier.
If you get to wristy this is when we can start to chunk th ball or blade it over the green.  I am sure we have all done that once or twice in our life.  Instead, keep the movement simple, back and through with the shoulders and arms and watch that ball start down your target line and break towards the hole.
Hopefully, you have at most a 2-5 footer for par and even give yourself a chance at birdie with this 7 iron chip!  The possibilities are great for golfers of all age to get better at this shot and give themselves a chance for par on a high percentage of the round.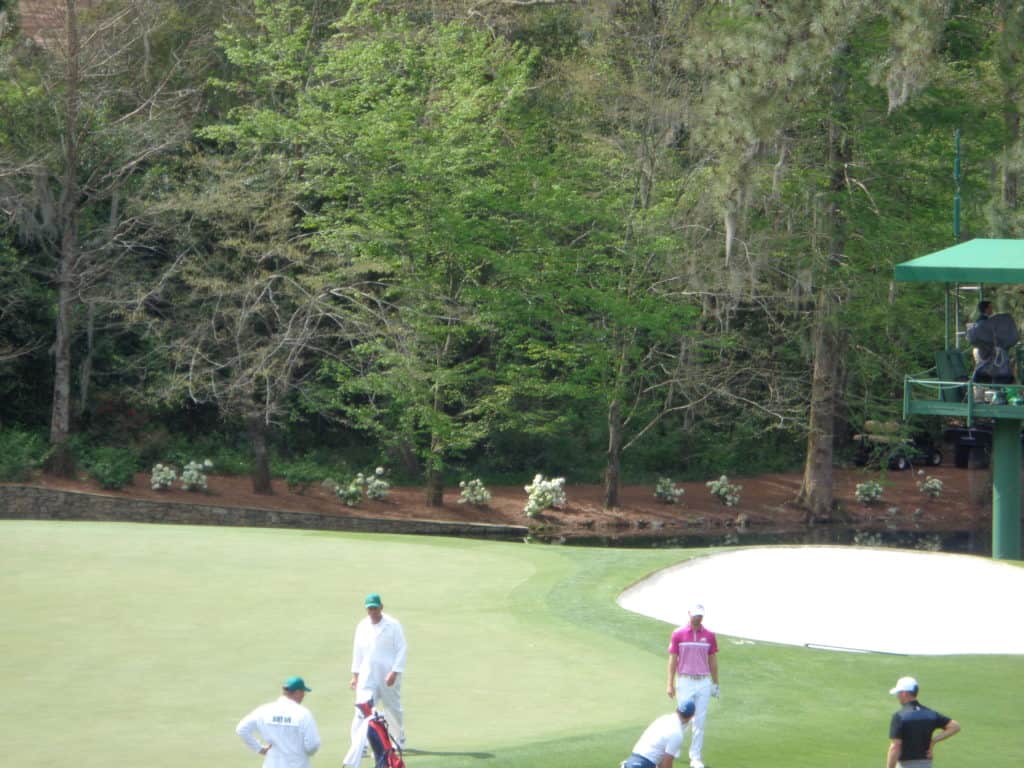 BONUS TIP:
Golf can be a great game and it is even more fun when we are making parts.  Consider this for a second, if you can just be around every green in regulation. 
For example on all par 4's if you are at least in chipping range and you practice your short game regularly, I believe that most golfers can save par at least 40% of the time regardless of age, size, or strength.  All it takes is some practice with some simple mechanics and your touch and feel will increaSe around the green.
I used this formula as a junior golfer who struggled with distance. The goal was to get around the green in regulation and then save some parts. It was interesting, but I quickly starting shooting scores in the upper 30's and the low 40's for nine holes!
Course management improvement with short game
Once you have confidents in your short game, it will help you manage your game better around the course.  You will no longer feel forced to try certain high risk shots just to make par. 
You can methodically work your way around your course and make plenty of pars and have the occasional birdie or better sneak up on your from proper course management.
The 7 iron chip is a basic shot that most goflers should start with.  From there, we can work our way up to the 60 degree wedge and larn the basic mechanics of some impressive lob wedge style shots and truly impress your friends, but we have work to do to first master this basic chip shot!
My Secret To Golf Improvement
Let's face it, in order to get really good at golf, we must practice frequently.  About three years ago, I made the leap and invested in a golf simulator build for my garage. 
I went with a SkyTrak Launch Monitor and the TGC software and can now play over 100,000 courses including Augusta, Pebble Beach, Bethpage Black, Whistling Straits. St. Andrews and many other of the top 100 courses in the world.
This golf simulator setup, which is more affordable that you might imagine, has been a game changer.  I can now play golf everyday of the year regardless of rain, snow, cold weather or time of day.  I can practice or play rounds of golf.  I can stand in the 11th fairway at Augusta and with the auto-rewind feature I am able to practice my approach shots from various differences.
It is worth checking out through Rain or Shine Golf as they offer some incredible packages along with financing offers that are difficult to beat.
Some direct links to Rain or Shine Golf for pricing and financing:
One last thing that has helped me gain significant distance is the SuperSpeed Training Sytem.  This overspeed based system where you train every other day for about 10-15 minutes with different swing sticks can help you increase your swing speed by 5-8% which can be 20-30 yards. 
Who wouldn't want an extra 20-30 yards?
Plus it helps improve your mechanics.
SuperSpeed Golf – Use Discount Code Golfjourney365 for some savings!
Take Action – What You Can Do Today to Get Better
What does this mean for you?  I believe in the following recipe to get better:
1 – Improve your motion in the golf swing by identifying a golf instructor.  Here are some options:
Here is a list of golf instructors that we have reviewed:
2 – Train to swing faster and improve your swing speed.  Here are some options:
Looking to gain more Speed and Distance in your swing. Two Options:
3 – Understand course strategy and work to break through your next barrier.  Here is a series on breaking through:
We have provided guides on how to break 100, 90, 80 and 70. Check out more below, if interested.
4 – Practice Frequently
Did you know that I build a golf simulator in my garage and have played over 500 rounds of golf on my SkyTrak system?  It has been a game changer and one worth checking out. Here are some of my other posts on golf simulators frequently asked questions: