Golfers get to carry a total of 14 clubs in the bag.  
Trying to decide what clubs to carry for a beginner might seem overwhelming, especially when it comes to the wedges.
There are many options on the market today as there is a wide range between the 48 degree pitching wedge and the 64 degree lob wedge.
However, there is a quality option for the beginner golfer that we will dive into.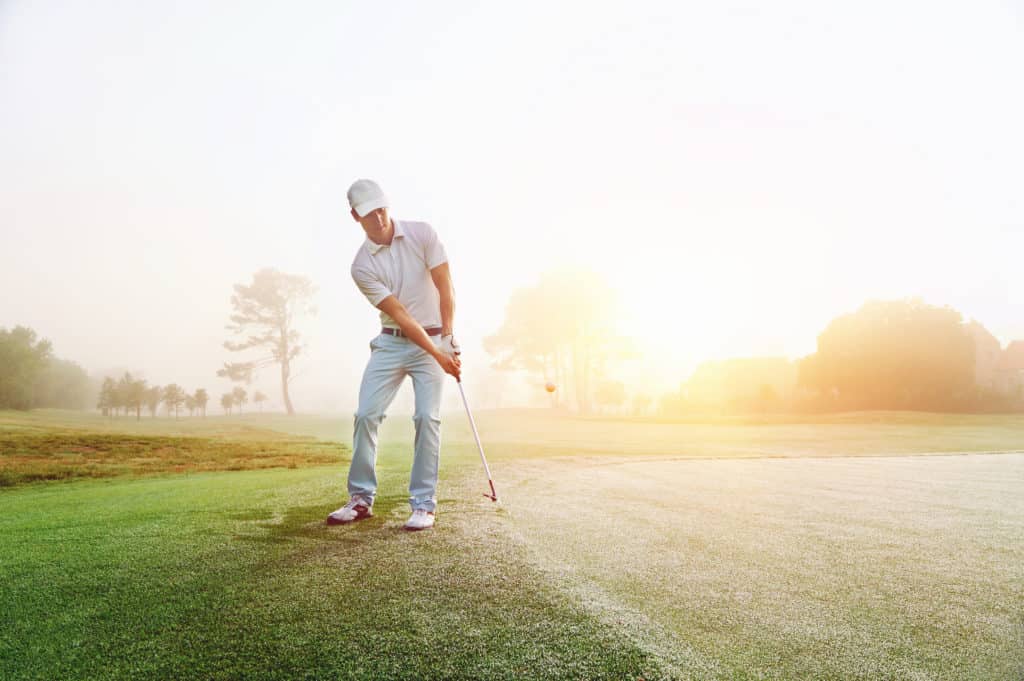 What Wedges Should A Beginner Carry?
A 48 degree pitching wedge, a 54 degree sand wedge and a 60 degree lob wedge would be ideal for most beginner golfers.
This range of clubs provides plenty of versatility while allowing a beginner golfer to carry his or her share of fairway woods and hybrids.  Maximizing the 14 total clubs is important for the beginner to ensure every distance is covered.
We have heard on many occasions that 65% of shots in golf take place inside of 100 yards.  Let dive into why we would recommend the 48, 54 and 60 degree wedges for a beginner.
Best Degree Wedge Options for A Beginner Golfer:
48 degree pitching wedge
54 degree sand wedge
60 degree lob wedge
The standard loft between the irons in a traditional set is a 4 degree difference in loft.  This provides a pretty standard gap to ensure there isn't too large of gaps in distance and that a golfer can make a full swing or close to full swing throughout the bag with the irons.
See what brand wedges we recommend at the end of this post.
Wedge #1: 48 Degree Pitching Wedge
The 48 degree pitching wedge is going to be used the majority of time for a full swing in distances between 100 and 130 yards for most amateur golfers.  Of course those with slower swing speeds, it may be from a shorter yardage and those with elite swing speed might hit their 48 degree pitching wedge close to 135 yards.
The 48 degree wedge will typically match the set of the irons.  For example if you are carrying a set of TaylorMade irons, a 48 degree wedge will come standard with most sets for most manufactures.  It will look and feel similar to other irons in your bag.  This helps ensure there aren't any unnecessary gaps in yardage.  
As you shift to wedges between 52 and 60 degrees, speciality wedges with a certain amount of bounce or other design feature become more common.  For example, in my bag I play the Titleist 916's with a 4 iron through pitching wedge, but carry a 54 and a 60 degree Cleveland Wedge.
Wedge #2: 54 Degree Sand Wedge
This club will be a rather versatile club for you.  It can be used from around 75 to 110 yards on a full swing for most golfers.  These clubs are designed to be able to hit full shots, half shots, chip shots and shots out of the sand.  The bounce will typically be between 8 degrees and 14 degrees. 
Resource: Do I need a sand wedge?
The higher the bounce, the higher the leading edge is off of the ground.  The more bounce the better the chance of being able to slide the club under the ball to maximize the loft and to keep it from digging with the leading edge.
The best golfers are able to utilize their sand wedge and move it around in their stance to hit the shots at different heights.  The 54 degree sand wedge might be your go to club for chipping around the green, even though we prefer the 60 degree wedge for chipping because of the extra loft, extra bounce and the firm, fast nature of the typical greens in golf today.
The 54 degree sand wedge is a quality choice for those longer green side bunker shots where it isn't imperative that the ball gets up quick and stops quick.  If the pin is further away and you have green to work with, the 54 degree wedge is a quality option.  It keeps you from having to swing too hard with a 60 degree lob wedge on those longer bunker shots.
Resource: What wedges do I need?
Wedge #3: 60 Degree Lob Wedge
Our favorite wedge in the bag, the 60 degree lob wedges is a like a swiss army knife!  It can do a little bit of everything, from full shots between 60 and 85 yards and all of the shots in between up to the 4 yard soft lob shot that might be required if you short side yourself.  The best golfers learn to add loft or take loft away and to maximize the benefits of the club.
One of the most common mistakes I see among beginner golfers is stopping at the 48 degree pitching wedge and then wondering why it is so difficult to chip.  First off, the pitching wedge lacks the amount of loft needed on golf courses today and it is not designed to slide underneath and through the grass. 
Resource: When to use a 60 degree wedge
The golfer is stuck playing lower flying shots, which is really difficult on difficult courses that have greenside bunkers, different shaped greens and firm putting greens.  The extra loft provided in a 60 degree lob wedge is essential for golfers of all ability levels!
Don't think just because you are a high handicap golfer that you should stop at the 48.  Make sure you buy the right club setup for your bag.  Those 5-10 yard chip shots count just as much as the 250 yard drive.  Maximize the benefits of the great technology in wedges offered in today's golf market!
Resource: Pitching wedge vs sand wedge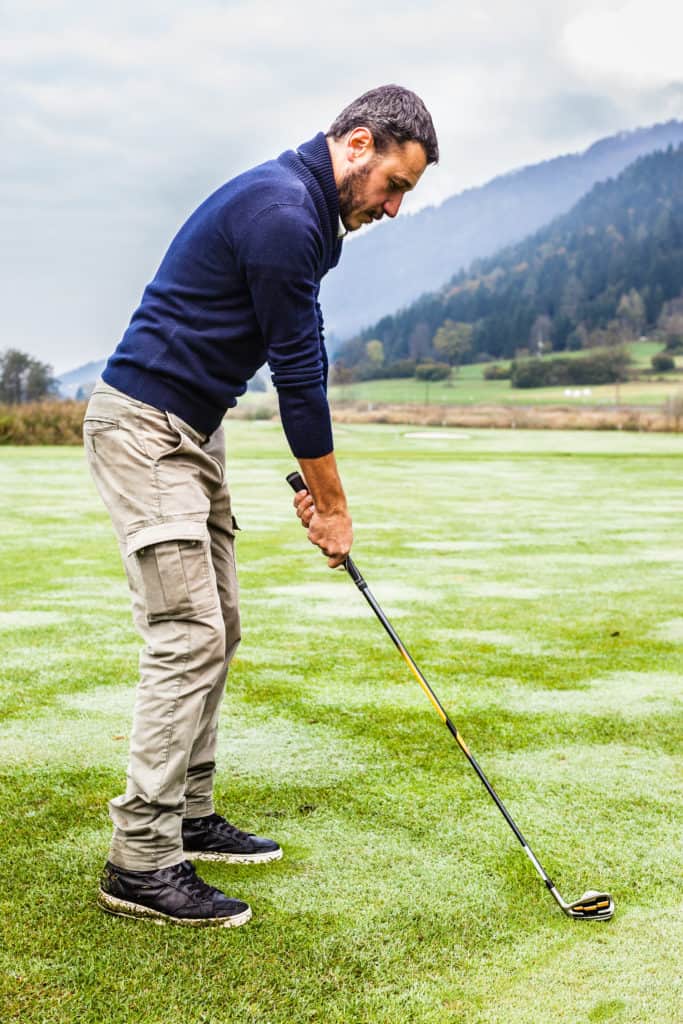 Should I Add A Fourth Wedge?
If you are someone that struggles with a 6 degree loft gap between the 48, 54 and 60 then there is another combination that some golfers follow.  If you prefer to stick with a 4 degree gap even through your wedges, I would recommend a 48, 52, 56, and 60.
There are different ways to setup your bag.  Here is a traditional setup for many golfers:
Driver (1)
3 Wood (1)
3 Hybrid (1)
3 Iron – 9 Iron (7)
Pitching Wedge (1)
Sand Wedge (1)
Lob Wedge (1)
Putter
Some options above include eliminating the 3 iron and adding a 4th wedge.  Or eliminating the 3 hybrid and adding a 4th wedge.
Alternative Wedge Setup:
48 degree pitching wedge
52 degree gap wedge
56 degree sand wedge
60 degree lob wedge
This decision will come down to two factors:
What is your current swing speed?
Are you good at swinging at 75%?
If you current swing speed allows you to hit a quality 3 iron and you enjoy this club and can hit quality shots without taking a full swing, then stick with the 3 wedge setup.
If you hate your 3 iron and struggle inside 100 yards, then add the 4th wedge.
Resource: Is a new putter worth it?
For most beginners, we believe the extra hybrid or fairway will help out and provide another option to carry the ball further and higher on those longer approach shots!
Here are golfjourney365, we prefer to measure the distances and create a chart that looks like this:
| | | |
| --- | --- | --- |
| Wedge Degree | Size Swing | Carry Distance |
| 48 | 100% | 120 |
| 48 | 90% | 110 |
| 48 | 80% | 100 |
| 48 | 70% | 90 |
| | | |
| 54 | 100% | 105 |
| 54 | 90% | 95 |
| 54 | 80% | 85 |
| 54 | 70% | 75 |
| | | |
| 60 | 100% | 80 |
| 60 | 90% | 70 |
| 60 | 80% | 60 |
| 60 | 70% | 50 |
Have you consider buying portable launch monitor that can be used at home, as part of a golf simulator, at the driving range or at the golf course?
How A Launch Monitor Can Help Your Wedge Game!
We highly recommend that every golfer invest in a portable launch monitor.  These amazing devices provide accuracy with your carry distance and helps you map out your bag to know the distance that you hit different clubs and different size swings.  
I utilized my Skytrak Launch Monitor to create the charts above.  I check my distances every so often to best prepare myself mentally when I head to the course.
I know you might be thinking, but I can't afford a Trackman!  And most people can't that don't play golf for a living, but there are some great options on the market today.
Here are our top three recommended.  Check out the links below for current pricing:
Not only can you figure out your carry distance, but you will have the following data at your fingertips:
Ball Speed
Club Speed
Launch Angle 
Spin Rate
Spin Axis
This information is a game changer.  If you head to any PGA Tour event, you will see just about every golfer working with this type of technology throughout the week.  Now for a fairly affordable purchase price, you too can have similar data to help your game!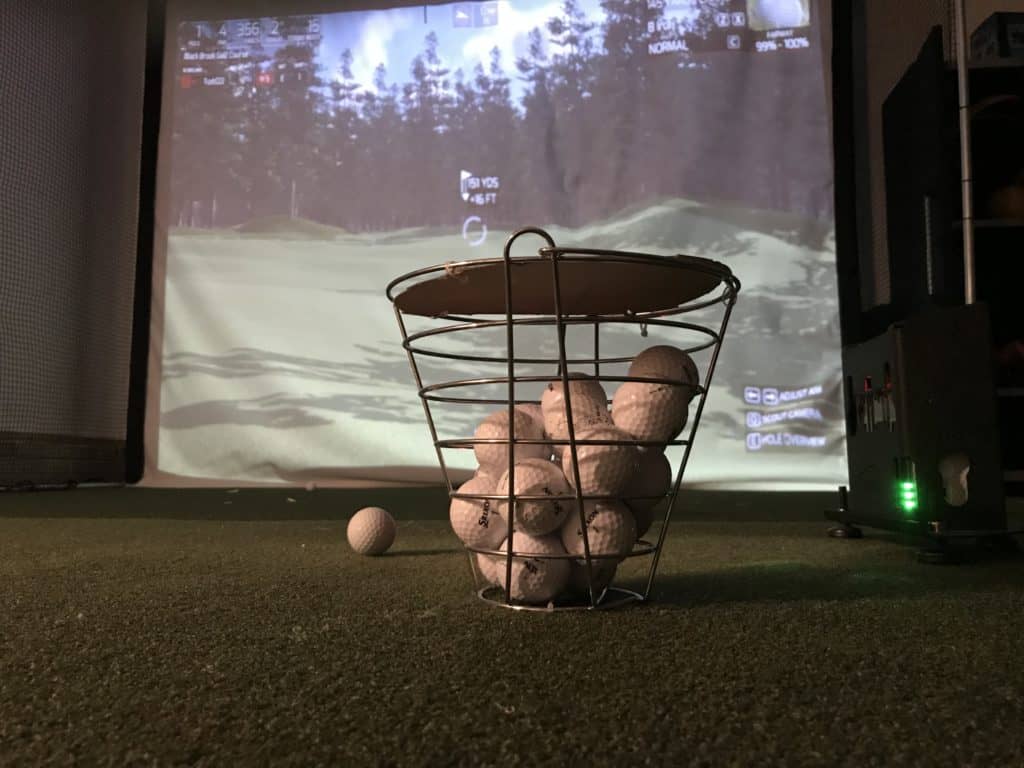 Best Wedges For Beginner Golfers
 I would recommend a cavity back wedge for beginner golfers.  The cavity back enhances performance by increasing forgiveness on those off centered hits or when you stub the ground slightly behind the ball.
#1 Choice: Cleveland Wedge Cavity Back (52, 54, 56, 58 and 60 degree options)
#2 Choice: Callaway Daddy Mack (46-60 degree options)
Final Thoughts: Wedges for Beginners
Make sure you aren't trying to use the set of clubs from the garage sale that are 20 year old clubs.  Technology has come a long way and they are easier to hit than ever.  Is golf stil difficult? Yes!  But don't make it more difficult with really old, outdated clubs.  Make sure you try to keep the game as simple as possible!
Final Thoughts: My Secret To Golf Improvement
Let's face it, in order to get really good at golf, we must practice frequently.  About three years ago, I made the leap and invested in a golf simulator build for my garage.  
I went with a SkyTrak Launch Monitor and the TGC software and can now play over 100,000 courses including Augusta, Pebble Beach, Bethpage Black, Whistling Straits. St. Andrews and many other of the top 100 courses in the world.
This golf simulator setup, which is more affordable that you might imagine, has been a game changer.  I can now play golf everyday of the year regardless of rain, snow, cold weather or time of day.  I can practice or play rounds of golf.  I can stand in the 11th fairway at Augusta and with the auto-rewind feature I am able to practice my approach shots from various differences.
It is worth checking out through Rain or Shine Golf as they offer some incredible packages along with financing offers that are difficult to beat.
Some direct links to Rain or Shine Golf for pricing and financing:
Take Action – What You Can Do Today to Get Better
What does this mean for you?  I believe in the following recipe to get better:
1 – Improve your motion in the golf swing by identifying a golf instructor.  Here are some options:
Here is a list of golf instructors that we have reviewed:
2 – Train to swing faster and improve your swing speed.  Here are some options:
Looking to gain more Speed and Distance in your swing. Two Options:
3 – Understand course strategy and work to break through your next barrier.  Here is a series on breaking through:
We have provided guides on how to break 100, 90, 80 and 70. Check out more below, if interested.
4 – Practice Frequently
Did you know that I build a golf simulator in my garage and have played over 500 rounds of golf on my SkyTrak system?  It has been a game changer and one worth checking out. Here are some of my other posts on golf simulators frequently asked questions: