When that first snowflake falls in late fall or early winter, the golf season for many golfers comes to an end.  For some, the winter season may last anywhere from 2-5 months. 
This can often mean times of inactivity for many golfers.
While many work to stay physically fit through cardio or strength training, there are still few substitutes for swinging the club and striking the ball.
Any progress that a golfer made or was making when the season ended can often be lost from the layoff that occurs during the winter months.
Meanwhile, golfers in the south or warm parts of the world are playing and enjoying the game so many of us love.  This is particularly hard on junior golfers who are working to advance their game and compete in national tournaments in March or April as they compete for the college scholarships across the United States.
For many, not doing anything for 2-5 months is not an option and they must find a way to get better.  This is very true for many junior golfers and competitive golfers.  
For the rest of the golfers, many love the game and want to enjoy an activity that they love and get better.  Many enjoy the journey to improve and become better with the skill, resulting in lower scores and even more enjoyment.
Fortunately, there are some amazing ways to simulate the game for game improvement and enjoyment.  Whatever camp you fall into, your goals can be met.  While never perfectly ideal, it sure beats doing nothing all winter and not having the opportunity to play golf.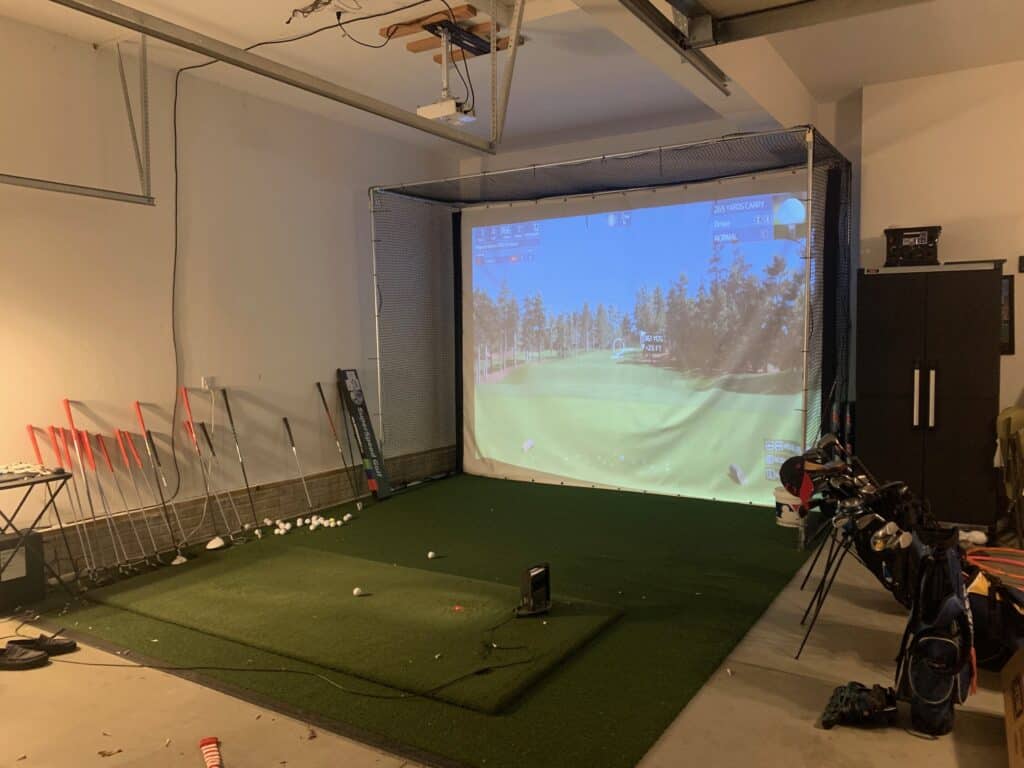 How To Practice Golf In The Winter
The best way to practice golf in the winter is through a golf simulator.  The ability to hit shots on a simulator while playing a course and feeling the pressure of producing a score is the best option during the winter months if you are held back by cold weather or snow. 
The club and ball data is helpful with improving a golf swing  Overall, the technology has come a long way in the quality and is now affordable for the typical amateur golfer.
Gone are the days of paying between 30-40 thousand dollars for a golf simulator setup in your home or garage.  Now you can get a pretty impressive setup for between 5 and 7 thousand dollars and have a quality setup. 
How to build the ultimate golf simulator for under $7000!
One with access to over 150,000 courses, with many of the top 100 courses found on that list.  Think about that for a second!  You can play Augusta, Pebble Beach, Whistling Straits, St. Andrews, and Bethpage Black on a snowy January day.
The Golf Club (TGC) software is amazing and you should check out our full review!
Top 5 Option for Practicing Golf in The Winter
Option 1: Simulator Golf (Top Option)
As we made it clear above, we are big fans of the golf simulator setup.  Personally, I set up a golf simulator build in my garage and have played over 750 rounds of golf on some of the best courses throughout the world. 
My personal experience has seen a decrease in average score of somewhere between 74-78 down to between 68-74.  These 4-6 shots have been huge and are often difficult to reduce once a golfer reaches this level.
Check out current pricing on a SkyTrak!
After years of working to get to this level, the part that push me towards accomplishing this feat was the ability to play golf 365 days a year.  Where I live in the United States, the season ends around November and doesn't start back up until March (if we are lucky).  Truly it can be difficult to play golf for at least 4 months maybe 5 during most winter seasons.
How to practice with a golf simulator.
If you give up 4-5 months per year over the course of 10 years, you have lost around 4 years of golf.  This is crazy when you think about it!  This time is huge for junior golfers who are trying to get their game to the next level.
The number one area where I saw improvement was in the ball striking.  Playing over 20 rounds a month during the winter months meant 80-100 rounds, plus many more hours hitting approach shots into my favorite golf holes in the world or standing on a tee box and working on shaping the ball both ways.
What Are The Benefits Of A Golf Simulator – Complete Post!
The pressure of having to hit a shot over water or to hit a delicate chip becomes real and it is similar to playing golf!  Check out a data comparison I did between outdoor rounds and indoor rounds at the end of this post!
This type of setup provides the closest thing to playing golf.  You have both a play option and a driving range option.  You can hit shots on courses and work on all areas of your game.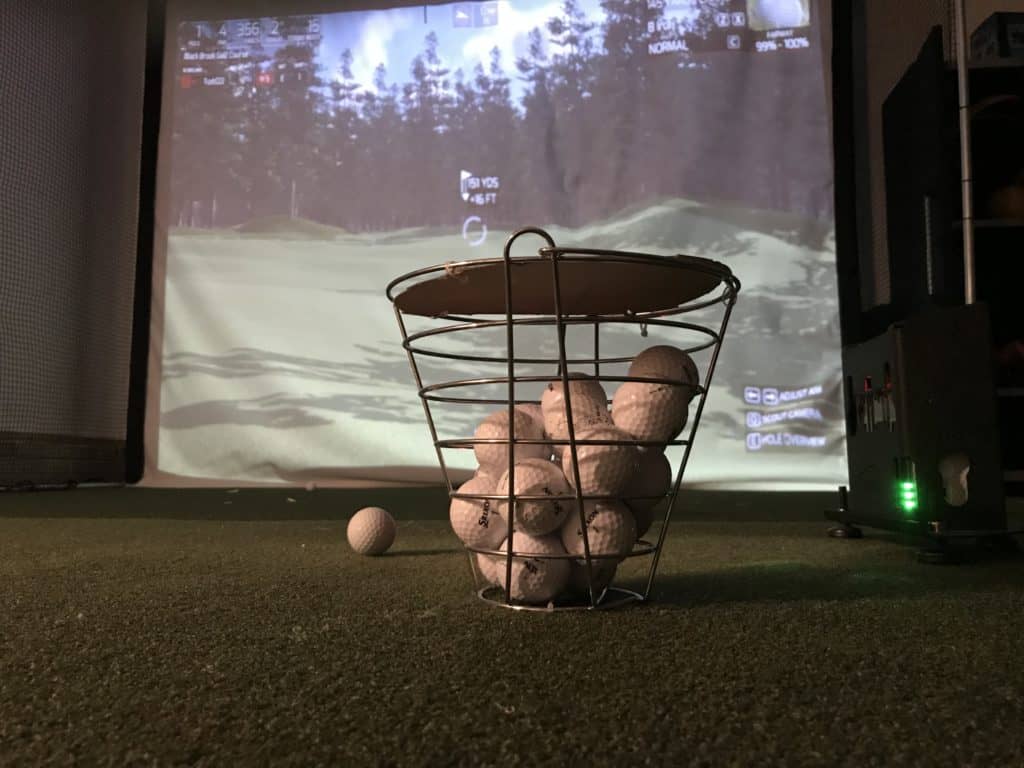 Option 2: Golf Dome
In many areas where cold weather dominates the winter months, golf domes have popped up to provide an indoor driving range.  These setups typically allow the ball to fly around 100-125 yard before it hits the back of the dome.
While this approach allows you to hit shots in a warm, comfortable environment, it can be difficult to understand the total flight of the ball.
One recommendation I would make is to pair this setup with an affordable launch monitor in the 500-2000 dollar range.  The launch monitors below will par with your smartphone you can have the shot tracer feature and other key data such as the following:
Club Speed
Ball Speed
Spin Axis
Launch Angle
Spin Rate
Here are my top 3 recommend affordable golf launch monitors:
Option 3: Heated Driving Range
Many areas also have covered driving ranges where the area you are hitting from is heated.  This allows you to hit a golf ball that will fly its normal ball flight and get work in with striking the ball with your irons and driving the ball as well.
The limitation here is that you want to play and your short game doesn't really get much work.  I would recommend trying different drills and working to develop the swing so that you don't get stuck in bad patterns or start to get sloppy with your swing.
Here is a favorite drill of mine:
Set up an alignment stick straight down your target line about 6-8 yards in front of you.
Set up a 2nd alignment stick about 3-4 feet right of the first alignment stick.
Go ahead and try to hit your shot between these two alignment sticks. . This will help you hit the ball with a slightly open face and get the ball starting right of the target.
Once you can do this, notice the flight of the ball.  If you are hitting a slight draw, perfect.  If the ball is starting right and fading right, you will want to get your path further to the right or at least right of the clubface.  This will help produce a draw.
Work on this drill at every range session and build your stock shot!
Here is a video further explaining this drill:
Option 4: Training for Speed
One of the greatest benefits the majority of golfers could gain during the winter is through speed training.  We all know that speed dominates on the PGA Tour and by adding 20-30 yards to your driver, you can dominate your playing partners.
The formula is simple, if you have approach shots that are taking place from 20-30 yards less into a green, you will hit the ball closer to the hole on average. 
As a result, you will make more putts.   Extra speed doesn't have to mean less accuracy, but even if you lose some accuracy the extra distance will more than cancel the loss of accuracy out.
I highly recommend the SuperSpeed Training Protocol as I have experienced the 5-8% that is marketed and have benefit from this training system.  The three club system allows you to swing faster and trains your mind and body to feel safe swinging faster.  The results are impressive!
Option 5: Indoor Putting
The magic number in putting is the 3-10 footers.  Did you know that the average PGA Tour player only makes 50% of his putts from 8 feet?  Could you imagine where amateurs are at with this percentage? 
What if you practiced enough to get to 50% from 8 feet what that could do for your score?  It doesn't take a lot of talent, speed, strength or any of those intangibles to be a great putter.  And the good news is that you could practice your putting on many carpets found in homes.
Take advantage of those cold months and get hte putter on track.  The more confident you can be in that 3-10 foot range, the better you will be with lag putts and feeling comfortable hitting chips shots when you do miss a green!
See the chart below on the scrambling percentage of the average scratch golfer.  Making those 3-10 footers is very important in that stat!
Measuring Sticks – What You Can Aspire To
If you are willing to go all in for the next winter season.  Consider tracking these stats on your golf journey.  Below are the average stats of the typical scratch golfer. 
Do you think that a golf simulator might help you hit 67% of greens in regulation?  I believe it can!  
Join us in getting a golf simulator and let the fun and improvement begin!
| | |
| --- | --- |
| Greens in Regulation | 67% |
| Fairways Hit | 53% |
| Putts Per Hole | 1.67 |
| Scrambling | 54% |
| Sand Saves | 59% |
| Average Driving Distance | 251 |
Real Golf vs Simulator Golf – Data Comparison
I did a little comparison of golf scores to measure up the realistic nature of the SkyTrak.  What better way than to actually compare scores shot over the past 15 rounds, both outside and with my SkyTrak Golf Simulator setup.
| | | | | |
| --- | --- | --- | --- | --- |
| Golf Simulator Score | Relative to Par | 15 Total Rounds | Real Golf Score | Relative to Par |
| 72 | 1 | Round #1 | 76 | 4 |
| 75 | 0 | Round #2 | 78 | 6 |
| 72 | 3 | Round #3 | 74 | 3 |
| 81 | 9 | Round #4 | 71 | 0 |
| 75 | 3 | Round #5 | 70 | -1 |
| 73 | 3 | Round #6 | 71 | 0 |
| 75 | 3 | Round #7 | 72 | 0 |
| 71 | -1 | Round #8 | 73 | 1 |
| 71 | -1 | Round #9 | 72 | 1 |
| 72 | 1 | Round #10 | 74 | 3 |
| 73 | 3 | Round #11 | 74 | 3 |
| 72 | 1 | Round #12 | 74 | 4 |
| 72 | 1 | Round #13 | 72 | 1 |
| 72 | 1 | Round #14 | 73 | 3 |
| 76 | 4 | Round #15 | 73 | 2 |
| | | | | |
| 1102 | 31 | | 1097 | 30 |
| 73.47 | 2.07 | | 73.13 | 2 |
Accuracy of Golf Simulator vs Reality – Data Breakdown
Total Strokes (15 Total Rounds) = 1102 in Simulator Golf and 1097 in Real Golf
Total Strokes Over Par (15 Total Rounds)  = 31 in Simulator Golf and 30 in Real Golf
Average Score = 73.47 in Simulator Golf and 73.13 in Real Golf
Average Strokes Over Par = 2.07 in Simulator Golf and 2.0
Overall the numbers speak for themselves, but below I will talk about some of the differences in Simulator Golf vs Reality. 
How crazy that after 15 rounds there is only a 5 shot difference? Having never done a data comparison before, I must say I am even more impressed with simulator golf.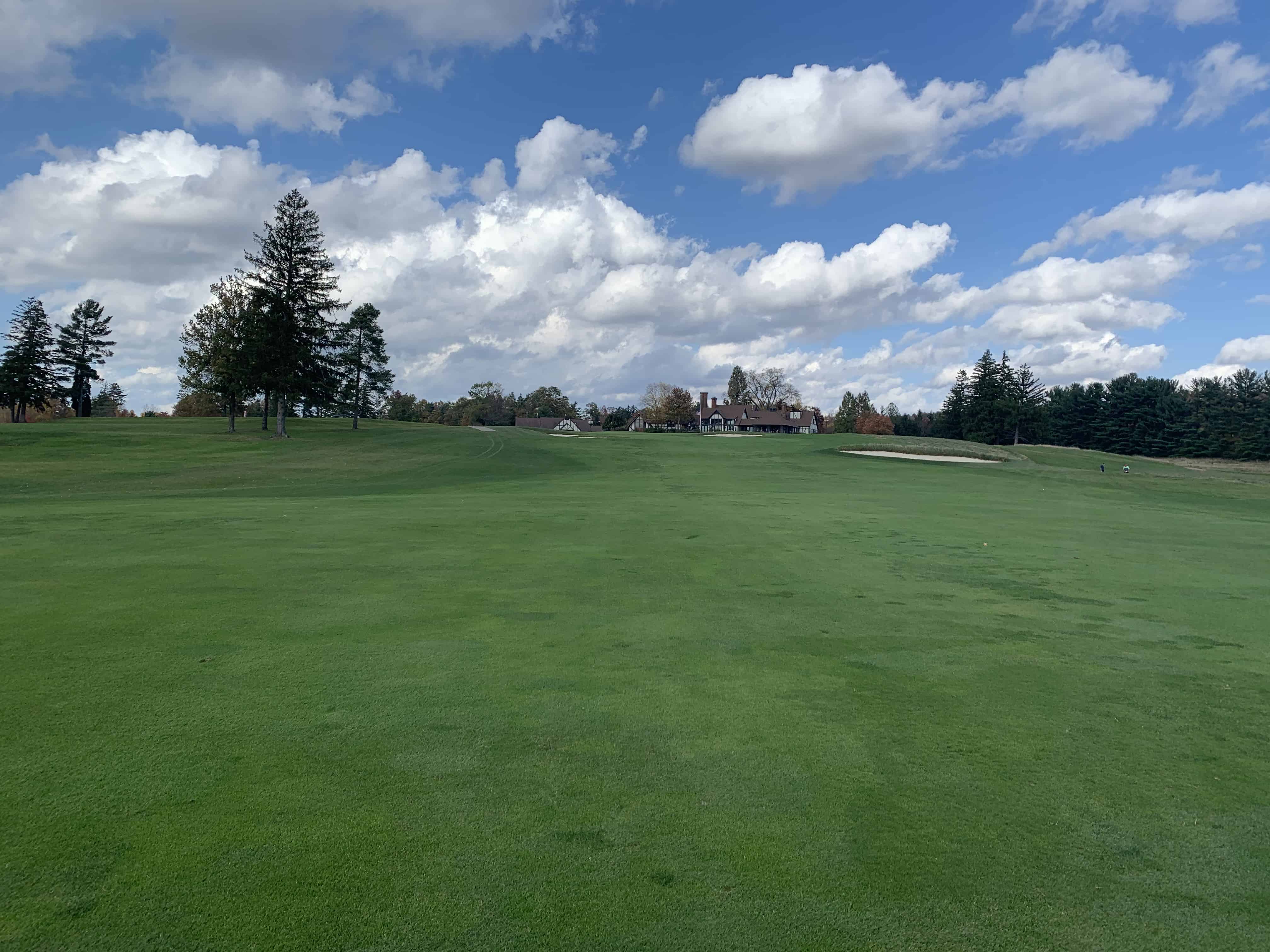 Take Action – What You Can Do Today to Get Better
What does this mean for you?  I believe in the following recipe to get better:
1 – Improve your motion in the golf swing by identifying a golf instructor.  Here are some options:
Here is a list of golf instructors that we have reviewed:
2 – Train to swing faster and improve your swing speed.  Here are some options:
Looking to gain more Speed and Distance in your swing. Two Options:
3 – Understand course strategy and work to break through your next barrier.  Here is a series on breaking through:
We have provided guides on how to break 100, 90, 80 and 70. Check out more below, if interested.
4 – Practice Frequently
Did you know that I build a golf simulator in my garage and have played over 500 rounds of golf on my SkyTrak system?  It has been a game changer and one worth checking out. Here are some of my other posts on golf simulators frequently asked questions: