If you have been playing golf for several years and still struggle to make enough pars, you have landed at the right place.
I am here to help you make more pars in golf and start to break 45 for 9 holes or 90 for 18 holes.
Once a golfer can start shooting in the 80s, they feel good about themselves and the confidence increases.  Below are some simple tips or formulas you can use to lower your scores by making more pars in golf.
How To Make More Pars in Golf?
The golfer should consider their strategy, short game, swing speed, contact, and stock shot.
Theave 5 factors play a major role in whether the golfer can make more pars.  Without any of the 5 keys above, the golfer will struggle to break 90 and make enough pars.  Golf becomes a lot more fun when the golfer is making pars.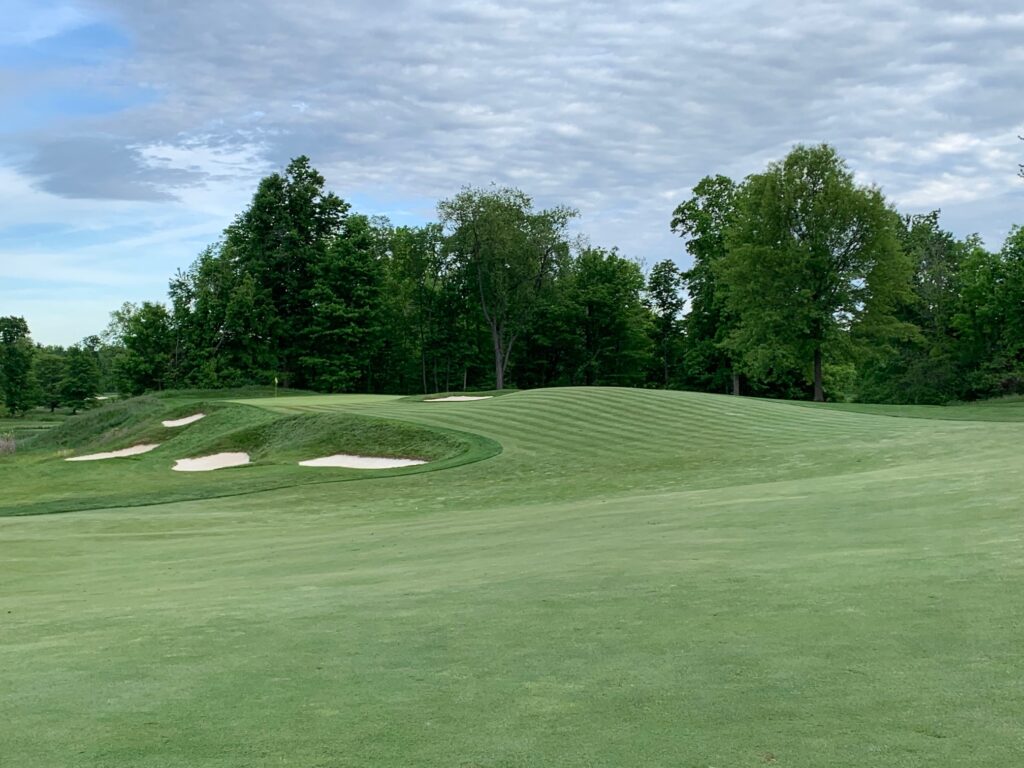 Tip #1: Strategy
Oftentimes the golfer who struggles to make enough pars has no strategy.  They simply step up to the tee, grab their driver and swing away.  There is little consideration for  the length of the hole, the placement of the pin and the ideal landing area for the driver.  
While I think most golfers should learn to hit the driver off the tee, considering where yoru miss might be is a major first step in advancing your game and keeping your ball in play for a quality approach shot.
Once you are at the approach shot, the golfer should consider the yardage, pin placement, wind direction and their lie.  With each shot the golfer should have the goal of giving them an average to above average result.
Too often the golfer gets stuck trying to hit the hero shot and leaves themself in a bad situation, where double or triple bogey is now in play.  For example, there is a front pin placement just beyond the green.  They laser with their range finder and see the pin is 130 yards away.  They grab their 130 club and slightly mis hit the ball.  They are now in the front bunker, hoping to pull off a bogey.
Instead the golfer should have considered a 140 club and if they hit it 140, they have a 30 foot putt back towards the hole.  If they miss it slightly, they are pin high.  If they really catch it clean, they are still on the green.  They have to be able to two putt from different distances, but par is in play and bogey is the highest score possible.
Complete Post: How to break 90 in golf!
Tip #2: Short Game
The fastest way to more pars is through the short game.  Consider the strategy portion above,  If you knew you could save par 50% of the time, you would maintain confidence if you hit the ball in the trees on your drive or you missed the green on an approach shot.  
The golfer that can hit chip shots inside a 10 foot circle consistently, will be able to save par close to 50% of the time.  This becomes really important on those days when your ball striking is just off or it is really windy.
Practice the short game as much as possible and you will see quick results.  Even if you missed every green in regulation, but had a chip on those holes, you might be able to shoot in the low 80s.  This is incredible, considering the golfer did not hit one green in regulation. 
Of course, the majority of golfers will hit at least 4, leaving you with those 4 pars, plus if you can save par 50% of the time on the other 14 holes, you have a total of 11 pars and can break 80.  The game doesn't have to be complicated, you simply have to keep the ball in play and have a quality short game to break 80 on a regular basis.
Related Post: How to make more short putts (5 tips)
Tip #3: Swing Speed
There is a direct correlation between the swing speed of a golfer and their potential to shoot quality scores.
I believe many used to believe, well this is just how fast I can swing.  
Recent training tools have started to change many minds.  We have seen many of the professional golfers get longer and longer with their tee shots as a result of additional swing speed.  You will find many touring pros using the SuperSpeed System, which I highly recommend.
SuperSpeed Golf is one option to increase your swing speed through a science based overspeed training approach.  In simple terms, you train by swinging a lighter club (20%) faster than you swing your driver.  Over time, by training at a higher speed, your mind and body feel safe to swing that fast with your normal driver, resulting in an increase in driver swing speed.
The SuperSpeed System provides 3 different weighted sticks and takes the golfer through a training protocol every other day for about 15 minutes.  The golfer can expect to see a 5-8% increase in swing speed, resulting in 20-30 yards for most golfers.  The great news is that the 5-8% can be expected as early as the first training session.  The additional speed will become more permanent after about 30-60 days of training.
Check current pricing on SuperSpeed Golf here!
My own experience has been an increase of 7-10 miles per hour on average from between 98-101 all the way up to 106-109.  My goal is to hit the PGA Tour average of 113 mph in the coming months.  I will continue to train every other day and watch in amazement as I am hitting drivers longer now than ever before!
Phil Mickelson has been known to increase his swing speed in the past year or so and is close to 120 miles per hour in his swing speed.  There are potential results for golfers of all ability levels and age!  
Check current price on SuperSpeed Golf System, here!
| | | | |
| --- | --- | --- | --- |
| Original Swing Speed | After 4-6 Weeks | New Carry Distance | Total Distance |
| 95 | 102 | 245 | 265 |
| 100 | 108 | 259 | 279 |
| 105 | 113 | 271 | 291 |
| 110 | 118 | 283 | 303 |
Tip #4: Contact
The golfer must be able to strike the ball solid a high percentage of the time.  THe devastating shots that only fly 50% of the intended distance, quickly can ruin a round of golf.  The good news is that there are drills you can use to help you improve your low point control in your golf swing, which will result in better contact.
The Drill: The Low Point Control Dril
Take some yard paint and patina a 1-2 yard long line.
Setup with 55% of your weight on your front side.
Try to hit the target side of the line and see how many times out of 10 you can do this successfully!
Repeat this drill every day for a month, tracking your progress and your ability to to this successfully in trials of ten.
You may need to start with half swing and progress to full swings.
If you are struggling, put more weight forward and work on keep your head still to help control the low point in the swing.
Related Post: How to hit your irons consistently!
Tip #5: Stock Shot
The ability to start the ball on the intended line and control the curve is a skill that all golfers need to continuously work on.  The best golfers can control their start line and curve around 70-80% of the time.  This is something that is fundamental to the overall success ibn golf.  There is nothing worse than standing on a tee box wondering where your ball might end up.
Consistently in golf comes from being able to play a stock shot and controlling the start line and the curve of the golf ball.  Once you have a stock shot, you can really start to manage your game and your way around the course.  Golf becomes fun and you can challenge yourself to control your golf ball throughout the round of golf.
The Drill: Stock Shot Drill
At the driving range, set up an alignment stick about 6-8 yards in front of you, straight down your target line.
If you have a second alignment stick, set the stick 3-4 feet right of the first stick (for a draw) or left of the first stick (for a fade).
Complete your initial assessment see how many times out of 10 you can start the ball to the right or left of your target.  Pick one side and measure your game at this point.
The goal is to eventually get 7 out of 10 shots to start to the correct side and draw back towards the target.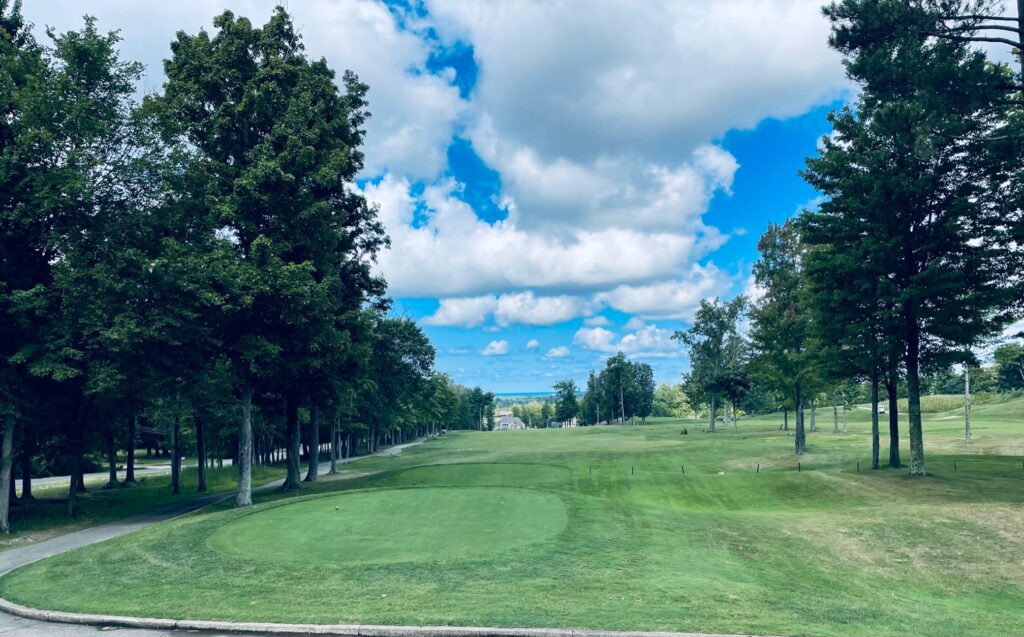 Next Steps: Seek Feedback
The best way to improve in this game is to seek feedback.  You can receive feedback from collecting data on your rounds of golf or practice, seek the feedback of an expert golfer or use technology to provide some valuable feedback.
Several years ago, I purchased a Skytrak Launch Monitor, which can be used indoors and outdoors.  It provides the following feedback after every shot:
Carry and Total Distance
Ball Speed
Spin Rate
Launch Angle
Spin Axis
I have my Skytrak setup as part of an indoor golf simulator in my garage and can play golf a high percentage of the days in a year.  The consistency in playing golf year round has helped me make more pars and birdies and avoid the big numbers!
Here are the top 3 launch monitor options to check out: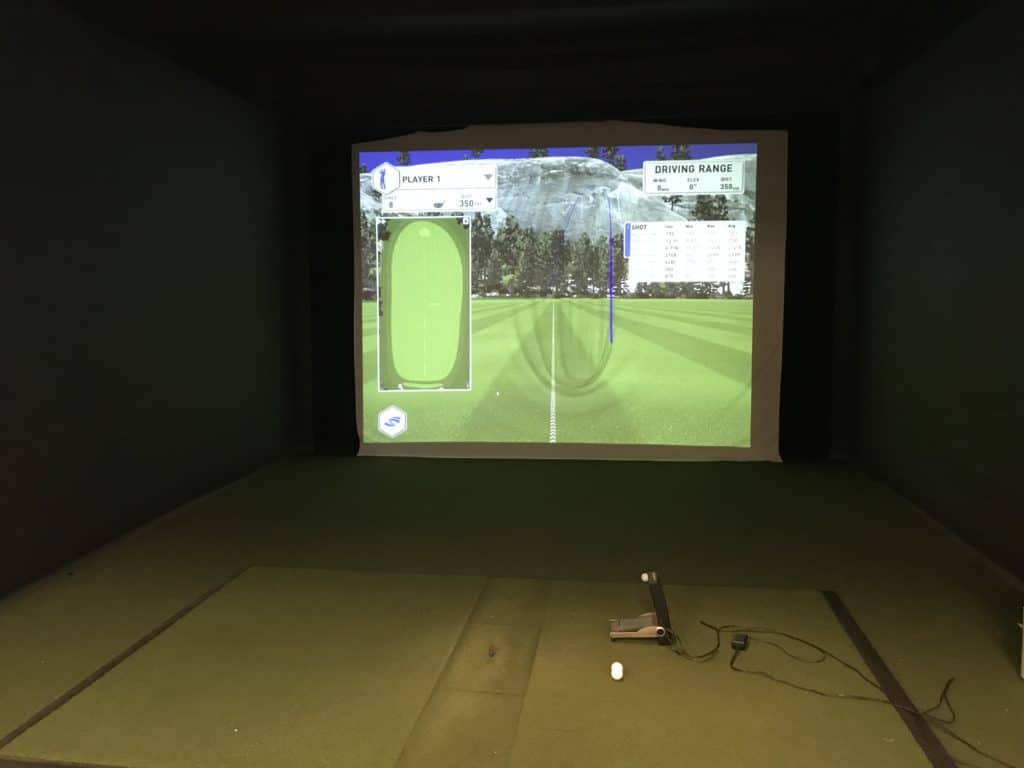 Take Action – What You Can Do Today to Get Better
What does this mean for you?  I believe in the following recipe to get better:
1 – Improve your motion in the golf swing by identifying a golf instructor.  Here are some options:
Here is a list of golf instructors that we have reviewed:
2 – Train to swing faster and improve your swing speed.  Here are some options:
Looking to gain more Speed and Distance in your swing. Two Options:
3 – Understand course strategy and work to break through your next barrier.  Here is a series on breaking through:
We have provided guides on how to break 100, 90, 80 and 70. Check out more below, if interested.
4 – Practice Frequently
Did you know that I build a golf simulator in my garage and have played over 500 rounds of golf on my SkyTrak system?  It has been a game changer and one worth checking out. Here are some of my other posts on golf simulators frequently asked questions: