Most golfers are looking for ways to improve their score and their swing.
If you are a beginner, oftentimes you want results fast!  And we don't blame you!
With the right amount of practice, you can get your handicap into the single digits within 1-3 years depending on your overall athletic ability, hand eye coordination and spending practice time in the right areas with the right technique.
Of course, you ultimately have to find your swing and own your swing so you can take your swing to the golf course and produce the shots that the course demands!
How To Improve Golf Swing For Beginners
Complete A Swing Assessment
Seek Golf Instructor Advice
Work on Specific Drills
Train for Speed
Watch the Best Golfers Play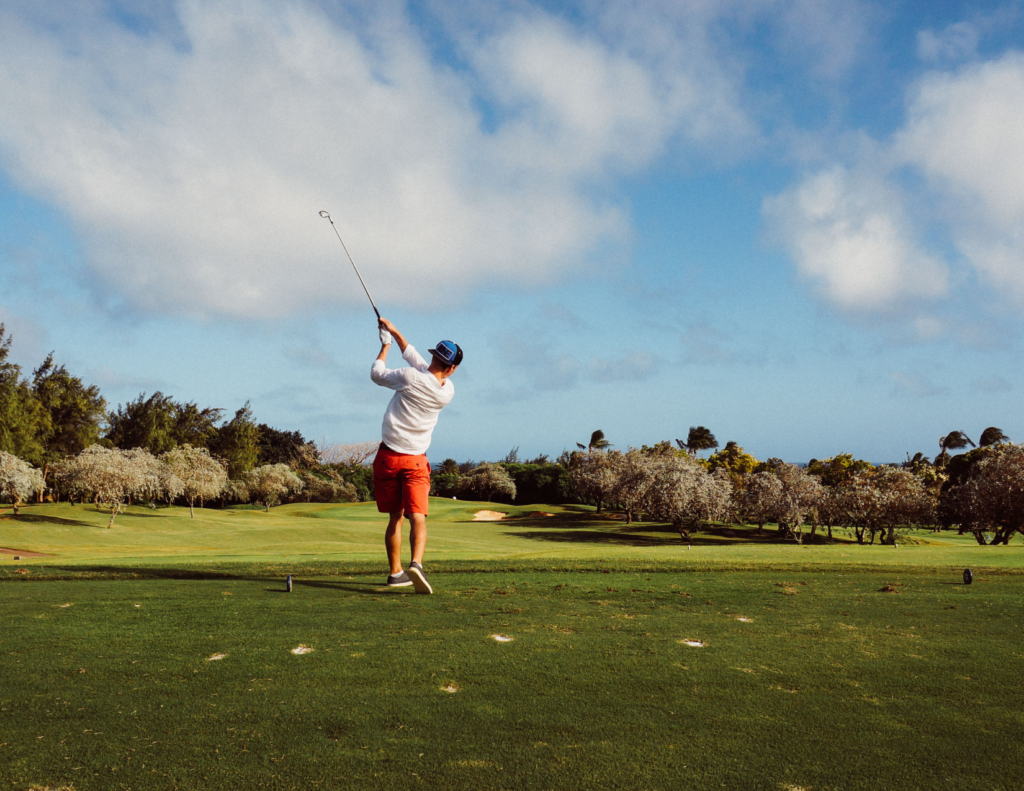 How To Improve Golf Swing For Beginners: #1 Complete A Swing Assessment
The golf swing is built on three fundamentals and the fundamentals might be different than you might assume.  We aren't going to get into grip, alignment/stance, or posture because the greats of the game have all used various approaches with these three areas.  Instead, I would recommend exploring and assessing your skills in these three areas below:
Controlling the low point of the your golf swing (impacts quality of strike)
Controlling the start line and having a predictable curve to your shot (shot pattnern)
Having enough speed to play the game
The bottom line is the best golfers are able to hit the ball solid in the upper 90% area, have a predictable shot pattern at least 70% of the time and have enough speed/distance to play the course.
As a result we recommend completing the following drills and tracking your current ability levels.
Online Golf Lessons for Beginners
The Low Point Control Drill
Take some yard paint and paint a 1-2 yard long line.
Setup with 55% of your weight on your front side.
Try to hit the target side of the line and see how many times out of 10 you can do this successfully!
Repeat this drill every day for a month, tracking your progress and your ability to to this successfully in trials of ten.
You may need to start with half swing and progress to full swings.
Take 20 swings and measure how many times out of 20 you are able to hit the line on the target side of the line, just past the line.  
Write this number down!
Stock Shot Drill
At the driving range, set up an alignment stick about 6-8 yards in front of you, straight down your target line.
If you have a second alignment stick, set the stick 3-4 feet right of the first stick (for a draw) or left of the first stick (for a fade).
Complete your initial assessment see how many times out of 10 you can start the ball to the right or left of your target.  Pick one side and measure your game at this point.
The goal is to eventually get 7 out of 10 shots to start to the correct side and draw back towards the target.
Hit 20 shots.  How many times out of 20 were you able to start your ball down the right target line and have it curve towards the target?  
Write this number down!
Swing Speed Drill
Tee up your driver and hit 20 drives and use a speed measuring device.
We recommended the Sports Sensor Speed Radar, check out the price here!
Write down the following information:
Your fastest swing speed
Your slowest swing speed
The average of the 20 swings
Now that you have completed all three drills, what areas is your strength and which area is your weaknesses?  
Here are some comparable numbers to use:
19 out of 20 on low point control  = Very Good
14 out of 20 on stock shot drill = Very Good
Swing Speed over 100 MPH  = Very Good
The great news is that these three areas of assessment can be the drills you use over the coming months and years to improve in the three most important areas when it comes to the full swing in golf!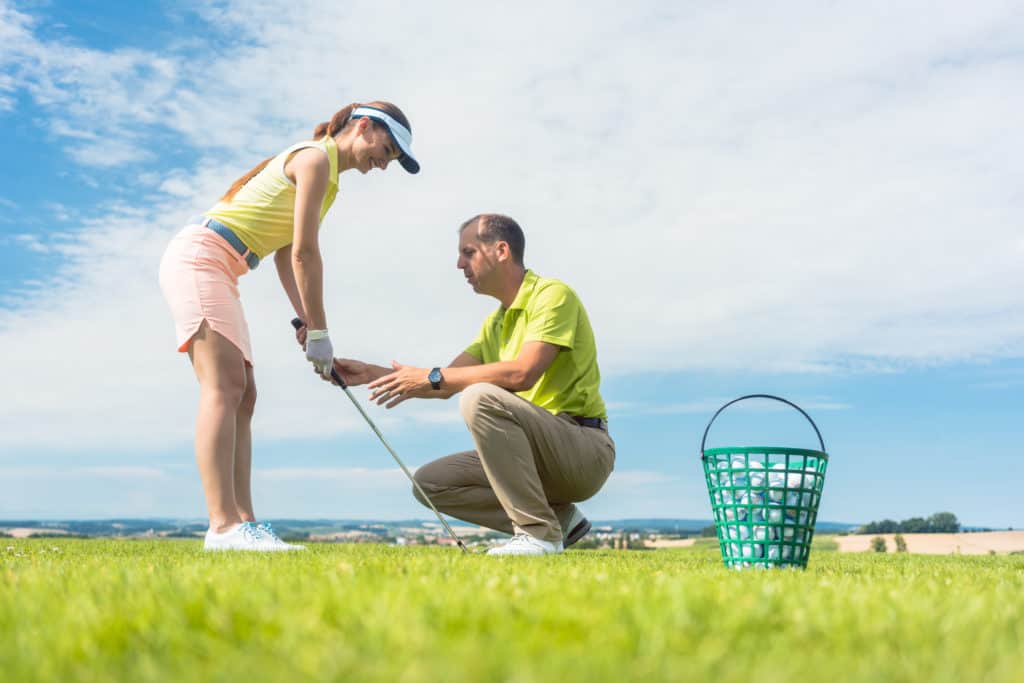 How To Improve Golf Swing For Beginners: #2 Seek Golf Instructor Advice
While you might not want to commit to an entire series of golf lessons from a golf instructor, seeking some feedback on a recorded swing from a golf instructor online is a great place to start.  Typically, here is what the process looks like:
Record 2 videos: 1 from down the line and 1 from the caddie view
Send your video to an instructor online (free or paid)
Golf instructor reviews your swing and uses software to mark up your swing and records a video offering advice and drills to complete.
You review the drills and use them in the coming months.
If I am not currently getting lessons, I will send my swing to a coach every 2-3 months to get another set of eyes on my swing and to see what recommendations he or she might have.
For a free video analytic, check out Bobby Lopez!
How To Improve Golf Swing For Beginners: #3 Work on Specific Drills
If you followed step #2 I would use the 1-3 drills the golf instructor has provided.  Typically, these swing analyses are to help you build a technically sound swing that gives you the greatest possibility of having an efficient and consistent swing.
If you skipped number two, I would use the first two drills above (low point control and stock shot drill) in addition to the speed training found in step #4.  The combination of those two drills along with training for speed can get your swing to some quality levels!
After 1-2 months of working on the drills, it might be time to return to your golf instructor and send them a new video to see if you accomplished the task and improvement at hand!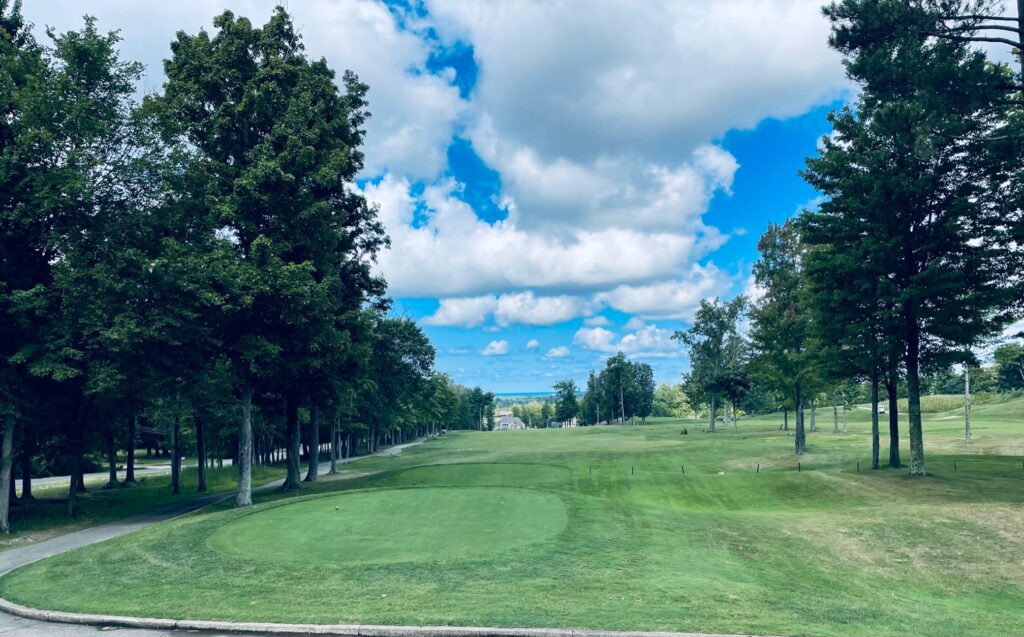 How To Improve Golf Swing For Beginners: #4 Train for Speed
I would highly recommend checking out SuperSpeed Golf to improve your swing speed!
I spent many years wondering how I can increase my swing speed.  Regardless of your current speed levels, there are always new barriers to break!
SuperSpeed Golf – Use Discount Code Golfjourney365 for some savings!
The SuperSpeed Training System is based on three different swing speed sticks all weighing at different weights.  There is a green club that is 10% lighter than the average driver, the blue club which is 5% lighter and the red club which is actually 5% heavier!
Following their prescribed protocols the golfer completes the training every other day.  The total time to complete most of their protocols is between 10-15 minutes.  Most people can find the time to make this happen.  The golfer will also need a swing radar to measure their progress. 
The science behind the SuperSpeed Training System is based on overspeed training.  Overspeed training has been around for several decades now and has been used by olympic athletics in the sport of Track and Field.  
The science behind this overspeed training is based on the premise that your brain will only allow your body to move as fast as it feels it can stop safely!  So, you get to work and swing the clubs as fast as possible, retraining your brain to allow you to swing your driver faster.
For more permanent results, the golfer should continue these training protocols for several months.  The initial 5-8% is great and can become more permanent with the right length of training.  The golfer can expect to continue to break down barriers every several months at a 1-2% increase.
My own experience has been an increase of 7-10 miles per hour on average from between 98-101 all the way up to 106-109.  My goal is to hit the PGA Tour average of 113 mph in the coming months.  I will continue to train every other day and watch in amazement as I am hitting drivers longer now than ever before!
Phil Mickelson (a senior golfer now) has been known to increase his swing speed in the past year or so and is close to 120 miles per hour in his swing speed.  There are potential results for golfers of all ability levels and age!  
Check the current price on SuperSpeed Golf System, here!
| | | | |
| --- | --- | --- | --- |
| Original Swing Speed | After 4-6 Weeks | New Carry Distance | Total Distance |
| 95 | 102 | 245 | 265 |
| 100 | 108 | 259 | 279 |
| 105 | 113 | 271 | 291 |
| 110 | 118 | 283 | 303 |
How To Improve Golf Swing For Beginners: #5 Watch the Best Golfers Play
If you can get out to a PGA or LPGA Tour Event, take advantage of it!  Watch the routines the golfers go through, the tempo they swing it and the overall swinging motion that they make.  The more you can watch quality swings, the better off you are.  You don't have to completely copy them, but watching and getting a general idea of swing motion and swing tempo can be helpful for you.

I would also recommend checking out a variety of swings on you youtube.  
Here is a link to the top 15 swings of all time – includes a video of each swing!
Final Thoughts: How To Improve Golf Swing For Beginners (Overview)
The best learning process often includes the following cycle:
Clarity of the learning target
Instruction on how to get there
Practice
Assessment
Feedback
More Practice
Much of the advice above is built on getting clarity on your swing, getting some prescribed drills, practicing, assessment and then getting additional feedback by recording more videos from an instructor as a follow up!
Other Beginner Related Posts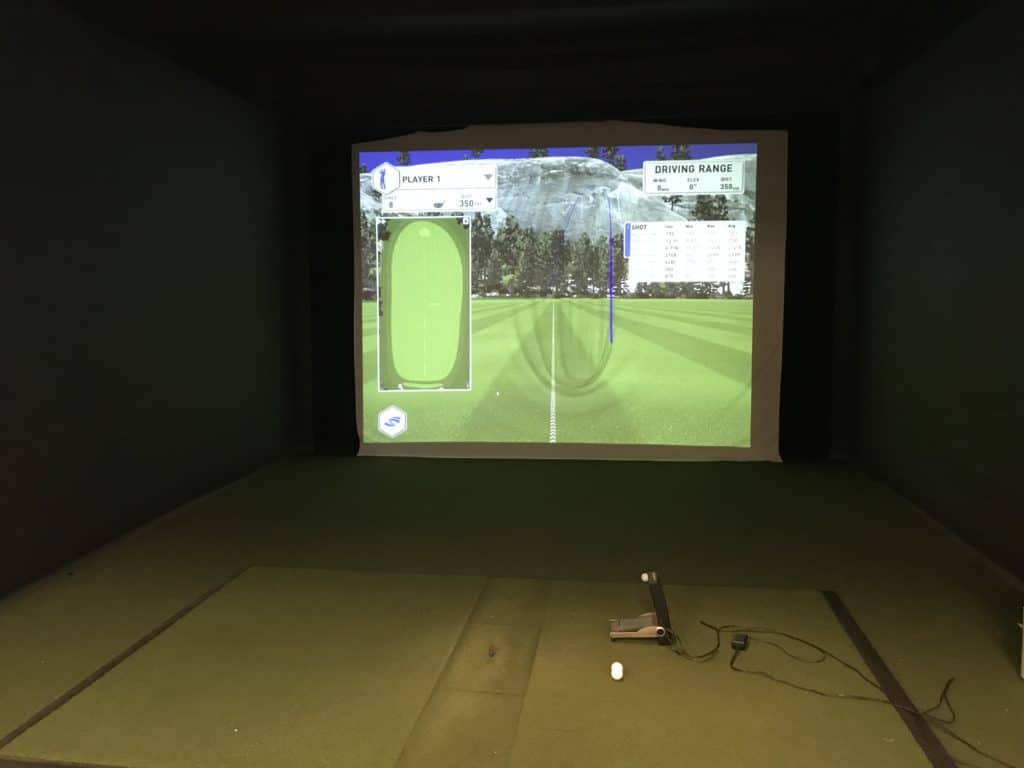 My Secret To Golf Improvement
Let's face it, in order to get really good at golf, we must practice frequently.  About four years ago, I made the leap and invested in a golf simulator build for my garage.  I went with a SkyTrak Launch Monitor and the TGC software and can now play over 100,000 courses including Augusta, Pebble Beach, Bethpage Black, Whistling Straits. St. Andrews and many other of the top 100 courses in the world.
This golf simulator setup, which is more affordable that you might imagine, has been a game changer.  I can now play golf everyday of the year regardless of rain, snow, cold weather or time of day.  I can practice or play rounds of golf.  I can stand in the 11th fairway at Augusta and with the auto-rewind feature I am able to practice my approach shots from various differences.
It is worth checking out through Rain or Shine Golf as they offer some incredible packages along with financing offers that are difficult to beat.
Some direct links to Rain or Shine Golf for pricing and financing:
Take Action – What You Can Do Today to Get Better
What does this mean for you?  I believe in the following recipe to get better:
1 – Improve your motion in the golf swing by identifying a golf instructor.  Here are some options:
Here is a list of golf instructors that we have reviewed:
2 – Train to swing faster and improve your swing speed.  Here are some options:
Looking to gain more Speed and Distance in your swing. Two Options:
3 – Understand course strategy and work to break through your next barrier.  Here is a series on breaking through:
We have provided guides on how to break 100, 90, 80 and 70. Check out more below, if interested.
4 – Practice Frequently
Did you know that I build a golf simulator in my garage and have played over 500 rounds of golf on my SkyTrak system?  It has been a game changer and one worth checking out. Here are some of my other posts on golf simulators frequently asked questions: