Many beginner golfers might struggle with the irons at the beginning of their golf journey.  This is to be expected, but it doesn't have to be this way.
Below, I will provide 5 simple steps to help you progress faster, and hit the ball higher and further than ever before.
You can stand in the fairway when faced with the 150 yard carry over water and swing with confidence understanding that you will strike the ball solid and crisp and carry the ball the expected distance.
Many amateurs struggle with the irons because they fail to make clean, crisp contact.  The steps and drills below can get you headed in the right direction.
Hitting Irons For Beginners: 5 Steps
Low Point Control Drill
1 and 2 Drill
Build A Stock Shot Drill
Train For Speed
Invest In Golf Technology
To understand how these drills were decided on, we must first understand the fundamentals of golf as laid out by Andy Plummer and Mike Bennett in their Stack and Tilt book.
Fundamental #1: The golfer must be able to control the low spot in the golf swing.
Fundamental #2: The golfer must be able to control the start line and the curve of the ball.
Fundamental #3: The golfer must have enough speed to play the course.
You will see that step 1 helps with fundamental number 1.  Step 2 is about ingraining a simple swing that helps you control your low point which once again is based on fundamental 1.  
The 3rd step is built around developing the 2nd fundamental in golf which is controlling the start line and the curve of the ball.  
Step 4 is about ensuring that you have enough speed in your swing, which is the 3rd fundamental in golf.  
Step 5 has a focus on helping you manage your way around a golf golf because there is nothing worse than flying a shot over the green on a well struck shot!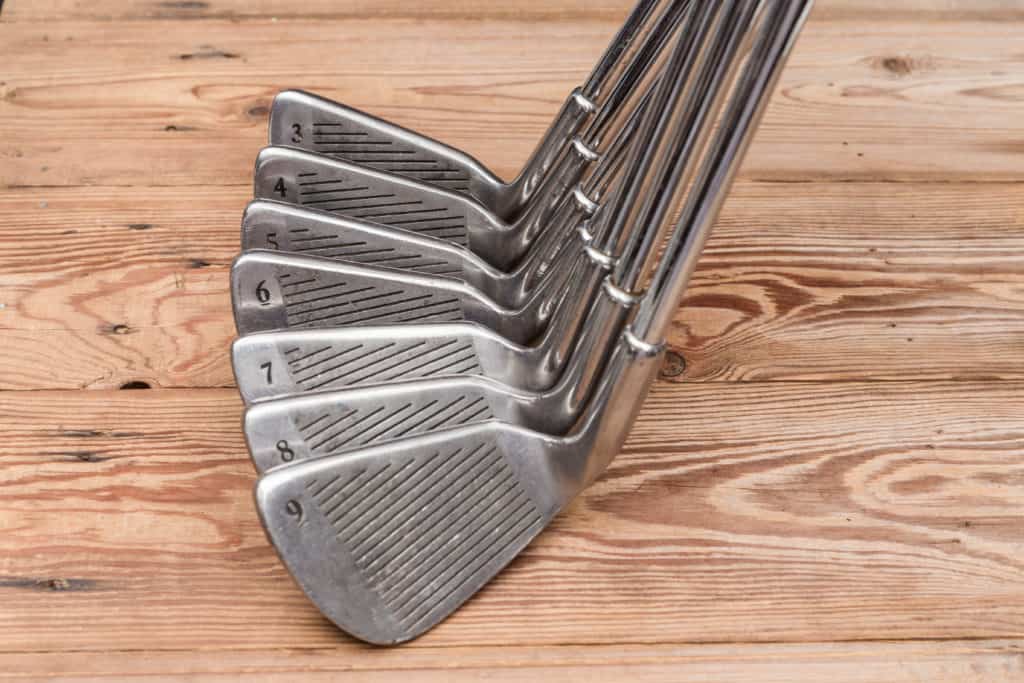 Step 1: Low Point Control Drill
The most important part of hitting solid irons and advancing your game is being able to control the low point of the golf swing.  The best golfers in the world can control their low point 99.9% of the time, while the highest handicap golfers struggle to control this about 50% of the time. 
Spending some significant time with this drill can be helpful in quickly developing your swing to control the low point.  Once you can control the low point, the game becomes a lot more fun and of course less stressful!
Practice this drill several times a week:
Paint a line about 2-3 yards long.
Grab a golf club and a wiffle ball.
See how many times your swing can be just on the front side of the line.
Make 20 swings and see how many times out of 20 you were successful.  This is now your base line.
Practice on this line with the wiffle ball over the next month or so until you can get to a success rate of 19 out of 20.  The best golfers around would be successful 20 out of 20.
Tip: If you are struggling with the low point control in your golf swing, go ahead and place 60% of the weight on your front leg at address and take a half to 3 quarter swing until you can get your low point under control.  Building a swing around 60% of the weight on your front leg isn't a terrible idea if you are someone that struggles with the low point control.  This will help keep your centers forward, which impacts where the low point occurs in the golf swing.
Resource: How To Hit Your Irons Further
Step 2: 1 and 2 Drill
I came across a wonderful video by Be Better Golf and Milo Lines.  The golf swing can be made really simple.  Check out this video below:
Here are the steps you can take:
Take 5-10 "1" swings
Take 5-10 "2" swings
Practice these swings as frequently as possible to build low point control and a simple movement.
This simple movement will become the foundation of your golf swing
The mistake that many amateurs make is swing too long to the top, which requires a lot of manipulation on the downswing.  Instead keep it simple.
With this drill in combination with the first drill, you can work the basics movements into your swing and control your low point and start to feel the ease of hitting quality, compressed golf shots.
Tip: If something doesn't feel right, go ahead and record your swing from the side view and make sure you aren't swinging too long.  Oftentimes, the length of the swing is longer than what it feels like.  Also, make sure you aren't rushing it or swinging too quickly.  This drill is about building in the feel of these 1 and 2 swings.
Resource: Milo Lines: Can He Help My Game?
Step 3: Build A Stock Shot Drill
Once you have improved in the art of striking the ball solid, the next progression is the stock shot drill.  Could you imagine heading to the golf course each time knowing you can hit a consistent draw or fade on demand?  The tension and nervousness would escape as you focus on sending the ball on your target line with a predictable curve of the ball.
At the driving range, set up an alignment stick about 6-8 yards in front of you, straight down your target line.
If you have a second alignment stick, set the stick 3-4 yards right of the first stick (for a draw) or left of the first stick (for a fade).
Complete your initial assessment and see how many times out of 10 you can start the ball to the right or left of your target.  Pick one side and measure your game at this point.
The goal is to eventually get 7 out of 10 shots to start to the correct side and draw back towards the target.
While some instructors might promote hitting the ball both ways, I believe the first step is to develop a stock shot and get really good at it.  The reliability of the stock shot is helpful and a game changer.
Resource: What is a stock shot in golf?
Step #4: Train For Speed
Golf is a game built on speed.  The analytics are pretty clear, the further you hit the ball the more "shots gained" you have in your golf game.  This means lower scores by having shorter approach shots.  Here is the logic below:
The further you can hit your driver, the shorter approach shot you will have.
The shorter approach shot you have, the closer you will hit the ball in proximity to the pin.
The closer you hit the ball to the hole, you will make a higher percentage of your putts
This results in lower scores and more fun!
The great news about training for speed is that it will help with every swing you make.  From your driver to your 5 iron to your 9 iron.  When you train for speed, you might now be able to hit a 9 iron 135 yards instead of 125.  When you have the 9 iron in your hands from 135, you have a better chance than with an 8 iron on average.
So how do you train for speed? My number one recommendation is to use the SuperSpeed Golf System.  This overspeed based system utilizes three different swing clubs that are weighted.  Two are lighter and one is heavier.  Following the protocol you can expect to see a 5-8% increase in swing speed as early as the first training session.  After about a month the speed increase you will experience becomes more permanent.
Check current price on SuperSpeed Golf!
I was able to take my average driver swing speed from around 98-101 up to between 106-109 on average.  The shorter approach shots into greens are helpful.  In addition, I now hit my irons about a half club longer and can flight the ball as needed with the extra speed as well.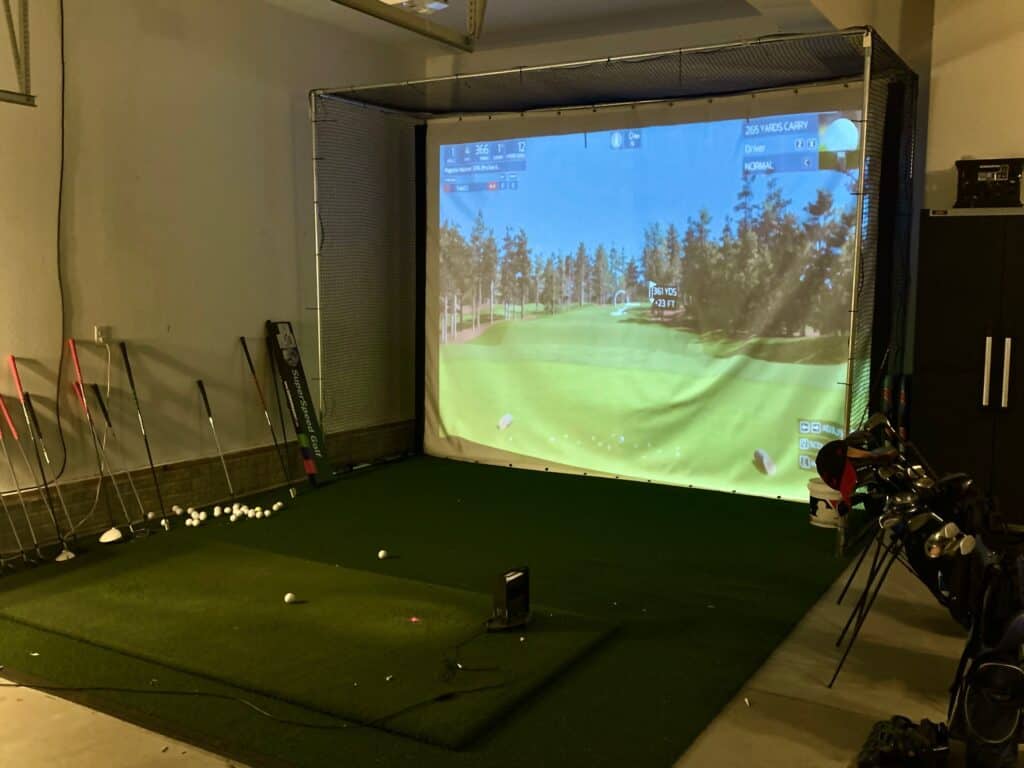 Step #5: Invest In Golf Technology
I would highly recommend 3 pieces of golf technology to help take your golf game to the next level.  These include the following:
A Launch Monitor
A GPS Golf Watch
A Golf Rangefinder
Let's start with the launch monitor
The great thing about golf in today's era is that golfers have access to some wonderful technology that can allow them to experiment and figure out what is best for their game.  I highly recommend a launch monitor to provide the feedback you need to improve your swing.
In today's golf world, the access to affordable launch monitors is a complete game changer.  Not only can one help you set up your experiment with different swings and philosophies, but it can also help you map your bag by knowing the distance you carry each club. 
One could try out the different methods of instruction found above and use the launch monitor to measure for success.  Some areas you will want to monitor include:
Start line consistency
Amount of side spin
Ball speed
Carry distance
A Launch Monitor is a great addition to your practice sessions even beyond determining what hip movement is best for your game.  
Stop guessing on your ball and club data and get the immediate feedback that you need to improve your game.  Club selection and the makeup of your bag is often overlooked by many amateurs.
Resource: SkyTrak Launch Monitor: The Ultimate Game Improvement Tool!
The professional golfers of today all have access to some great technology including launch monitors to help measure their swing and know their numbers.  Can an amateur use this same or similar technology for game improvement?  
Yes, absolutely and I would highly recommend it.  
Even if you aren't going to go all out and build an indoor golf simulator like I did (see below), you can still pick up a launch monitor at a reasonable price and use it in your indoor net or taking to the course or driving range with you!  
Knowing numbers like spin rate, ball speed, spin axis and other key information is vital to your growth.  Sharing these numbers with your instructor can be helpful and help with equipment selection as well.  This will help you select the right clubs for your bag and when to add that extra hybrid or wedge.
I would recommend one of the three launch monitors listed below:
Let's face it, in order to get really good at golf, we must practice frequently.  About three years ago, I made the leap and invested in a golf simulator build for my garage.  
I went with a SkyTrak Launch Monitor and the TGC software and can now play over 100,000 courses including Augusta, Pebble Beach, Bethpage Black, Whistling Straits. St. Andrews and many other of the top 100 courses in the world.
This golf simulator setup, which is more affordable that you might imagine, has been a game changer.  I can now play golf everyday of the year regardless of rain, snow, cold weather or time of day.  I can practice or play rounds of golf.  I can stand in the 11th fairway at Augusta and with the auto-rewind feature I am able to practice my approach shots from various differences.
It is worth checking out through Rain or Shine Golf as they offer some incredible packages along with financing offers that are difficult to beat.
GPS Golf Watch and Rangefinder
You have to know your distances on your approach shots.  If you have the launch monitor and can map your bag for the distances you hit each club, the next necessary technology are the golf gps watch and the golf rangefinder.  When you are standing over a shot, you need to have the confidence that you have the right number to the pin.  It is also helpful to know the front, middle and back yardages.
These two technology devices can help the golfer who doesn't have a caddie by their side.  The information of front, middle, back and exact distance to the pin is so helpful and worth the money to have this information at your fingertips.
There is nothing worse than a well struck shot that goes too short or too long because you had an inaccurate distance.
Check out current prices on rangefinders on amazon. The Callaway is a great, affordable option!
Here are two posts I have on these items:
BONUS TIP: Create A Distance Chart
Knowing exactly how far you hit irons with different swings is a key to managing your game.  Knowing your 8 iron will fly 154 yards with a full swing can help take advantage of the technology above.
The launch monitors can help you chart out your distances and then the GPS or Rangefinder will help you know the distances you have left.  Having a chart, like the one below, will take your game to the next level and help you maximize those well struck irons!
| | | | |
| --- | --- | --- | --- |
| Club | Carry Distance (100%) | 90% | 80% |
| 2 Utility Iron | 210 | | |
| 4 iron | 190 | | |
| 5 iron | 181 | | |
| 6 iron | 171 | | |
| 7 iron | 163 | | |
| 8 iron | 153 | | |
| 9 iron | 143 | | |
| P Club | 130 | | |
| Approach Wedge | 118 | 110 | 102 |
| SW Club | 105 | 97 | 91 |
| LW Club | 90 | 82 | 74 |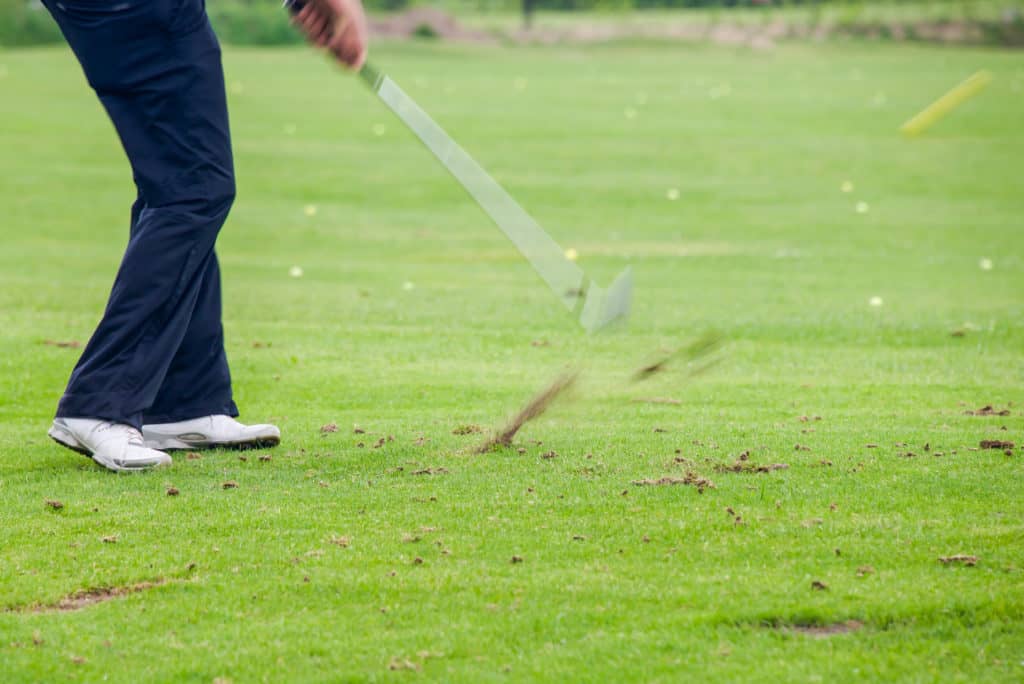 Final Thoughts: Hitting Irons For Beginners
Golf is a wonderful game full of opportunity to challenge yourself, enjoy the outdoors and spend time with family and friends.  However, everyone wants to play better.  For the beginner golfer, the irons can be frustrating.  The first two drills above in steps 1 and 2 are game changers and you should commit to these for quick improvement. 
Once you get through steps 1 and 2, steps 3 thru 5 can help you get to the next level after you can control your low point and hit solid shots.  For some it won't take long to get to steps 3 thru 5!  Enjoy the process and the journey involved with the game of golf!
Take Action – What You Can Do Today to Get Better
What does this mean for you?  I believe in the following recipe to get better:
1 – Improve your motion in the golf swing by identifying a golf instructor.  Here are some options:
Here is a list of golf instructors that we have reviewed:
2 – Train to swing faster and improve your swing speed.  Here are some options:
Looking to gain more Speed and Distance in your swing. Two Options:
3 – Understand course strategy and work to break through your next barrier.  Here is a series on breaking through:
We have provided guides on how to break 100, 90, 80 and 70. Check out more below, if interested.
4 – Practice Frequently
Did you know that I build a golf simulator in my garage and have played over 500 rounds of golf on my SkyTrak system?  It has been a game changer and one worth checking out. Here are some of my other posts on golf simulators frequently asked questions: