SInce 2002, golfers have had the option to use a hybrid in the bag.  These clubs have also been called rescue clubs when they initially came out.   The hybrid is a combination of a fairway wood and an iron.
While not as thick as the fairwood, nor as thin as the iron, it is somewhere in between.  
If properly fitted for the golfer, the hybrid can be a major advantage to the player.  What once might have been thought of as a solution for the higher handicap golfer, more golf pros now use the hybrid than ever.
Do Pro Golfers Use Hybrids?
Yes, they most certainly do.  Plenty of golfers on the LPGA Tour, Champions Tour and even the PGA Tour have opted to put the hybrid into their bag for a variety of reasons.  Depending on swing speed, the golfer will most certainly replace a long iron and sometimes even the mid irons.
Our research shows that 40% of the golfers in the top 10 in the world ranking as of July 2021, were using at least one hybrid.  83% of the top 6 golfers on the LPGA Tour use at least only hybrid as of July 2021.  66% of the top 6 golfers on the Champions Tour use at least one hybrid as of July 2021.
Pro golfers take the 14 clubs they decide to put into their bag very seriously. 
It can mean the difference in a missed cut or made cut, a victory of a 2nd place finish and overall the longevity of a golfer's career as a professional.
I created a chart below to look at the top 10 golfers in the World Rankings, the top 6 on The Champions Tour and the top 6 on the LPGA Tour to give you a look at who carries a hybrid and how many.
After each section, I provide the key takeaways from the data collected!  I end with a recommendation on how you can test what is best for your golf game!
Resource: What are hybrids and how can they help your game!
| | | | |
| --- | --- | --- | --- |
| World Ranking | Golfer | Hybrid Yes/No | Degrees |
| 1 | Jon Rahm | No | NA |
| 2 | Dustin Johnson | Yes | 19,22 |
| 3 | Justin Thomas | No | NA |
| 4 | Collin Morikawa | Yes | 19 |
| 5 | Xander Schauffele | No | NA |
| 6 | Bryson DeChambeau | No | NA |
| 7 | Brooks Koepka | No | NA |
| 8 | Patrick Cantlay | Yes | 21 |
| 9 | Patrick Reed | Yes | 18 |
| 10 | Tyrrell Hatton | No | NA |
PGA Tour: Key Takeaways
Regardless of your swing speed, the hybrid can be a major benefit to your game.  Getting properly fitted and tested for how to maximize your 14 clubs is essential.
One of the longest hitters in the world, Dustin Johnson, has recently moved to two hybrids in his bag.
Ensure you test out utility irons, hybrids, and fairway woods and don't lose shots in that 180 yards and plus distance.
Resource: Are hybrids good for beginners?
| | | | |
| --- | --- | --- | --- |
| LPGA Tour Ranking | Golfer | Hybrid Yes/No | Degrees |
| 1 | Nelly Korda | Yes | 19 |
| 2 | Yuka Saso | Yes | 20 |
| 3 | Patty Tavantanakit | Yes | 19 |
| 4 | Lydia Ko | Yes | 19,22 |
| 5 | Lexi Thompson | No | NA |
| 6 | Inbee Park | Yes | 23 |
LPGA Tour: Key Takeaways
LPGA golfers are typically the best comparison to the amateur golfer as far as swing speed.  The average LPGA Tour player swings the driver around 94 miels per hour.  83% of the top 6 LPGA golfers are using a hybrid, probably a good sign that many amateurs would have at least 1 hybrid.
LPGA golfers are able to laser in on those shots from around 180 yards and more.  Landing the ball in a safe spot where you can make your par is essential to playing better golf.
Resource: When to use a hybrid?
| | | | |
| --- | --- | --- | --- |
| Champions Tour Ranking | Golfer | Hybrid Yes/No | Degrees |
| 1 | Jerry Kelly | Yes | 16, 19 |
| 2 | Ernie Els | No | NA |
| 3 | Bernhard Langer | Yes | 19, 22 |
| 4 | Kevin Sutherland | Yes | 19 |
| 5 | Miguel Angel Jimenez | No | NA |
| 6 | Steve Stricker | Yes | 17 |
Champions Tour: Key Takeaways
We see 66% of the top 6 on the Chmpaions Tour with 33% using at least two hybrids.
Once again, like the LPGA Tour, the swing speeds on the Champions Tour are a good indicator for many amateur golfers.  I always keep a close eye to the club trends on both the LPGA Tour and the Champions Tour.
Resource: Utility Iron vs Hybrid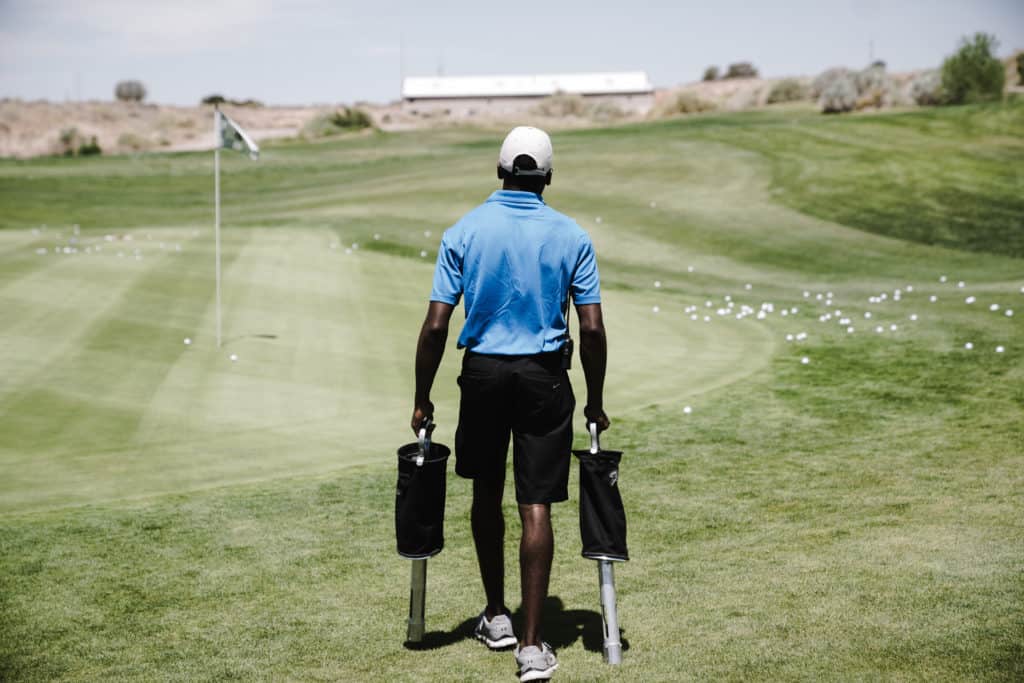 What Hybrid Lofts Do Pros Use?
Our research shows the lowest loft being at 16 degrees with the most loft at 23 degrees.  The number to appear most often in the 22 golfers we researched was 19 degrees. This degree of loft appeared most frequently
Our recommendation would be to start at the middle range and then look at add a stronger club or a weaker club depending on the gaps in your yardages.  The key is to ensure you have a club for distance from your 3 wood all the way to your wedges.
For the golfers that carried two, we most frequently saw a 19 degree and a 22 degree.  This would be similar to a 3 wood and a 5 wood.  
Of the golfers that did not use a hybrid, we most frequently saw a 3 wood and a 5 wood as the fairway woods they selected for their golf bags.
Recommendation: Know Your Numbers
Have you ever dreamed of having your own launch monitor.  I am sure you have seen the Trackman devices on the range of the PGA Tour players.  While many won't want to spend the $15,000 plus dollars for an expensive launch monitor, there are some great alternatives on the market.
Over 4 years ago, I purchased a SkyTrak Launch Monitor.  I have now played over 800 rounds of simulator golf, hit thousands of golf balls, improved my swing, mapped my bag and have had a ton of fun along the way.
I also was able to reduce my average score from the mid to upper 70's to be a scratch golfer.
During this journey, I was able to test out different clubs and know the key numbers for each club I tried out as I selected the 14 clubs for my bag. Knowing your distances is vital to course management scoring your best!
The SkyTrak provides the following data:
Ball Speed
Carry and Total Distance
Spin Rate
Spin Axis (side curve)
Launch Angle
These 5 data points have been benefits and having instant feedback after every shot is essential to improvement.
The great part is that you can play a round of simulator golf, or simply practice at the range.  One of my favorite activities is to stand on the 18th hole at Pebble Beach and hit drivers on that wonderfully, challenging hole!
Here are the top 3 options to check out:
The great news is that you can use this at different levels:
Simply take with you to the driving range or golf course
Use as part of a golf simulator setup
Purchase a mat, a net and find a safe place in your garage or yard to hit.
This technology is a game changer as the golfer can build a stock shot using the information while expanding a golf season where the golfer can practice 365 days a year.  Whether the golfer goes all out and builds a home simulator or simply sets up a net and mat in their garage, the possibility of improving the swing and being able to practice or play 365 days a year is a game changer!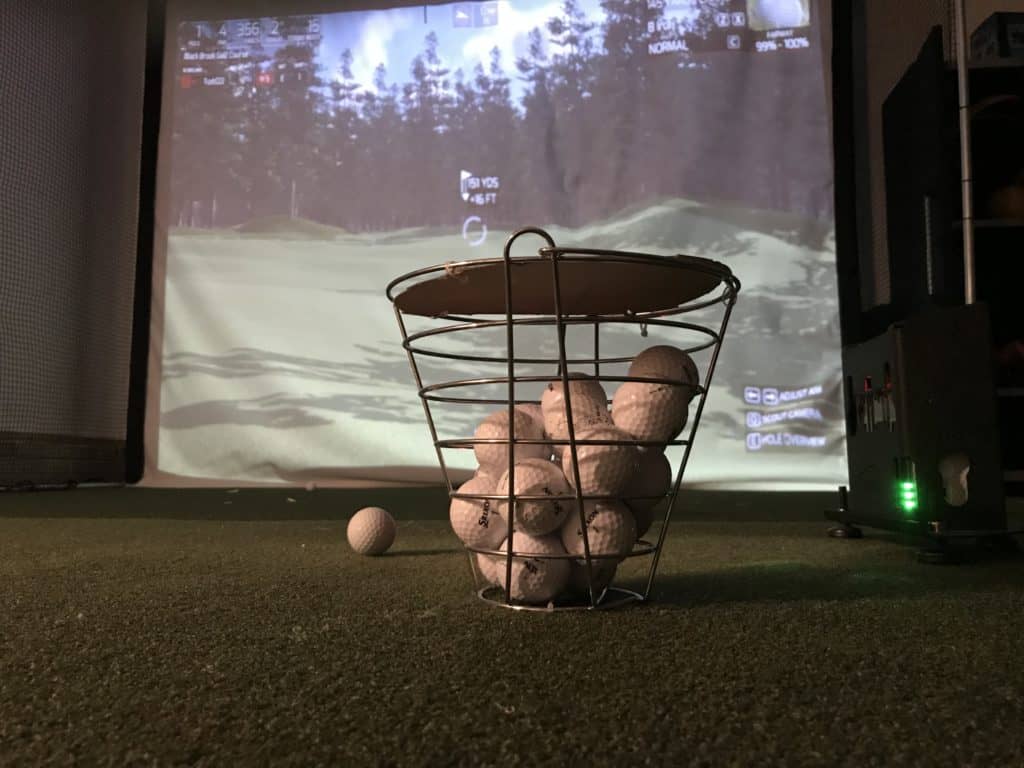 Take Action – What You Can Do Today to Get Better
What does this mean for you?  I believe in the following recipe to get better:
1 – Improve your motion in the golf swing by identifying a golf instructor.  Here are some options:
Here is a list of golf instructors that we have reviewed:
2 – Train to swing faster and improve your swing speed.  Here are some options:
Looking to gain more Speed and Distance in your swing. Two Options:
3 – Understand course strategy and work to break through your next barrier.  Here is a series on breaking through:
We have provided guides on how to break 100, 90, 80 and 70. Check out more below, if interested.
4 – Practice Frequently
Did you know that I build a golf simulator in my garage and have played over 500 rounds of golf on my SkyTrak system?  It has been a game changer and one worth checking out. Here are some of my other posts on golf simulators frequently asked questions: