Golf technology has come a long way in the past so many years.  This includes great advances in drivers, fairway woods and irons.  Drivers have so many great options to hit the ball high, long and far.  Irons have a range from easy to hit and high launching to players level club for the more low handicap player that helps significantly with yardage precision and the ability to work the ball.
Technology has made the game more fun and enjoyable for those that take advantage of the newer technology. One of the most impressive and newer style clubs added to the option is the hybrid or rescue clubs that are now on the market and changing the game.
Back in the day when the Adams tight lies came out and ran infomercial after infomercial, the technology finally arrived to make high launching fairway woods a possibility. This carried over and led to the popularity of rescue clubs or hybrid, which combine the accuracy of an iron with some the easier launching abilities of a wood.  Too many players get caught up in trying to hit irons high and they continue to struggle. Enter the hybrid.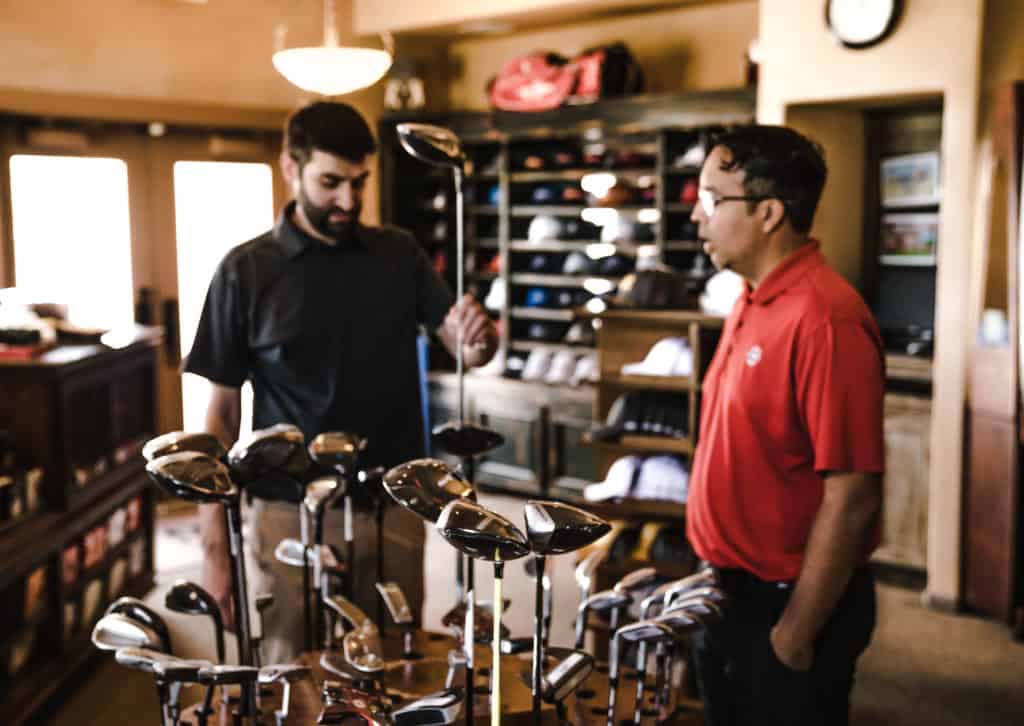 So what are hybrid golf clubs?  They are a combination of an iron and a fairway wood that is an easy to hit club, especially for golfers with slower swing speeds such as seniors, juniors and some women.  They make hitting from the fairway, rough or fairway bunker easier. The ability to launch these high and far are a game changer for many amateur golfers. Gone are the days of trying to hit a 2-5 iron out of difficult rough hoping the rough doesn't grab your club, resulting in a poor shot.
Who should use hybrids?
Any golfer can and probably should have at least one hybrid in their golf bag.  Golfers that struggle with their long irons or even mid irons should consider replacing all the way up through a 6 or 7 iron with a hybrid.  As golfers lose swing speed as they grow older, the hybrid truly is a great option and can make the game enjoyable again.
I know of senior golfers that play hybrids from anywhere 150 yards and greater.  I play golf with someone is is 63 years old and he has now replaced his 3-6 irons and plays 3-4 hybrids in his bag at anytime. He is someone that can shoot in the 70's and has 4 career hole in ones, two coming in the past year.  Don't let your ego get in the way of playing better golf and shooting lower scores.
Why a hybrid?
Hybrids are easier to hit than long irons for many golfers. They provide great versatility from difficult lies. Often times entire sets of irons now actually have multiple hybrids in the set.  The golf world is discovering how easy hybrids are to hit higher and longer. The ability of a hybrid to get through longer rough and not affect your golf shot makes it great. There are also golfers who struggle to hit off the tight lies I'm in the fairway.  The hybrid makes this much easier than a 3 or 4 iron. The overall versatility is a game changer.
Here is a video on the versatility of a hybrid:
Best hybrids on the market?
It is difficult to go wrong with any hybrid on the market.  I have played both a Taylor Made and a Callaway hybrid. Some of the hybrids have the ability to adjust lifts which gives you greater versatility in your bag set up, which can be adjusted prior to the round based on the course or the conditions.  It also gives you some versatility if you want to adjust lofts on several clubs to help you add a wedge if needed.
How many hybrids should I carry?
Unless you can really hit a 2 iron solid and high enough, I think that most lower handicaps would carry a hybrid that plays similar distance to a 5 wood.  Somewhere in that 200-225 yard range. The higher the handicap, the more hybrids you should more than likely carry. Too often high handicappers get stuck trying to hit a 5 iron that really has no chance.  As your swing speed slows down as you age, I would see setups that could have 3-5 hybrids. Remember, these golfs will help you launch the ball higher and further as your swing speed slows down when compared to most irons.
Here is a post on different options to setup your bag, recommendations based on handicap.
What clubs do a hybrid replace?
There are many options.  Some might choose to replace all of their irons up to their wedges.  Or one can replace something as simple as a 3 wood or 5 wood. Typically there will replace your longer irons in the 2-5 range.  The versatility and the ability to lay from many different lies will help you reduce your scores.
Looking to gain more Speed and Distance in your swing. Two Options:
SuperSpeed Golf – Read our Full Review
Gain 30-40 yards in 30 Days – Swing Man Golf
How to hit a hybrid?
I would recommend playing the ball just slightly ahead of your low spot in your swing.  For many this would be off the left portion of your chest or front side. Keep your head behind the ball and hit it similar to a fairway wood.  You have to be careful of getting too steep with the hybrid as it can produce a week flair type of shot. Keep your head behind the ball and let launch.  Hybrid are easier to work a draw or fade. Ultimately, like any club practice and see the various shots you can hit. Some will use a hybrid around the green of chip and runs.  The wide sole on the bottom allows you to ensure you do not stub it and dig it into the ground causing the dreaded chunk shot.
Here is an excellent video on how to hit a hybrid:
Five Simple Steps to Hitting a Draw – Read More Here
Can I hit a punch out shot with a hybrid?
Yes, here are some tips to help you with this shot.  Keep the ball more forward in your stance (left), out your Wright 70 percent in the left and make sure you finish your swing to the left.  Ensure you don't get strep and pop the ball in the air. A nice shallow 3 quarter swing will work best and create a penetrating ball flight. 
This shot can be used to hit punch shots, into a strong wind or to advance the ball down the fairway on a par 5. It is a low risk shot that should be east to hit.  The number one issue people have is when the ball is too far back and then the godlier lifts the club up and creates a steep angle of attack. Instead keep the ball forward and use a shallow swing, it will improve your ball compression and the ability to keep the ball low.
Should a junior golfer use a hybrid?
I would recommend when someone is first starting the game at a young age that a hybrid is a great club to learn to play the game with.  Ultimately, we want kids to stick with the sport and have fun. Hybrids make the game more fun because the kid can see the ball fly in the air like the adults.  An iron can be difficult to hit with such low swing speeds, but the hybrid is easier.
Consider getting multiple hybrids for your kid when beginning the game of golf.  Eventually they may become a great golfer with high swing speed and they may progress up to not having any hybrid in the bag, but that would be a progression over time. In my experience my boys, who started at around 6 and 7 years old, had their greatest success with fairway woods off the tee and hybrids from the fairway.  They would often struggle with an iron unless the ball was was on a tee.  
I am struggling with my hybrid, what should I do?
A great drill is to hit some shots using the L to L frill.  This is where you will swing until your front arm is Latrell to the ground in the backswing.  Then swing through until your back arm is parallel to the forums. This will help simplify the swing and help you find a grove for your swing.  Too often golfers are moving their bodies all over the place resulting in poor contact. Look to return to solid contact and then eventually lengthen your swing. This can be a go to drill whenever you are struggling.
What's next
Evaluate what clubs you have your bag and what you are actually able to make would contact with.  It might be worth visiting your local store to try out different hybrids and see what might be best for your 14 allowable clubs in your bag.  You want to feel confident and comfortable and hybrids are a great option to help you launch the ball higher and further and bring some quality shots into your game.  I love my hybrid on par 5s for my second shot and on the longer par fours. I can swing easy and watch the ball fly. They are also way to work both ways and create awesome versatility in the bag.

We have provided guides on how to break 100, 90, 80 and 70. Check out more below, if interested.
Check out our Recommended Products page on Golf Swing/Training Aids, Golf Balls, Golf Shoes and more.

Looking to gain more Speed and Distance in your swing. Two Options:
SuperSpeed Golf – Read our Full Review