Golf club technology continues to improve!
This provides golfers with the opportunity to get better without making swing improvements.  
Combine some new clubs with continued work on your swing and short game and you can continue to reduce your average 18 hole round.
Club manufactures come out with new lines of irons, drivers, wedges and putters on a regular basis.  There used to be a one time annual release, now it seems like there is a new club or new technology every month.
This can lead to some confusion on the typical golfer that doesn't follow the clubs and the technology too closely.  As a result golfers are often left with a sense of confusion on the right time to buy new clubs.  I often hear the following question: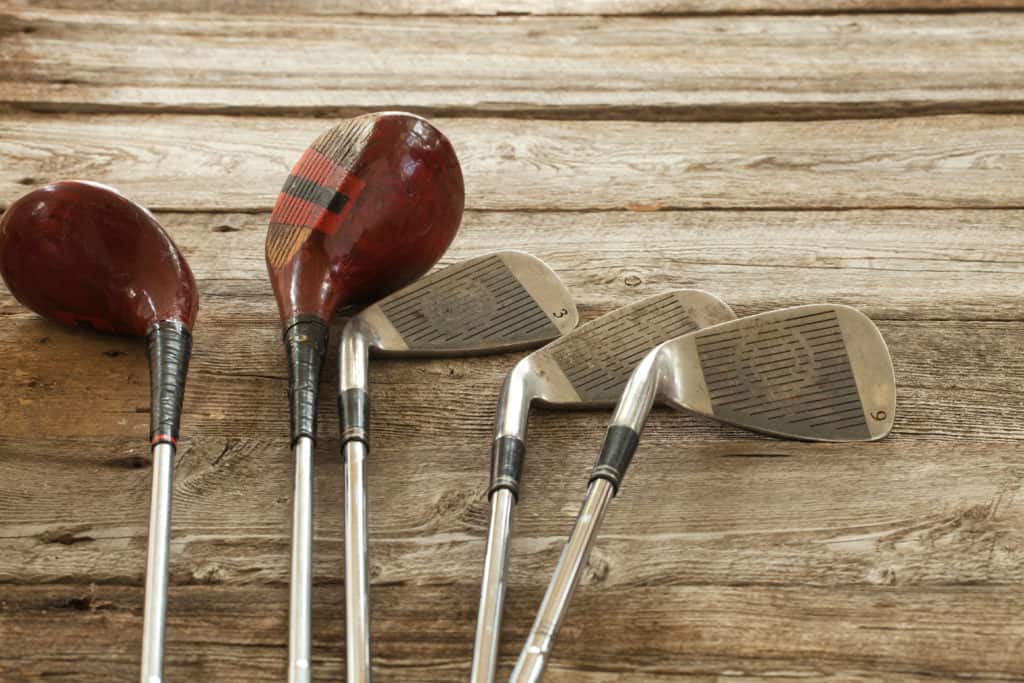 Are New Golf Clubs Worth It?
Yes, new clubs are worth it if your driver is older than 5 years old and your irons are older than 10 years old.  Technology continues to improve and if your clubs are too old, you may be giving up a couple shots per 18 holes.
Quick Notes on Wedges:
Did you know that Tiger Woods replaces his wedges after every tournament, while others on the PGA Tour like Jordan Spieth will replace every couple of tournaments.  If you are serious about the game, you might want to consider replacing your wedges every season.
Ever feel like this?
You stand over a shot, you have a 10 year old driver, while your playing partner or opponent has the latest greatest equipment, does doubt start to creep into your mind? 
Why not give yourself the best opportunity possible for a quality shot.  Technology continue to improve and you should consider keeping up with it to help you play better.
Below, I will dive into the following topics:
How new clubs may help your game
How to ensure you have the right clubs
How often should you replace your grips
What other newer golf tech should I consider?
How New Clubs May Help Your Game
As technology increases, the ability to hit the ball further and straighter continues to improve.  If you do not upgrade frequently enough, you can be giving up shots on the course. 
If you are playing for money against others, even if for only a couple of dollars, you owe it to yourself to have the best clubs available.
Some factors that improve with new equipment include the following:
Ball speed
Spin Rate
Launch Angle
All three of these factors play a significant role in the overall distance and curve on the ball. As you increase your ball speed, maximize your spin rate and have an optimum launch angle you will play better golf.
Having newer clubs is about 50% of the equation, the other 50% is making sure you have the right newer clubs.  With so many options ont he market today, it can be confusing. 
This is where it is important to get fitted or have a way to test or measure your swing and results with different clubs whether this is at a local sporting goods store or you have the ability to test on your own.
Golf is a fun game, but it can also be frustrating without the right equipment or newer equipment.  While the overall driver distances have been somewhat capped by technology and ball speed limitations, it can help to ensure you have been fitted with the right loft, lie angle, and shaft.
New clubs can help your game if you go through a process of being fitted or at a minimum testing a club out. 
A driver with a 40g shaft in it, will be different from the same driver head and loft setting but with a 70g shaft in it.  The right shaft will help you square the ball up and ensure the right spin rate on your driver.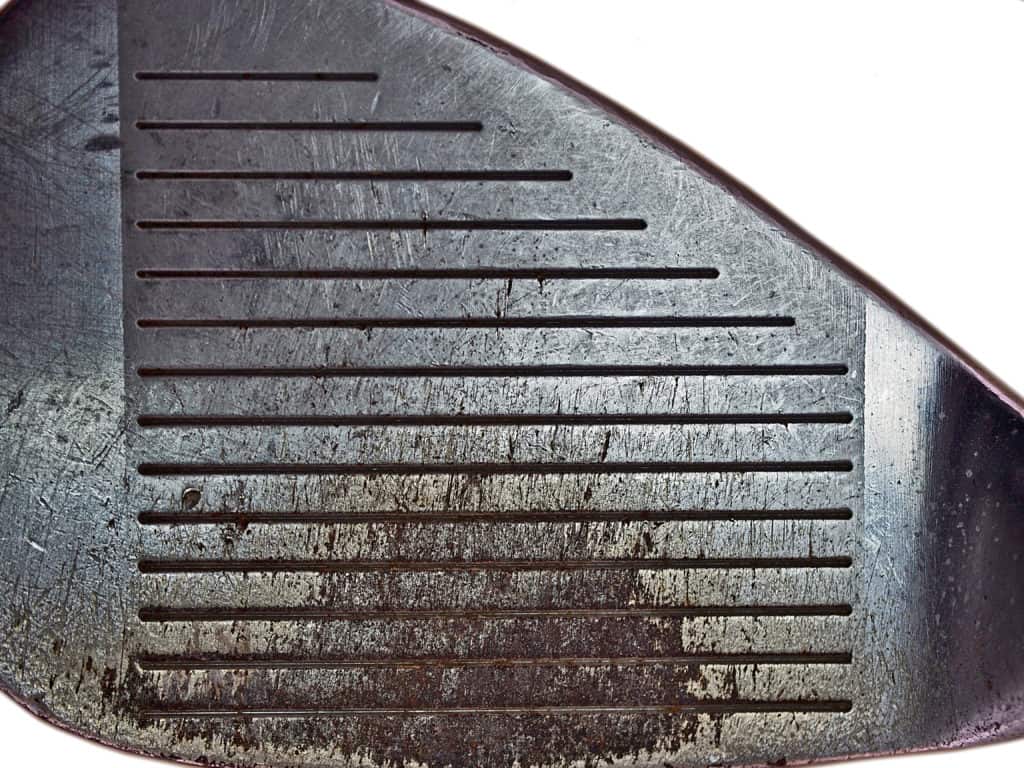 Did You Know: 
If a ball is hit with the same swing speed, let's say 100 mph, but one has a spin rate of 2500 rpm and the other has a spin rate of 4000 rpm, the 2500 rpm may go 20-30 yards further.  This is the importance of making sure you have the right loft and shaft combination with your driver.
The best way is to make sure you are fitted.  
The new driver technology allows off center hits to fly straighter and further.  This is the biggest advantage for new clubs.  You have to keep up with the technology. 
The spin rates, as with the example above, is essential to maximizing your distance with a driver.
New to the game? Check out our tips on how to best learn the game.
Cost saving tip: 
If you do not have the big bucks to spend on a driver, consider buying a driver that is a year old or last years model.  You will still get a good 4-5 years out of it and will reap the benefits of newer equipment.
As far as irons, they are now created to allow the average golfer to launch their golf ball further and higher.  This leaves a shorter club into greens and allows you to hit it high enough to hold the green. 
There pretty much are three different levels of irons depending on your ability to strike the ball.  The higher your handicap the more player improvement clubs you need.  This usually means bigger heads and higher launch angles.  They are easier to hit higher and further.
The better golfer will want to want an iron that is precise with the yardage and where the ball flight can be controlled through the swing.  They desire a more penetrating ball flight that allows them to work the ball both ways.
How To Ensure You Have The Right Clubs
Get Fitted
Getting fitted is important.  Not only to make sure you have the right clubs as far as lofts, lie angles, and shafts, but also to make sure you have the right amount of hybrids and wedges.
As you may know, the golfer can carry up to 14 clubs in his or her bag.  There are many combinations that a golfer could choose.  In the past, the traditional setup might look something like this:
Driver (1)
3 Wood and 5 Wood (2)
3-PW (8)
SW (1)
LW (1)
Putter (1)
3 Wood vs 3 Hybrid: Which One Should I Carry?
If your handicap is above 20 or your swing speed doesn't reach 95, I would recommend the following setup:
Driver (1)
3 Wood (1)
3, 5 and 7 Hybrid (3)
6-PW (6)
Gap Wedge (1)
SW (1)
LW (1)
Putter (1)
5 Iron vs 5 Hybrid: Which One SHould I Carry?
The right clubs for many golfers will include several hybrids.  Make sure you ask about these at a fitting and test them out to see if they are right for you.
If you are someone that isn't going to get tested, there are ways to measure clubs on your own.
5 Wood vs 3 Hybrid: Which One Should I Carry?
Measure On Your Own
In today's golf world, the access to affordable launch monitors is a complete game changer.  Not only can one help you set up your bag properly with the right clubs, but it can also help you map your bag by knowing the distance you carry each club.
Even amateurs can have access to this technology and data with the technology now available.
A Launch Monitor is a great addition to your practice session.  Stop guessing on your ball and club data and get the immediate feedback that you need to improve your game.
The professional golfers of today all have access to some great technology including launch monitors to help measure their swing and know their numbers.  Can an amateur use this same or similar technology for game improvement?  Yes, absolutely and I would highly recommend it.  
Even if you aren't going to go all out and build an indoor golf simulator like I did (see below), you can still pick up a launch monitor at a reasonable price and use it in your indoor net or taking to the course or driving range with you!  
Knowing numbers like spin rate, ball speed, spin axis and other key information is vital to your growth.  Sharing these numbers with your instructor can be helpful and help with equipment selection as well. 
This will help you select the right clubs for your bag and when to add that extra hybrid or wedge.
I would recommend one of the three launch monitors listed below: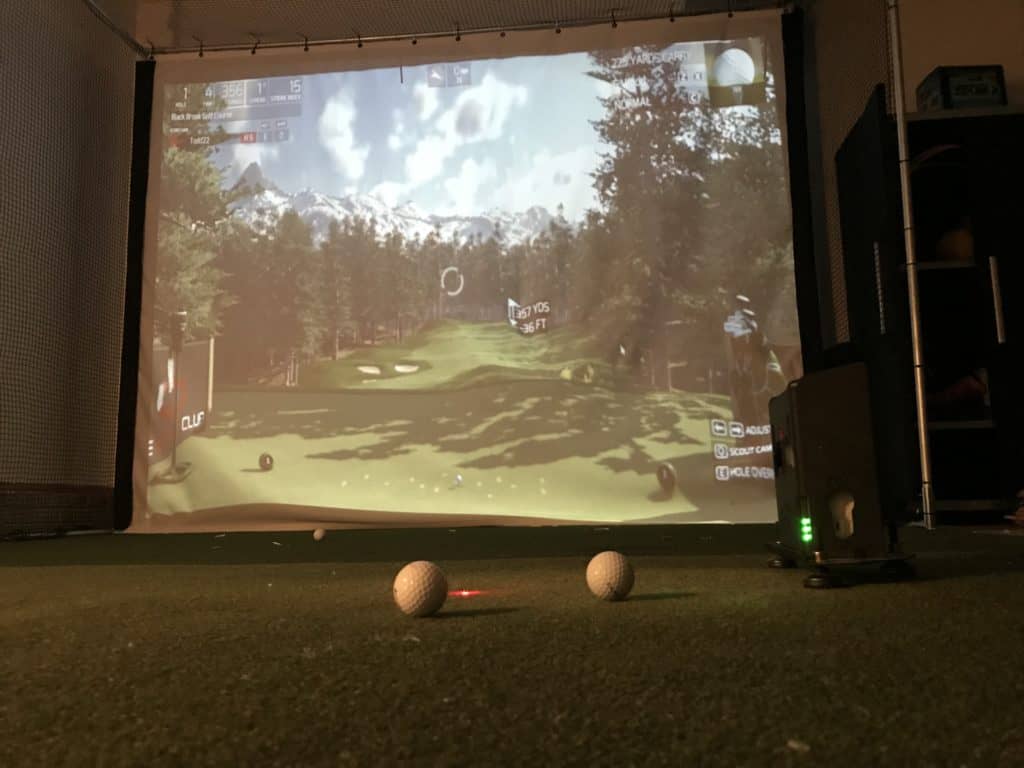 How Often Should You Replace Your Golf Grips?
Every 30-40 rounds or at a minimum every season.  The grip is of vital importance.  If you play in a lot of hot, humid weather, having a quality grip becomes essential.  This simple and low cost upgrade to your clubs is worth it!
There is nothing worse than a bad grip on a club.  That extra tension needed to ensure the club doesn't slip or fly out of your hands can be devastating to a swing.
What Other Newer Golf Tech Should I Consider?
If you are ready to take your seriousness level up a notch, I would highly recommend either a Golf GPS Watch or a Golf Rangefinder.
These two items can give you the yardages you need to once again increase your chances of hitting a quality shot.  There is nothing worse than flying a ball over the green or coming up short in a bunker on a well struck shot.
Give yourself the luxury of distances as accurately as having a caddie with one of these two devices.  I actually now own both because I like the advantage of having front, middle and back distance as well as the exact yardage to the hole.
Final Thoughts: My Secret To Golf Improvement
Let's face it, in order to get really good at golf, we must practice frequently.  About three years ago, I made the leap and invested in a golf simulator build for my garage.  
I went with a SkyTrak Launch Monitor and the TGC software and can now play over 100,000 courses including Augusta, Pebble Beach, Bethpage Black, Whistling Straits. St. Andrews and many other of the top 100 courses in the world.
This golf simulator setup, which is more affordable that you might imagine, has been a game changer.  I can now play golf everyday of the year regardless of rain, snow, cold weather or time of day. 
I can practice or play rounds of golf.  I can stand in the 11th fairway at Augusta and with the auto-rewind feature I am able to practice my approach shots from various differences.
It is worth checking out through Rain or Shine Golf as they offer some incredible packages along with financing offers that are difficult to beat.
Some direct links to Rain or Shine Golf for pricing and financing:
Take Action – What You Can Do Today to Get Better
What does this mean for you?  I believe in the following recipe to get better:
1 – Improve your motion in the golf swing by identifying a golf instructor.  Here are some options:
Here is a list of golf instructors that we have reviewed:
2 – Train to swing faster and improve your swing speed.  Here are some options:
Looking to gain more Speed and Distance in your swing. Two Options:
3 – Understand course strategy and work to break through your next barrier.  Here is a series on breaking through:
We have provided guides on how to break 100, 90, 80 and 70. Check out more below, if interested.
4 – Practice Frequently
Did you know that I build a golf simulator in my garage and have played over 500 rounds of golf on my SkyTrak system?  It has been a game changer and one worth checking out. Here are some of my other posts on golf simulators frequently asked questions: