No, while not required, golf shoes are highly recommended.  Many beginners will start playing in tennis shoes, running shoes or cross trainers.  Eventually, most golfers prefer to wear golf shoes due to the comfort, stability and overall performance that golf shoes provide.
At your typical golf course as long as you wear a pair of shoes that do not damage the turf, you should be fine to wear tennis shoes, running shoes or cross trainers.  Ultimately, the golfer will want to wear something that provides comfort, stability and allows the golfer to perform at his or her full potential.
When Should I Buy the First Pair of Golf Shoes?
Once you have played several rounds and are sure that you are going to stick with the game, investing in a pair of golf shoes makes sense.  Golf shoes provide a high level of comfort, stability and help with the overall performance.
Golf is played at different times of the day and in different conditions.  During these different times and conditions the overall need for golf shoes will vary.
If you are playing in the morning a high percentage of the time, you will quickly see the importance and the impact that the morning dew can have on your comfort level and performance ability.  The morning dew can quickly make your feet wet and cause some slippage issues if you do not have the right pair of shoes.
There aren't any things worse than planting a 4 hour round of golf with wet fet.  Investing in a quality pair of golf shoes that keep your feet dry and also help you perform makes the money well worth it.
Do golf shoes make a difference?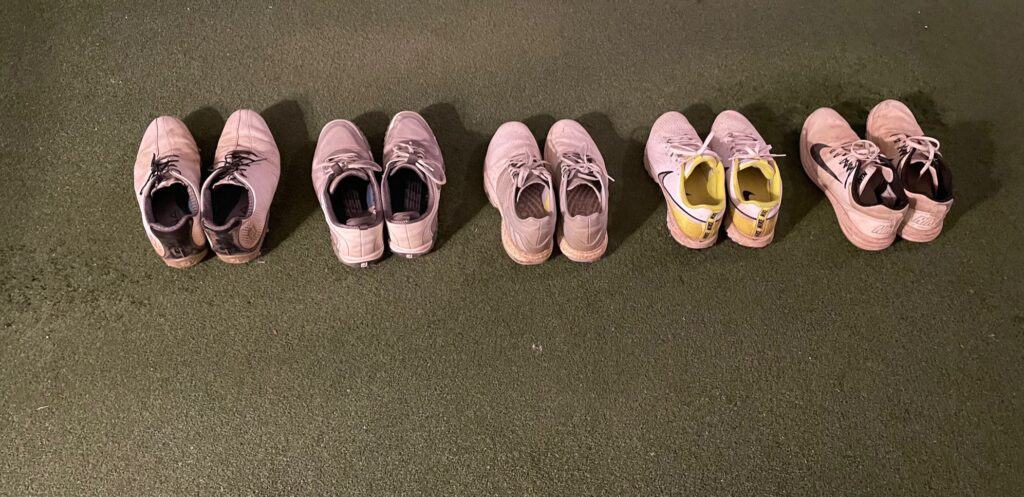 How Much Are Golf Shoes?
Golf shoes will range in price from $40 on the low end, all the way up to $250.  For the most part, you can get a comfortable pair of shoes that look good at around the $75 to $100 level.  We would recommend spending at this level if you want a pair of shoes that will perform, provide comfort, look good and last for a reasonable period of time.
The cost of the golf shoes will be impacted by the following items:
Name brand
Comfort level
Level of waterproof
Appearance
Overall quality
As you get into the game, you will eventually own several pairs of golf shoes.  We would recommend keeping the older pairs around to wear in the beginning and end of the seasons as the ground can often be muddy and sloppy.  You don't want your newer pair to get extremely dirty and caked with mud everywhere.
Are golf shoes with spikes better?
What Golf Shoes Should I Buy?
We have picked out three sets of golf shoes in three different price ranges.  We have experience with all three of these golf shoes and believe they will help you perform, keep your feet dry, and comfortable all while looking good.
Why Are Golf Shoes Important?
Ultimately, the golfer wants to perform at a high level, keep their feet dry and comfortable and look the part.  Golf shoes provide all three of these and help you fit into the golf course scene whether at a public course or private course.
The last thing you want is to show up as a guest of a member at a country club and pull our your running shoes.  Invest the money in a quality pair of golf shoes and have the pair you can use even if you only golf less than 5 times per season!
How long should golf shoes last?
My Secret To Golf Improvement
Let's face it, in order to get really good at golf, we must practice frequently.  About three years ago, I made the leap and invested in a golf simulator build for my garage.  I went with a SkyTrak Launch Monitor and the TGC software and can now play over 100,000 courses including Augusta, Pebble Beach, Bethpage Black, Whistling Straits. St. Andrews and many other of the top 100 courses in the world.
This golf simulator setup, which is more affordable that you might imagine, has been a game changer.  I can now play golf everyday of the year regardless of rain, snow, cold weather or time of day.  I can practice or play rounds of golf.  I can stand in the 11th fairway at Augusta and with the auto-rewind feature I am able to practice my approach shots from various differences.
It is worth checking out through Rain or Shine Golf as they offer some incredible packages along with financing offers that are difficult to beat.
Some direct links to Rain or Shine Golf for pricing and financing: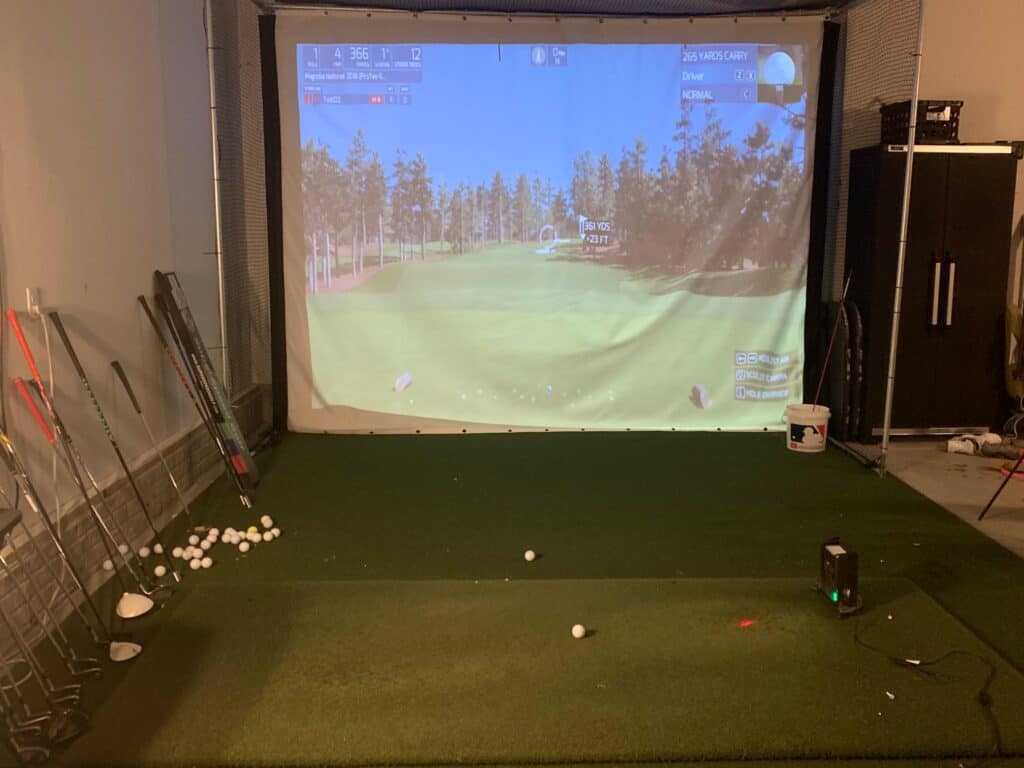 Take Action – What You Can Do Today to Get Better
What does this mean for you?  I believe in the following recipe to get better:
1 – Improve your motion in the golf swing by identifying a golf instructor.  Here are some options:
Here is a list of golf instructors that we have reviewed:
2 – Train to swing faster and improve your swing speed.  Here are some options:
Looking to gain more Speed and Distance in your swing. Two Options:
3 – Understand course strategy and work to break through your next barrier.  Here is a series on breaking through:
We have provided guides on how to break 100, 90, 80 and 70. Check out more below, if interested.
4 – Practice Frequently
Did you know that I build a golf simulator in my garage and have played over 500 rounds of golf on my SkyTrak system?  It has been a game changer and one worth checking out. Here are some of my other posts on golf simulators frequently asked questions: