The game of golf can be confusing at times.
There seems to be a lot of little things that golfers do that brings about some questions.
If you are newer to the game of golf, hopefully we can help answer some of the basic questions and get you headed in the right direction.
I have written a great deal to help the beginner golfer because we were all beginners at one time or another.  We all had those questions that sometimes we weren't sure who to ask!
Resource: Golf Etiquette (Beginner's Guide)
One of those questions often centers around golf gloves.
Why Do Golfers Wear One Glove?
Golfers wear the glove only on their lead side hand.  This hand plays a more significant role in the golf swing and has greater contact with the golf grip and a golf glove is not necessary for the other hand.  A quality grip is essential as the driver is often swung at over 100 miles per hour.  The golf glove provides the best grip option for both performance and safety.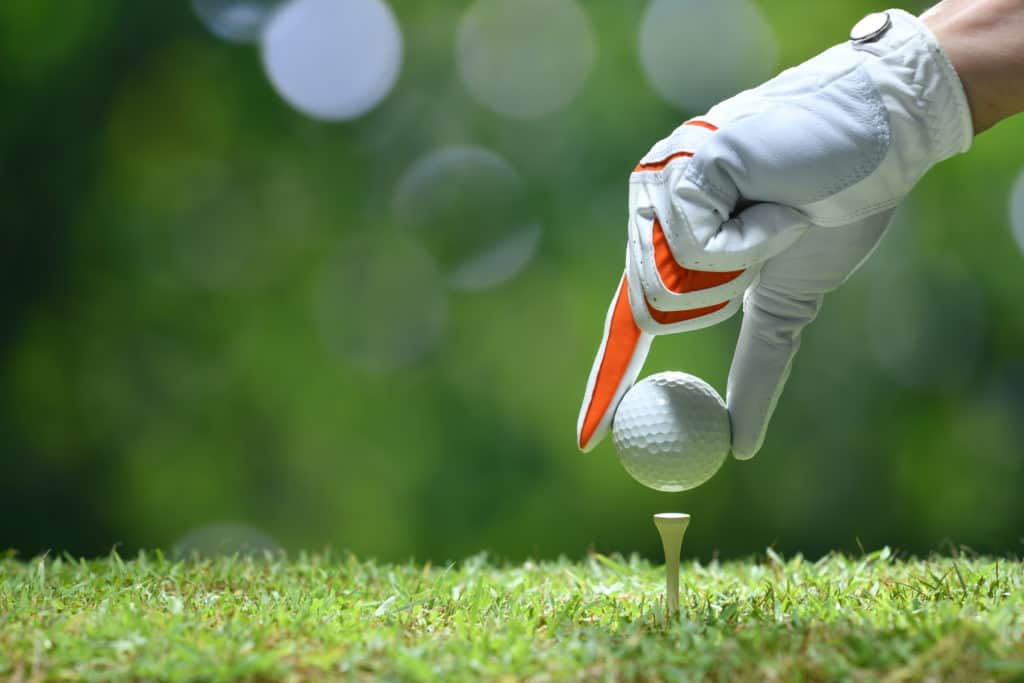 Other Related Questions
When Do Golfers Wear Two Gloves?
There are two situations where a golfer will wear two gloves.  Winter golf clubs often are sold in two as well as rain gloves.  So when the weather is really cold or wet, these specialist golf gloves will come in handy.  
The rain golf gloves are pretty unique in that the grip improves the wetter the glove gets.  Playing in the rain is difficult without the proper grip and golf glove option.  The other option is to carry multiple regular gloves and change the gloves out every several holes.
In the winter, especially once the weather gets below 45 degrees, some golfers prefer to wear winter gloves.  These come in a set as well, one for each hand.  I have used these in the past, but do prefer to use my regular glove and utilize hand warmers between shots.  I prefer the more natural feel with only one golf glove and my regular glove.  The winter gloves are made a little bit thicker and have a different overall feeling.
Resource: What do I need in my golf bag? (25 essential items)
Do any Professionals Wear Two Gloves?
Tommy "Two Gloves" Gainey used two gloves.  He preferred two gloves over the one and felt that it gave him a better grip.  A golfer is not restricted to only one glove and should do what gives them the most confidence over the shot!.  At the end of the day, the grip is very essential and you must be comfortable!
Should I golf with two gloves?
It is a personal preference, although the majority of golfers only play with one glove.  If you sweat a lot and struggle to get a good grip, you might want to try out two gloves.  The other option is to carry plenty of backups and rotate a glove every 4-6 holes.
Should I take my golf glove off to chip and putt?
Many golfers will remove their glove to chip and putt as it provides a better feel around the greens.  It also gives the glove time to air out and breathe on those really humid and sweaty days.  Feel is more important than speed on these short game shots and the grip is stable enough without a glove.
I prefer to take my off for any short game shot.  If it is a longer greenside bunker shot I will keep my glove on.
Other Helpful Resources:
Take Action – What You Can Do Today to Get Better
What does this mean for you?  I believe in the following recipe to get better:
1 – Improve your motion in the golf swing by identifying a golf instructor.  Here are some options:
Here is a list of golf instructors that we have reviewed:
2 – Train to swing faster and improve your swing speed.  Here are some options:
Looking to gain more Speed and Distance in your swing. Two Options:
3 – Understand course strategy and work to break through your next barrier.  Here is a series on breaking through:
We have provided guides on how to break 100, 90, 80 and 70. Check out more below, if interested.
4 – Practice Frequently
Did you know that I build a golf simulator in my garage and have played over 500 rounds of golf on my SkyTrak system?  It has been a game changer and one worth checking out. Here are some of my other posts on golf simulators frequently asked questions: