I have found these 7 traits to be the most important when it comes to a golf coach or golf instructor.  If you are going to spend time and money, you should expect the best.
Great communicator
Great connector
Knowledge of the swing
Ability to set up a learning path (clarity)
Ability to provide feedback
Ability to provide additional support
They utilize technology
With the start of each golf season, most golfers will ponder the question of whether to take a lesson or a series of lessons.
Maybe one of the main things holding golfers back is how to pick which golf coach to trust with their swing.  We have all heard that you sometimes get worse before you get better when going in for a golf lesson.
This leads to some hesitation and many people never even seek the possibility. 
There are some ways to do some research and find out more about the golf instructors in your area or if you are seeking online golf instruction, that is an option as well.
As someone that has studied many of the best golf instructors and their approach to helping golfers, I have created a list of 7 items that makes a good golf coach.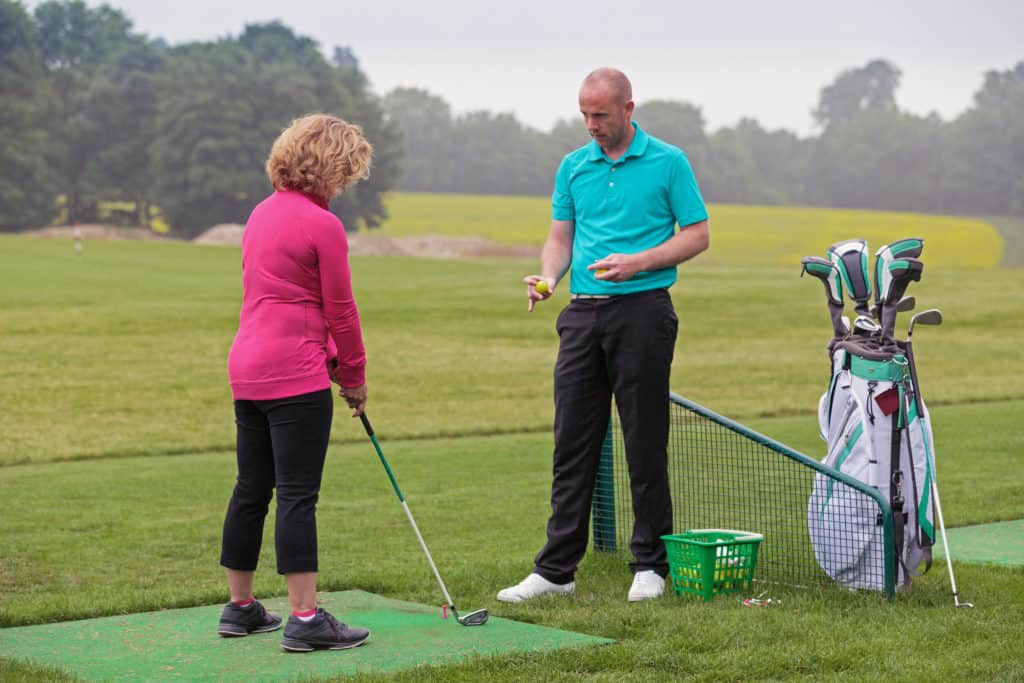 Qualities of a Good Golf Coach! (Overview)
Learning any skill is a process. 
It typically starts with an assessment, then clarity on the necessary steps to improve and the desired outcomes are essential.  Last, times of feedback and additional assessments to make progress towards the outcome.
Two key words of what we all need: Clarity and Feedback!
Trait #1: Great Communicator
Any great teacher or golf instructor has the ability to communicate at the level of the student.  When teaching the golf swing it is even more important to get to the level of the student and explain in a language that is easy to understand.
If a golf instructor starts talking about supination, pronation and other buzz words and the student has no idea, he or she will be lost and all the golf instructor does is show his or her arrogance with the game.
Golf coaches often have a ton of information in their head and might be able to see every step the student needs to get better. 
The best will be able to communicate the first steps and create a chronological path to success with the golf swing and this all starts with clarity in the communication.
Trait #2: Great Connector
When I think of a bad golf lesson, I often think of the old time golf instructor sitting in his chair smoking his cigar as some high handicap golfer whacks away at golf clubs. 
The golf instructor will mutter certain phrases like, "keep your head down" or "keep your left arm straight."  The poor golfer who just paid a lot of money for a lesson doesn't leave with any additional skill or insight on how he or she can get better.
Or the golf instructor that "fixes" everyone's grip and stance without even first reading the ball flight or understanding what is going on in the swing.  That golf instructor defaults to this because this is their comfort zone.
At the end of the day, you want a golf instructor that will get to know your game and seek information to help you best improve and reach whatever goals you might have. 
They actually try to connect with you as a person and help you out!  Instead of sitting back and collecting a paycheck.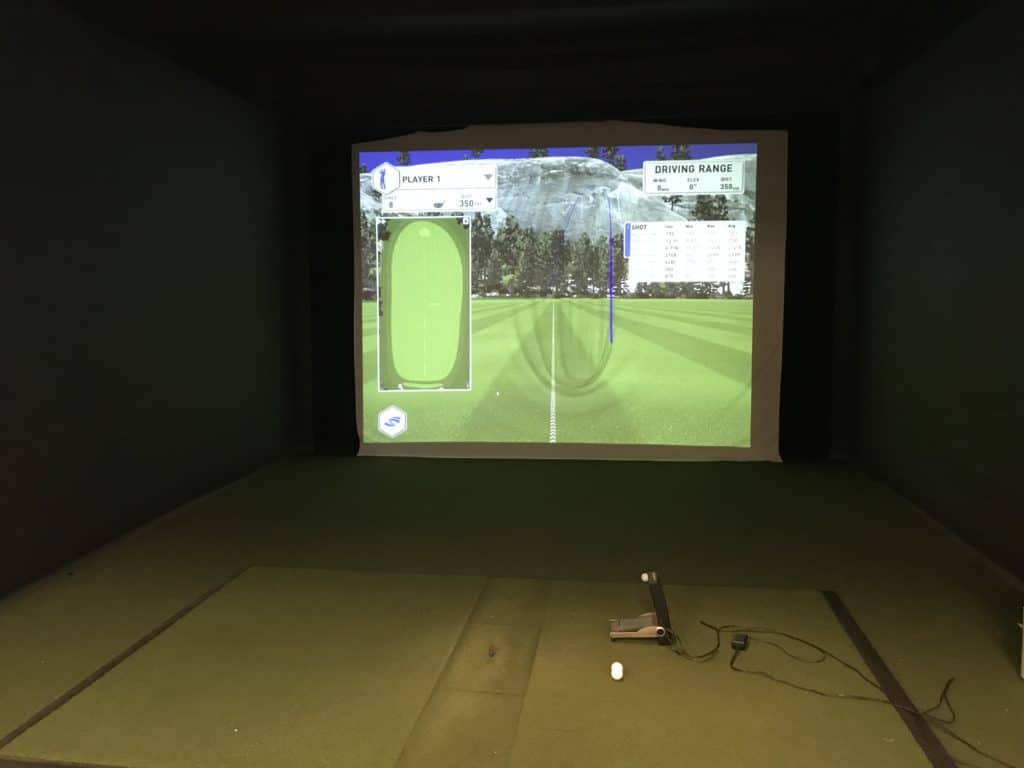 Trait #3: Knowledge of The Swing
Like mentioned in the example above, the golf instructor that just defaults to always teaching the grip and the setup is oftentimes just stealing money.  While these are important elements, if you are paying good money for a lesson, let's get into the movements being made in the swing. 
Once the proper movements are taking place, adjustments to the grip or alignment can happen.   There are many really bad golfers who have been taught the grip and how to setup for a straight shot, but they failed to ever learn the proper swing.
The golf swing is one that should be constantly studied.  I have great appreciation for the teachers like George Gankas, Mike Bender, Shawn Clement and Mike Malaska. 
These instructors are constantly looking at the best swings of all times and then practicing the best ways to communicate their swing philosophy to their students.
They don't settle for what has always been taught and several of the my favorites have continued to question the general understanding of the golf swing and are pioneers in helping grow the game. 
Why haven't amateurs really improved in golf.  The average handicap has not decreased and many golfers still struggle immensely! 
We must continue to seek knowledge and understand the golf swing to give us the best chance to clearly communicate and setup a learning path that is actually helpful!
Debating if it is time for new clubs? Check out this post.
Trait #4: Ability to set up a learning path
When you leave a lesson you should have clarity on what it takes to get better.  Without the clarity in a learning plan, everything is just fragmented. 
Your golf instructor should work with you to provide the key information and the overall steps needed to improve.  The ability to set up a quality learning path, one that can be achieved is important. 
The best instructors will leave you with some steps to take that will usually include some drills and practice routines where you can have feedback on your progress.
What is the best way to learn golf?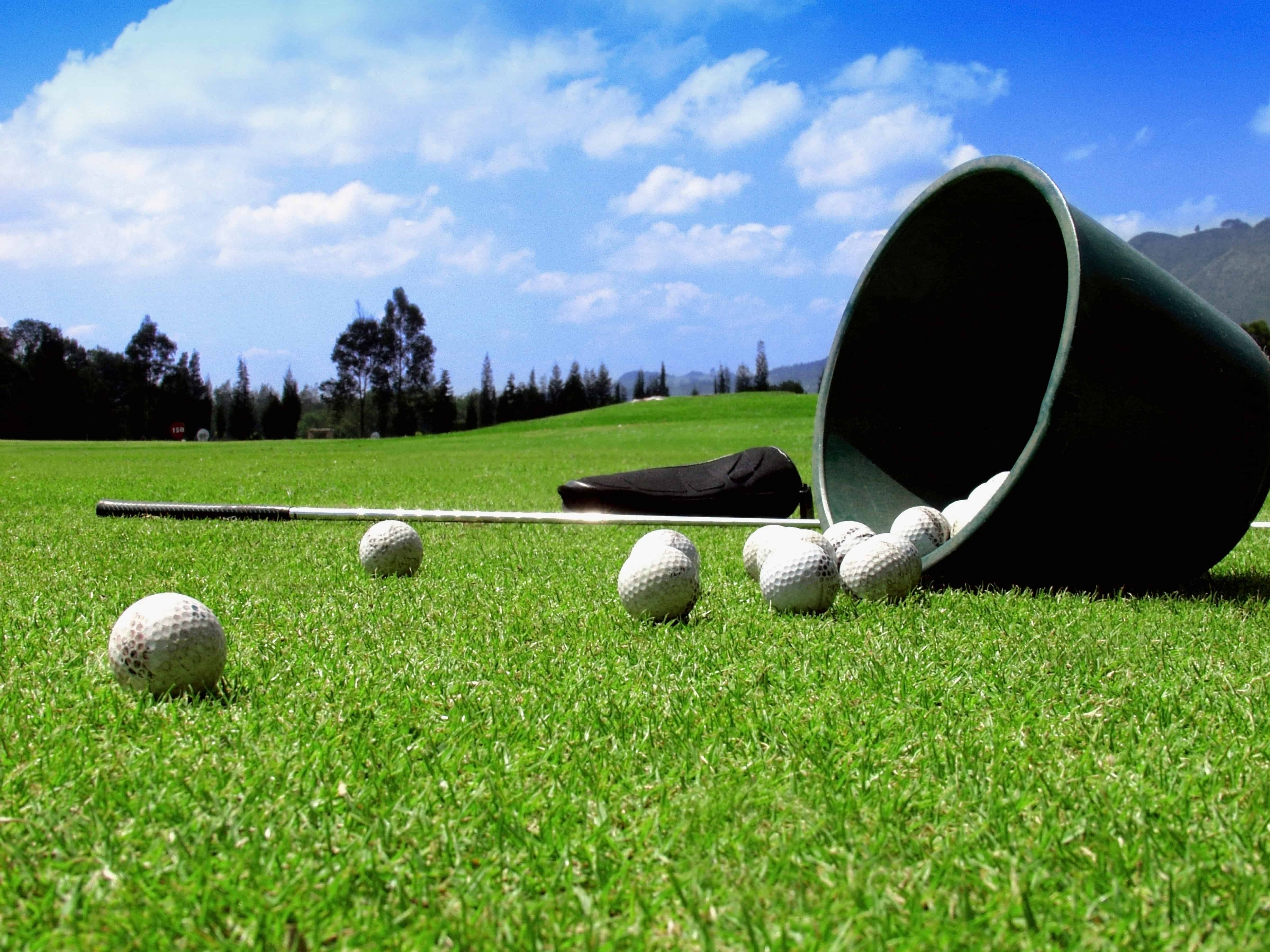 Train #5: Ability to provide feedback
All learning requires feedback.  During lessons and during the times between lessons, you will want the opportunity to seek feedback from your instructor. 
When you are working on a swing change or building a swing, it is important to have feedback at the right times.  Without the proper feedback, you could be practicing the wrong things and not making the progress necessary. 
With today's technology, the golf instructor may utilize a certain app where you can send videos of swings or drills that you are working on.  The ongoing feedback cycle is essential to learning.
How to practice golf in the backyard – Great tips for between lessons.
Trait #6: Ability to provide additional support
Between lessons, you will want additional support and feedback.  If you are only able to take a lesson once per month, what support can be provided between lessons. 
Check out our tip below on how to measure your swing between lessons.
The time between lessons is when the real work happens.  Being able to have additional support and feedback is essential to ensure you are on the right path and working on the right things.  Something as simple as being able to ask a clarifying question is important to the golfers growth.
Trait #7: They utilize technology
The game of golf has some incredible technology available to help golfers grow and to help golf instructors provide better information and lessons.  Many of the top instructors now have access to launch monitors such as a Trackman or Flightscope. 
This provides key information such as ball speed, club path, face angle, launch angle and other pertinent information that many of the professional golfers use on a regular basis to monitor the swing.
Also, the use of video and other technology like force plates can help make the analysis, diagnosis and next steps much more clear for the instructor and the golfer.
You want a golfer instructor that stays current and is willing to invest in the technology to provide the greatest clarity and feedback to you as a learner!
Can you teach yourself to play golf? Check out this post!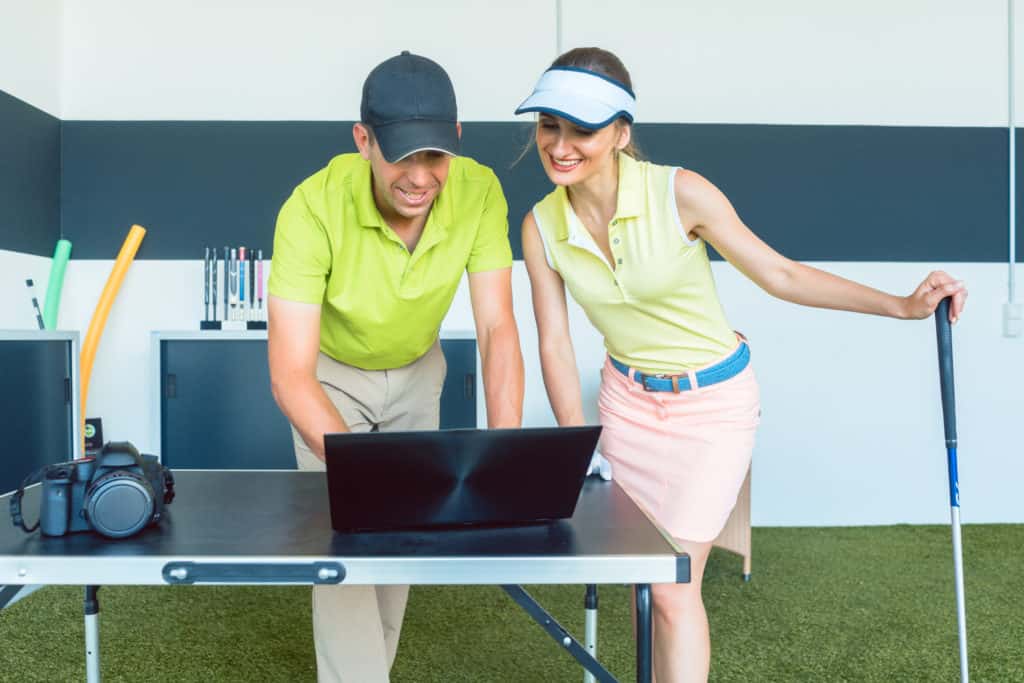 Alternative Option: Online Golf Lesson
In today's world, with today's technology, online golf lessons are a viable option.  With the use of video and different apps, the ability to take an online golf lesson is pretty solid. 
There are also online golf memberships that allow you to learn the game and the system of an instructor.  Oftentimes there are methods to post questions and recordings of your swing for feedback. 
The benefit to this approach is the quality of the information received.  The best golf instructors in the world are often online and are great communicators.  They have created systems to reach more and more people.
I am currently studying the George Gankas swing through his membership site.  The depth of information and the feedback setup is impressive.  The continuous support, drills accessible and feedback available is top notch!
I have reviewed online golf instructors.  Check out some of my top rated golf instructors and the reviews completed:
Here is a list of golf instructors that I have reviewed:
Between Lessons: Measure Your Own Swing!
We have to have a way to measure what is best for our swings.  Between golf lessons, we have to have a way to measure our swings and get the feedback necessary to grow our game.
The great thing about golf in today's era is that golfers have access to some wonderful technology that can allow them to experiment and figure out what is best for their game.  I highly recommend a launch monitor to help you measure what amount of hip rotation is best for your game.
In today's golf world, the access to affordable launch monitors is a complete game changer.  Not only can one help you set up you experiment with different swings and philosophies, but it can also help you map your bag by knowing the distance you carry each club. 
One could try out the different methods of instruction found above and use the launch monitor to measure for success.  Some areas you will want to monitor include:
Start line consistency
Amount of side spin
Ball speed
Carry distance
A Launch Monitor is a great addition to your practice sessions even beyond determining what hip movement is best for your game.  
Stop guessing on your ball and club data and get the immediate feedback that you need to improve your game.  Club selection and the makeup of your bag is often overlooked by many amateurs.
The professional golfers of today all have access to some great technology including launch monitors to help measure their swing and know their numbers.  Can an amateur use this same or similar technology for game improvement?  
Yes, absolutely and I would highly recommend it.  
Even if you aren't going to go all out and build an indoor golf simulator like I did (see below), you can still pick up a launch monitor at a reasonable price and use it in your indoor net or taking to the course or driving range with you!  
Knowing numbers like spin rate, ball speed, spin axis and other key information is vital to your growth.  Sharing these numbers with your instructor can be helpful and help with equipment selection as well.  This will help you select the right clubs for your bag and when to add that extra hybrid or wedge.
I would recommend one of the three launch monitors listed below: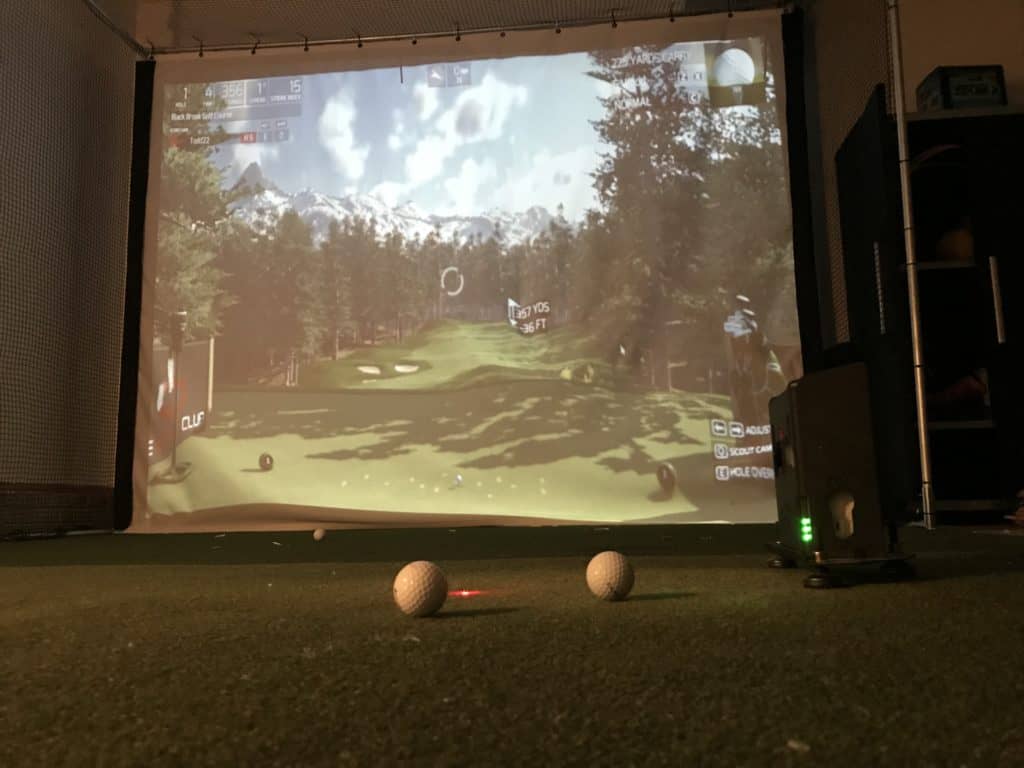 My Secret To Golf Improvement
Let's face it, in order to get really good at golf, we must practice frequently.  About three years ago, I made the leap and invested in a golf simulator build for my garage.  
I went with a SkyTrak Launch Monitor and the TGC software and can now play over 100,000 courses including Augusta, Pebble Beach, Bethpage Black, Whistling Straits. St. Andrews and many other of the top 100 courses in the world.
This golf simulator setup, which is more affordable that you might imagine, has been a game changer.  I can now play golf everyday of the year regardless of rain, snow, cold weather or time of day.  I can practice or play rounds of golf.  I can stand in the 11th fairway at Augusta and with the auto-rewind feature I am able to practice my approach shots from various differences.
It is worth checking out through Rain or Shine Golf as they offer some incredible packages along with financing offers that are difficult to beat.
Some direct links to Rain or Shine Golf for pricing and financing:
Take Action – What You Can Do Today to Get Better
What does this mean for you?  I believe in the following recipe to get better:
1 – Improve your motion in the golf swing by identifying a golf instructor.  Here are some options:
Here is a list of golf instructors that we have reviewed:
2 – Train to swing faster and improve your swing speed.  Here are some options:
Looking to gain more Speed and Distance in your swing. Two Options:
3 – Understand course strategy and work to break through your next barrier.  Here is a series on breaking through:
We have provided guides on how to break 100, 90, 80 and 70. Check out more below, if interested.
4 – Practice Frequently
Did you know that I build a golf simulator in my garage and have played over 500 rounds of golf on my SkyTrak system?  It has been a game changer and one worth checking out. Here are some of my other posts on golf simulators frequently asked questions: