While every golfer can carry up to 14 clubs, most golfers have their "go to" club for a variety of situations.
When you consider that 70% of golf are played within 100 yards of the hole, it becomes more clear on what is the most versatile club.
The variety of shots required within 100 yards is rather impressive and takes a skilled golfer to get good at these.  However, most golfers can get to this level of "skill" because it does not require significant speed or power to be able to hit quality shots.
This leads us to a common question we often receive.
What Is The Most Versatile Golf Club?
The 54 degree wedge is the most versatile club as it can be used from around 105 yards and in for the majority of golfers.  It has enough loft to allow a golfer to play a full shot from around 100 yards and maintains versatility all the way down to being able to hit a bump or run or flop shot.  The best golfers are like magicians with their wedges and save plenty of shots.
The 54 degree wedge is considered a sand wedge and can be played from the fairway, rough or bunker.  The golfer is able to add or take away loft with ease and the golf club will still perform at a high level.
There are very few clubs that are used from shots that range 95 yards.  This ranges from a shot as close as 5 yards and as long as 100 yards, providing this 95 yard gap.
There isn't another club in the bag that has this same yardage coverage and is used as much.
Resource: Do I need a sand wedge?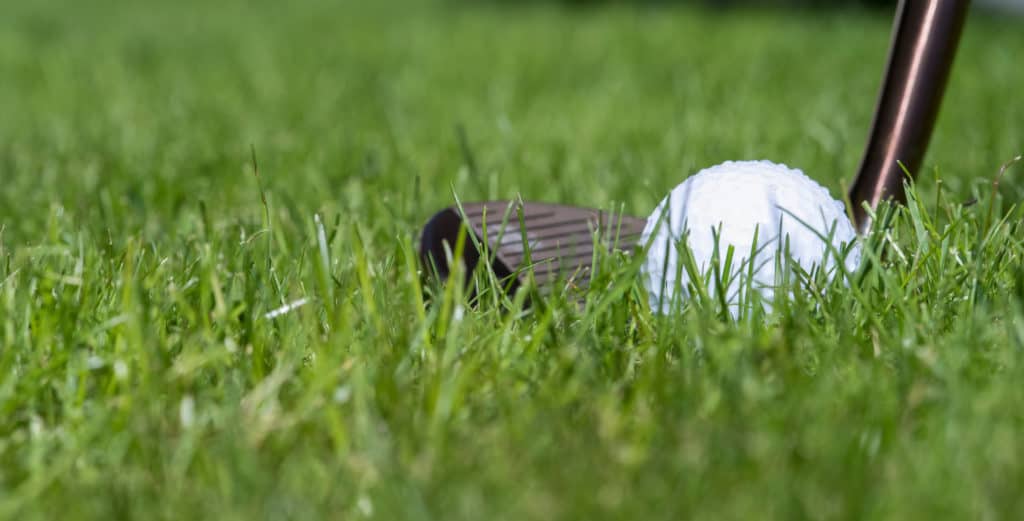 Other Clubs That Provide Versatility
When it comes to the longer clubs, most golfers find their hybrids to be highly versatile.  The higher handicap golfer or someone with a slower swing speed will find themselves hitting plenty of hybrids as these clubs provide an easy to launch golf club that can be hit out of a variety of lies.
The hybrid is often used on a 2nd shot on a par 5, 2nd shots into par 4s and into the mid to longer range par 3s.  The graphite shaft provides additional swing speed and the versatility that a golfer needs.
Whether the golfer is in the fairway, rough or fairway bunker the golfer can get the club on the ball and advance it down the fairway.
Versatile Club For Junior Golfers
Many junior golfers will enjoy hitting their 3 wood.  This club can be used off the tee and just about any lie in the fairway and rough.  As a junior golfer, especially playing longer courses, it was my go to club on many shots.  The junior golfers soon learn to get the ball in the air easily with the club and can get some quality distance, while hitting the ball fairly straight.
How To Improve With These Versatile Clubs
Regardless of what your most versatile club is, there are some keys to help you play better golf.  We want to help golfers improve their game, lower their scores and have more fun.  I have two excellent and highly rated drills that can help golfers of all ability levels.  The game of golf has three major keys:
The golfer must be able to control their low point (low point control drill below).
The golfer must be able to control their start line and curve of the ball (stock shot drill below).
The golfer must have enough distance to play the course (speed training drill below)
Below are my three favorite drills that I use with many golfers I am coaching and even in my own game.  We must be able to strike the ball solid, start the ball on our intended line while controlling our curve and have enough swing speed to realistically play the course.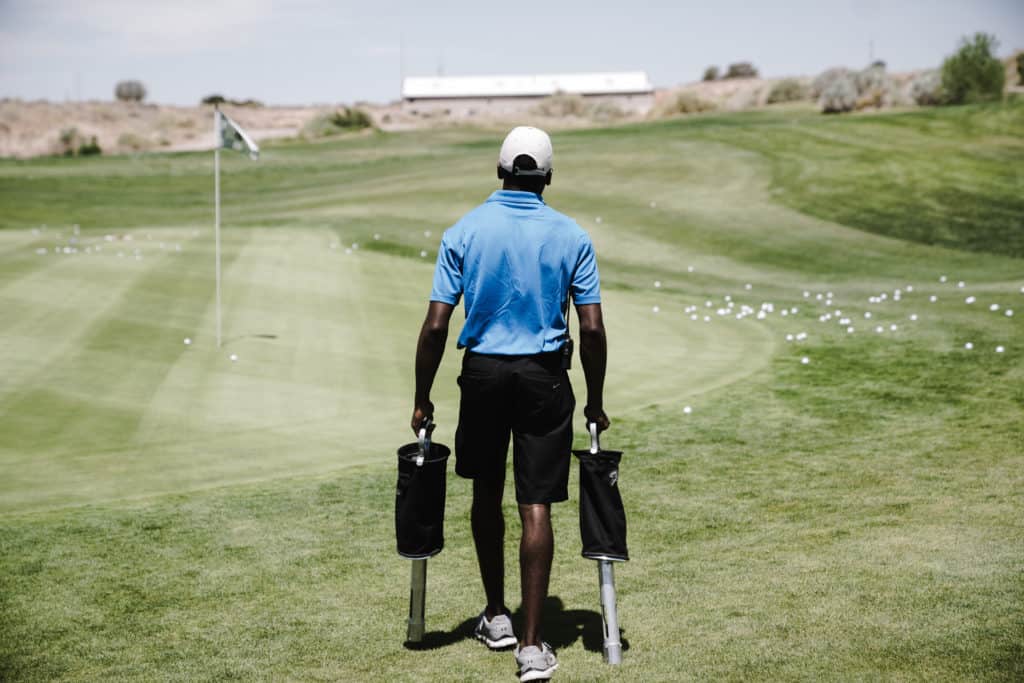 3 Drills
Low Point Control Drill
Take some yard paint and patina a 1-2 yard long line.
Setup with 55% of your weight on your front side.
Try to hit the target side of the line and see how many times out of 10 you can do this successfully!
Repeat this drill every day for a month, tracking your progress and your ability to to this successfully in trials of ten.
You may need to start with half swing and progress to full swings.
If you are struggling, put more weight forward and work on keeping your head still to help control the low point in the swing.
Stock Shot Drill
Set up an alignment stick 6-8 yards down your target line in front of the ball.
If you have one, set up a second alignment stick 2-4 feet right of that target line
Go ahead and see how many swings out of 10 you can get the ball to start to the right of the first of the alignment stick.  The goal here is to progress to 7 out of 10.
Practice this drill everytime you hit golf balls.

The key to golf is being able to control your contact and your start line.  
Could you imagine a round of golf where you strike the ball solid and 7 times out of 10 the ball starts down your intended target line?  This is the ultimate in golf and helps you start to focus on your course management.  
You will gain confidence and the consistency that we all seek!
The golfer that can control the low point in their swing and start the ball on the intended line a high percentage of the time will find themselves making plenty of pars.  Assuming an above average short game, they are well on their way to becoming a scratch golfer or a least lowering their scores.
Speed Gaining Drill
Let's face it, we all want to hit the ball further!  The good news…there is a way to increase your driver distance that doesn't include spending $500 on a new driver.
You can train for speed and get some amazing results with SuperSpeed Golf.  It worked for me and I believe it can work for many (especially if you make a commitment and actually use it)
I believe many used to believe, well this is just how fast I can swing.  
Recent training tools have started to change many minds.  We have seen many of the professional golfers get longer and longer with their tee shots as a result of additional swing speed.  You will find many touring pros using the SuperSpeed System, which I highly recommend.
SuperSpeed Golf is one option to increase your swing speed through a science based overspeed training approach.  In simple terms, you train by swinging a lighter club (20%) faster than you swing your driver.  Over time, by training at a higher speed, your mind and body feel safe to swing that fast with your normal driver, resulting in an increase in driver swing speed.
The SuperSpeed System provides 3 different weighted sticks and takes the golfer through a training protocol every other day for about 15 minutes.  The golfer can expect to see a 5-8% increase in swing speed, resulting in 20-30 yards for most golfers.  The great news is that the 5-8% can be expected as early as the first training session.  The additional speed will become more permanent after about 30-60 days of training.
My own experience has been an increase of 7-10 miles per hour on average from between 98-101 all the way up to 106-109.  My goal is to hit the PGA Tour average of 113 mph in the coming months.  I will continue to train every other day and watch in amazement as I am hitting drivers longer now than ever before!
Phil Mickelson has been known to increase his swing speed in the past year or so and is close to 120 miles per hour in his swing speed.  There are potential results for golfers of all ability levels and age!  
Check the current price on SuperSpeed Golf System, here!
| | | | |
| --- | --- | --- | --- |
| Original Swing Speed | After 4-6 Weeks | New Carry Distance | Total Distance |
| 95 | 102 | 245 | 265 |
| 100 | 108 | 259 | 279 |
| 105 | 113 | 271 | 291 |
| 110 | 118 | 283 | 303 |
Take Action – What You Can Do Today to Get Better
What does this mean for you?  I believe in the following recipe to get better:
1 – Improve your motion in the golf swing by identifying a golf instructor.  Here are some options:
Here is a list of golf instructors that we have reviewed:
2 – Train to swing faster and improve your swing speed.  Here are some options:
Looking to gain more Speed and Distance in your swing. Two Options:
3 – Understand course strategy and work to break through your next barrier.  Here is a series on breaking through:
We have provided guides on how to break 100, 90, 80 and 70. Check out more below, if interested.
4 – Practice Frequently
Did you know that I build a golf simulator in my garage and have played over 500 rounds of golf on my SkyTrak system?  It has been a game changer and one worth checking out. Here are some of my other posts on golf simulators frequently asked questions: