There are many different options when it comes to a putter in golf.
There is the long putter, the belly putter and the standard putter.
On top of those three options, you also have different putter heads.  The two most common putter heads are the blade and the mallet and both of these come in plenty of different shapes and weighs.
Overall putting provides plenty of options for all golfers.  Not only do you have all of the choices within the different length putters and the putter heads, but you also have the numerous grips that are now put on golf clubs including the oversize grip.
So what does a golfer do when faced with trying to find the perfect putter for them?
The bottom line is that before buying a putter, the golfer should consider testing the putter out on a real putting surface.
What golf putter should I buy?
After testing out for the feel and results, the golfer should buy the putter they are most successful with.  Many golfers will own multiple putters and use every putter during a season of golf.
Having a variety of options is important to give yourself a different feel or look throughout the year.  Even one of the greatest putters of all-time, Tiger Woods, changed it up from time to time when struggling even though he is well known to have used a Scotty Cameron the majority of his professional career.
Mallet vs Blade: Which one should I use?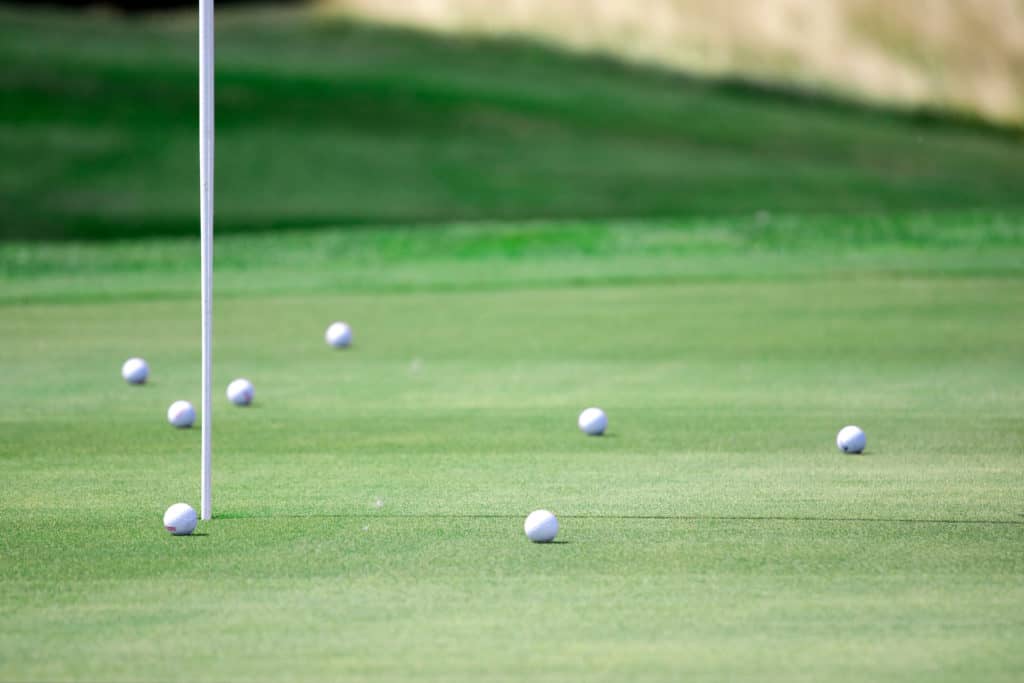 How to test out what putter to buy?
It is recommended to test out numerous length putters and styles to find the perfect fit for your putting stroke.  There are several ways to make this happen:
Based on feel
Based on results
Based on a launch monitor
Option 1: Based on Feel
There are golfers out there who have a keen sense for feel when putting. They know when they have a quality putter in their hand for their putting stroke.  They can feel the weight properly and get their putt started on line at the right speed.
This type of golfer will want to hit 50-100 putts with a putter to ensure they have the right putter.  They will often hit 4-5 footers, 10 footers, and 30 footers to test the variety of ranges that golfers are faced with each round.
Overall, the golfer will read the feel and see that it matches his or her eye as they stand over the putt.  So many putters today have some amazing lines and methods to provide a quality eye line on the putt.
What length putter should I use?
Option 2: Based on results
The next golfer is more scientific based, they want to measure the results.  They might set up something like the following:
Hit 10 putts from 5 feet.
Hit 10 putts from 10 feet.
Hit 10 putts from 20 feet.
Hit 10 putts from 30 feet.
Overall, they can chart out their make percentage from 5 and 10 feet and their proximity to the ole on the 20 and 30 feet in addition to putts made.  They can graph out the results and determine what putter is best for them.  If they take several hours, they can compare results on numerous putter options.
This golfer might also want to own 2-3 putters to test frequently or to use on different types of greens (fast or slow).  This gives the golfer the confidence that they always have the right putter in their hands based on the results that they received when testing.
Option 3: Based on a launch monitor
Recently, there have been advances in the ability to read the roll of the putt to measure what putter and loft starts the ball rolling the fastest without loss speed or direction from bouncing the first 18 inches or so.  There are places a golfer can go to get measured with different putters and to have a putter custom made from their testing period.  
Having the "perfectly" designed putter in your hands could provide the confidence needed to make more putts.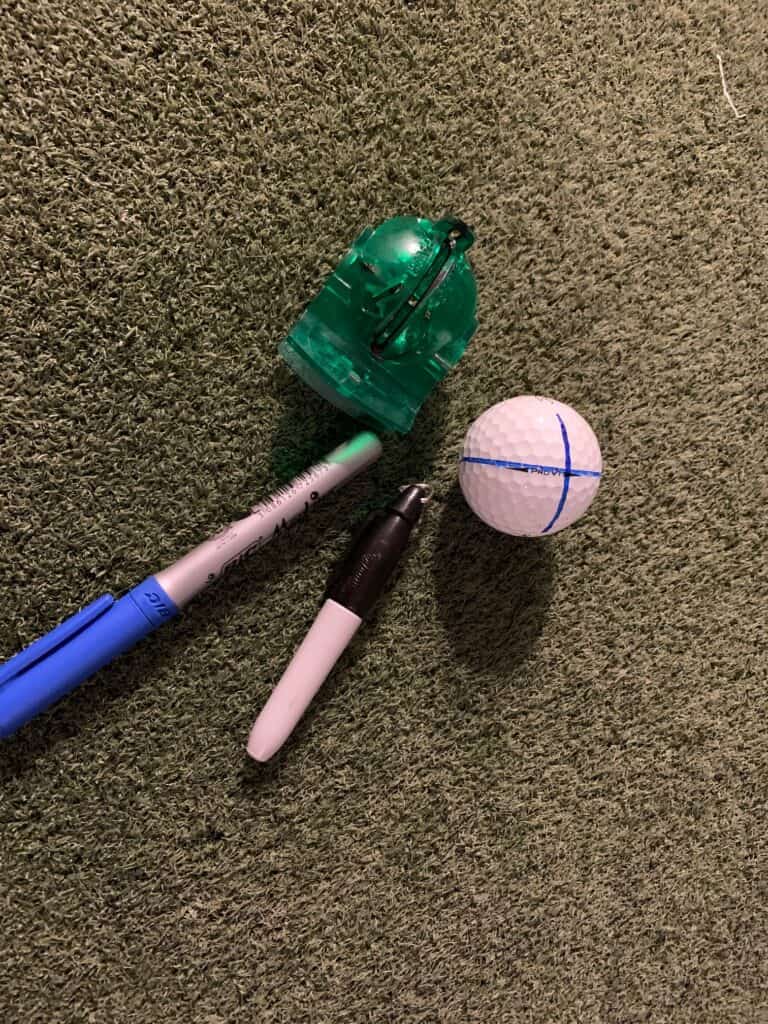 3 Keys to Putting
Start line
Speed
Confidence
Key #1: Start Line
When testing out a putter, make sure you pay attention to your ability to start the ball on the proper start line.  Without this ability, everything else is just simply luck when it comes to putting.  If you can read a green and get the ball starting on the proper line, you get feedback on every putt, whether you read the green properly.
Key #2: Speed
The second part to this equation is the ability to hit the ball at the right pace.  Every putt has an optimum pace to maximize the chances of it falling in the hole.  Matching up the speed and line is vital.  Overall, the golfer, if he or she hits the ball at the right pace on the intended start line is able to get the feedback on whether they are reading the greens properly.
If you head out to a tour event, you will see golfers work on start line and speed.
Key #3: Confidence
When you can have the right putter in your hands and confidence in your read of the green, it provides the best chance to make the putt due to the confidence you will have to make a proper stroke.  When doubt creeps in, funny things happen in the putting stroke, leading to improper start line and speed that isn't optimum.
What Putter Should I Buy: Our 3 Favorite Putter Options
My Secret To Golf Improvement
Let's face it, in order to get really good at golf, we must practice frequently.  About three years ago, I made the leap and invested in a golf simulator build for my garage.  I went with a SkyTrak Launch Monitor and the TGC software and can now play over 100,000 courses including Augusta, Pebble Beach, Bethpage Black, Whistling Straits. St. Andrews and many other of the top 100 courses in the world.
This golf simulator setup, which is more affordable that you might imagine, has been a game changer.  I can now play golf everyday of the year regardless of rain, snow, cold weather or time of day.  I can practice or play rounds of golf.  I can stand in the 11th fairway at Augusta and with the auto-rewind feature I am able to practice my approach shots from various differences.
It is worth checking out through Rain or Shine Golf as they offer some incredible packages along with financing offers that are difficult to beat.
Some direct links to Rain or Shine Golf for pricing and financing:
Take Action – What You Can Do Today to Get Better
What does this mean for you?  I believe in the following recipe to get better:
1 – Improve your motion in the golf swing by identifying a golf instructor.  Here are some options:
Here is a list of golf instructors that we have reviewed:
2 – Train to swing faster and improve your swing speed.  Here are some options:
Looking to gain more Speed and Distance in your swing. Two Options:
3 – Understand course strategy and work to break through your next barrier.  Here is a series on breaking through:
We have provided guides on how to break 100, 90, 80 and 70. Check out more below, if interested.
4 – Practice Frequently
Did you know that I build a golf simulator in my garage and have played over 500 rounds of golf on my SkyTrak system?  It has been a game changer and one worth checking out. Here are some of my other posts on golf simulators frequently asked questions: