If you are new to the game of golf and need some help on when to use what golf clubs, you have arrived at the right place.
We understand that golf can be confusing and overwhelming at first, but do not worry, we have plenty of posts that can help you get started in the game.
Golf doesn't have to be overwhelming and instead should be a fun sport for you to enjoy with friends and family.  Being outside on a golf course on a beautiful sunny day is a wonderful way to spend a day.
Let's jump right into today's main topic.
What Golf Clubs To Use When?
A golfer is allowed to carry up to 14 clubs in his or her golf bag.  Golf clubs are built with different length shafts and different lofts to provide an option for every distance from a simple chip up to a 250 yard drive on average.
Below, we will break it down into 5 different categories and give you a range of golf clubs that you would use within that yardage range.  Everything in golf is built off the yardage to the hole.  Having a general idea of the yardage left can be found by looking at the scorecard, yardage stakes on the course and sometimes the sprinkle heads have a yardage on them as well.
Technology also allows us to use golf rangefinders and golf gps watches to make this process really simple.  The professionals use a caddy, who have a yardage book, to receive the proper yardage to help them select the best club for that specific shot.
Here is a quick reference chart below.  Further down we will dive into and explain each category.
| | | | |
| --- | --- | --- | --- |
| Golf Club | Loft | Distance Range | Club Numbers |
| Driver | 8-11 Degrees | 200-300 yards | 1 |
| Fairway Woods | 13-27 degrees | 150-250 yards | 3-9 Woods |
| Hybrids | 13-30 degrees | 125-250 yards | 3-9 hybrid |
| Long Irons | 20-27 degrees | 150-225 yards | 2-5 iron |
| Short Irons | 28-44 degrees | 75-175 yards | 6-9 iron |
| Wedges | 48-64 degrees | 0-125 yards | PW – LW |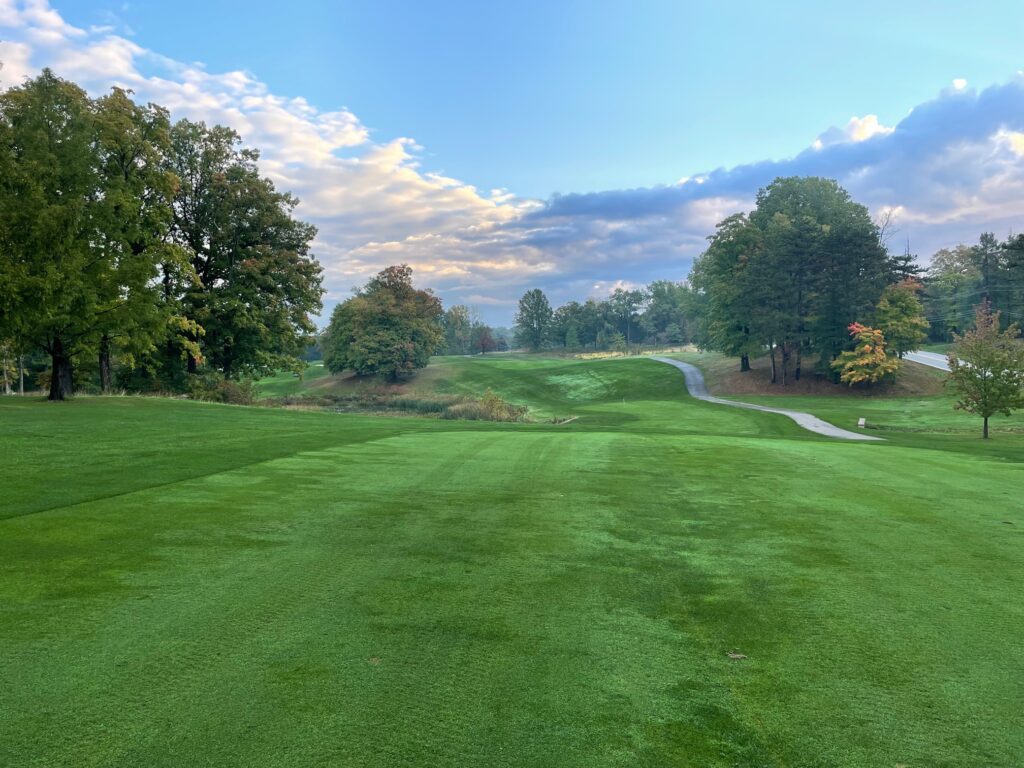 Situation #1: The Tee Box
So you are on a tee box on a par 4 or par 5.  These holes are typically anywhere from 280 yards long to 600 yards long.  Unless there is a water hazard or the hole is really narrow, I would highly recommend selecting the Driver for this tee shot.  The driver is the longest club in the bag at around 45-46 inches with the lowest amount of loft.  The goal of the driver is to hit it far and straight.  Most amateurs will average between 200-250 yards with the driver, with the best golfers exceeding 250 yards and beyond.
Other options from the tee box will include a 3 wood (if you are struggling with the driver) or a hybrid if it is a narrow hole and precision is more important than overall distance.  
Whatever club you decide to use, ensure you take advantage of using the tee in the ground to provide extra margin for error and to maximize the design features of a driver, which are built around the idea that the golfer will use a tee.
How to hit your driver straighter
Situation #2: Fairway or Rough from 200-300 Yards Out
So if you find yourself on the 2nd shot of a hole after your drive and you still have 200-300 yards or even more left to the green, this is a great opportunity to use a fairway wood (3-5) or a hybrid (3-5).  
These clubs are designed with a longer shaft and a lower amount of loft.  Yet, you have enough loft to hit the ball off the ground and get some quality distance with any of the clubs listed above.  What club you choose will often come down to what options you have in that range in your bag.  A typical setup might include a driver, 3 wood and 5 wood or a driver, 3 hybrid and 5 hybrid, but more than likely you won't have both fairway woods and hybrids in your golf bag.
Most beginner golfers have some success with this shot and find that the fairway woods or hybrids become one of their favorite clubs in the bag.  They are usually easier to hit high and far than any other club in the bag for the beginner golfer.
5 wood vs 3 hybrid: which one should I carry?
Situation #3: Fairway or Rough from 150-200 Yards Out
You may find yourself in this situation on the 2nd shot or a hole or even the 3rd shot. Within this distance range you are more than likely going to use a long iron.  This would be any iron with a 2-5 number on the bottom of it.  While the shafts are longer compared to the short irons, they are still shorter than the fairway woods or hybrids.  The goal here is to hit a shot somewhere around the green and leave yourself a simple chip shot.
Many beginner golfers struggle with the longer irons and choose to buy a 5-9 hybrid, which are typically easier to hit in the air.  Whatever your preference is, the number one goal is to make solid contact and control the low point of your golf swing.
How to hit your irons consistently (5 Tips)
The Drill: The Low Point Control Drill
Take some yard paint and patina a 1-2 yard long line.
Setup with 55% of your weight on your front side.
Try to hit the target side of the line and see how many times out of 10 you can do this successfully!
Repeat this drill every day for a month, tracking your progress and your ability to to this successfully in trials of ten.
You may need to start with half swing and progress to full swings.
If you are struggling, put more weight forward and work on keep your head still to help control the low point in the swing.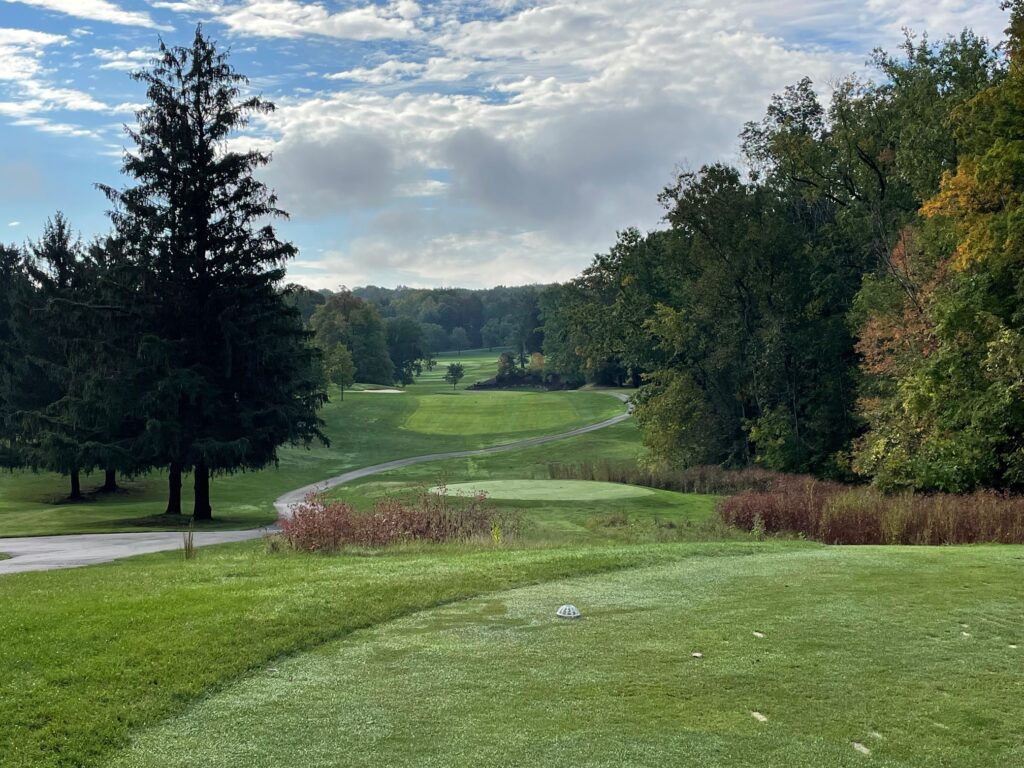 Situation #4: Fairway or Rough from 100-150 Yards Out
From this range, most golfers will use anywhere from a 6 iron down to their sand wedge depending on the swing speed the golfer is able to produce.  As a golfer becomes more familiar with the game, they will learn the distances that they hit each club on average.
These shorter irons are shorter in length with more loft to help you hit the ball higher and shorter to land the ball softly on the green.  Once you get inside of 150 yards, the goal should be to hit the ball on the green.  
I would recommend playing the ball towards the middle of the stance and ensuring that you hit the ball first.  Make sure you practice the drill above to get good at controlling your low point with your irons. The drill above will help you improve quickly in this wonderful game.
Situation #5: Fairway or Rough from less than 100 Yards Out
Did you know that 60% of the shots in golf take place inside of 100 yards?  Within this range, the golfer will use a club somewhere between the 9 iron and lob wedge.   The clubs in this range include the following:
9 Iron
Pitching Wedge
Gap Wedge
Sand Wedge
Lob Wedge
In order, the 9 iron will fly the furthest and lob wedge will fly the shortest. Once again, as your advance in the game, you will gain a general idea how far you hit each club.  For example, your 9 iron might fly 110 yards, your pitching wedge 100 yards, your sand wedge 85 yards and your lob wedge 70 yards.  The goal is to control your distance and hit quality shots by making crisp, clean contact.
Situation #6: Greenside Bunker
You will want to use your sand wedge or lob wedge for this shot.  These clubs are built with the right amount to lift and enough bounce to help you get the ball out of the sand and onto the green.  The goal here is to hit behind the ball and use the sand to push the ball out of the bunker.
Situation #7: Less than 30 yards
This is considered a pitch or chip shot.  I would recommend getting good with your sand wedge or lob wedge from this distance range.  The goal is to get the ball on the green and close to the hole.  If you want to get good at golf fast, I would recommend spending at least 50% of your practice time practicing your chipping and pitching.  These shots help reduce your score quickly.
Situation #8: On the green
The golfer will use his or her putter.  There are a wide variety of putter options.  When first starting out, use whatever you can get your hands on, until you can advance and learn the game a bit further.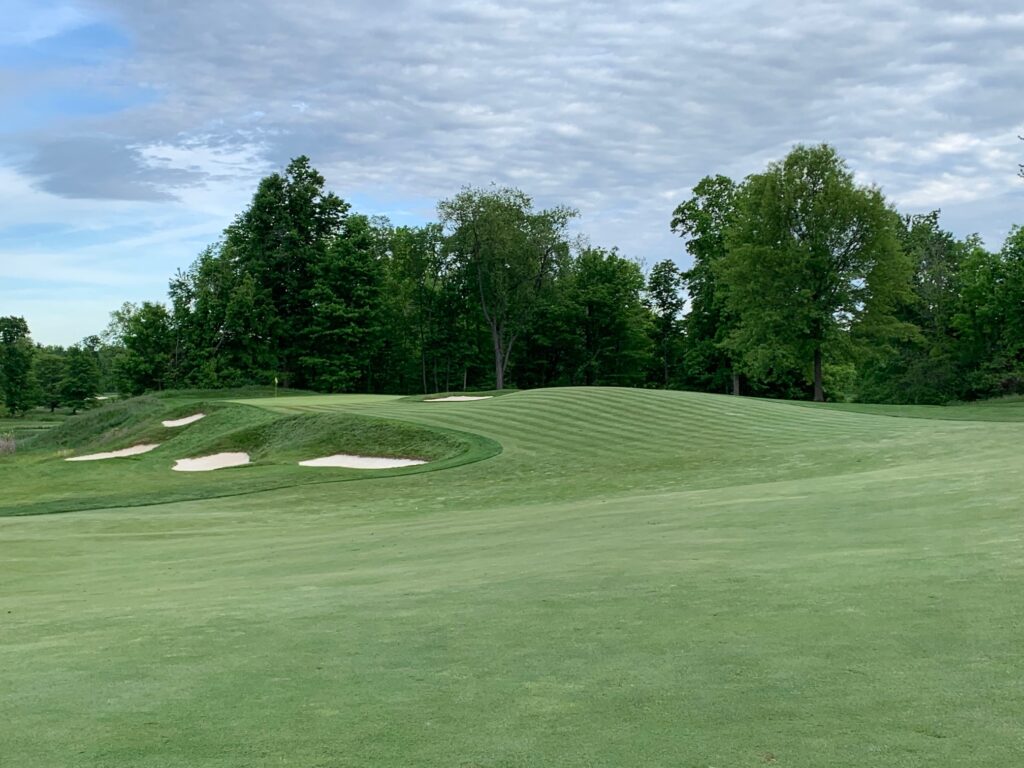 Other Tips: Build A Distance Chart
I would highly recommend each golfer create a distance chart like the sample below:
| | | | |
| --- | --- | --- | --- |
| Club | Carry Distance (100%) | 90% | 80% |
| 2 Utility Iron | 210 | | |
| 4 iron | 190 | | |
| 5 iron | 181 | | |
| 6 iron | 171 | | |
| 7 iron | 163 | | |
| 8 iron | 153 | | |
| 9 iron | 143 | | |
| P Club | 130 | 123 | 115 |
| Pitching Wedge | 118 | 110 | 102 |
| SW Club | 105 | 97 | 91 |
| LW Club | 90 | 82 | 74 |
This might be the most important information you can use to help you play quality golf.  I have heard so many stories and have seen it first hand where golfers completely over estimate how far they hit each iron.
They hit one 7 iron 165 yards one time and think this is their carry distance.  So they step up to a 165 yard shot, hit the 7 iron and end up in a bunker.  They blade it out of the bunker and are looking at a double bogey as their reality.  Instead, if they had the right club and hit the 6 iron, their chance of hitting the middle of the green would increase greatly!
How can you create your own chart?
Option 1: I would highly recommend a launch monitor!
These portable devices can be used at the driving range, golf course or set up in your home net or golf simulator.  These devices are game changers not only on being able to map your bag and know your distances, but they also provide quality feedback after on every shot and provide the following information:
Carry Distance
Spin Rate
Launch Angle
Spin Axis
Total Distance
Ball Speed
This information will help you map your bag, decide on which clubs are best for your game, develop a stock shot and much more.  I love using my SkyTrak 365 days a year in my golf simulator setup.
The process for mapping your bag can looking something like this:
Hit 5 shots with each club in your bag.
Log the carry distance and total distance for each shot.
Eliminate any outlier numbers (poor hits or low spin rates).
Take the average and create a map of your bag.
If you visit any PGA Tour event you will see plenty of golfers utilizing their launch monitors.  While most can't afford a Trackman, there are some very affordable options in the 500-2000 dollar range.  I own the SkyTrak and think the world of it.  
Here are the top 3 options to check out:
Option 2: Use a Driving Range or Open Field
If you can't afford a launch monitor at this time, here is another option.
Find an open driving range or open field
Take 10 balls of the type of golf ball you play
Pick a target and either walk it off or use a rangefinder.
Hit 10 shots with each club in your bag and take an average.
Your rangefinder can help you get a specific distance.
Go ahead and create a chart of each club and their carry distance like the one above.
Final Thoughts: Improving Your Distance Control
If you can improve your ball striking, have great information on how far you have to hit a shot and then have an accurate distance chart, you will be on your way to more enjoyable golf and lower golf scores!
Take the time to practice and get better, get the right technology tools and understand your distances.  Commit to the process and watch your game improve!  
3 Key Fundamentals
The Stack and Tilt Instructors said it best when they described what they believed were the fundamentals of golf.  They explained it somewhat similar to this:
The first fundamental is the golfer's ability to control the bottom of the golf swing.  The best golfers will hit the ground in the intended spot, close to 100% of the time.
The second fundamental is the golfer's ability to control the curve of the golf ball. The best golfers are able to start the ball to the right or left of the target line and have the ball curve towards the target without the ball over-curving past the target.
The third fundamental is the golfer's ability to have enough power to play the golf course.  This means they are able to hit the ball far enough to play the course in regulation.
BONUS DRILL: Stock Shot Drill
Set up an alignment stick about 6-8 yards in front of you, straight down your target line.
If you have a second alignment stick, set the stick 2-3 feet right of the first stick (for a draw) or left of the first stick (for a fade).
Complete your initial assessment see how many times out of 10 you can start the ball to the right or left of your target.  Pick one side and measure your game at this point.
The goal is to eventually get 7 out of 10 shots to start to the correct side and draw back towards the target.
Here is the drill being explained by Kyle Morris:
The combination of solid contact (low point control drill) and the ability to hit a stock shot (consistent curve) is the first step in building consistency in your golf game.
My Secret To Golf Improvement
Let's face it, in order to get really good at golf, we must practice frequently.  About three years ago, I made the leap and invested in a golf simulator build for my garage.  I went with a SkyTrak Launch Monitor and the TGC software and can now play over 100,000 courses including Augusta, Pebble Beach, Bethpage Black, Whistling Straits. St. Andrews and many other of the top 100 courses in the world.
This golf simulator setup, which is more affordable that you might imagine, has been a game changer.  I can now play golf everyday of the year regardless of rain, snow, cold weather or time of day.  I can practice or play rounds of golf.  I can stand in the 11th fairway at Augusta and with the auto-rewind feature I am able to practice my approach shots from various differences.
It is worth checking out through Rain or Shine Golf as they offer some incredible packages along with financing offers that are difficult to beat.
Some direct links to Rain or Shine Golf for pricing and financing:
Take Action – What You Can Do Today to Get Better
What does this mean for you?  I believe in the following recipe to get better:
1 – Improve your motion in the golf swing by identifying a golf instructor.  Here are some options:
Here is a list of golf instructors that we have reviewed:
2 – Train to swing faster and improve your swing speed.  Here are some options:
Looking to gain more Speed and Distance in your swing. Two Options:
3 – Understand course strategy and work to break through your next barrier.  Here is a series on breaking through:
We have provided guides on how to break 100, 90, 80 and 70. Check out more below, if interested.
4 – Practice Frequently
Did you know that I build a golf simulator in my garage and have played over 500 rounds of golf on my SkyTrak system?  It has been a game changer and one worth checking out. Here are some of my other posts on golf simulators frequently asked questions: