Golf is a funny game at times!
One day you might hit your driver great, but struggle with irons.
The next round you might strike your irons solid, but can't seem to make a putt.
Then there are the rounds where you are making a lot of putts, but many of the putts are to simply save par or bogey.
The key is to have a system, remain patient and keep working hard.  Below, I will dive into my top tips to help you make more putts.  
The putter has helped me break 70 on many occasions, shooting my best round of 65 in the past season.  The day was filled with making plenty of putts as I made 8 birdie putts that day and saved par several times on those difficult 5-10 footers when you really need to make the putt!
How To Make More Putts: 5 Tips
Control Your Start Line
Control Your Pace
Draw A Line On Your Ball
Read the Green, Commit to the Putt
Asses Your Round on Your Ability To Control Start Line and Pace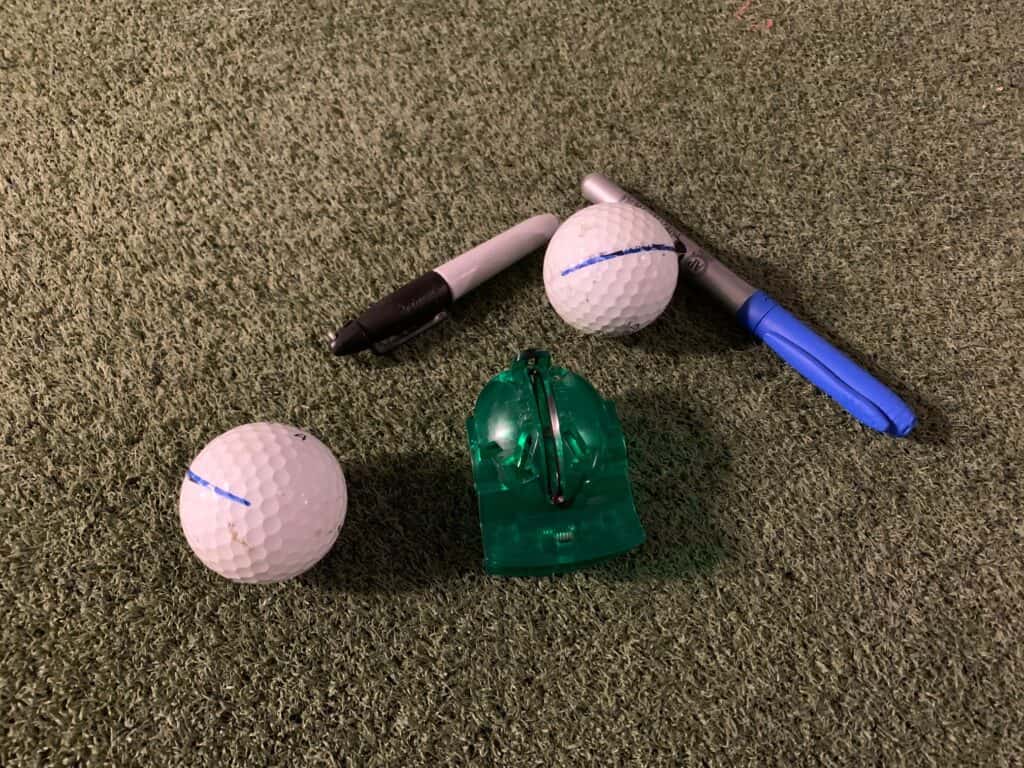 Tip #1: Control Your Start Line
The key to golf overall is to be able to control your start line with both your full swings and your putts.  When everything really breaks down in golf, you must be able to roll the ball on the line that you are intending.  If you cannot do this, you are relying on the a good bounce, a bad read or something else to help get your ball in the hole.
Now, being able to hit your start line just about every time does not guarantee success, as the golfer must also be able to read the green properly and have the right pace for the ball to ultimately go in the hole.

However, the number 1 basic of putting is to hit your start line.  Many of the professional golfers spend hours working on drills to help get the ball started where they intended.  You will see golfers set up two tees just on the outside of the putter to help control the face. 
Whether you are hitting a 5 foot putt or a 35 foot putt, it is vital to get the ball started on line.
Find the right drill and get to work hitting your start line.
Tip #2: Control Your Pace
Speed control is almost as important as controlling your start line.  However, a straight putt that is a little off speed, but the right start line will still go in the hole.  When you get to putts that are breaking, the combination of line and speed have to match up.  Too much break with too much speed leads to missed putts.  A tighter line with too little speed will leave on the low side of the hole.
When you move to lag putting, the inability to get the ball within a 3 foot circle around the hole, will leave you with many 5-10 footers that leads to a stressful round.
The best way to practice your speed control is to hit plenty of putts from around 10 feet and 30 feet and then make simple adjustments.
If you want a more scientific approach to speed control you can put this into place, when you arrive at a golf course head to the practice green.  Find a rather flat putt and take the putter to your back foot and through at your normal pace.  Measure, by pacing off, how far the ball rolled.  This can serve as your baseline for how hard you have to hit the ball based on your distance of the putt.
Tip #3: Draw A Line On The Ball
When a golfer arrives at a green, he or she will often spend time looking at the break of the putt and considering the proper speed.  They understand the importance of hitting their start line and go through their entire pre putt routine.  The one, non negotiable part for me is to ensure you have a line on your ball.  The great thing about a putt from the green is that we get to mark the golf ball and clean it off. 
After you pick your start line, set up the line on the golf ball to aim at where you want the ball to start.  You might be surprised how bad humans are when standing over a ball like in a putting position to actually aim properly.  Instead, use the line on the ball to your advantage. 
When you are practicing your short game, make sure you go through the same routine and work to keep everything consistent!
Tip #4: Read The Green, Commit to the Putt
Too often, a golfer will read the green, choose their speed and line up the line on the ball on their intended start line.  The golfer then gets over the ball and starts to question whether they picked the right line, they make a simple adjustment and miss the putt!
When you are on the green, read it to the best of your ability, line up the ball and commit!  A hesitant or questioned putting stroke rarely leads to making putts.  Instead, putt with confidence, even if you have to trick yourself into believing you have the right line.  A confident putting stroke with your initial read gives you the best chance of making the putt!
Everything in the pre shot routine: reading the green, deciding on pace and then setting up with the ball aimed properly will provide the best chance to make a confidence stroke.  However, without the commitment you will often fail!  Putting is difficult enough even when you have everything matched up properly!  Stay committed and hit a quality putt.  You can't control the outcome!  You can only control your process and your confidents in your decisions!
Tip #5: Post Round Assessment
After every round, measure your success on the following checklist for every putt that you hit!
Did you control your start line?
Did you hit the putt at a good pace?
Did you line up the line on the ball?
Did you commit to your read?
Keep track over time how many times you can check all four boxes after every putt!  The more times you can check the four boxes the more putts you will make.  It is a matter of putting yourself through a routine and following a system to increase your chances of making the most putts!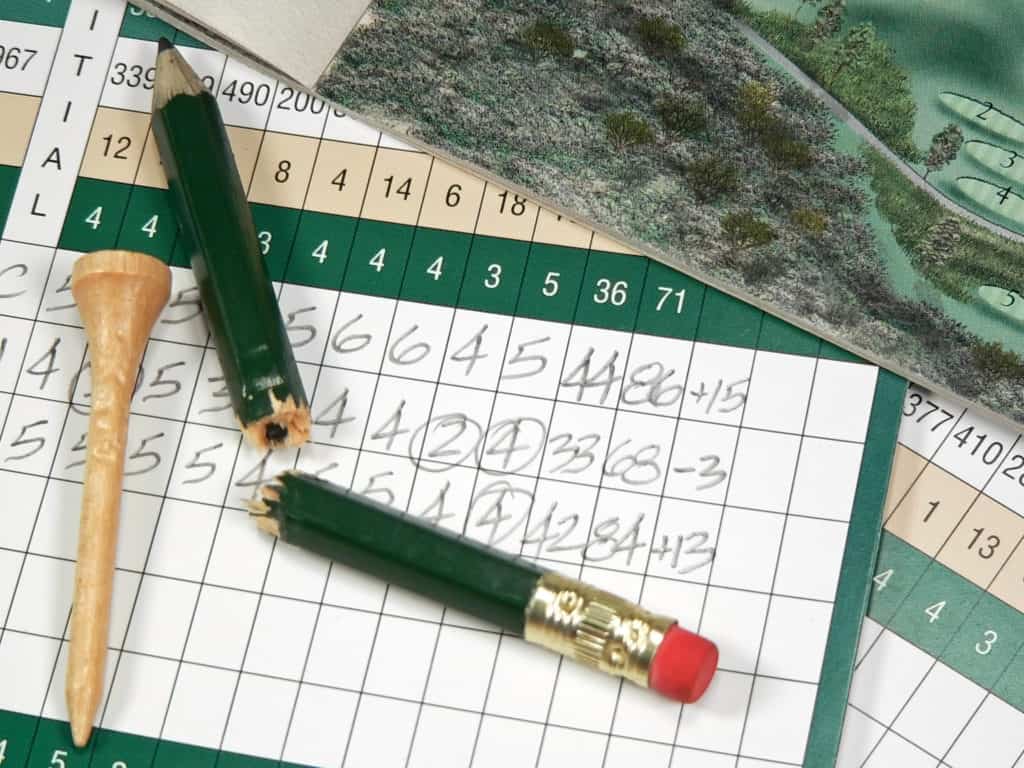 BONUS TIP: Control Your Expectations
Have you ever heard a professional golfer in a post round interview talk about how they putted great, but the putts just didn't fall?  Yes, it can happen even to the pros!  They can check all four boxes, but still not make every putt.  There are factors that influence this:
Bumpy greens
Controlled your start line, but misread or underestimated the speed.
Golfers that are able to control their start line and their pace, are putting well, they just didn't read it perfectly to make enough putts.
So rule number one is to understand you won't make every putt!  
Consider these 3 stats from the PGA Tour:
The make percentage from 8 feet is only 50%
The number of putts made from 13' 2" or more during a round of golf on average is one!
A professional is more likely to 3 putt from 33 feet than to make a putt from 33 feet or further.
Controlling your expectations when putting will help you keep your mind in the game and not grow frustrated. One person I golf with frequently, expects to make every putt, which just leads to frustrating and poor course management! The golfer starts to believe he or she is doing something wrong and that they need a new putter or new putting approach. Trust your system, manage your expectations and don't forget to practice!
Next Steps!
Get out and practice.  The key to making more putts is centered around practice.  Use the 5 tips above during your practice sessions and grow your game!  I would recommend the following drill that can be used in a combination of chiping and then putt or putting both shots.
Drill:
Take one golf ball and throw it to a random spot on the green or just off the green at least 20 feet or more from the hole.
See how many times out of 20 you are able to one putt and two putt. 
The goal is to make a putt or two and never 3 putt!
This is a great drill for chipping as well as you would throw the ball off the green, chip the golf ball and then try to one putt.  
Track your percentages over time and assess if you are making growth.  This drill will help increase some of the pressure and get you hitting a variety of putts or chips.  It also helps you get really good at those 2-5 footers that often can destroy a round when you miss one!
When my short game is on I can get up and down in this drill when chipping and then putting around 75% of the time.  During a quality round of golf this number will usually be at around 60% up and down.
I also rarely 3 putt because of the putting portion of this drill.  I have developed the ability to hit the 30-40 foot lag putt and make those difficult 3-4 footers when needed!
My Secret To Golf Improvement
Let's face it, in order to get really good at golf, we must practice frequently.  About three years ago, I made the leap and invested in a golf simulator build for my garage.  I went with a SkyTrak Launch Monitor and the TGC software and can now play over 100,000 courses including Augusta, Pebble Beach, Bethpage Black, Whistling Straits. St. Andrews and many other of the top 100 courses in the world.
This golf simulator setup, which is more affordable that you might imagine, has been a game changer.  I can now play golf everyday of the year regardless of rain, snow, cold weather or time of day.  I can practice or play rounds of golf.  I can stand in the 11th fairway at Augusta and with the auto-rewind feature I am able to practice my approach shots from various differences.
It is worth checking out through Rain or Shine Golf as they offer some incredible packages along with financing offers that are difficult to beat.
Some direct links to Rain or Shine Golf for pricing and financing: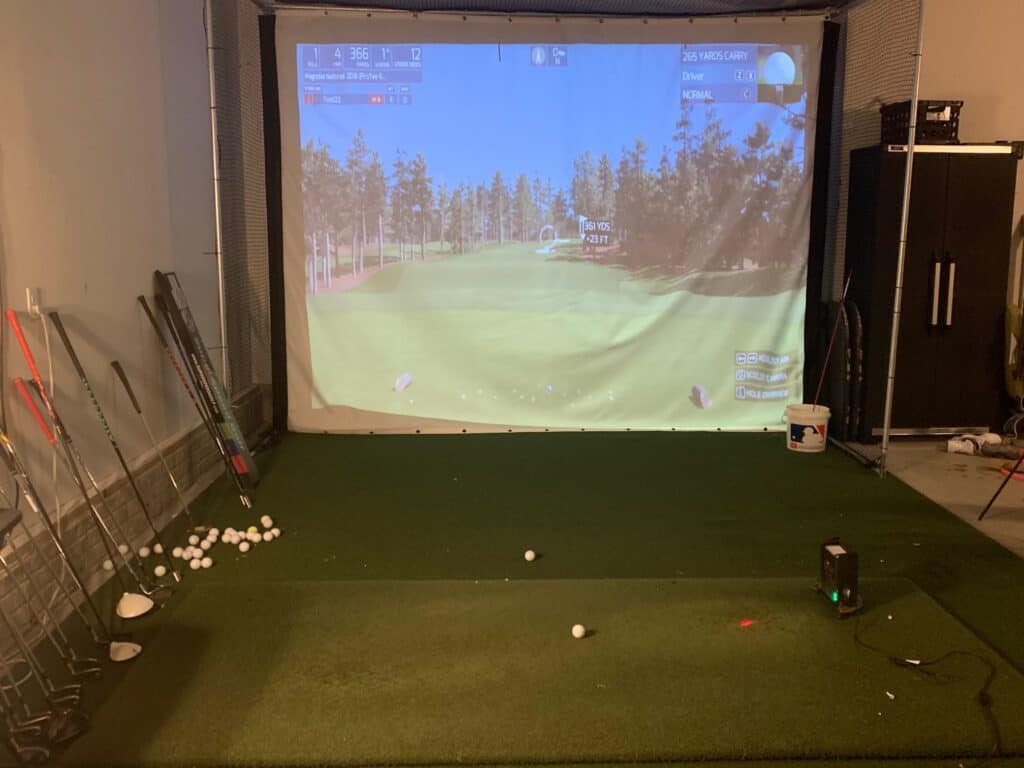 Take Action – What You Can Do Today to Get Better
What does this mean for you?  I believe in the following recipe to get better:
1 – Improve your motion in the golf swing by identifying a golf instructor.  Here are some options:
Here is a list of golf instructors that we have reviewed:
2 – Train to swing faster and improve your swing speed.  Here are some options:
Looking to gain more Speed and Distance in your swing. Two Options:
3 – Understand course strategy and work to break through your next barrier.  Here is a series on breaking through:
We have provided guides on how to break 100, 90, 80 and 70. Check out more below, if interested.
4 – Practice Frequently
Did you know that I build a golf simulator in my garage and have played over 500 rounds of golf on my SkyTrak system?  It has been a game changer and one worth checking out. Here are some of my other posts on golf simulators frequently asked questions: