Golf is an incredible game that many people love. 
One of the great things about it is the various ways to keep score.
The traditional method that many play is stroke or medal play.  One of the alternatives is match play.
Match play is a head to head round of golf where typically one golfer competes directly with another golfer.  While stroke play scoring is designed to allow a tournament to compare many golfers on the same course within a 1-4 day period of time typically.
Different match play tournaments will typically use a bracket or pool play as golfers advance on throughout the tournament.
Scoring In Golf Match Play
Golfers compete directly against another golfer and receive one point if they score lower than their opponent on that hole.  For example, if golfer A scores a 4 and golfer B scores a 6, golfer A receives one point.  The difference in the total number of strokes doesn't matter, as only one point can be gained or lost per hole of play.
Below is a sample scorecard of a match play competition:
| | | | | |
| --- | --- | --- | --- | --- |
| Hole | Par | Golfer A | Golfer B | Score |
| 1 | 4 | 4 | 5 | Golfer A 1 Up |
| 2 | 4 | 5 | 4 | All Square |
| 3 | 4 | 6 | 3 | Golfer B 1 Up |
| 4 | 3 | 3 | 4 | All Square |
| 5 | 4 | 3 | 3 | All Square |
| 6 | 5 | 4 | 5 | Golfer A 1 Up |
| 7 | 4 | 5 | 5 | Golfer A 1 Up |
| 8 | 5 | 5 | 3 | All Square |
| 9 | 3 | 3 | 3 | All Square |
| | | | | |
| 10 | 3 | 3 | 3 | All Square |
| 11 | 4 | 4 | 5 | Golfer A 1 Up |
| 12 | 4 | 4 | 5 | Golfer A 2 Up |
| 13 | 4 | 5 | 6 | Golfer A 3 Up |
| 14 | 4 | 4 | 4 | Golfer A 3 Up |
| 15 | 3 | 3 | 2 | Golfer A 2 Up |
| 16 | 5 | 4 | 4 | Golfer A 2 Up |
| 17 | 4 | 6 | 4 | Golfer A 1 Up |
| 18 | 4 | 4 | 5 | Golfer A 2 Up |
| | | | | |
| Totals | 71 | 75 | 73 | Golfer A Wins Match 2 Up |
Frequently Asked Questions: Scoring In Golf Match Play
Can we golf with more than two golfers?
Yes, within a foursome a group can play 2 vs 2 in match play.  The typical format is for the lower score of the two partners to count as the team score and compare it to the lowest score of the other team.  The same format as above is used to keep score.
One other option within a foursome is called alternate shot.  Two partners will rotate hitting the first shot on a hole and continue until the ball is holed out.  Their score is then compared to their opponents who would follow the same format.
What famous events that use match play?
The most famous team event that uses match play is the Ryder Cup.  The United States team competes against the European team in a variety of formats that all use match play scoring.  These include alternate shot, four ball and singles.  Teams earn one point for a match victory or split the point for a tie.  There is no extra holes in the Ryder Cup. 
The President's Cup is played in opposite years of the Ryder cup.  The United States team competes against golfers throughout the world (international team) that don't live in the US or in Europe.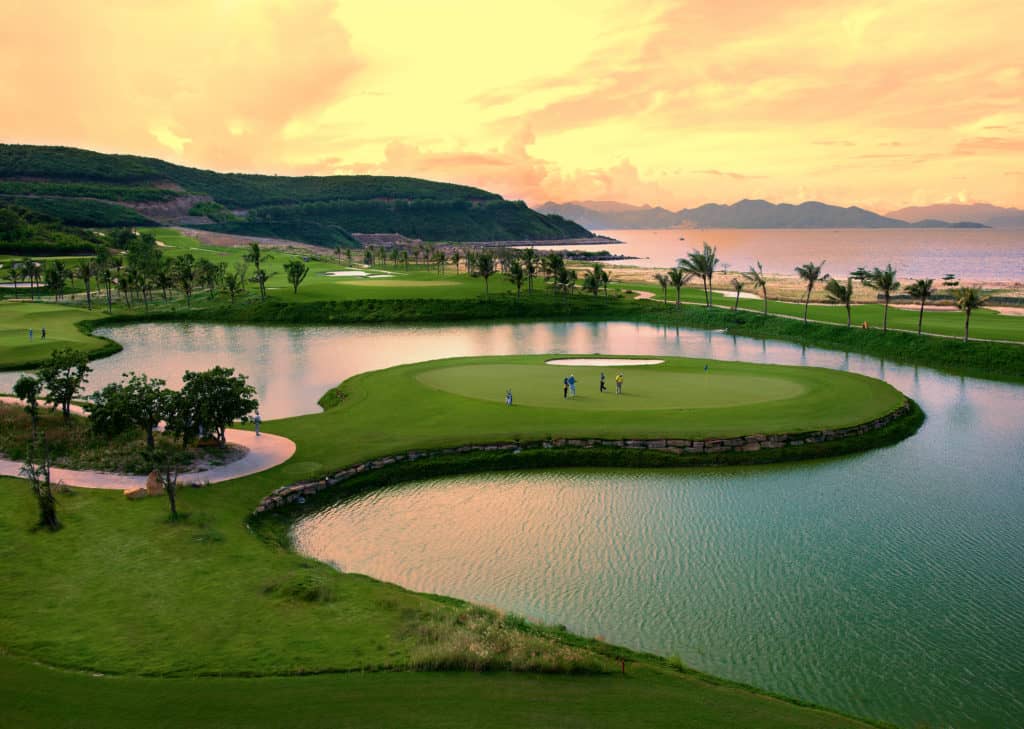 Why isn't Match Play used more often on the PGA Tour?
Match play eventually eliminates golfers throughout the week, reducing the number of players golfing on Saturday and Sunday when television ratings are usually the highest.  The biggest names on the PGA Tour could have been eliminated early in the tournament. 
It is also grueling over 4-6 matches for match play.
Resource: What is match play in golf?
What makes Match Play special?
Even if someone scores a high number on a hole, the most they are going to lose is one hole.  The type of golfer that is destroyed by a big number or two throughout a round of golf often prefer match play as they often can stay in the competition and aren't eliminated by the errant drive out of bounds of the hole that devastates a stroke play scorecard.
The other element is the head to head nature of the setup and the roller coaster ride that a golfer goes on during a 4 hour round in match play.  There are highs and lows and times you think you are going to win a hole and don't.  The golfer must be able to control their emotions and hit key shots at the right time.
Resource: What is stroke play in golf?
Can a putt be conceded in match play?
Yes, the opponent is able to concede a putt or a hole in match play.  In stroke play this is not allowed as the golfer is often competing against the "field."  Oftentimes, when a putt is withing 2 putt, the typical play is to concede the putt unless it is really late in the match and the ball is in borderline gimmie range.
Resource: Match Play vs Stroke Play
How to successfully compete in match play?
Decide what type of player you want to be.  Are you going to be aggressive and try to make a lot of birdies with the occasional bogey from being aggressive or are you going to be more conservative and try to make 18 pars and allow the birdies to happen?  Either way, have a strategy and try not to over adjust based on what your opponent is doing.  Play your game and adjust only when something more drastic happens.
Final Thoughts: Scoring In Match Play
Golf can be a ton of fun.  Trying out different formats to find what is best for your game and entertainment levels is important.  Give match play a shot and see if you like it or not.  If the ability levels of the two golfers competing has a major gap, consider giving strokes on specific holes.
For example if you are giving up a total of 6 strokes.  Look at the scorecard and identify the 6 most difficult holes.  When you arrive at that hole, the weaker of the two golfers will get a stroke reduced from his or score when compared to the other golfer.
This is a great way to have golfers of different ability levels compete against each other.
Take Action – What You Can Do Today to Get Better
What does this mean for you?  I believe in the following recipe to get better:
1 – Improve your motion in the golf swing by identifying a golf instructor.  Here are some options:
Here is a list of golf instructors that we have reviewed:
2 – Train to swing faster and improve your swing speed.  Here are some options:
Looking to gain more Speed and Distance in your swing. Two Options:
3 – Understand course strategy and work to break through your next barrier.  Here is a series on breaking through:
We have provided guides on how to break 100, 90, 80 and 70. Check out more below, if interested.
4 – Practice Frequently
Did you know that I build a golf simulator in my garage and have played over 500 rounds of golf on my SkyTrak system?  It has been a game changer and one worth checking out. Here are some of my other posts on golf simulators frequently asked questions: