One of the great things about the game of golf is the different formats for scoring.
This keeps the game fun and fresh for those that play often and also creates a system where golfers of different levels can compete against each other through a handicap system.
The two most important formats in golf scoring are Medal Play and Match Play.
Medal Play, also known as stroke play, is where the total number of strokes attempted is added up over 9 or 18 holes.  The winner is the golfer with the fewest numbers of strokes.
Is is important to understand the difference between medal play and match play (the most common formats in golf).
Match Play is when each hole is won, lost or tied.  Golfers compete head to head against another golfer and the golfer with the most holes won, wins the match.
There are pros and cons to each scoring system, but the goal is that it provides an opportunity to change up the format to keep the scoring system fun.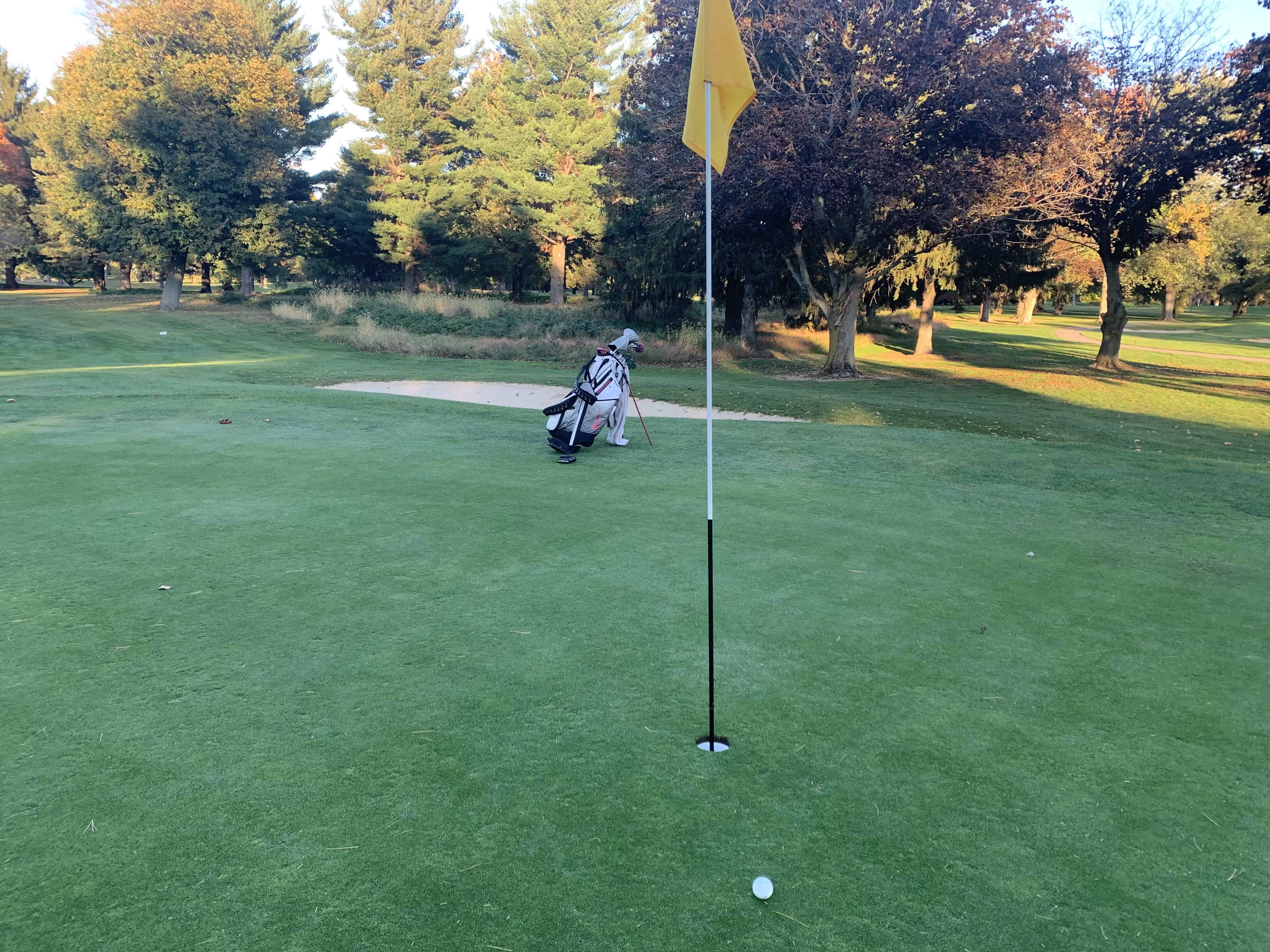 Below, I will dive into different topics for related to medal play.  These include:
Medal Play Basic Overview
Medal Play Strategy
Special Rules in Medal Play
Benefits of Medal Play in Golf
Team Formats
Medal Play Basic Overview
In Medal Play all golfers tee off and play for a designated number of holes.  In most situations this typically includes either 9 or 18 holes.  Some longer tournaments may have several rounds of golf and on occasion up to 4 rounds of golf. 
The PGA Tour plays the majority of their tournaments as Medal Play for a total of 4 rounds.  There is a cut after the first two rounds, where half the field is eliminated based on their total number of strokes.
Every golfer has to putt out on every hole to finish their round by rule.   In match play, where the competition is head to head with other golfers, putts are able to be given by the opponent or a player may concede a hole to their opponent. 
There is where medal play is more difficult than match play.  The golfer must finish every hole and grind away with their round ofr 4 or 5 hours.
Medal Play Strategy (6 Tips)
Medal play can be difficult for the golfer that has a difficult hole or two per round.  The large number in medal play can be detrimental and hurt the overall score.  In match play, a triple bogey only count as one lost hole vs in medal play it may be difficult to ever recover from a triple bogey.
Here are some strategies to implement the next time you are competing in medal play:
Keep your ball in play!  The driver that goes out of bounds becomes on average around a two stroke disadvantage.  You are now hitting 3 off and even if you make a par with that second ball, it is not a double bogey from the penalty strokes.  Keep the ball in play to give yourself a chance!
Practice those 3-5 footers.  In order to keep positive vibes going throughout the round you must be able to clean up those 3-5 footers for par or maybe even a bridie to keep your round going.  If you miss too many of those short putts, it is difficult to stay positive and keep going!
Keep your eye on the ball!  Make sure you see where your ball comes to rest, especially when you hit the ball outside of the fairway.  A lost ball requires you to go back to the previous location and hit, adding two strokes to your score.  THere is nothing more frustrating than losing a ball when you had a good idea of the direction it went it.
Learn to grind away!  Golf is a long even.  For an 18 hole competitive round, it can take up to 5 hours to complete your round.  Every golfer has to hole out on every hole, which makes the competition take even longer.
Practice!  Make sure you practice the different formats you might be playing.  When playing medal play, make sure you play several rounds ahead of time where you putt everything out and play everything as it lies.  If you are preparing for match play, you may play more aggressively.
Be Consistent!  The golfer that is often most consistent for 18 holes has a good chance of finishing in the top 10 percent.  Often times the holes that eliminate you from playing well are the big numbers.  Avoid those double bogeys by keeping the ball in play and becoming a great putter inside of 10 feet!
Special Rules in Medal Play
The different formats in golf often have some simple rules adjustments that you need to know.  Here are the ones that are essential to understand.
You must hole out on every putt.  Do not ever pick up your ball if it is not properly marked.  Hole everything out and count every stroke.
It is your responsibility to count all of your strokes and also those in your group.  At the end you will sign your player partners score card to attest for their score.
Understand the rules you are playing that day.  Do the local rules allow you to pick, clean and place?  Understand and seek clarity prior to teeing off.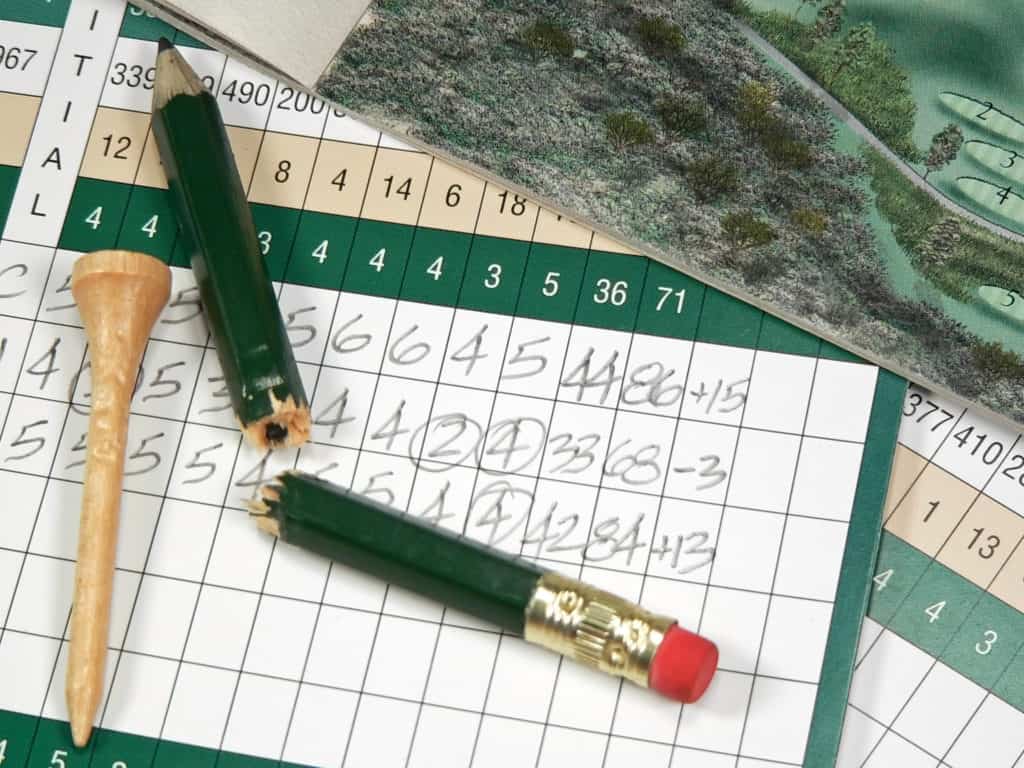 Benefits of Medal Play
Golf is fun! Medal play provides some advantages over match play, which are listed out below.
Medal plays allow many golfers to compete against a large field.  In match play, you are only competing against one other golfer.  In medal play, you are competing against the entire field.
Medal play also allows a group of golfers to compete against each other for several days or rounds in a row.  The total number of strokes is counted and a winner can be determined.
Overall, the stroke play events allow a greater comparison and a quicker way to determine a winner of the entire field.  The PGA Tour uses medal play at the majority of their events because it allows for this comparison and keeps the stars in the field for the most part.
Medal Play has exciting finishes at the end, especially when golfers are regrouped for the final round as they come down the back nine.  The best golfers are playing together for that week and the pressure is high as well as it is entertaining.
Golf Etiquette (Beginners Guide)
Team Formats
Medal play is also an excellent format for team formats.  Medal play is frequently used at the high school and college levels.  In many states for high school golf, 6 golfers are sent out by each team.  The top 4 scores are counted towards the team score.  This allows the match or the tournament to have a medalist (individual with fewest strokes) and also have a team champion.
The benefits of the medal play are highlighted in the team format.  The difference in playing medal play vs match play is pretty big.  The pressure for golfers to produce a score at the end of 18 holes brings out the best in some and worse in others.
Best Golf Advice Ever Received (Top 5)
Would I Be Better at Medal Play or Match Play?
I have played golf with a lot of different groups.  I believe there are players that are really good at match play and there are those that are really good at medal play. I will compare golfer A and golfer B below and take you through a comparison.
Golfer A
This golfer is consistent off the tee and makes a lot of pars.
This golfer is willing to grind it out and often is ok with laying up and keeping the ball in play.
Overall, the golfer is the model of consistency and at the end of the round has many pars and very few blow up holes.
Golfer B
This golfer hits a lot of great shots, but often hits the big miss.
This golfers might struggle with the mental side of golf and rides the emtional roller coaster over 4 hours.
This golfer is streaky and can put several great holes back to back when hr or she gets going.
This golfer is known to play aggressively, which can lead to great scores or big scores.
What do you think?  Who would you put your money on to play Medal Play vs Match Play?
I am going with golfer A for Medal play and golfer B for Match Play.  Now, if we were playing 4 ball match play, I would pair these two together and have a pretty awesome combination!
The great thing about golf is that the formats that are most frequently used allow either golfer to beat the other on any given day at the different formats.  However, over time, I believe golfer A will play the best in medal play. 
Now golfer B might put together 36 to 72 great holes and win more frequently.  However, round after round, golfer A is going to be the most consistent!
Are you ready to take your game to the next level and be great at medal play or match play.  I have a great tech tool that might help you take your game to the level you desire.
Take Your Game To The Next Level: Get Instant Feedback Through A Launch Monitor
If you visit any PGA Tour stop you will see the majority of professionals use a launch monitor at some point throughout the week . Many are monitoring their clubface, swing path relationship as well as swing speed.  These are important numbers to monitor to make sure you are keeping your swing within a certain range.
There are some great affordable launch monitors that can take your game to the next level. (See links below to check current prices)
Some of the key information that you will be able to received immediately after every swing includes:
Ball Speed
Club Speed
Launch Angle 
Spin Rate
Spin Axis
While many won't have $16,000 to spend on a Trackman, there are some great affordable options that can be used at your local driving range, on the golf course or in your garage or house as part of a practice area of golf simulator setup.
Here are my top 3 recommend affordable golf launch monitors:
Over time, knowing where your numbers are when you are making quality swings will help you groove a swing and become more consistent.  When you are struggling, you can use your launch monitor to see where your numbers are at.  Is it a clubface or swing path issue? 
When your spin axis number is really high either way, you know there is a major gap between the two.  In the ideal world, you have a 1-3 degree difference between clubface and swing path, unless you are trying to hit a hook or slice intentionally then a bigger gap is desired.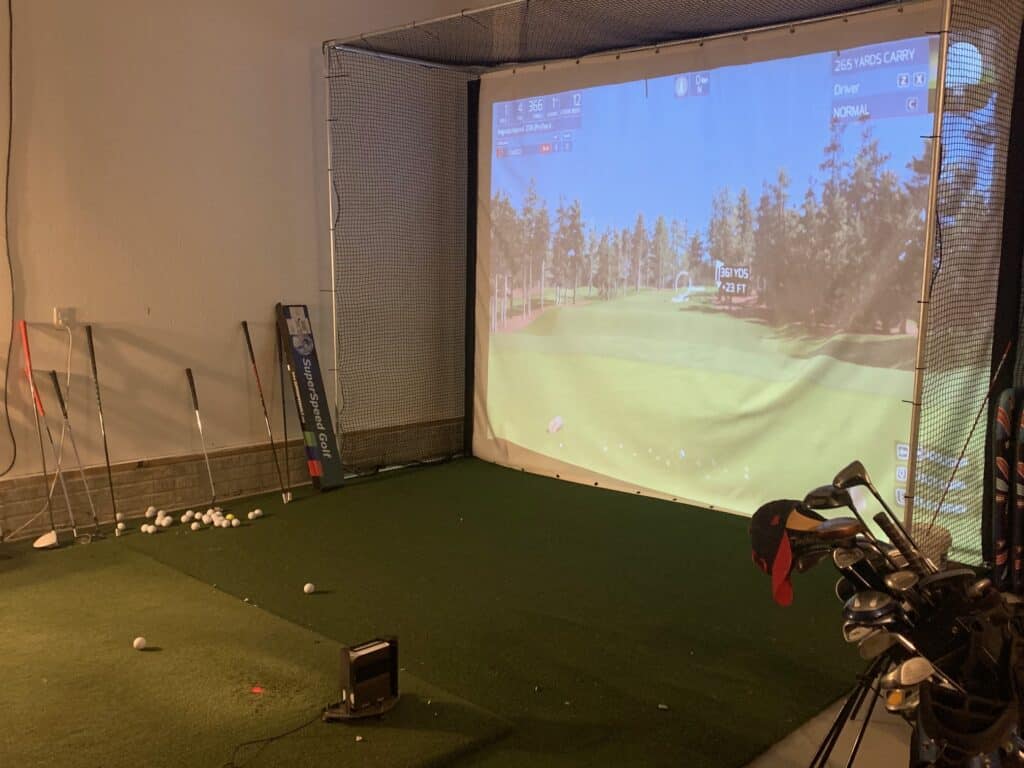 Take Action – What You Can Do Today to Get Better
What does this mean for you?  I believe in the following recipe to get better:
1 – Improve your motion in the golf swing by identifying a golf instructor.  Here are some options:
Here is a list of golf instructors that we have reviewed:
2 – Train to swing faster and improve your swing speed.  Here are some options:
Looking to gain more Speed and Distance in your swing. Two Options:
3 – Understand course strategy and work to break through your next barrier.  Here is a series on breaking through:
We have provided guides on how to break 100, 90, 80 and 70. Check out more below, if interested.
4 – Practice Frequently
Did you know that I build a golf simulator in my garage and have played over 500 rounds of golf on my SkyTrak system?  It has been a game changer and one worth checking out. Here are some of my other posts on golf simulators frequently asked questions: