When trying to maximize the best 14 clubs for your bag, some common questions often come up.  Golfers are all trying to ensure they have the best 14 clubs to help them shoot their best scores.
With over 60% of the shots in golf taking place inside of 100 yards, it is vital to ensure you have the right wedge setup.
The ultimate goal with the wedges is to ensure you have every yardage covered.  Not only will we dive into the lob wedge vs approach wedge, but we will give you some tips to help you chart out the distance you hit each club.
Understanding that with some of your clubs, there may still be some decent gaps in yardages.  Creating the chart we recommend below will go a long way in managing your game and hitting the distances you need to leave you with makeable putts.
With the PGA Tour make percentage only at 50% from 8 feet, we know how important it is to hit the ball as close as possible to the hole and a major factor involved is the distance you carry each wedge.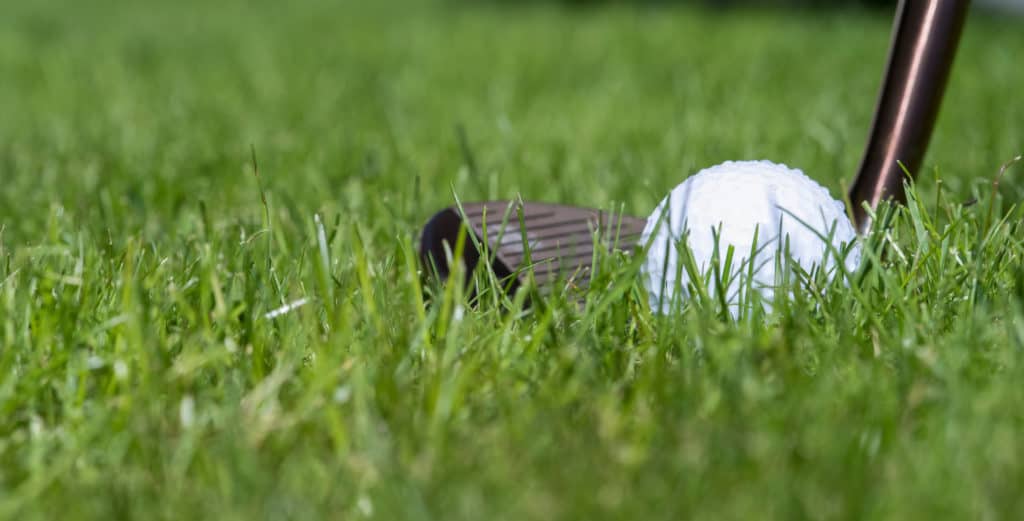 Lob Wedge vs Approach Wedge
The loft of a lob wedge is between 58-64 degrees, while the loft of an approach wedge is between 50-53 degrees.  The different lofts involved impact the total distance of the ball, the flight of the ball and which club is better to use for certain chip or pitch shots.
The lob wedge will fly higher and shorter than the approach wedge.  For the more elite golfer, they can expect to hit a 60 degree lob wedge between 75-95 yards with a full swing.  With an approach wedge, this distance will be closer to between 105-120 yards.  The distance you carry the ball with the wedges will vary based on your swing speed with each club.
Which One Should I Carry?
Both! Golfers should carry both an approach wedge and a lob wedge.  With the high percentage of shots taking place inside of 100 yard during a round of golf, it is essential that the golfer is able to hit the ball close when inside of this distance.
Topics below include:
Recommendation for Wedge Setup
Creating your Own Distance Chart with Wedges
Lob Wedge vs Approach Wedge: Short Game
Recommendation for Wedge Setup
Most golfers will settle in on one of of the two options below:
Pitching Wedge: 48 degrees
Approach Wedge: 52 degrees
Sand Wedge: 56 degrees
Lob Wedge: 60 degrees
These four wedges will provide you with the best option to ensure there are no major yardage gaps in your wedges.  If you are someone that prefers to make closer to a full swing, than go with the 4 wedge.  Another option that golfers is would be the following setup:
Pitching Wedge: 48 degrees
Sand Wedge: 54 degrees
Lob Wedge: 60 degrees
The first thing you will notice is that there is a 6 degree difference between each club.  The golfer in this scenario went between the approach wedge and the sand wedge and selected a 54 degree sand wedge.  The golfer that selects this option will feel more comfortable hitting between a 70-90% shot with their different irons.
The best way for each golfer to figure this out is to think about past situations and when they hit their best wedge shots.  Which of the two scenarios below best describe that golfer:
The golfer hit his or her best shots with full swing wedges
The golfer hit his or her best shots with 70-90% swing speed wedges
The golfer with the first option should go with the first setup with the total of 4 wedges in the bag, which includes the approach wedge.  The golfer with the second option might be comfortable hitting those less than full shots and controlling the flight of the ball. This golfer could go with option 2, which would provide more versatility with the fairway woods, hybrids or utility irons available in today's golf world
| | | | |
| --- | --- | --- | --- |
| Club | Carry Distance (100%) | 90% | 80% |
| Pitching Wedge | 128 | 118 | 108 |
| Approach Wedge | 118 | 110 | 102 |
| SW Club | 105 | 97 | 91 |
| LW Club | 90 | 82 | 74 |
Creating Your Own Distance Chart With Wedges
I would highly recommend any serious golfer highly consider the affordable golf launch monitors that are available in today's golf world.  These include the Skytrak, Mevo+ and the Mevo.  These can be purchased from between 500-2000 dollars on average and are complete game changers.

After every shot when the decide is in use, the golfer can get immediate feedback on the following information:
Carry Distance and Total Distance
Ball Speed
Launch Angle
Spin Rate
Spin Axis
Here are the top 3 options to check out:
5 Trackman Alternatives: Get Started Today!
It is really simple to create a chart similar to the one above by following this process:
Hit 5-10 shots with a wedge and remove any outliers. 
Calculate the average carry distance
Repeat this same process with the same wedge at 90% swing effort
Repeat at 80% swing effort
Repeat at 70% swing effort
Write down for that club what your average carry distance was at each percentage.
Repeat this complete process for each wedge in your bag.
You will have a great looking chart that you can reference on the course.  If you have a 118 yard shot, you might have two options:
A 90% pitching wedge
A 100% approach wedge
There are other options for getting the overall average of your carry distance for wedges, but takes much more effort and might not be as accurate.  With the launch monitor you are able to have a controlled environment that includes have a high quality golf ball as well.  When hitting off a mat into a net, more variables are controlled.
Looking at the different variables such as pin placement, wind conditions, the firmness of the greens, etc. can all help you decide what shot is best for you in that situation.
If you visit any PGA Tour event you will notice just about every golfer on the practice range using a portable launch monitor at some point throughout the week.  While many of us may not be able to afford the Trackman or other expensive device, the options above are of high quality and when compared side by side hold their own!
Also, if you want to take your SkyTrak to the next level, you can also make it part of a golf simulator setup.  See the links at the end for more info if interested.  The real change and improvement in a golf game takes place when a golfer can play 365 days a year and has access to tools like a launch monitor for immediate feedback to help the overall growth process.  Within my own game, I have been able to reduce my average score by 4-6 strokes over 18 holes.
This includes a 7-10 mile per hour increase in swing speed from training with the SuperSpeed Golf System in addition to the everyday practice connected with a golf simulator built around the SkyTrak Launch Monitor.
SkyTrak Launch Monitor: The Ultimate Game Improvement Tool!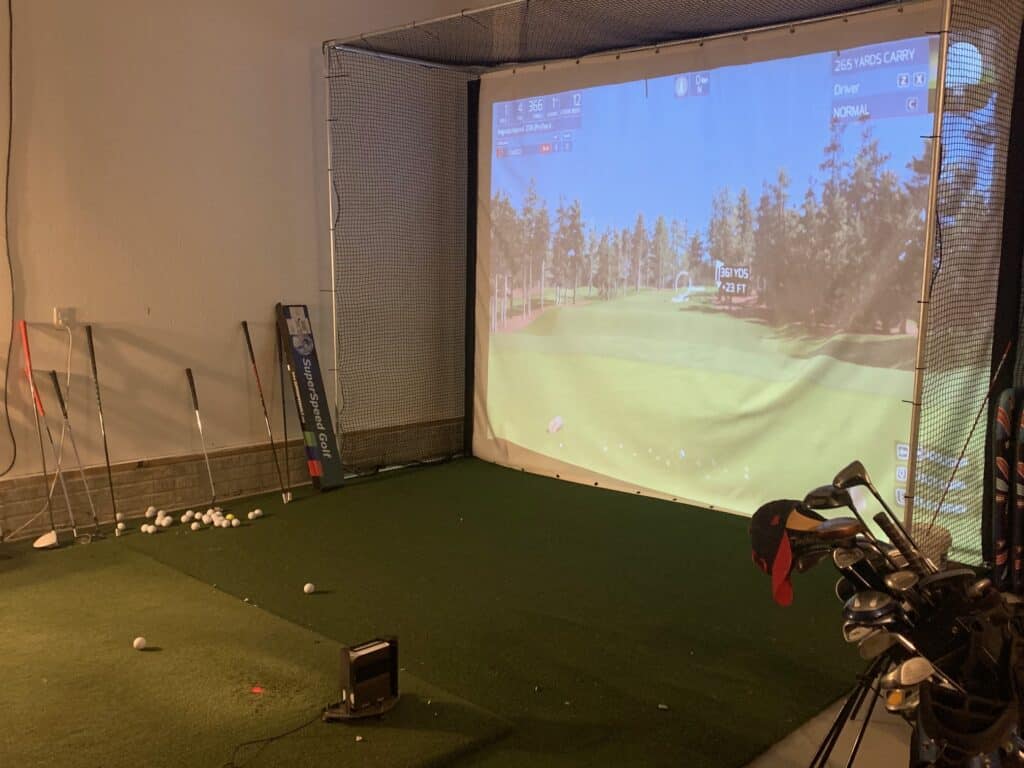 Lob Wedge vs Approach Wedge: Short Game
The lob wedge and the approach wedge are used in different places within the short game.  The lob wedge is going to be utilized more on shots requiring more loft and the ball to sit down quickly.  When a golfer short sides themselves on a green and needs to get the ball up and stop it quickly, the lob wedge is a great club to have in the bag.
The approach wedge will be utilized more on those mid to longer range chip or pitch shots where there is more green to work with, but the golfer will want to carry the ball a decent distance towards the hole on the shot.  
When to use a 52 degree wedge!
Having both clubs for the golfer that prefers to use multiple clubs for chipping will pay off.  There are some golfers that always want to stick with just the lob wedge and sand wedge when chipping and others that will use anything from a 6 iron to a lob wedge and everything in between.
The amount of versatility with four wedges in the bag from around 125 yards and in can help set up the golfer for success.  Creating your own system on the shots that help you produce results and keep you in a comfort zone will be important.
When to use a 60 degree wedge!
Final Thoughts: Lob Wedge vs Approach Wedge
The key to any quality wedge game is being able to control two factors:
Your start line
Your average carry distance
Without the average carry distance being dialed in and having the right clubs, a shot chart and other key information, the golfer is simply guessing and hoping out on the golf course.  Instead, create the system in your game to control your distances with your wedges and work on creating a consistent start line.  The launch monitor provides feedback in both areas and can help get your game to the next level!  Golf becomes a lot of fun when you can hit fairways and you have a solid idea of the distances you hit each club and can control your start line.
Take Action – What You Can Do Today to Get Better
What does this mean for you?  I believe in the following recipe to get better:
1 – Improve your motion in the golf swing by identifying a golf instructor.  Here are some options:
Here is a list of golf instructors that we have reviewed:
2 – Train to swing faster and improve your swing speed.  Here are some options:
Looking to gain more Speed and Distance in your swing. Two Options:
3 – Understand course strategy and work to break through your next barrier.  Here is a series on breaking through:
We have provided guides on how to break 100, 90, 80 and 70. Check out more below, if interested.
4 – Practice Frequently
Did you know that I build a golf simulator in my garage and have played over 500 rounds of golf on my SkyTrak system?  It has been a game changer and one worth checking out. Here are some of my other posts on golf simulators frequently asked questions: