Golf can be a magical game, but also mystifying.  One day, we are on top of the world, hitting every shot where we want and making putts.  The next day, nothing might go right and we leave frustrated and wondering what just happened?
If you have ever felt this way, do not worry, you are not alone.  At golfjourney365, we recognize that we are all on a journey to golf that is fun and consistent. 
One of the barriers that many people have is hitting their longer irons.  The 4 iron for many people is the longest of the long irons in their bag and brings about new challenges.
We all want that club that we can hit consistently between 185-200 yards.  We know that this will help on the longer par 3's, par 4's and can help us when we are stuck in the trees if we can hit a solid punch shot to put us back into play.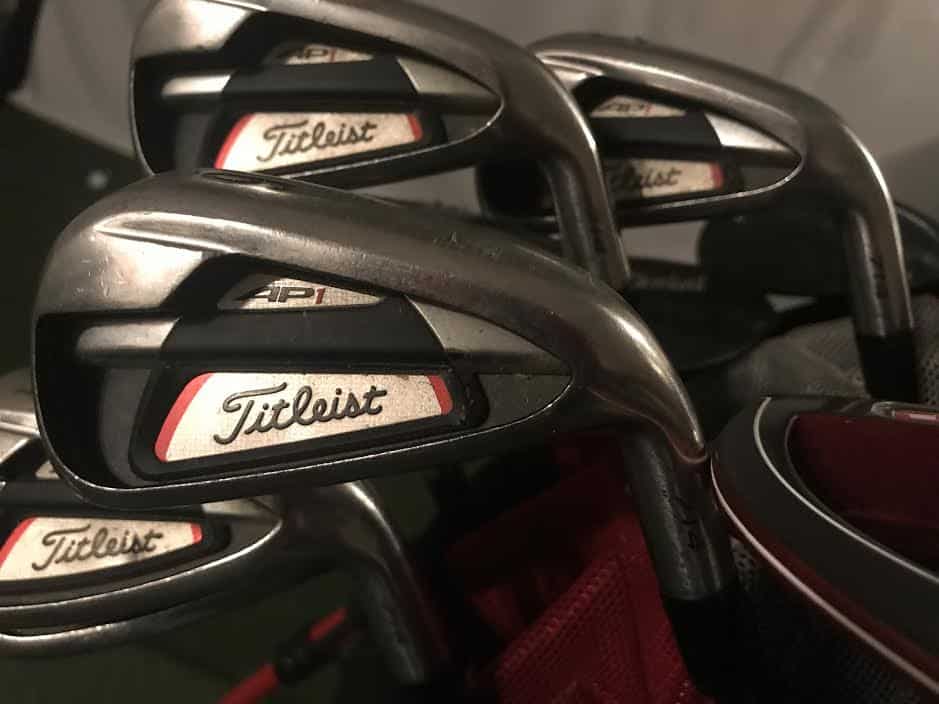 Over the years, new technology has supposedly made hitting the long irons easier, but many still struggle.  In fact, by the time the average amateur gets outside of the 150 yards, it is all a mystery.
That is where we come into play.  We want you to have fun and be consistent.  We know that it all starts with being able to hit the ball solid and advance it close to our target.  So we have put together our top 5 tips to answer the questions: How to hit a 4 iron!
How To Hit a 4 Iron?
The 4 iron can be one of the most challenging clubs in the bag due to the lack of loft and the length of the club.  We provide these tips to help answer this frequently asked question. The tips include:
Ensure proper ball position
Ensure you have the right set of irons
Swing faster, not harder
Be realistic about your results
Use the Shawn Clement approach
How to Hit a 4 Iron: Ensure Proper Ball Position
Every quality golf shot starts with the ball in the correct position.  While many of the greatest players of all times had different approaches to the game: some moved the ball around in their stance, while others kept it consistently off the front pectoral muscle, we would highly recommend with the 4 iron to have it forward in your stance by your front pectoral muscle. 
The driver would be played off of the front heel, while the 4 iron sits just inside of there more towards the middle of the stance.
The reason for the ball being more forward in the stance is that we need to give the club time to work and to help launch it in the air.  The typical 4 iron has around 24 degrees, which can make it difficult to get it airborne. 
By playing the ball more towards the front of the stance, the golfer has a better opportunity to launch the ball and get it flying.  If you get the ball too far back, chances are the ball will come out really low as you probably de-lofted your 24 degree club down to 17 degrees.  Good luck with that.
As part of your ball position, you also want to make sure you keep your head behind the ball to help launch the ball higher. 
Too often, we see amateur golfers move in front of the ball, de-lofting the club or causing a casting motion, which can lead to disaster on days where the timing is even slight off.
How to Hit a 4 Iron: Ensure You Have the Right Set of Irons
Did you know that even some PGA Tour Pros have turned to more muscle back and even some have turned to cavity back irons in their long irons.  Why would they do that you might ask. 
Because they want to make the game more simple and provide a larger margin for error and a lower center of gravity.  This allows the pro to hit the ball crisp even on the not so perfect days.
So shouldn't amateurs follow this practice of pros?  Our simple answer is yes!  Make sure you have the best clubs for you.  You can do this by getting fitted for clubs or at a minimum visiting your local golf store that has a launch monitor to compare. 
Take a 4 iron from different sets and pay attention to your ball speed, spin rate, and launch angle.  The pro at the golf store should help you compare numbers, so that you can make an educated purchase.
Too often, amateurs show up and buy something straight off the rack without testing and understanding the numbers they are producing on the launch monitors that many of these stores now have.  Do not settle simply for just ball speed, but make sure you get to see the other factors as well!
How to Hit a 4 Iron: Swing Faster, Not Harder
There are two major mistakes that many golfers make when they get that long iron in their hand.  Number one, they try to swing way to hard in hopes of hitting the club an extra 5 yards. 
Or number two, they lack total confidence over the ball, which causes the golfer to try to manipulate the club through the hitting zone.
Both lead to disaster with longer irons.  While you may be able to get away wit manipulating the club while you hit with today's amazing drivers, you must stay smooth and fast, and not try to swing hard.  Trying to swing hard tightens everything up and actually may slow down your club speed. 
When you are over the ball try thinking about producing your speed by staying lose and allowing the club momentum to work.  
Between rounds, head to the driving range and practice some long irons.  Try to gain some confidence and obtain some feel for what a solid struck 4 iron feels like and take some notes. 
Refer to these notes prior to playing your next round.  This way you will be ready when you get to that dreaded long par 3!
How to Hit a 4 Iron: Be Realistic About Your Results
Here are a couple of stats that might jump out at you.  This data is from the PGA Tour on approach shots between 175 yards and 200 yards.
Proximity to Pin by the Tour Leader = 24 feet 9 inches
Proximity to Pin by the 200th ranked person in thist category = 39 feet 7 inches
The 50th Ranke Player in Greens in Regulation from this distance = 59.55%
There are a couple of things that really pop out at me from this list above.  The best golfer from this distance is more than 8 yards from the hole.  This leaves a rather lengthy birdie putt.
The 200th rank player in this category is more than 13 yards away and close to 40 feet, this is a really long birdie putt.
The 50th rank person in Greens In Regulation from this distance only hits the green less than 60% of the time from this yardage.
My main point being – have realistic expectations on those par 3's or the long approach shots on the par 4's and 5's.  Solid contact and carrying the ball somewhere around the green should be a major win for most!  The goal should be to miss the ball in the right place.
Too many amateur golfers expect to hit every wedge inside of 5 feet and every long iron inside of 20 feet, but when we look at data from the best golfers in the world, we quickly realize that maybe our expectations are way out of line with our skill set! 
This can destroy the fun that a round can bring and make you miserable.  I would recommend familiarizing yourself with some of this data, which can actually make the game more fun, because you realize that sometimes those average shots you hit are actually way above average. 
Take time to enjoy those shots!
How to Hit a 4 Iron: Use the Shawn Clement Approach
If you are struggling with any of your longer clubs and you are tired of trying to hit a certain position in your backswing, transition or downswing, then Shawn Clement might be exactly what you need to turn your game around.
Shawn Clement's approach to the game of golf is refreshing.  He maintains a very positive mindset and approach to playing golf that makes the game even seem somewhat simple. 
He believes we are all gravity geniuses and our systems are great at completing a task.  That we are not designed to hit certain positions, but rather to complete a task and allow gravity to take over and get us into positions that allow for solid ball striking that works the ball one way or the other depending on what the shot is calling for.
We have completed a full review on Shawn Clement that you can check out.
Bonus Tip: How to Hit a 4 Iron
Did you know that the faster your club speed, the better chance you have of hitting a 4 iron solid.  If you swing speed is too slow, you have two main options: get faster or turn to a hybrid club.
If your solution is to get faster, there are actually ways to improve your swing speed now.  Gone are the days of just sitting around wishing you could swing faster and hit the ball further.  Here are two great options for you:
Both of these systems are for real.  With the SuperSpeed System, I have now gained close to 8 miles per hour with my driver.  I had slowed down over the past several years to below 100, but just yesterday was hitting between 106 and 109 on my SkyTrak Launch Monitor.
Phil Mickelson, as he now reached 50, has gained several miles per hour in his swing and dominated his first start on the Champions Tour.  There are several great options to increasing swing speed. 
This extra distance will help you shoot lower scores, hit more short irons into greens and actually have a chance with your longer irons.
What are you waiting for?  Let's get going with one of these two systems.  Don't wait around any longer.  Just think in 3 months, you could have gained 20-40 yards!
If you want to settle for the hybrid route, make sure you check out some of our hybrid posts found below:
What are Hybrid Clubs and How Can They Help Your Game?
We all want to hit the ball longer, straighter and more consistent and we shouldn't get up on that dream.  Golf is a journey and one that many of us love greatly! 
Don't ever stop trying to get better and take action today to get better.  This upcoming year could be the year you finally break that next score barrier or even record your first hole in one!  
Golf is a great game for many reasons!  Enjoy the journey!
Take Action – What You Can Do Today to Get Better
What does this mean for you?  I believe in the following recipe to get better:
1 – Improve your motion in the golf swing by identifying a golf instructor.  Here are some options:
Here is a list of golf instructors that we have reviewed:
2 – Train to swing faster and improve your swing speed.  Here are some options:
Looking to gain more Speed and Distance in your swing. Two Options:
3 – Understand course strategy and work to break through your next barrier.  Here is a series on breaking through:
We have provided guides on how to break 100, 90, 80 and 70. Check out more below, if interested.
4 – Practice Frequently
Did you know that I build a golf simulator in my garage and have played over 500 rounds of golf on my SkyTrak system?  It has been a game changer and one worth checking out. Here are some of my other posts on golf simulators frequently asked questions: