Whether you are brand new to the game of golf and just beginning your journey or you have played many years and are replacing your current golf bag, you want to ensure you have the best golf bag for your golf rounds.
This may change over the years as you move from waking to riding or maybe back to walking.  Either way, there are some great options.
With the many options on the market, making sure you answer the key questions below will help guide you to the right golf bag.
There are a variety of different needs that golfers have when playing golf and this impacts the need for different features in a golf bag.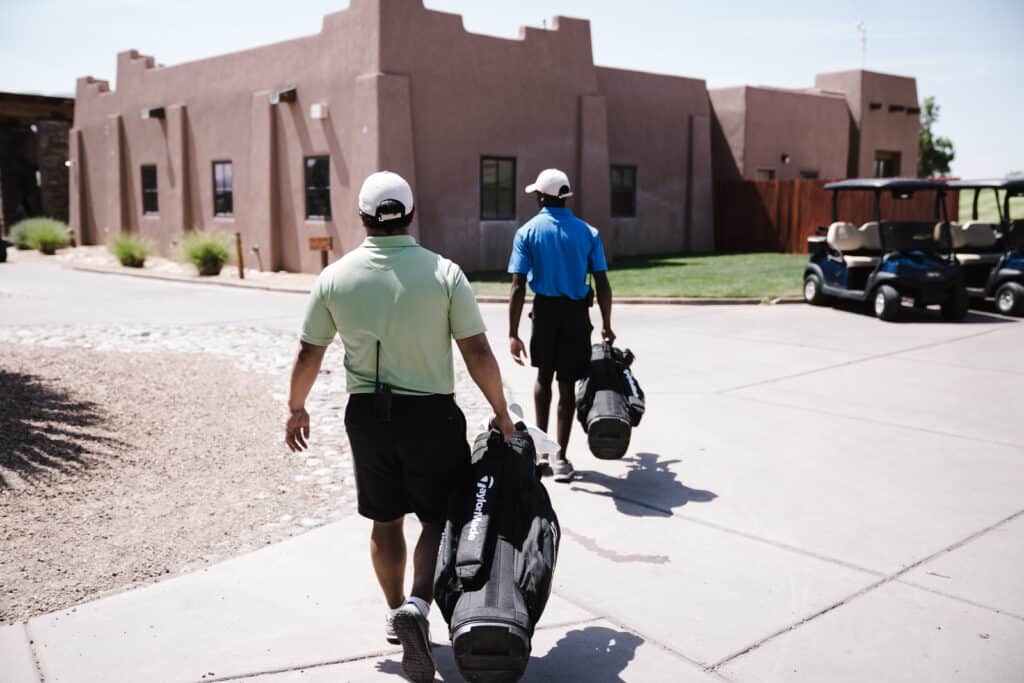 How To Choose A Golf Bag?
A golfer will want to answer the following questions:
Will I walk or ride a cart for the majority of my rounds?
When I walk, will I carry or use a push or pull cart?
How much extra stuff do I need to carry in my golf bag?
Let's dive further into these questions to provide some guidance and make a recommendation for your situation.
Key Question #1: Will I walk or ride a cary for the majority of my rounds?
Some golfers will always walk, while oether will always ride a cart.  That is fine, but this will impact your bag choice.  Those that walk, should consider a lighter bag with a double carry strap and a stand, especially if you are going to carry your bag.  It is essential that you find a light weight back that doesn't take a toll on your shoulders, back and legs over the course of walking close to 6-7 miles in a round of golf.
If you are someone that is going to ride in a cart for every round, you have the option of getting a rather large bag that will provide plenty of storage and may be heavy getting the bag from your car to the cart, but the short distance won't stop you from maximzing the size of your golf bag.
For those that may walk sometimes and ride on occasion, a hybrid style bag that provides plenty of storage space, yet is light enough to carry for 9 or 18 holes is an quality option.  I personally prefer to ensure I have a double strap and a stand when I walk, but others may be fine with the more hybrid bag.
There are some great size carry bags with the double strap and stand that provide enough storage for rain gear, extra golf gloves, different accessories and of course tees and golf balls.
Resource: Is carrying a golf bag good exercise?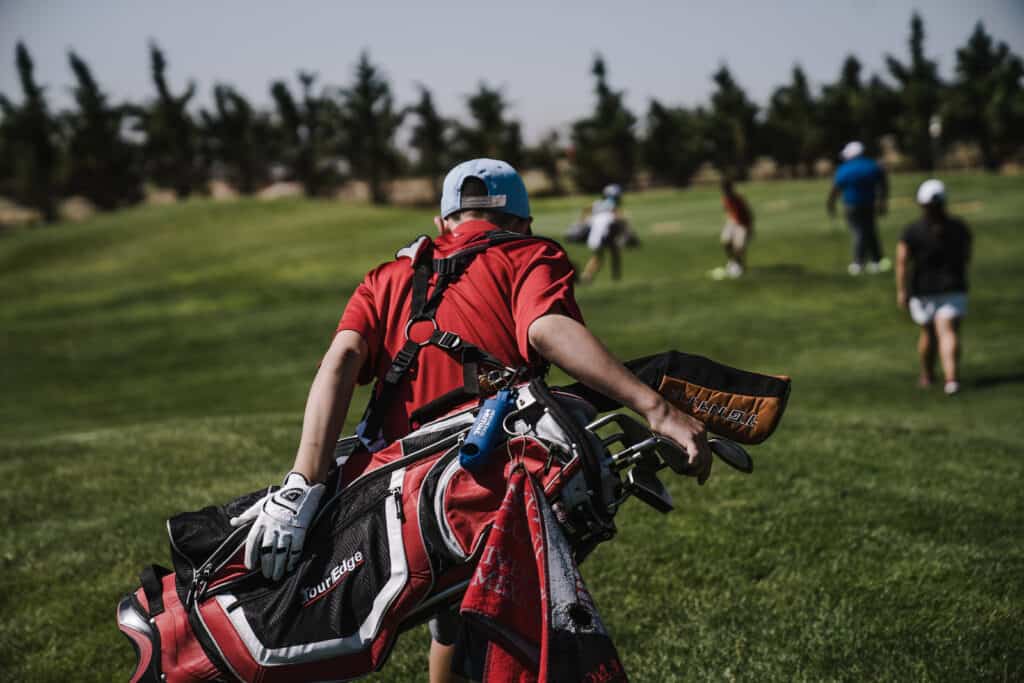 Key Question #2: When I walk, will I carry my bag or use a push or pull cart?
My preference is to talk and utilize my push cart to save my shoulders, back and legs over the course of 4 hours playing golf.  Ultimately, the golfer gets some exercise through walking the 6 to 7 miles without the extra effort to carry a bag.  For those that choose to use a push or pull cart, the size of the bag can be larger and heavier and not cause issues as your bag is pushed and rides along on a 3 or 4 wheel push cart. 
The extra storage spaces on the push carts come in handy and the golfer is able to set up their system to manage golf balls, golf tees, beverage and even a rangefinder or other GPS type of devices to help with yardages left into the greens.
If you are going to carry all of the time, a quality carry bag with a stand and a double strap becomes essential.  The last thing you want is to grow tired of carrying your bag on the back 9 of a round of golf or in a tournament.  Keeping your body fresh through minimuzing the toll with a light weight, double strapped bag that has a stand will go a long way in making the round more manageable.
Many junior golfers and serious golfers can be found carrying their bag and would never use a push or pull cart.  Whatever the golfer prefers is fine with us, but make sure you have a quality carry bag if this is the case.
Recently, one of my playing partners decided he will never carry a bag again playing golf, but prefers to walk.  Investing in a quality push cart allows the golfer to enjoy the outdoors, walk the beautiful course, but not have the struggle of carrying a bag.  This provides a comfortable experience.  The push cart truly is a great option for the health conscious golfer who wants some extra steps in his her or day and doesn't want to default to riding in a power cart.
Resource: How much does a golf bag with clubs weigh?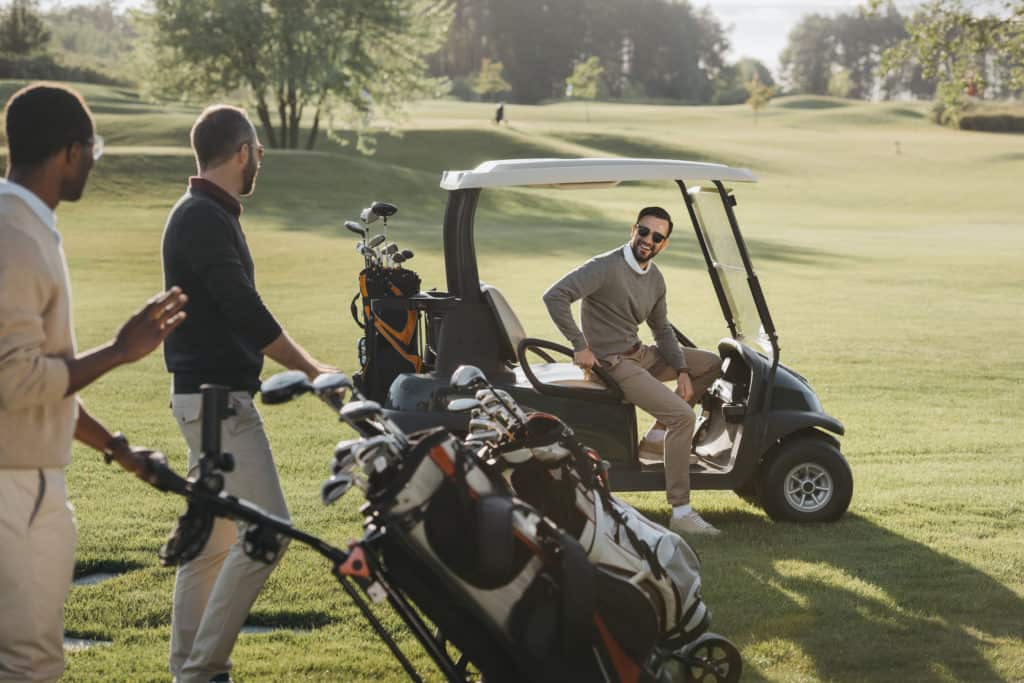 Key Question #3: How much extra stuff do I need to carry in my bag?
For those that decide to use a push cart or a power cart 100% of the time, the next key question is how much storage space do you need.  Are you someone that wants to load up multiple layers of clothing and rain gear along with a winter hat, some snacks, gloves for every condition, and on and one?  Are you the person that is prepared for every situation and your golf bag becomes a locker for all of your golf gear?  Or do you prefer to travel light, be prepared for some different weather, but not overload your bag?
If you are the first person, make sure you get a large enough bag with plenty of compartments.  Most golf bags are designed pretty impressively to provide for maximum storage on the side bags.
If you are the second person, you may go with a carry bag or a hybrid bag.  You can travel light and still have enough gear to get you through the round of golf while being prepared for the different situations that may arise.
Even though I prefer to walk with my push cart now, I still use a larger size carry bag with the double strap and the stand.  This comes in handy when arriving and leaving a course or when you simply head to the driving range.  You don't have to carry around a oversized bag.
One last factor for consideration is the storage in your vehicle, make sure your golf bag will fit comfortably.  Many golfers prefer to leave their bag in their trunk throughout golf seasons so that they are always prepared for the quick stop at the range or the last minute phone call to play golf.
Resource: Stand Bag vs Carry Bag: Which one should I buy?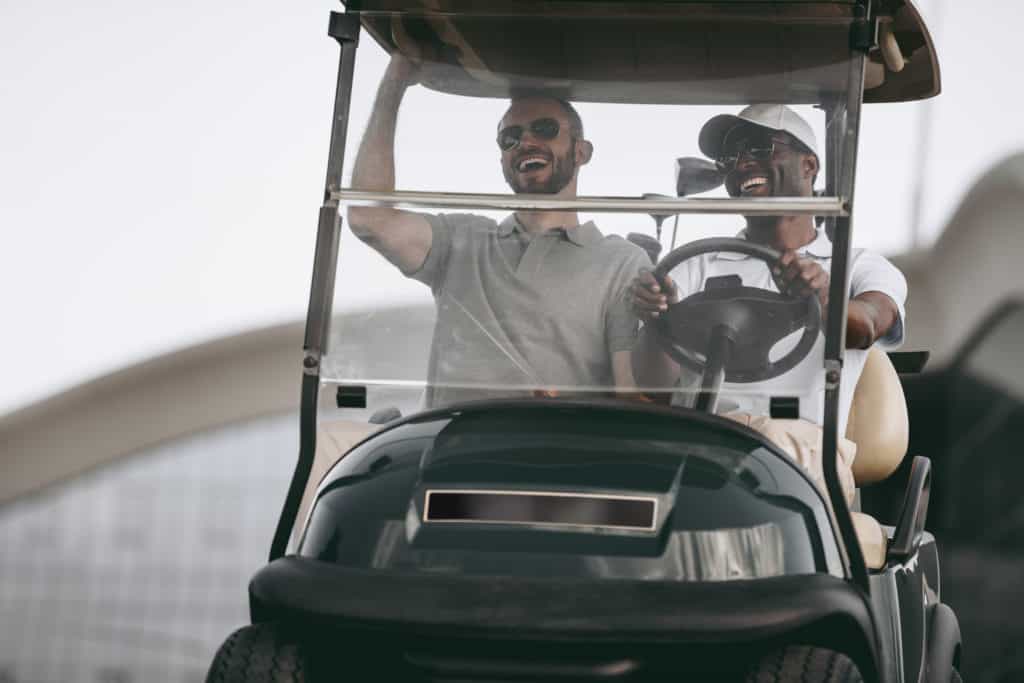 Recommended Products
Golf Push Cart
Golf Carry Bag
Cart Bag
Final Thoughts: How To Choose A Golf Bag
There are essentially three types of golf bags:
The Large Cart Bag
The Carry Bag with a Double STrap and Stand
The Hybrid Bag
So what bag is right for you?
If you are going to walk all the time and carry, go with the carry bag.
If you are going to ride every time and want plenty of storage go with the large cart bag.
If you are going to use a push cart and walk, but want storage you can go with the large cart bag or the hybrid bag.
Golf should be fun and being prepared for the different situations is important.  Every golfer has different needs and desires when it comes to the game.  Some are out for the challenge and some exercise, while others play purely for the fun and the social benefits that come with playing golf.  Whatever your reasons is for playing, get the bag that fits your needs!
Resource: Are golf bags considered oversized luggage?
Enjoy the journey with golf and if you want to take your game to the next level, check out our formula below!
Take Action – What You Can Do Today to Get Better
What does this mean for you?  I believe in the following recipe to get better:
1 – Improve your motion in the golf swing by identifying a golf instructor.  Here are some options:
Here is a list of golf instructors that we have reviewed:
2 – Train to swing faster and improve your swing speed.  Here are some options:
Looking to gain more Speed and Distance in your swing. Two Options:
3 – Understand course strategy and work to break through your next barrier.  Here is a series on breaking through:
We have provided guides on how to break 100, 90, 80 and 70. Check out more below, if interested.
4 – Practice Frequently
Did you know that I build a golf simulator in my garage and have played over 500 rounds of golf on my SkyTrak system?  It has been a game changer and one worth checking out. Here are some of my other posts on golf simulators frequently asked questions: