When a golfer can reach the level of breaking 80, they have reached a pretty special level in the game of golf.
Did you know that only 2% of golfers can break 80?
Pretty crazy stat when you think about it.
There are different routes to break 80 that a golfer can take.  There really are three keys:
Improving your ball striking
Improving your short game
Keeping the ball in play (eliminates the big number)
Every golfer would need to assess their game and see what their strengths are in the three categories above and what their weaknesses are.
This leads us to our main question for today.
How many Greens in Regulation to Break 80?
The recommendation is to hit around 8-9 greens in order to break 80.  To reach the scratch level you would need to hit 12, while to break 90 you only need to hit around 2.
Of course these numbers are based on the golfer's ability to two putt, keep the ball in play and being able to save part by getting up and down.
Keys to hitting more greens in regulation
Hit the ball solid 99% of the time (Control your low point)
Have a stock shot (Control your clubface and path)
Have enough speed to hit realistic clubs into the green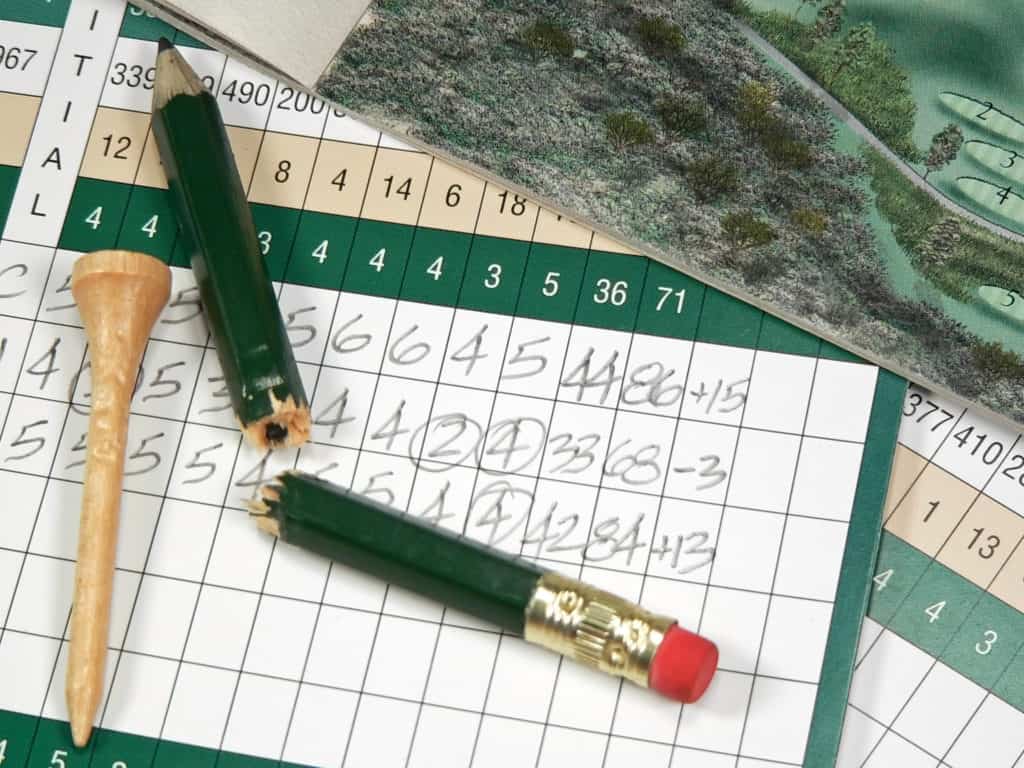 Key #1: Hit the ball solid 99% of the time
This one is pretty simple.  If you want to break 80 and you still chunk or blade a lot of shots, it is going to be difficult.  Controlling your low point helps you eliminate water hazard penalty strokes and reduce the big numbers on the scorecard.  
The good news is there are some quality drills to help you control your low point and strike the ball solid a high percentage of the time.
The Low Point Control Drill
Take some yard paint and paint a 1-2 yard long line.
Setup with 55% of your weight on your front side.
Try to hit the target side of the line and see how many times out of 10 you can do this successfully!
Repeat this drill every day for a month, tracking your progress and your ability to to this successfully in trials of ten.
You may need to start with half swing and progress to full swings.
If you are struggling, put more weight forward and work on keeping your head still to help control the low point in the swing.
Complete post on how to break 80 in golf!
Key #2: Have a stock shot
A stock shot lets you consistently hit a draw or a fade.  If you have played golf with really good golfers it appears that they hit the same shot over and over again.  This is because they have developed a stock shot that they can rely on.  
The great thing about the stock shot is that you can eliminate one side of the course and control your misses.  This helps you keep the ball in play with the driver and eliminate the big number on the scorecard.
I came across this stock shot drill below and believe it to be one of the best drills that all levels of golfers should practice frequently.
Helpful post on hitting a stock shot
Stock Shot Drill
At the driving range, set up an alignment stick about 6-8 yards in front of you, straight down your target line.
If you have a second alignment stick, set the stick 3-4 feet right of the first stick (for a draw) or left of the first stick (for a fade).
Complete your initial assessment see how many times out of 10 you can start the ball to the right or left of your target.  Pick one side and measure your game at this point.
The goal is to eventually get 7 out of 10 shots to start to the correct side and draw back towards the target.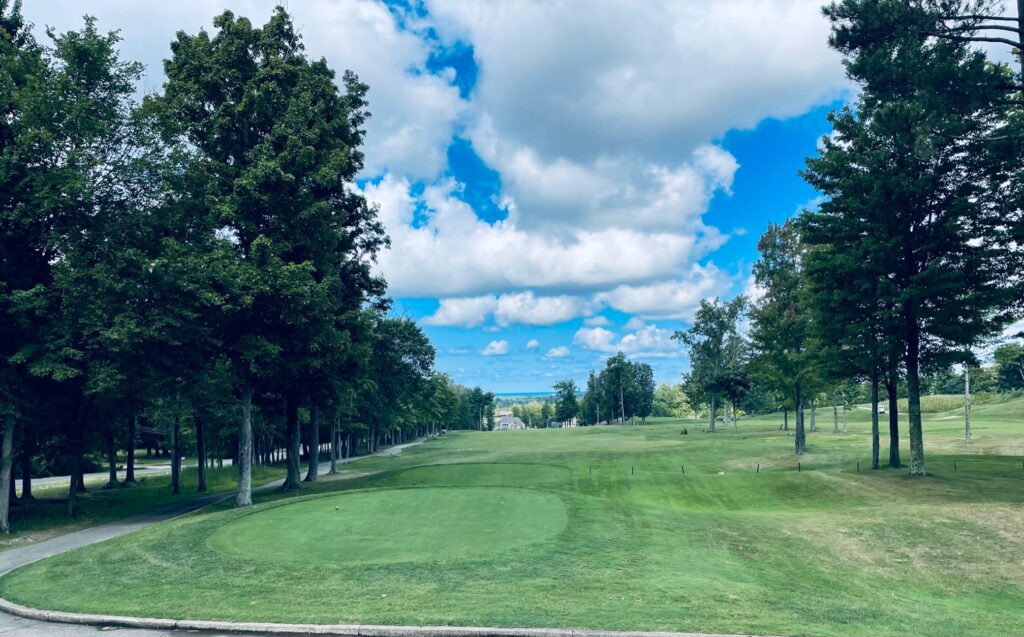 Key #3: Have enough speed to hit realistic clubs into the green 
If you are hitting fairway woods or hybrids into a high percentage of the greens, it is going to be difficult to hit 8-9 greens in regulation.  However, if we get a 7 iron or smaller club in your hand, your chances increase significantly.
THe old staying of driver for show, putt for dough is somewhat proven inaccurate by the analytics in the world of golf today.  The further you can hit the ball, the shorter the club you will have left into the green, which increases the percentage of time you will hit the green.
It really is very logical.  If you hit from 125 yards all day vs 175 yards, you are going to hit more greens from 125 and make more 2 putt pars.
I would highly recommend checking out SuperSpeed Golf to improve your swing speed!
I spent many years wondering how I can increase my swing speed.  Regardless of your current speed levels, there are always new barriers to break!
SuperSpeed Golf – Use Discount Code Golfjourney365 for some savings!
The SuperSpeed Training System is based on three different swing speed sticks all weighing at different weights.  There is a green club that is 10% lighter than the average driver, the blue club which is 5% lighter and the red club which is actually 5% heavier!
Following their prescribed protocols the golfer completes the training every other day.  The total time to complete most of their protocols is between 10-15 minutes.  Most people can find the time to make this happen.  The golfer will also need a swing radar to measure their progress. 
The science behind the SuperSpeed Training System is based on overspeed training.  Overspeed training has been around for several decades now and has been used by olympic athletics in the sport of Track and Field.  
Golf strategy for short hitters
The science behind this overspeed training is based on the premise that your brain will only allow your body to move as fast as it feels it can stop safely!  So, you get to work and swing the clubs as fast as possible, retraining your brain to allow you to swing your driver faster.
For more permanent results, the golfer should continue these training protocols for several months.  The initial 5-8% is great and can become more permanent with the right length of training.  The golfer can expect to continue to break down barriers every several months at a 1-2% increase.
My own experience has been an increase of 7-10 miles per hour on average from between 98-101 all the way up to 106-109.  My goal is to hit the PGA Tour average of 113 mph in the coming months.  I will continue to train every other day and watch in amazement as I am hitting drivers longer now than ever before!
Phil Mickelson (a senior golfer now) has been known to increase his swing speed in the past year or so and is close to 120 miles per hour in his swing speed.  There are potential results for golfers of all ability levels and age!  
Check the current price on SuperSpeed Golf System, here!
| | | | |
| --- | --- | --- | --- |
| Original Swing Speed | After 4-6 Weeks | New Carry Distance | Total Distance |
| 95 | 102 | 245 | 265 |
| 100 | 108 | 259 | 279 |
| 105 | 113 | 271 | 291 |
| 110 | 118 | 283 | 303 |
All of the drills above will help you become a better ball striker, keep the ball in play and have enough distance to play the course.
Improve Your Short Game
If you hit less than 8-9 greens in regulation, there is still a way to break 80 on a consistent basis and that is through having an excellent short game.
The great news about the short game is that anyone can become really good at it.  Regardless of your size, athletic ability, age, etc. you can become a great chipper of the ball and sink some putts.
With enough time around the practicing green, the golfer can produce a repeatable chipping and putting movement to help take your short game to the next level!
If you can save par on 50% of the times you miss the greens in regulation, you will only need to hit around 4-5 greens in regulation.  I would highly recommend working on this drill below in combination with the three above for the quickest route to breaking 80.
Drill: Up and Downs
The game here is to take one ball and pick a spot from off the green.  
Go ahead and hit the chip shot and then see if you can make the putt.  
Pick 10 different spots around the green and track how many times out of 10 you were able to get up and down in 2 shots or less.  
You can also play a competition against another person at the green and see who can get up and down the most times out of 10 or play some match play.  
The competition and tracking of your stats will help prepare you for the actual course and the pressure that you may face.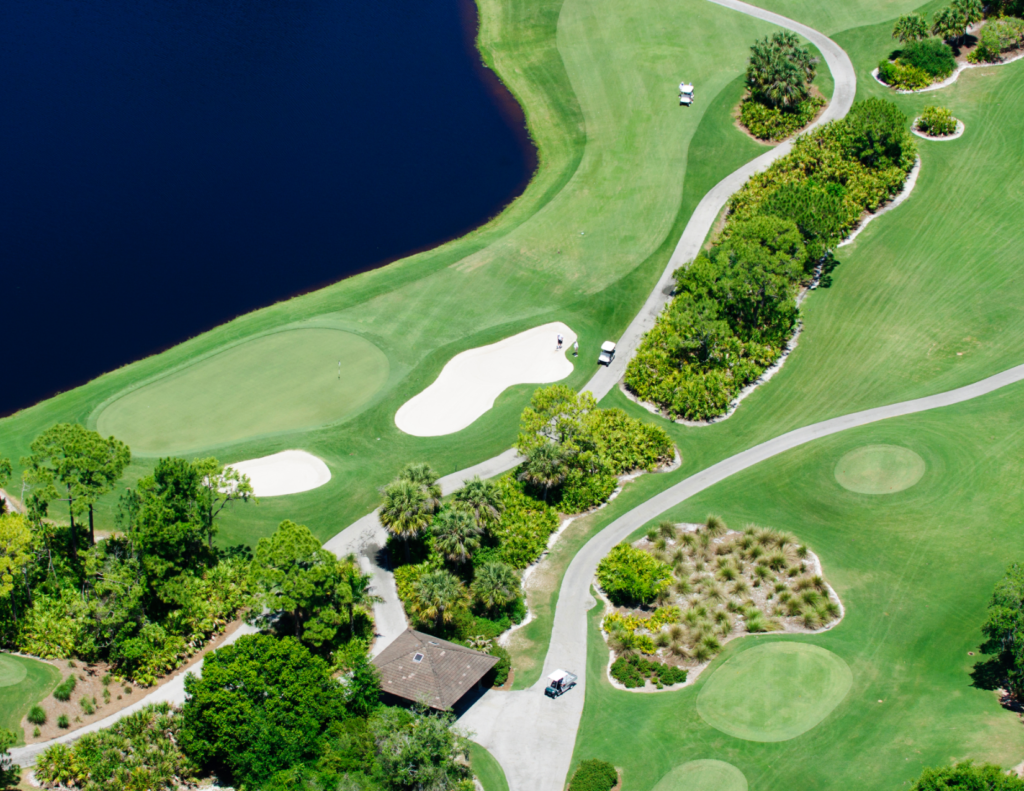 Final Thoughts
The fastest way to break 80 is keeping the ball in and play and having a quality short game.  Relying on improving your ball striking in the short term is more difficult, but is something you can work on for the long term gains.
Don't forget to have fun with this all and anytime you have a chance, work on making something into a competition with someone else or just by yourself by setting certain goals and tracking your progress over time.
My Secret To Golf Improvement
Let's face it, in order to get really good at golf, we must practice frequently.  About four years ago, I made the leap and invested in a golf simulator build for my garage.  I went with a SkyTrak Launch Monitor and the TGC software and can now play over 100,000 courses including Augusta, Pebble Beach, Bethpage Black, Whistling Straits. St. Andrews and many other of the top 100 courses in the world.
This golf simulator setup, which is more affordable that you might imagine, has been a game changer.  I can now play golf everyday of the year regardless of rain, snow, cold weather or time of day.  I can practice or play rounds of golf.  I can stand in the 11th fairway at Augusta and with the auto-rewind feature I am able to practice my approach shots from various differences.
It is worth checking out through Rain or Shine Golf as they offer some incredible packages along with financing offers that are difficult to beat.
Some direct links to Rain or Shine Golf for pricing and financing:
Take Action – What You Can Do Today to Get Better
What does this mean for you?  I believe in the following recipe to get better:
1 – Improve your motion in the golf swing by identifying a golf instructor.  Here are some options:
Here is a list of golf instructors that we have reviewed:
2 – Train to swing faster and improve your swing speed.  Here are some options:
Looking to gain more Speed and Distance in your swing. Two Options:
3 – Understand course strategy and work to break through your next barrier.  Here is a series on breaking through:
We have provided guides on how to break 100, 90, 80 and 70. Check out more below, if interested.
4 – Practice Frequently
Did you know that I build a golf simulator in my garage and have played over 500 rounds of golf on my SkyTrak system?  It has been a game changer and one worth checking out. Here are some of my other posts on golf simulators frequently asked questions: