Golf is a difficult game!
Whether you have played for 20 years or are just starting, there are ups and downs in every golf season.  There will be times when you play well and times you feel like you have lost your game.
The goal for most golfers is consistency.  Some golfers would be thrilled to consistently break 100, 90 or 80.
And then there are the golfers that want to be a scratch golfer or maybe even better.
How long does it take to become a scratch golfer?
5 years is a reasonable amount of time to get to the scratch level, but there are so many variables in this journey including: time, age, swing speed, short game, access to golf facilities, access to instruction and overall budget.
Keep in mind that a high percentage of golfers will never reach the scratch level.
Let's dive into the different variables that take impact how much time it will take to reach the scratch level.  
Variables that impact time to get to scratch golf
Time
Age
Swing Speed
Short Game
Access to Golf Facilities
Access to Instruction
Overall Budget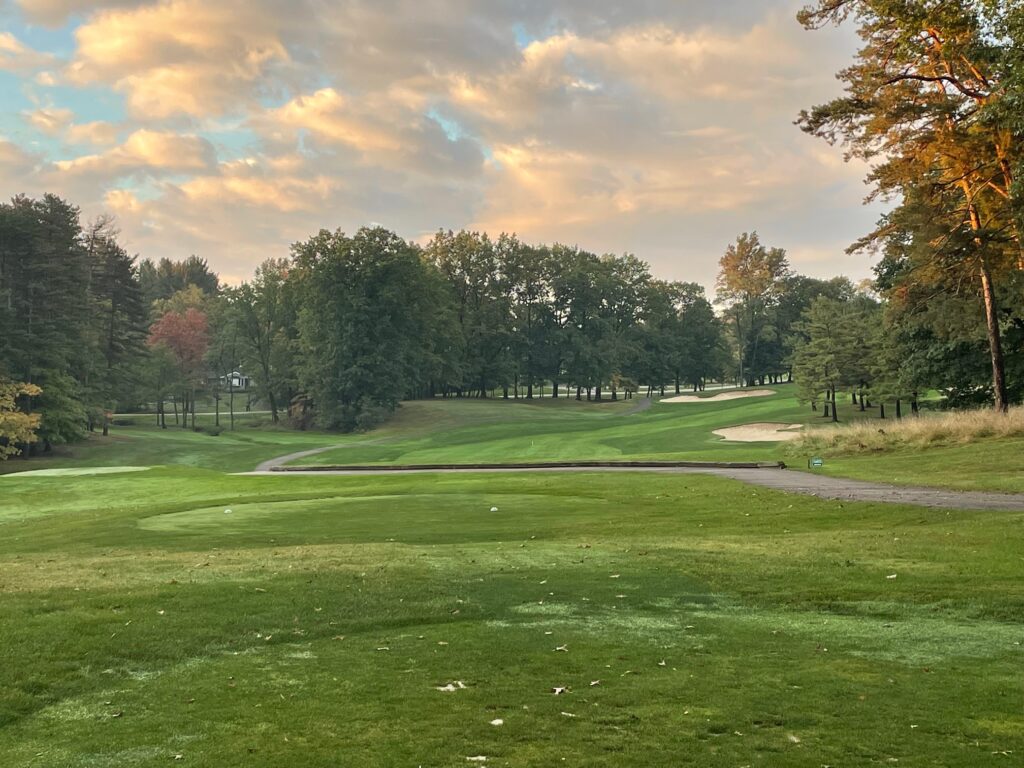 Variable #1: Time
Above we say that it takes 5 years to reach the scratch level assuming the golfer has a considerable amount of time each week to commit to game improvement.  However, if the golfer is working a full time job and has a family, it might be difficult to put this amount of time into the game.
This is why teenagers have the advantage when it comes to quickly improving the game.  Not only are they at an age where they are growing and have great hand eye coordination, but many might have the time to practice 8-10 hours a day.
When a golfer can practice 8-10 hours a day for 52 weeks a year, the 5 year estimate above might actually be a bit long. If you take an athletic 12 year old and put him or her in the right situation, by the age of 15 or 16, they might be playing at the scratch level.
How to become a scratch golfer – Complete Post!
Variable #2: Age
The age of a golfer most often impacts the time available that he or she can spend practicing the game.  It also impacts what the body might be able to handle.  If a golfer is 60 years old, he or she might not be able to withstand 8-10 hours per day playing and practicing.  
Also, as someone ages, they may start to lose the ability to swing at certain swing speeds and the fine motor skills it takes to putt may start to diminish.  Overall, age does matter and will have an impact on time spent, swing speed and possibly the short game.
Scratch vs Pro Golfer: What are the differences?
Variable #3: Swing Speed
According to a graph found on golf.com if you want to get to the scratch level you will need to swing right around 105 miles or above with the driver.  This doesn't mean you have to be at this speed level, it just makes it that much more possible.  If you are below 105, the short game or iron precision might need to be at a higher level.
Distance is vital in today's game and the analytics are clear that the further you hit the ball the higher the probability that you will shoot a lower score.  Of course you can make up ground in other areas, but everyone can add speed nowadays!
How to increase driver swing speed – Complete Post!
The good news for golfers of any age is that there are speed training systems you can use to increase your driver swing by as much as 5-8% as soon as your first training session with SuperSpeed Golf.  I used this system on my route to scratch and experience some excellent results.
Price out SuperSpeed Golf here!
Variable #4: Short Game
The short game is vital in your journey to scratch.  Did you know that the average scrambling rate for the scratch golfer is 54%?  This means that they are able to save par 54% of the time when they miss a green in regulation.  The PGA Tour average is in the 60s!  
Short game does matter and you have to be able to make 3-10 footers at a good rate and chip it close frequently!  The two quickest ways to get better at golf is to improve your swing speed and improve your short game.  Hit it far and scramble at a high level and your score will drop quickly!
Did you know that the professionals only make 50% of their 8 footers?  This means, you have to be able to chip the ball close a high percentage of the time if you want to get to that 54% clip on your scrambling rate!
Variable #5: Access to Golf Facilities
Some junior golfers have access to country clubs, while others might struggle to pay for a round of golf on a public course.  The same is true for golfers beyond the junior level.  The reality is that in order to play golf at a high level you must practice often, so if the person has plenty of time, they also need access to a driving range, a golf course, and a putting green to take their game to the next level.
The other barrier for many are the winter months and the weather that hits their area. In many states in the United States golfers can't play golf year round.  This is an issue for improvement. 
The only solution that allows a golfer to continue to play and practice is a golf simulator.  I would highly recommend this option for any golfer that wants to get to the scratch level, but loses at least several months a year due to winter weather.
Is a golfer membership worth it?
I went with the Skytrak golf simulator setup and am thrilled with what it has done for my game over the past 4.5 years!
I would highly recommend checking out the options at Rain or Shine Golf!  You can get a low monthly payment on something that could change your golf game for overall and bring plenty of fun into your life during those terrible winter months!
Variable #6: Access to Instruction
While golf instruction is not always necessary to get to the scratch level, it can be helpful!  Following one instruction and working closely with them can eliminate some time and speed up the overall process.  
Our recommendation is to select a golf instructor and get to work.  The good news is that with today's internet, access to some of the best instructors in the world is now available to someone living in a remote part of the world.  For example, a golfer could follow someone like George Gankas, Shawn Clement or Mike Malaska and have some amazing instruction at their fingertips!
Best online golf instructors – My Top 5!
Variable #7: Overall Budget
Golf can be expensive!  Not only do you need access to golf facilities, potential golf instruction, but you also need quality equipment.  The higher the budget, the more money one can spend on some of the variables above. If you live in a location where winter wipes out several months of the golf year, I would highly recommend spending money on a golf simulator. 
This is especially true if you are supporting a junior golfer in his or her journey to reach their full potential!  My Skytrak has been a game changer and the opportunity to hit balls daily is extremely helpful!  Pair that up with some online or remote golf lessons and you have a formula to get to scratch!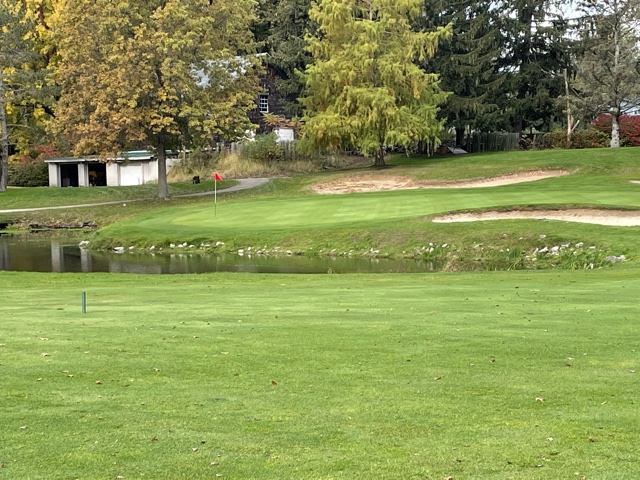 What Does Scratch Look Like?
I am a big believer in assessing your game and monitoring your progress through stats. Here are some benchmarks to measure your current status or your progress against.
| | |
| --- | --- |
| Greens in Regulation | 67% |
| Fairways Hit | 53% |
| Putts Per Hole | 1.67 |
| Scrambling | 54% |
| Sand Saves | 59% |
| Average Driving Distance | 251 |
Some Major Takeaways From The Table Above:
12 out of 18 greens in regulation seems doable on an average course.  This is 2 out of every 3 holes, we must be able to hit the green in regulation.
The 53% for fairways hit can always be a bit misleading.  Are the other 47% of drives still in play and the only barrier is a bit of rough?  Or is the ball now behind the tree.  A stat I would like to see is if you have a clean, unobstructed shot to the green.  I believe this is the game changer in scoring
The putts per hole seems somewhat achievable.  Where this number can be thrown off is if the one putts are to save par or to make birdies after a green hit in regulation.
The scrambling stat is not surprising at all.  I would have thought that one must be above 50% to become a scratch golfer.  I have heard that PGA Tour players expect to chip a ball within a 3 foot circle – 7 out of 10 times.  If a scratch golfer can do this 5 out of 10 times and then make one putt outside of 3 feet, they can easily average around 60% in scrambling.
The sand saves is an impressive number as it is actually higher than the scrambling percentage.  This shows that scratch golfers save par more from the sand then the rough.
The average driving distance is actually lower than I would have anticipated.  A 250 driving average only takes around a 103 mile per hour swing speed.
Excellent video on what a scratch golfer looks like:
My Secret To Golf Improvement
Let's face it, in order to get really good at golf, we must practice frequently.  About three years ago, I made the leap and invested in a golf simulator build for my garage.  I went with a SkyTrak Launch Monitor and the TGC software and can now play over 100,000 courses including Augusta, Pebble Beach, Bethpage Black, Whistling Straits. St. Andrews and many other of the top 100 courses in the world.
This golf simulator setup, which is more affordable that you might imagine, has been a game changer.  I can now play golf everyday of the year regardless of rain, snow, cold weather or time of day.  I can practice or play rounds of golf.  I can stand in the 11th fairway at Augusta and with the auto-rewind feature I am able to practice my approach shots from various differences.
It is worth checking out through Rain or Shine Golf as they offer some incredible packages along with financing offers that are difficult to beat.
Some direct links to Rain or Shine Golf for pricing and financing: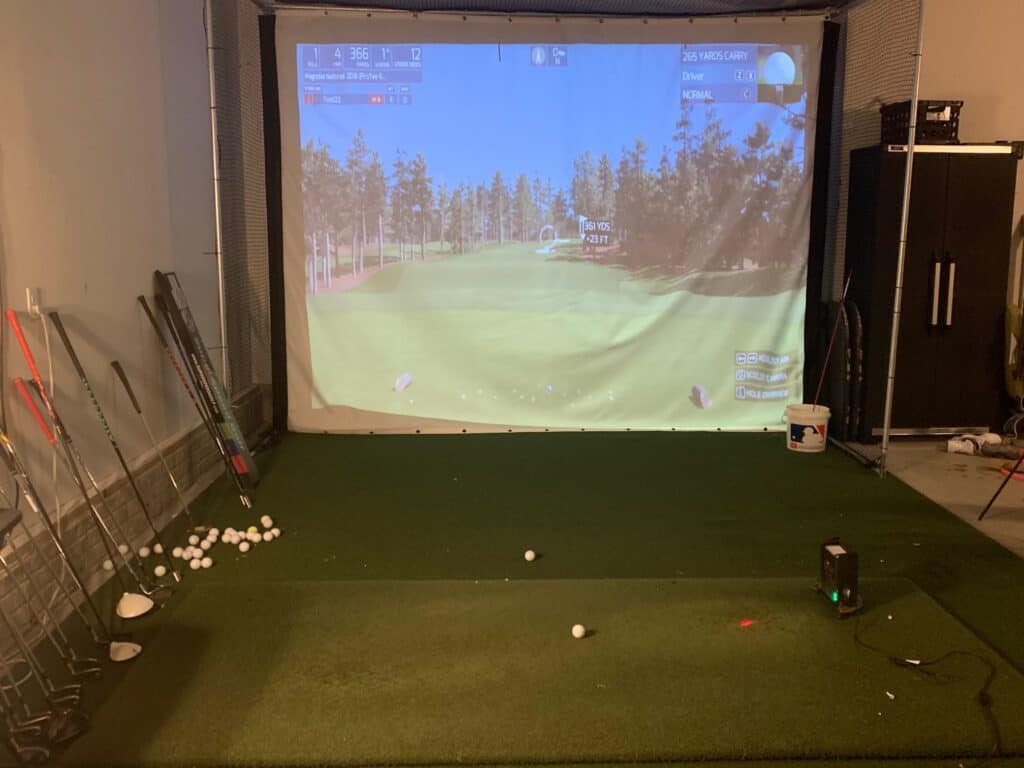 Take Action – What You Can Do Today to Get Better
What does this mean for you?  I believe in the following recipe to get better:
1 – Improve your motion in the golf swing by identifying a golf instructor.  Here are some options:
Here is a list of golf instructors that we have reviewed:
2 – Train to swing faster and improve your swing speed.  Here are some options:
Looking to gain more Speed and Distance in your swing. Two Options:
3 – Understand course strategy and work to break through your next barrier.  Here is a series on breaking through:
We have provided guides on how to break 100, 90, 80 and 70. Check out more below, if interested.
4 – Practice Frequently
Did you know that I build a golf simulator in my garage and have played over 500 rounds of golf on my SkyTrak system?  It has been a game changer and one worth checking out. Here are some of my other posts on golf simulators frequently asked questions: