The majority of golfers should hit their lob wedge between 60-80 yards with a full swing.  There will be golfers that can hit a lob wedge 110 yards, while others that might struggle to only hit it 50 yards.  
The key with the lob wedge and all wedges is to know how far you hit the club with a variety of different swings, since the lob wedge is a frequently used club from 80 yards and in.
Below, I will dive into the different shots the best golfers hit their lob wedge that are from a pitch to a full shot.  These include the following:
The full swing lob wedge
The 70, 80 and 90 percent lob wedge
The intermediate shot
For further help on greenside shots, check out this post linked below:
How to use a lob wedge around the green!
Finally, I will give you a way to create a system to truly understand how far you hit each shot with your lob wedge and some advice on how to build a shot chart with the swing and distance you will hit each wedge in your bag.
The golfer can truly improve and gain an advantage by understanding, measuring and creating a chart they can use during the actual round of golf.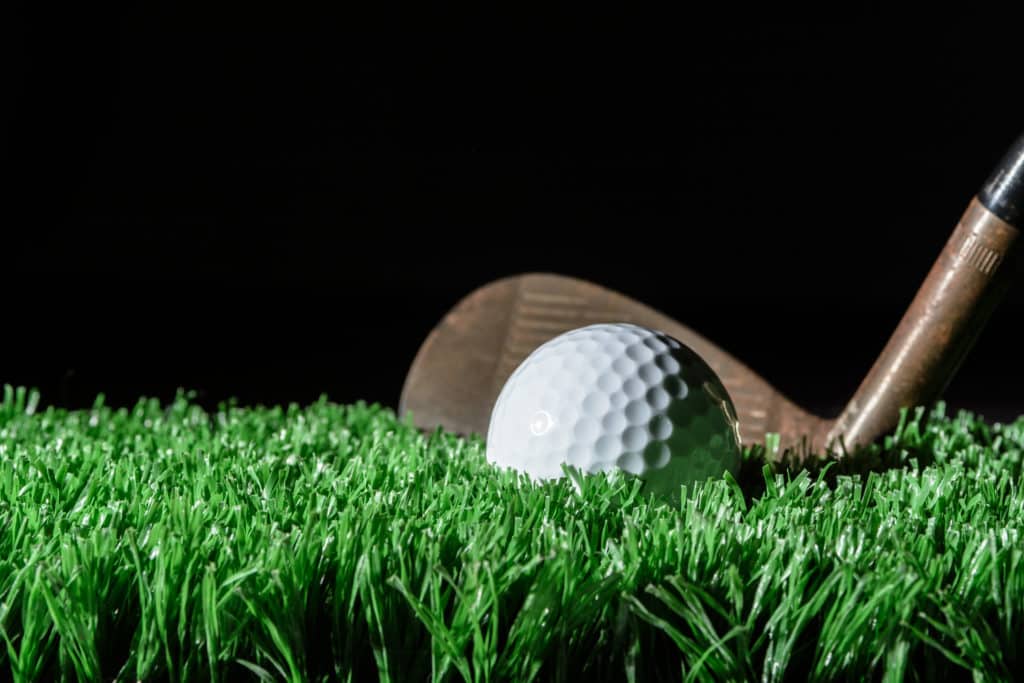 How Far Should You Hit A Lob Wedge: The Full Swing Lob Wedge
As we shared above, the majority of golfers will hit their full swing lob wedge between 60 and 80 yards.  The key overall is to hit it within a 2-3 yard area every time you make a full swing.  You can help control this by controlling your low point and being consistent with your ball position in your setup.  
The ball played a little further back might go several yards lower and further and the ball played a little further up might go several yards higher and shorter.  Make sure you are consistent in your setup, control the low point of your swing and keep a consistent tempo with the full swing.  
The golfer that one time hits his lob wedge 70 yards and then 85 the next time is going to struggle to score.
I hit my lob wedge around 85 yards with a full swing.  Of course some lob wedges are 58 degrees, some are 60, and others might be 64 degrees.  These different lofts will also produce different distances.
How Far Should You Hit A Lob Wedge: The 70, 80 and 90 percent lob wedge
After the golfer has established his or her full swing distance with the lob wedge,  The next step is to build a 70, 80 and 90% swing with the lob wedge.  This will help in those distances less than your full swing.  
For example, if my lob wedge travels 85 yards with a lob wedge, the 90% might only carry 76 yards, while the 80% might carry 68 yards and the 70% carries 60 yards.  I now have three comfortable yardages that I know I can hit with my lob wedge if I replicate the 70, 80 and 90% swings either throw speed or length of swing.
Later on, we will show you how to create a chart that will become your number one reference guide for your wedges and help your scoring.
How Far Should You Hit A Lob Wedge: The Intermediate Shot
The golfer has now built a 70-100% swing and understands his or her distances.  The shot that a golfer now frequently faces is the 30-40 yards pitch shot with the lob wedge.  While it is longer than a chip, it is more than likely less than a full swing or even a 70% swing for most golfers.  
Some golfers might call this a "half shot" with the lob wedge.  This shot becomes a lot about feel and the overall distance taking into account the carry and roll that a shot might have.
One way to build different distances in this range is to find the length of the swing you want to use, let's say a half swing for this example.
Half with with a faster speed = Longest Shot (40 Yards)
Half swing with a medium speed = Medium Shot (32 Yards)
Half swing with a slow speed = Shortest Shot (24 Yards)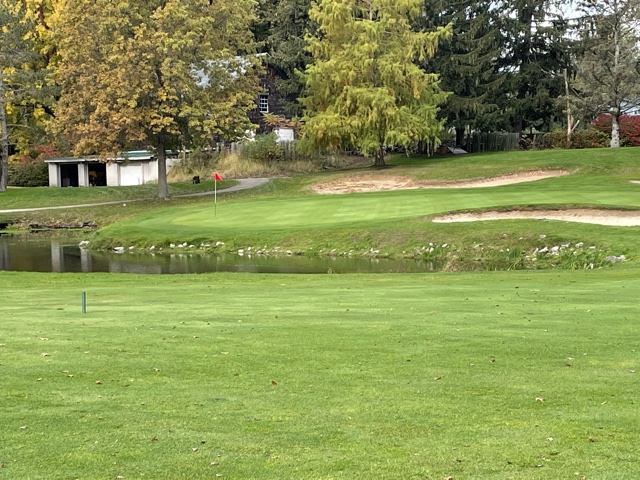 Building Your Distance Chart with the Lob Wedge
So looking at above the overall swing chart might look like this:
Golf Club: 60 Degree Lob Wedge
100% Swing = 85 yards
90% Swing = 76 Yards
80% Swing = 68 Yards
70% Swing = 60 Yards
Half Swing, Fast = 40 Yards
Half Swing, Medium = 32 Yards
Half Swing, Slow = 24 Yards
As you can see, I have a short chart that I have started to create.  What if I did the same thing with my 54 degree lob wedge, might I have different option shots from a variety of distances?  I most certainly will!  I now have options based on the ideal height and the combination of carry and roll that will be optimum.
Here is an example of what a golfer could build:
| | | | | |
| --- | --- | --- | --- | --- |
| Club | Carry Distance (100%) | 90% | 80% | 70% |
| Pitching Wedge | 128 | 118 | 108 | 98 |
| Approach Wedge | 118 | 110 | 102 | 96 |
| SW Club | 105 | 97 | 91 | 85 |
| LW Club | 85 | 76 | 68 | 60 |
And then of course I would have my pitching chart.
Golf Club: 60 Degree Lob Wedge
Half Swing, Fast = 40 Yards
Half Swing, Medium = 32 Yards
Half Swing, Slow = 24 Yards
Golf Club: 54 Degree Sand Wedge
Half Swing, Fast = 48 Yards
Half Swing, Medium = 40 Yards
Half Swing, Slow = 32 Yards
Golf Club: Approach Wedge
Half Swing, Fast = 56 Yards
Half Swing, Medium = 48 Yards
Half Swing, Slow = 40 Yards
Ultimately, I am building out different options based on the following variables when I approach a shot:
The lie (fairway, rough or sand)
The wind
The ideal carry distance
How I am feeling and what shots I have hit well to that point in the round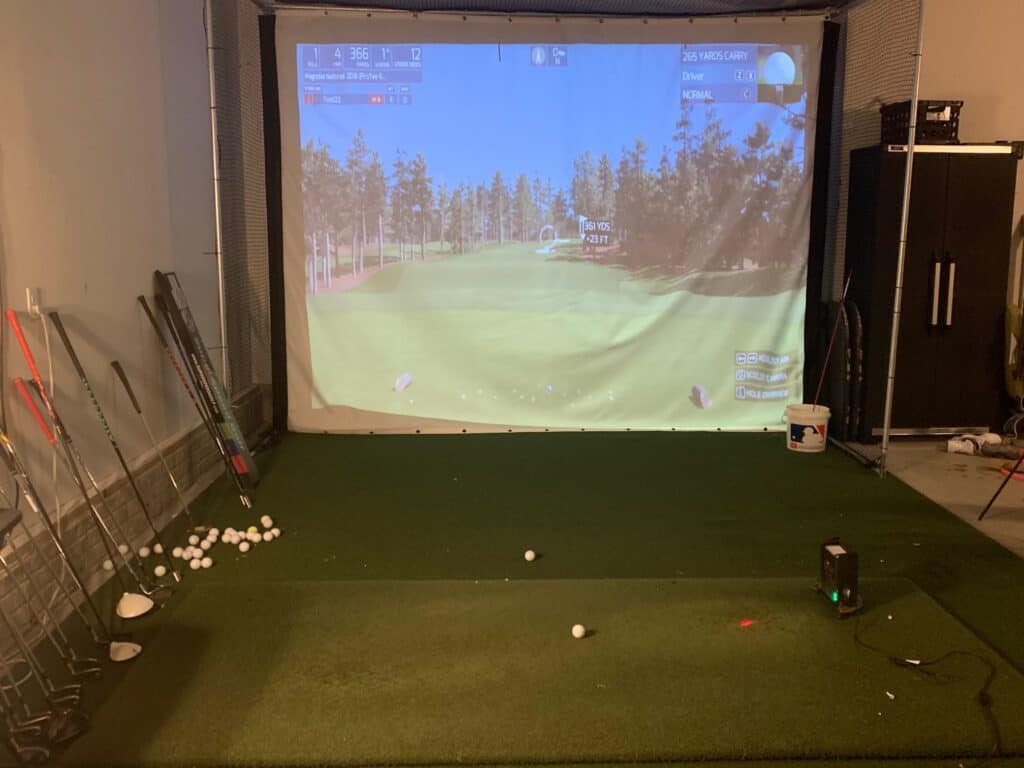 Related Post:
My Secret To Golf Improvement
Let's face it, in order to get really good at golf, we must practice frequently.  About four years ago, I made the leap and invested in a golf simulator build for my garage.  I went with a SkyTrak Launch Monitor and the TGC software and can now play over 100,000 courses including Augusta, Pebble Beach, Bethpage Black, Whistling Straits. St. Andrews and many other of the top 100 courses in the world.
This golf simulator setup, which is more affordable that you might imagine, has been a game changer.  I can now play golf everyday of the year regardless of rain, snow, cold weather or time of day.  I can practice or play rounds of golf.  I can stand in the 11th fairway at Augusta and with the auto-rewind feature I am able to practice my approach shots from various differences.
It is worth checking out through Rain or Shine Golf as they offer some incredible packages along with financing offers that are difficult to beat.
Some direct links to Rain or Shine Golf for pricing and financing:
Take Action – What You Can Do Today to Get Better
What does this mean for you?  I believe in the following recipe to get better:
1 – Improve your motion in the golf swing by identifying a golf instructor.  Here are some options:
Here is a list of golf instructors that we have reviewed:
2 – Train to swing faster and improve your swing speed.  Here are some options:
Looking to gain more Speed and Distance in your swing. Two Options:
3 – Understand course strategy and work to break through your next barrier.  Here is a series on breaking through:
We have provided guides on how to break 100, 90, 80 and 70. Check out more below, if interested.
4 – Practice Frequently
Did you know that I build a golf simulator in my garage and have played over 500 rounds of golf on my SkyTrak system?  It has been a game changer and one worth checking out. Here are some of my other posts on golf simulators frequently asked questions: