We all want more speed! 
Right?
Of course we do!  Who doesn't want to hit the ball further! Can you possible hit the ball and extra 20-40 yards? Yes you can!
Also, extra distance doesn't mean less accuracy.  Let's get past that myth right away.  With the right training and the right methods, more distance ultimately equals lower scores.
Here is the formula on why this is the truth:
Hitting the driver 275 vs 240 can make a significant difference for every golfer.  The reality is that with an extra 20-40 yards, golfers now have shorter approach shots into the green.
Leading the golfer to shots that end up closer to the hole, which increases the chances of more putts being made. 
Even the pros only make 50% from 8 feet.  Leaving 30 foot putts doesn't help most golfers!  We have to hit the ball within a certain range to have a legit chance at birdie.
Ultimately, the golfer shoots lower scores. 
 The old saying of "drive for show, putt for dough" can be misleading because in order to have makeable putts, we must be able to hit the driver to leave a manageable approach shot.
Too many people think they are stuck with whatever distance they have. The truth is that you can increase your swing speed with the right products or systems! I have done it successfully! Find out my top 3 recommendations below!
Let's jump right into the best products and systems to add speed to your golf swing!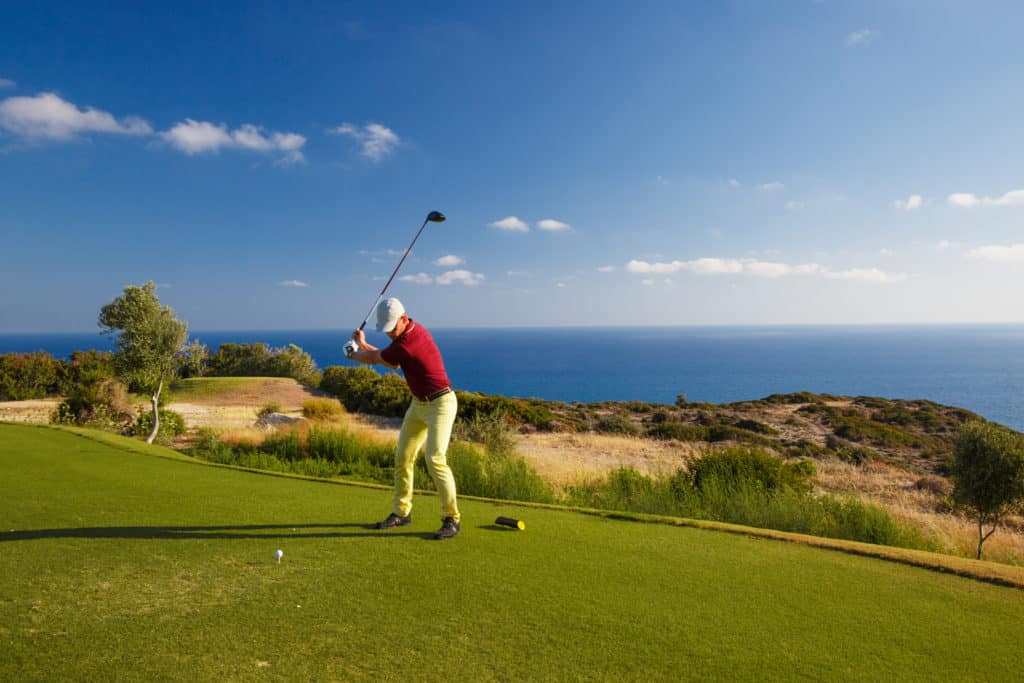 Best Products and Systems
#1 SuperSpeed Golf
This is number one on our list because we have seen it work time and time again.  Phil Mickelson has added some impressive swing speed as he approached the age of 50 and beyond.  It was common to see Phil working with the SuperSpeed System.  
It has been quite common to see the SuperSpeed clubs in the bags of many PGA Tour players.  Players use it in different ways, but ultimately the players on tour are seeking that extra edge as well.
Check current pricing on SuperSpeed
You don't have to add the bulk like Bryson DeChambeua to increase your swing speed.  However, training for extra speed will require some effort, but you can train every other day and it takes about 15 minutes per session.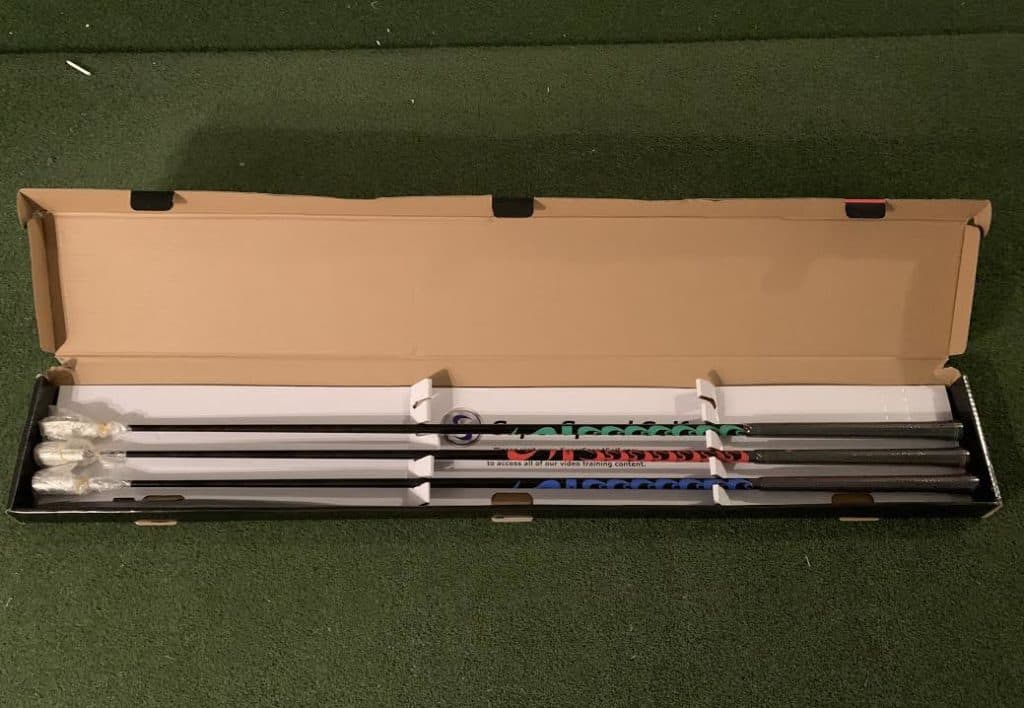 What is SuperSpeed Golf?
SuperSpeed Golf is a training system where a golfer utilizes three different weight clubs.  The green (much lighter than your driver) is the lightest club, the blue (slightly less than your driver) is a medium club and the red (slightly heavier than your driver) is the heaviest club.
The golfer is provided protocols that are accessed online and train utilizing an approach called OverSpeed Training!  
SuperSpeed Golf Potential Results
A golfer can expect to see a 5-8% increase in swing speed over the course of their training sessions.  After 4-6 weeks the increase becomes more permanent and the golfer could see these speed increases on the golf course.
The golfer can see results after the first training session, but will need to continue to train over time to make the swing speed increase permanent.  The golfer that continues to change will continue to increase over time, but at a slower rate of improvement.
Most golfers would take a 5-8% increase in swing speed in as little as 4-6 weeks.  Here is a chart to show some basic improvements that a golfer can experience.
| | | | |
| --- | --- | --- | --- |
| Original Swing Speed | After 4-6 Weeks | New Carry Distance | Total Distance |
| 95 | 102 | 245 | 265 |
| 100 | 108 | 259 | 279 |
| 105 | 113 | 271 | 291 |
| 110 | 118 | 283 | 303 |
*Assuming a 2.4 smash factor with 20 yards of roll for Total Distance.  This includes an 8% increase in swing speed.
My original swing speed was between 98 and 100 miles per hour.  Currently, I am now swinging in the 104-109 range on average.  This is around an 8 percent increase in swing speed. 
The combination of the SuperSpeed Training System and the Tour Tempo app discussed below have been a game changer for me!
What You Receive with SuperSpeed Golf
You will receive the three swing speed clubs along with access to the training protocols.  There are different levels of protocols.
You will need to also buy a way to measure your swing speed.  I would recommend a swing speed radar.  The total cost of the SuperSpeed is worth it.
Here is our recommendation of the Swing Speed Radar.  SuperSpeed golf sells these and can be added onto your purchase for an all in one purchase with SuperSpeed Golf.
Resource: Full review of SuperSpeed Golf
#2 Tour Tempo
The overall offerings Tour Tempo is impressive.  They not only have swing training aids that can help you increase your speed, but they also have their tour tempo app to help you train to swing faster through controlling your tempo and swing faster back and through.
Product: Speed Ball
The Speed Ball is advertised as power through resistance.  The training aid looks like a golf club with a ball at the end.  There is a "curtain" like setup at the impact position where the golfer swings the speed ball through the resistance based piece. 
The golfer is to maximize their swing efforts and must train fast to gain speed.  The resistance is believed to provide extra power through the ball when it comes to actually hitting a golf ball.
Product: Tour Tempo App
Did you know that the best golfers in the world swing in a 3:1 ration.  This utilizes frames per second on a camera.  For example, if a golfer takes 21 frames to swing back, he or she should take 7 frames to impact.  This is a 3:1 ratio. 
Through studying the golf swing, it was discovered that the best golfers swing either at 21:7, 24: and 27:9.  Some of the new golfers on tour are now swinging at 18:6.  The common number here is 3:1.  Many amateur swings can take as many as 30 plus frames on the back swing. 
Studies have been completed that show the faster the backswing, the faster the downswing.  This results in additional speed.
Resource: Tour Tempo Review
Remember the saying, "low and slow" on the backswing.  This myth needs to be eliminated.  In order to gain speed, the backswing needs to be a bit faster with the right overall tempo in the swing.  The tour tempo apps provides the tones and there is another app to capture your swing to measure your ratio!
#3 Swing Man Golf
There are three ways to improve your golf swing speed.  One way is through overspeed or resistance training, improving your technique or improving your overall fitness and strength.
The stronger you are and the higher level of physical fitness you have, the better chance you have of swinging faster.  THe best example of this is the work at Bryson DeChambeau has put into evolving his body into something much large with more mass.
Not that amateur golfers are going to do what Bryson did, but he is an example of how changing your body or simple getting more fit can help you with an increase in swing speed.
The Swing Map Golf system is based on physical fitness and taking this to the next level.  The testimonials are impressive and it can work.   Finding what is best and what you can commit to in your journey to add more swing speed is most important.
Some may settle just for overspeed training.  While others might work on technique.  And then there will be those that try to get into a better level of physical fitness.  Others may pick 2 or 3 or all 3 approaches, especially in an off seasons to maximize their growth.
Check Current Pricing on Swing Man Golf Here
Looking to improve your mechanics and learn a system. Check out our reviews on these top online golf instructors:
How To Maintain Accuracy When Training For Speed
Training for speed is important.  In order to hit the ball further, we must train by swinging faster.  You have to provided the time for your body and brain to respond to the training. 
In the meantime, you want to maintain your accuracy and training for accuracy while training for speed does not have to be separate from each other.  You can train for speed and then turn around and train for accuracy as well.  Accuracy is going to be based on your club face control and path control.
I would recommend also purchasing a portable launch monitor that can be used at your home/garage, at the driving range or even on the course.

Key data provided by launch monitors:
Club Face Data
Launch Angle
Path Data
Spin Rates
Spin Axis
Will help you keep your swing online during your training for speed.  We realize that many will want to play golfer while training and that is fine, but make sure you are monitoring your swing with whatever route you have selected as the best for your game.
I know what you are thinking, but I can't afford a Trackman.  Fortunately, there are some amazing products for the amteur golfer to track some impressive stats and when compared to the professional grade launch monitors, they hold their own. 
Here are my top 3 recommend affordable golf launch monitors:
If you visit any PGA Tour stop you will see the majority of professionals use a launch monitor at some point throughout the week . Many are monitoring their clubface, swing path relationship as well as swing speed. 
These are important numbers to monitor to make sure you are keeping your swing within a certain range.
Final Thoughts: My Secret To Golf Improvement
Let's face it, in order to get really good at golf, we must practice frequently.  About three years ago, I made the leap and invested in a golf simulator build for my garage.  I was able to train for speed and swing improvement through mechanics.
I went with a SkyTrak Launch Monitor and the TGC software and can now play over 100,000 courses including Augusta, Pebble Beach, Bethpage Black, Whistling Straits. St. Andrews and many other of the top 100 courses in the world.
This golf simulator setup, which is more affordable that you might imagine, has been a game changer.  I can now play golf everyday of the year regardless of rain, snow, cold weather or time of day.  I can practice or play rounds of golf.  I can stand in the 11th fairway at Augusta and with the auto-rewind feature I am able to practice my approach shots from various differences.
Resource: TGC Review
It is worth checking out through Rain or Shine Golf as they offer some incredible packages along with financing offers that are difficult to beat.
Some direct links to Rain or Shine Golf for pricing and financing:
Take Action – What You Can Do Today to Get Better
What does this mean for you?  I believe in the following recipe to get better:
1 – Improve your motion in the golf swing by identifying a golf instructor.  Here are some options:
Here is a list of golf instructors that we have reviewed:
2 – Train to swing faster and improve your swing speed.  Here are some options:
Looking to gain more Speed and Distance in your swing. Two Options:
3 – Understand course strategy and work to break through your next barrier.  Here is a series on breaking through:
We have provided guides on how to break 100, 90, 80 and 70. Check out more below, if interested.
4 – Practice Frequently
Did you know that I build a golf simulator in my garage and have played over 500 rounds of golf on my SkyTrak system?  It has been a game changer and one worth checking out. Here are some of my other posts on golf simulators frequently asked questions: