Finding the time or place to practice your golf game can be difficult.
But there are some very good options for the golfer looking to improve their game!
No longer do you have to let the cold weather, lack of a place to practice, or time get in the way of improving your golf swing, overall game and score.
One of these options is a golf net!
Does hitting into a golf net help?
Yes, improving your golf swing is often about getting enough repetitions in and improving your ball striking.  The best golfers are often excellent ball strikers and can hit the ball pure and control their start line a high percentage of the time.
In many locations when the winter weather hits, many golfers put their golf clubs away and might not do any golf related activities for 3-6 months.  During this time, not only is the golfer not improving, but he or she may actually be getting worse.
This can end with something as basic as a golf net and a basic golf mat.
Here are some tips to help you maximize a golf net: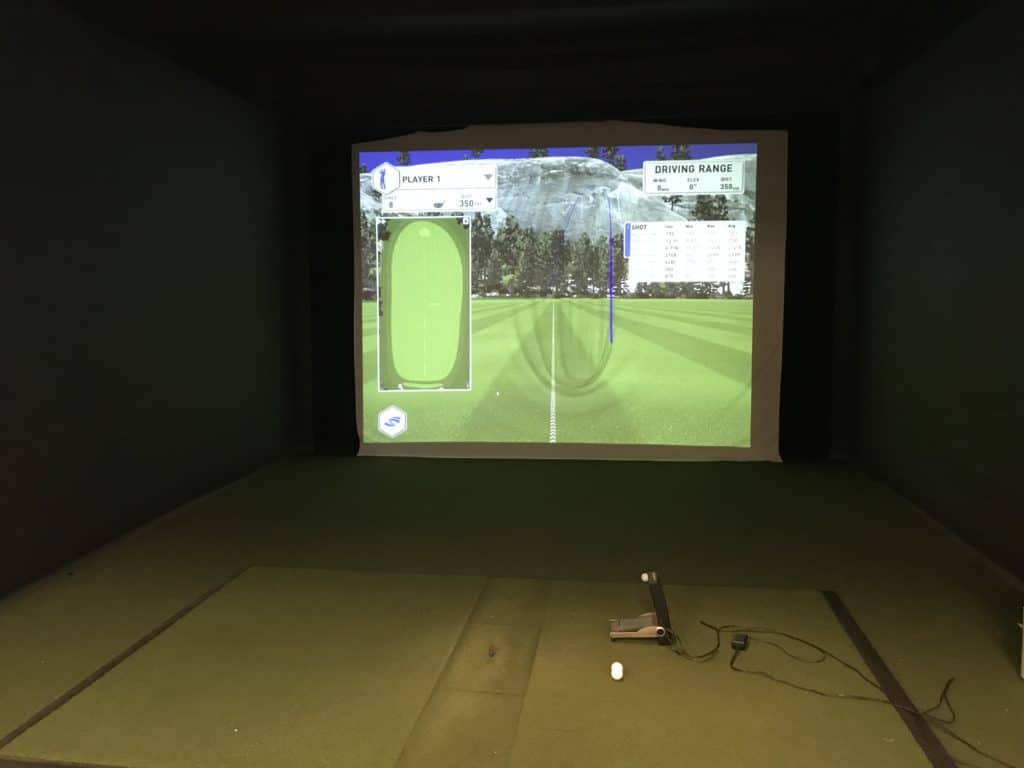 Top Tips For A Golf Net
Find a quality location
Purchase a quality mat
Add feedback to your swing
Pick a swing system
Train for speed
Tip #1: Find A Quality Location
The first step is figuring out where to put your net.  Many people will find space in a garage to make this possible.  Other options include a basement (depending on ceiling height) or an extra room in the house that has enough space.  Others that live in a better weather locations might pick a location in their yard. 
Ultimately, the goal is to find safe, comfortable place where you can get plenty of repetitions in and build a swing that you can count on when you head to the course.
Tip #2: Purchase A Quality Mat
If you are anything like me, you will be using this set up frequently and get thousands of repetitions in.  The game of golf can becoming addicting and fun.  The challenge of improvement is a journey that we can all enjoy. 
However, we want to ensure we have a quality mat, so that are wrists and forearms remain fresh.  The impact of hitting a golf ball off a mat must be taken into consideration when purchasing the mat for your setup.
Helpful Post: What size golf mat do I need?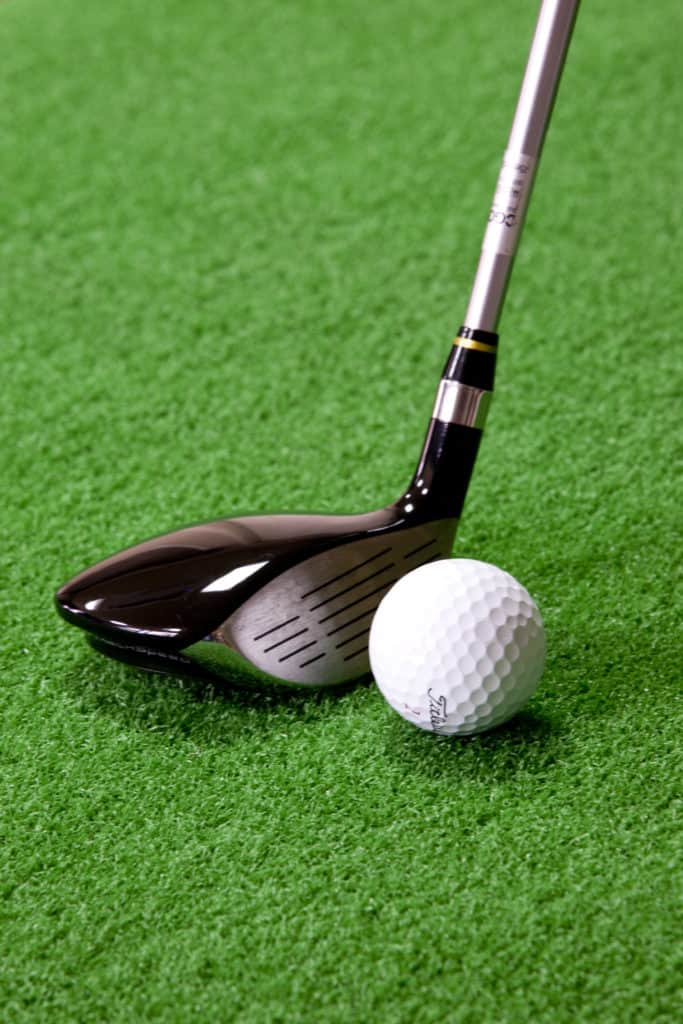 Tip #3: Add Feedback To Your Swing
When learning any new skill or trying to improve a skill, the most essential part of the learning cycle is feedback.  Without feedback, one is simply striking a ball into a net.  This third tip might be the most important for overall improvement.  My number one recommendation for your game improvement tool to use with your net and map setup can be found below. 
Helpful Post: How to lower your score in golf (5 Tips)
Golf Launch Monitor
I would highly recommend the Skytrak Launch Monitor.  This affordable device (check price here) can provide feedback in the following areas:
Ball Speed
Carry and Total Distance
Launch Angle
Spin Rate
Spin Axis
It also provides a shot tracer that will show the curve of the ball.  I highly recommend working on a stock shot and building a stock draw or a stock fade.  Something you can rely on when you head to the course.
Skytrak: The ultimate game improvement tool!
The Skytrak is an impressive device that can be used as basic with a net, at the driving range or can be part of a golf simulator build.  With the net, mat setup approach, you can use a laptop or ipad or iphone to run the app where you can have the instant feedback on the information above.
I would recommend Rain or Shine golf if you are looking to purchase a Skytrak!
Some direct links to Rain or Shine Golf for pricing and financing:
Tip #4: Pick A Swing System
If you are going to spend the winter months working on your swing, I would highly recommend checking out some online golf instruction and picking a system to build your swing around.  With your net, mat and possibly Skytrak setup you are well on your way.  With a device as simple as your smartphone you can record your swing, check it out and send it to a swing instructor for some tips and feedback on what is wrong and what you are doing well.
The ability to interact with golf instructors across the world has never been easier and is highly recommended.  Build the swing that will take your game to the next level and allow you to reach the consistency that many golfers desire!
Here is a list of golf instructors that we have reviewed.  You might consider giving them a shot:
Tip #5: Train For Speed
While you will not need a net for this specific activity, once you are done with your speed training, I would recommend taking some 100% swings with your golf net.
Let's face it, we all want to hit the ball further!  The good news…there is a way to increase your driver distance that doesn't include spending $500 on a new driver.
You can train for speed and get some amazing results with SuperSpeed Golf.  It worked for me and I believe it can work for many (especially if you make a commitment and actually use it)
I believe many used to believe, well this is just how fast I can swing.  
Recent training tools have started to change many minds.  We have seen many of the professional golfers get longer and longer with their tee shots as a result of additional swing speed.  You will find many touring pros using the SuperSpeed System, which I highly recommend.
SuperSpeed Golf is one option to increase your swing speed through a science based overspeed training approach.  In simple terms, you train by swinging a lighter club (20%) faster than you swing your driver.  Over time, by training at a higher speed, your mind and body feel safe to swing that fast with your normal driver, resulting in an increase in driver swing speed.
The SuperSpeed System provides 3 different weighted sticks and takes the golfer through a training protocol every other day for about 15 minutes.  The golfer can expect to see a 5-8% increase in swing speed, resulting in 20-30 yards for most golfers.  The great news is that the 5-8% can be expected as early as the first training session.  The additional speed will become more permanent after about 30-60 days of training.
My own experience has been an increase of 7-10 miles per hour on average from between 98-101 all the way up to 106-109.  My goal is to hit the PGA Tour average of 113 mph in the coming months.  I will continue to train every other day and watch in amazement as I am hitting drivers longer now than ever before!
Phil Mickelson has been known to increase his swing speed in the past year or so and is close to 120 miles per hour in his swing speed.  There are potential results for golfers of all ability levels and age!  
Check the current price on SuperSpeed Golf System, here!
| | | | |
| --- | --- | --- | --- |
| Original Swing Speed | After 4-6 Weeks | New Carry Distance | Total Distance |
| 95 | 102 | 245 | 265 |
| 100 | 108 | 259 | 279 |
| 105 | 113 | 271 | 291 |
| 110 | 118 | 283 | 303 |
Next Steps
I would recommend checking out Rain or Shine golf for all great options for your golf net and mat.  They also carry the Skytrak which will take your net and mat setup to a whole new level!
Are you ready to finally take your golf swing and your game to new levels!  Stop the frustrating with your golf game and put in the time with some great options this winter or even during the season!
Take Action – What You Can Do Today to Get Better
What does this mean for you?  I believe in the following recipe to get better:
1 – Improve your motion in the golf swing by identifying a golf instructor.  Here are some options:
Here is a list of golf instructors that we have reviewed:
2 – Train to swing faster and improve your swing speed.  Here are some options:
Looking to gain more Speed and Distance in your swing. Two Options:
3 – Understand course strategy and work to break through your next barrier.  Here is a series on breaking through:
We have provided guides on how to break 100, 90, 80 and 70. Check out more below, if interested.
4 – Practice Frequently
Did you know that I build a golf simulator in my garage and have played over 500 rounds of golf on my SkyTrak system?  It has been a game changer and one worth checking out. Here are some of my other posts on golf simulators frequently asked questions: