Golf can be an amazing game!
The journey to get better can be fun, frustrating and exhilarating all at the same time.  A golfer trying to get better and lower his or her scores is going to have ups and downs.  Good times and tough times!
The key is to stick with it and understand that on your journey, you will learn a lot and get better if you are working on the right things.
Too many golfers spend time at the driving range hitting golf balls with no plan in place.  Having been on a journey to get to scratch level in my golf journey, I provide the top 5 tips I have for a golfer looking to take their game to the next level and lower their scores!
How To Lower Your Score in Golf – Top 5 Tips!
Build A Quality Short Game
Increase Your Swing Speed
Control Your Low Point
Build A Stock Shot
Play Often
I believe in three key concepts to playing quality golf from a full swing perspective.  
First the golfer must be able to control the low point of the swing to produce a quality strike.  Second the golfer must be able to control the start line and curve of the ball through a stock shto.  Third the golfer must have enough speed to play the course and possibly even use their distances as an advantage.
Once the golfer has reached this level, they also need a quality short game.
Let's jump into more specifics with these top 5 tips above!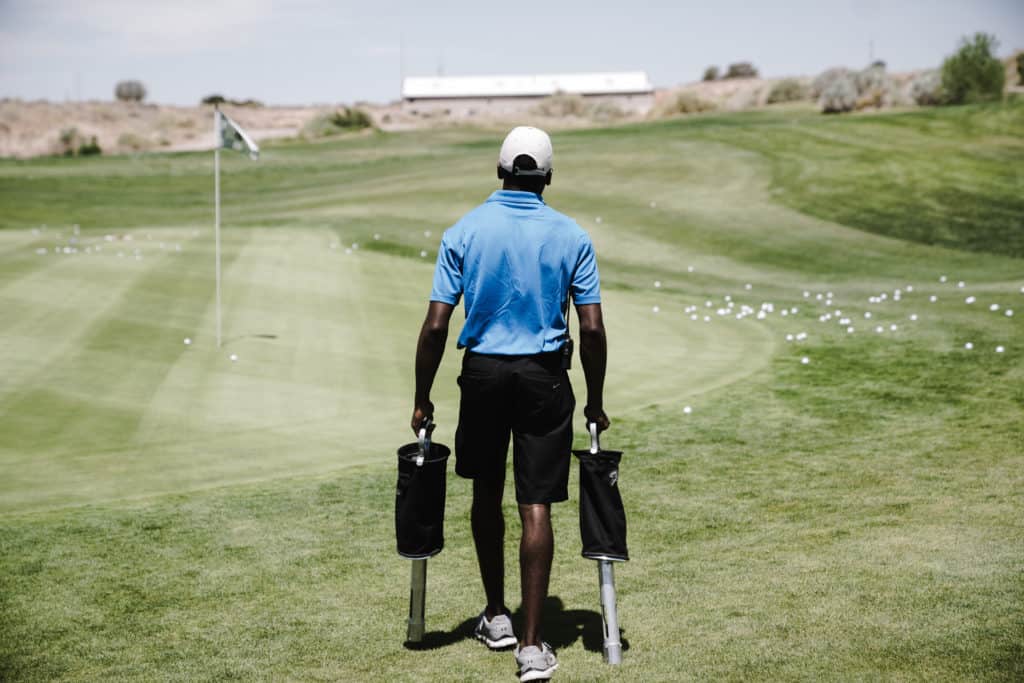 Tip #1: Build A Quality Short Game
There is no faster way to lower your scores than to have a quality short game.  This includes being able to hit quality chips and make a lot of putts between 3 and 10 feet.  The majority of your time around the practice green should be spent hitting a variety of chips shots and then practicing putts in the 3-10 foot range.
I always recommend the average to high handicap golfer to follow the formula below to break 80 and get their game to a rather respectable level!
Hit 6 out of 18 greens in regulation
Out of the 12 greens missed, save par 6 out of 12 times.
2 Putter or better on the 6 greens in regulation and the 6 one putts equals 12 pars.
Avoid double bogeys when not making par.
This would result in 12 pars and 6 bogeys for a score of 78 on a par 72 course.
My favorite game to play around the greens after spending time hitting many of the typical chip shots you will find yourself playing during a round is found below:
Drill: Up and Downs
One of the secrets to breaking 80 in golf is to be able to get up and down from around the green in 2 shots or less 50% of the time.  This is assuming you are in the 10-20 yard range from the role.  The current leader on tour does this at an 80% success rate.  
The great part about chipping and putting is it doesn't take high end club head speed or expensive equipment or lessons, but rather a simple technique and lots of practice.  The game here is to take one ball and pick a spot from off the green.  Go ahead and hit the chip shot and then see if you can make the putt.  
Pick 10 different spots around the green and track how many times out of 10 you were able to get up and down in 2 shots or less.  You can also play a competition against another person at the green and see who can get up and down the most times out of 10 or play some match play.  Once again the little competition will help prepare you for the actual course and the pressure that you may face.
Drill: Lag Challenge
Mark off a spot 40 feet from the hole.  Then draw putt tees around the backside of the hole and create a 3 foot radius. Take 10 balls and see how many out of the 10 you can get to within 3 feet from 40 feet.  
Once again, if you can do this at an 80-90% success rate you will help make your golf round more stress free.  The goal here is to prevent the 3 putt on the greens that you do hit in regulation!
Tip #2: Increase Your Swing Speed
Another top 5 tip is to increase your swing speed.  The extra distance is a game changer and one you should chase in your golf journey.
I believe many used to believe, well this is just how fast I can swing.  
Recent training tools have started to change many minds.  We have seen many of the professional golfers get longer and longer with their tee shots as a result of additional swing speed.  You will find many touring pros using the SuperSpeed System, which I highly recommend.
SuperSpeed Golf is one option to increase your swing speed through a science based overspeed training approach.  In simple terms, you train by swinging a lighter club (20%) faster than you swing your driver.  Over time, by training at a higher speed, your mind and body feel safe to swing that fast with your normal driver, resulting in an increase in driver swing speed.
The SuperSpeed System provides 3 different weighted sticks and takes the golfer through a training protocol every other day for about 15 minutes.  The golfer can expect to see a 5-8% increase in swing speed, resulting in 20-30 yards for most golfers.  The great news is that the 5-8% can be expected as early as the first training session.  The additional speed will become more permanent after about 30-60 days of training.
My own experience has been an increase of 7-10 miles per hour on average from between 98-101 all the way up to 106-109.  My goal is to hit the PGA Tour average of 113 mph in the coming months.  I will continue to train every other day and watch in amazement as I am hitting drivers longer now than ever before!
Phil Mickelson has been known to increase his swing speed in the past year or so and is close to 120 miles per hour in his swing speed.  There are potential results for golfers of all ability levels and age!  
Check current price on SuperSpeed Golf System, here!
| | | | |
| --- | --- | --- | --- |
| Original Swing Speed | After 4-6 Weeks | New Carry Distance | Total Distance |
| 95 | 102 | 245 | 265 |
| 100 | 108 | 259 | 279 |
| 105 | 113 | 271 | 291 |
| 110 | 118 | 283 | 303 |
Tip #3: Control Your Low Point
If you head out to watch an PGA Tour event you will see every golfer hit a high percentage of their shots very crisp.  Even if you sat on a par 3 tee box and asked golfers their handicap and then noted their ball contact, you would find a connection between the handicap of the golfer and their ability to strike the ball clean.
The weakest golfers might only strike the ground where they need to about 50% of the time.  The best golfers are close to 100%.  On your journey you will see that as your get better, you will strike the ball better more frequently.
Below, I have an excellent drill to help you work on this specific area:
Drill: Low Point Control Drill
Paint a 2-3 yard long line with some yard paint.
Place the wiffle ball on the line.
The goal is to have your divot start just on the target side of your line.
Go ahead and hit shot after shot, working on controlling your low point and your entry into the ground.
Assess your success rate out of 20 times and write it down.
Complete this drill daily for several weeks and see if your game improves at the course.
If you start to hit the ball poorly at any point on your golf journey, return to this drill and keep it simple.  
One quick tip: if you are struggling to control your low point, go ahead and set up with 60% of your weight on your front leg.  Keep your head centered without a big shift off the ball and turn more around your front leg.  
This will help keep your centers in place and allow you to control the low point.  Many golfers struggle with the low point because they don't get their weight back to their front side early enough and end up casting the club.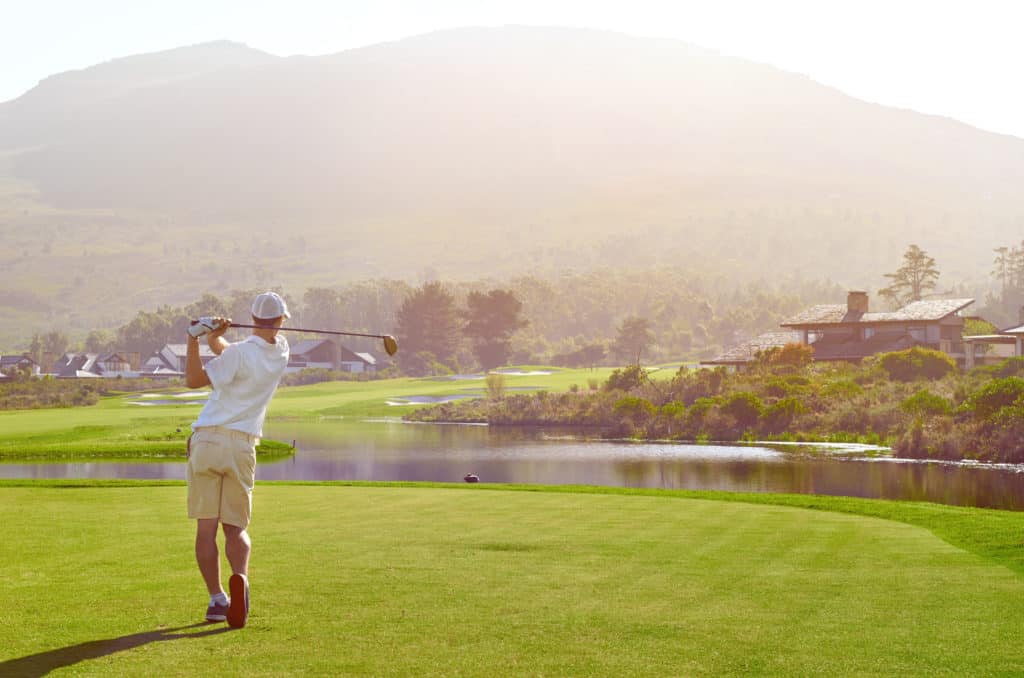 Tip #4: Build A Stock Shot
Every golfer needs to have a go to shot.  The shot where they can step up and have a high level of confidence of where the ball will start and what direction it will curve.  There is nothing more difficult than standing over a shot and having little to no idea about where the ball is going to fly and how it is going to curve.
I prefer to play the draw.  I will typically hit a shot that starts somewhat right of my final target and then curve back towards the target.  The key is to not over curve the ball, which helps your eliminate the left side of the golf course.
This comes from club face control and being able to start the ball on the proper line.  The more we can control our club face, the better we can control our start line.
Drill: Stock Shot Drill
Set up an alignment stick 6-8 yards down your target line in front of the ball.
If you have one, set up a second alignment stick 2-4 feet right of that target line
Go ahead and see how many swings out of 10 you can get the ball to start to the right of the first of the alignment stick.  The goal here is to progress to 7 out of 10.
Practice this drill everytime you hit golf balls.

The key to golf is being able to control your contact and your start line.  
Could you imagine a round of golf where you strike the ball solid and 7 times out of 10 the ball starts down your intended target line?  This is the ultimate in golf and helps you start to focus on your course management.  
You will gain confidence and the consistency that we all seek!
The golfer that can control the low point in their swing and start the ball on the intended line a high percentage of the time will find themselves making plenty of pars.  Assuming an above average short game, they are well on their way to becoming a scratch golfer or a least lowering their scores.
Tip #5: Play Often
Golf is a game that takes plenty of repetitions.  
It is difficult to get better if you aren't putting the time in.  You will see that if you can find a way to hit golf balls at least 5 days a week, your game will improve quickly and your scores will lower.
One of the biggest barriers are the winter months.  Even if a golfer makes progress between April and October, once the winter months hit they can often lose many of the gains that were made during the season.
One major key is to be able to practice during the winter months.
4 years ago I was able to build my own golf simulator in my garage and 800 rounds later, I have reached the scratch level as a golfer.  I have tried to take the top tips that helped me to pass on my experiences in my journey in hopes they can help your game.
Playing in the winter months and being able to strike golf shots all winter and gain the experiences connected with shooting scores has been a major help.
While you may not be able to set up a complete golf simulator setup, at a minimum I would recommend setting up a mat, net and some kind of launch monitor.  Rain or Shine has some great options and carries many products.  I would highly recommend the Skytrak as I have found it affordable and reliable.
Some direct links to Rain or Shine Golf for pricing and financing:
Final Thoughts: Top 5 Tips To Lower Your Golf Scores
IF you are able to play golf 12 months out of the year, you will notice massive game improvement, some extra fun in your life and the ability to work on the drills above.
The ability to work on low point control, stock shot drills and the speed training is a wonderful formula to lowering your scores.
The golf simulator has been a game changer for me and I highly recommend it for anyone that wants to get better and get better fast!
Are you ready for the next level?  Take action and find out if you have the dedication to get better.  Don't forget to love it and enjoy the journey!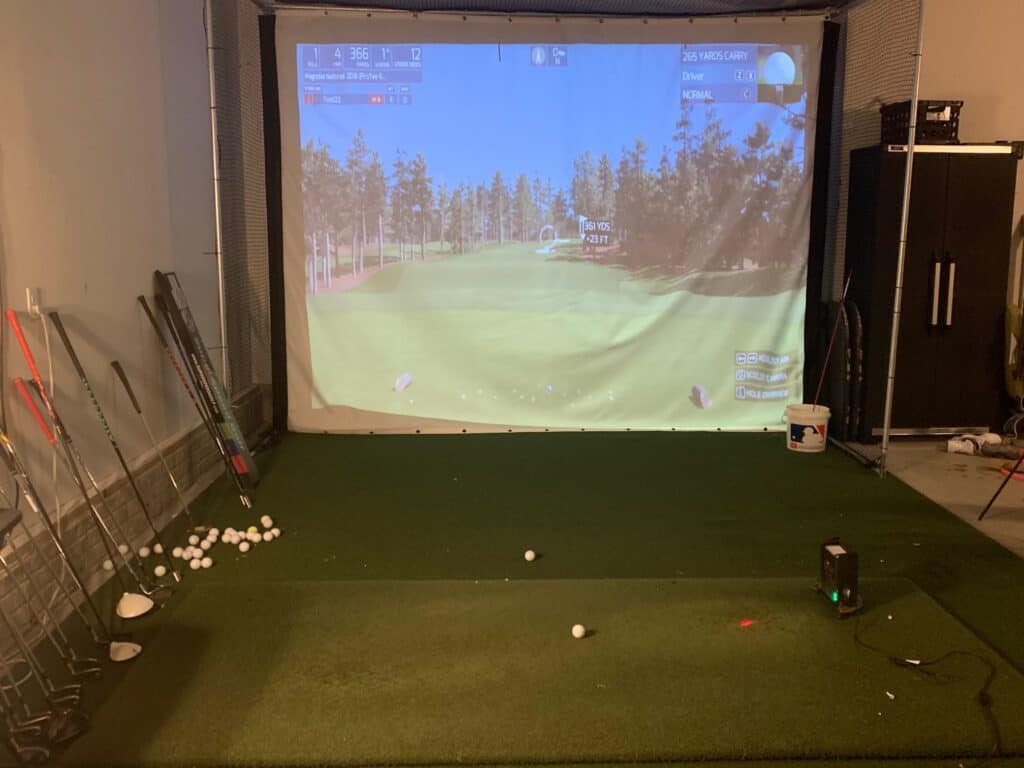 Take Action – What You Can Do Today to Get Better
What does this mean for you?  I believe in the following recipe to get better:
1 – Improve your motion in the golf swing by identifying a golf instructor.  Here are some options:
Here is a list of golf instructors that we have reviewed:
2 – Train to swing faster and improve your swing speed.  Here are some options:
Looking to gain more Speed and Distance in your swing. Two Options:
3 – Understand course strategy and work to break through your next barrier.  Here is a series on breaking through:
We have provided guides on how to break 100, 90, 80 and 70. Check out more below, if interested.
4 – Practice Frequently
Did you know that I build a golf simulator in my garage and have played over 500 rounds of golf on my SkyTrak system?  It has been a game changer and one worth checking out. Here are some of my other posts on golf simulators frequently asked questions: