I know I have always dreamed about being able to play golf 12 months out of the year. 
There is nothing worse than snow covered golf courses and cold winter weather that can prevent golfers from enjoying the sport they love.
You turn on the television in January and the PGA Tour is playing a course in Hawaii, Florida or California and you are stuck inside dreaming about playing golf.
Can you play golf in the winter?
Yes, even if you live in a cold weather area, there are opportunities to play outside when there is no snow and a decent temperature.  Other options include golf trips to warmer destinations and some golfers even build golf simulators in their house.
3 Options for Winter Golf
Play in the cold when the course is not snow covered
Take a golf trip to a warmer destination
Build a golf simulator in your house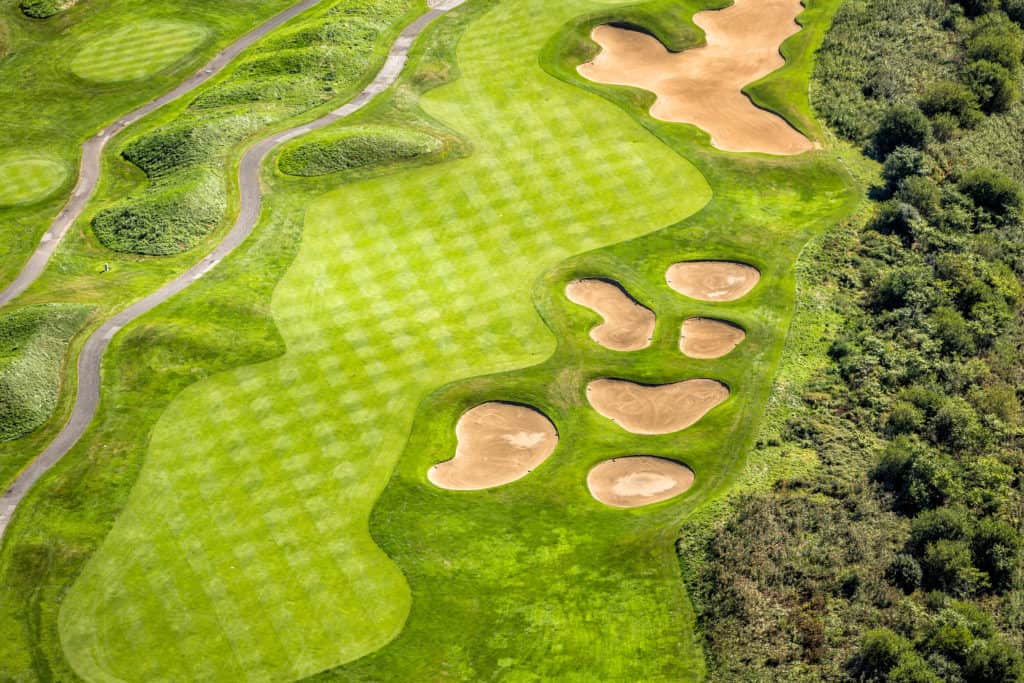 Option 1: Play in the cold when is course is not snow covered
Unless you live in a place that gets significant snowfall all winter, there may be opportunities to get out and play.  I live in Ohio and at one point in my life I had played golf outside for 60 consecutive months.  There might have only been one day that month where the snow had melted and the temperature was warm enough for the course to be open and we took advantage of it.
While playing golf in these conditions takes some quality preparation to ensure you can stay warm, just being able to get outside and see the ball fly is rejuvenating and helps make the winter more bearable for those that love golf.
The key to playing outside in this weather is having the proper attire and the right level of expectations.  The golf course grass will more than likely be dormant and there will be considerable softness to the course.  Your game will not be as sharp and you will hit the occasional poor shot or get the poor result because of conditions.  Remember, just be glad you are outside being able to play golf, get some exercise and spend time with friends of family on the golf course.
How to practice golf this winter!
How to get better at golf this winter (7 suggestions)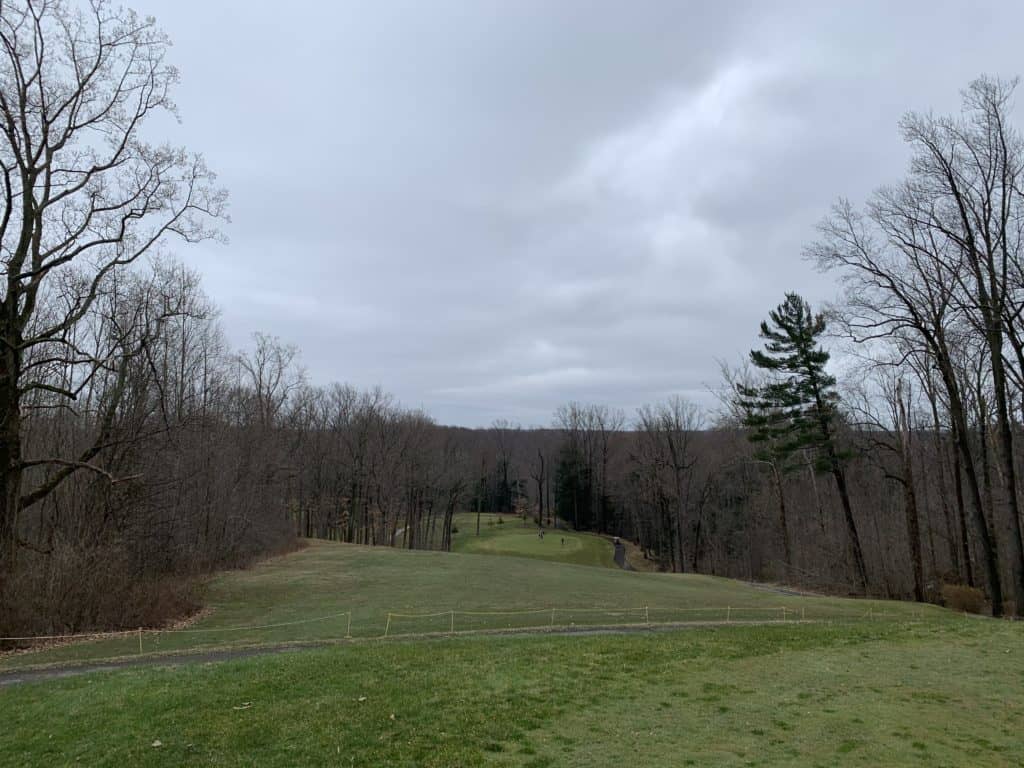 Option 2: Take a golf trip to a warmer destination
Places like Florida, South Carolina, Arizona and California are wonderful places to travel to during the winter months.  The golf courses there will be in premium condition and the weather is playable a high percentage of the time.
The most popular time for golf trips are January through April.  I have travelled to South Carolina, Florida and Arizona to play golf. 
Arizona is absolutely beautiful in those early months. While it can get cold at night, the daily high temperatures are usually in the 80s.  The ball will bounce, the grass will be green and you will feel the warmth as you play the game you love.
If you are planning one of these trips, make sure you find a driving range ahead of time before you trip where you can work on your game to help you maximize the enjoyment and help eliminate frustration from not playing up to your standards.  The most difficult part is the short game if you are not in midseason form for most golfers.
Option 3: Build a golf simulator in your house
This is an option I selected around 4 years ago.  I have now played close to 900 rounds on my golf simulator.  I can play courses like Augusta, Pebble, Whistling Straits, St. Andrews and many of the top 100 rated courses in the world.
The realistic nature of the golf simulators continues to improve as the accuracy is rather impressive on my Skytrak system.  The reality of a golf simulator from a cost perspective might be better than you would anticipate.  I was able to get a complete package for around $7000 and this was all high level selections from the mat, projector, enclosure, etc. that are involved in making this dream a reality.
I would highly recommend Rain or Shine golf for all your golf simulator needs:
There is nothing better than playing Pebble on a cold winter day in January when there is a foot of snow in Ohio.  
While taking a golf trip is awesome or getting outside to play when the snow is melted, true game improvement can happen with a golf simulator.  If you are someone that wants to get better and will put in the time, then game improvement from playing 12 months a year with your golf simulator is something you should highly consider.
The feedback every shot includes:
Ball Speed
Carry and Total Distance
Launch Angle
Spin Rate 
Spin Axis
Shot Tracer
Being able to visually see your shot, understand the numbers and build different feels and techniques can make you a better ball striker and ready for the spring season.
Here are some great resources to help you explore the possibility: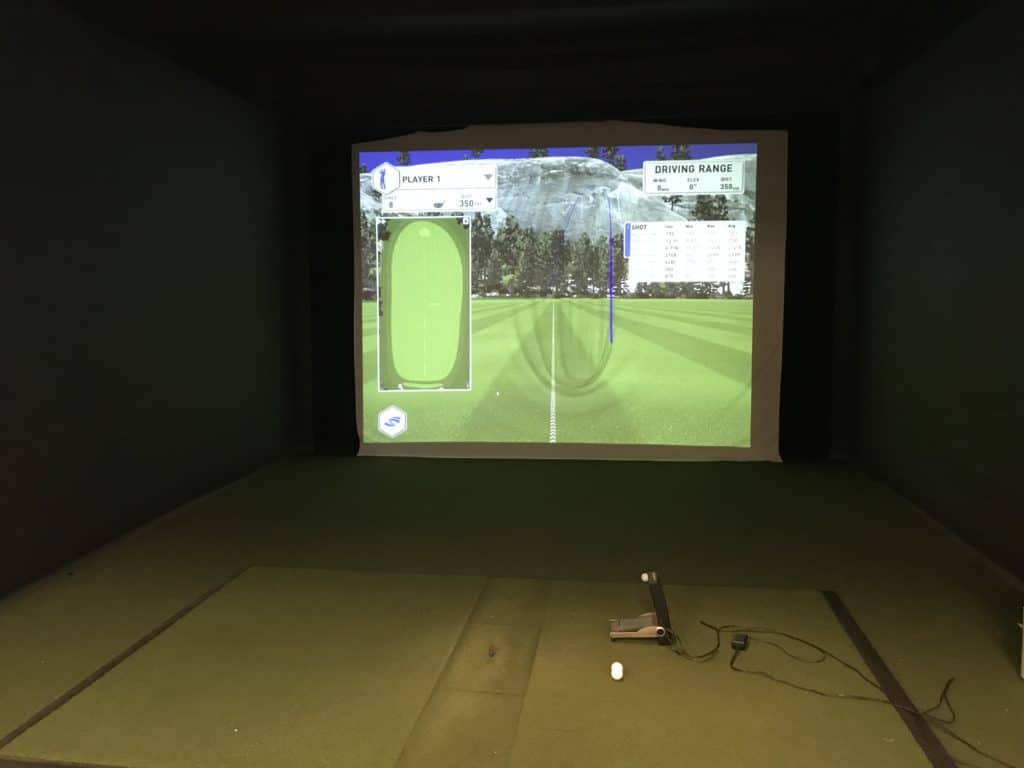 My Secret To Golf Improvement
Let's face it, in order to get really good at golf, we must practice frequently.  About three years ago, I made the leap and invested in a golf simulator build for my garage.  I went with a SkyTrak Launch Monitor and the TGC software and can now play over 100,000 courses including Augusta, Pebble Beach, Bethpage Black, Whistling Straits. St. Andrews and many other of the top 100 courses in the world.
This golf simulator setup, which is more affordable that you might imagine, has been a game changer.  I can now play golf everyday of the year regardless of rain, snow, cold weather or time of day.  I can practice or play rounds of golf.  I can stand in the 11th fairway at Augusta and with the auto-rewind feature I am able to practice my approach shots from various differences.
It is worth checking out through Rain or Shine Golf as they offer some incredible packages along with financing offers that are difficult to beat.
Some direct links to Rain or Shine Golf for pricing and financing:
Take Action – What You Can Do Today to Get Better
What does this mean for you?  I believe in the following recipe to get better:
1 – Improve your motion in the golf swing by identifying a golf instructor.  Here are some options:
Here is a list of golf instructors that we have reviewed:
2 – Train to swing faster and improve your swing speed.  Here are some options:
Looking to gain more Speed and Distance in your swing. Two Options:
3 – Understand course strategy and work to break through your next barrier.  Here is a series on breaking through:
We have provided guides on how to break 100, 90, 80 and 70. Check out more below, if interested.
4 – Practice Frequently
Did you know that I build a golf simulator in my garage and have played over 500 rounds of golf on my SkyTrak system?  It has been a game changer and one worth checking out. Here are some of my other posts on golf simulators frequently asked questions: