Golfer tape their fingers to help prevent blisters or to add an extra layer where their hand may be sore from the thousands of shots they may hit in one week as they play and compete in the game of golf.
If you have watched golf on television or visited a local PGA Tour stop, you may have noticed golfers wearing tape on their fingers.
Many amateurs like to replicate whatever the best golfers in the world utilize.  Whether this is what they wear, the driver they utilize, the irons they play, the putter they use to sink putts and more than anything how they train to get better.
Tape can be a great addition to any golf bag for those that hit many shots and practice frequently.  Over time, the hands will be calluses, but sometimes this is not enough and the tape is a must before or during a round of golf.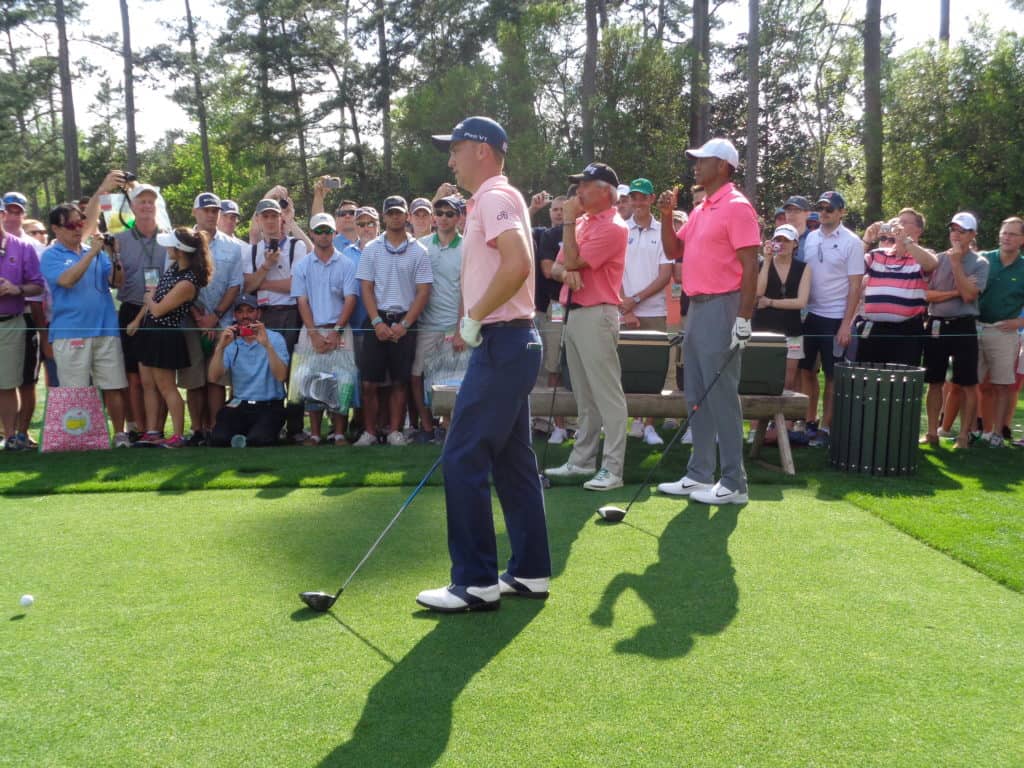 Why Do Golfers Tape Their Fingers
We will dive into numerous topics connected with why golfers tape their fingers.  These topics include:
Why do my fingers get sore from golf?
How can I prevent my fingers from getting sore?
Will a golf glove help?
What other items should I carry in my golf bag?
Looking to gain more Speed and Distance in your swing. Two Options: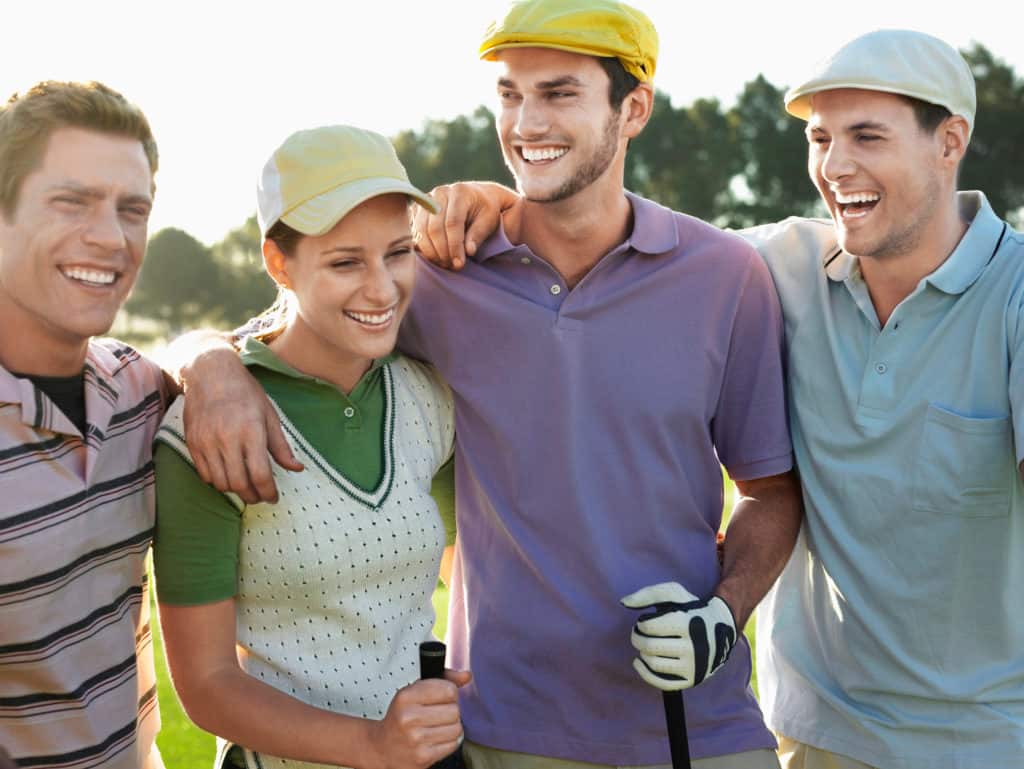 Why Do My Fingers Get Sore From Golf?
For a golfer, the grip is maybe the single most important part of the golf swing.  If your hands are sore all the time, your chances of playing quality golf decrease and the round can become miserable. 
Over time, most people will be able to build calluses, which provide extra defense for your skin.
Here are some things to check out if you have blisters:  
Golf Grip:
If you are gripping the club properly, which means in your fingers and without too tight of a grip, your hands in general should not be too sore.  If you are gripping in your palms or holding the club way too tight, the skin is going to get beat up a bit and struggle from the intensity of the grip.
Golf Grips:
Check the quality of the actual grips on your clubs.  Too many people go way to long between replacing the grips.  What happens when you have a low quality grip on your club is that you have a tendency to squeeze the club too tight, which can lead to issues in your golf game. 
Make sure you don't skip this step.  The investment in new grips will run around 80-120 dollars for your entire set to be re-gripped.  If you play over 60 rounds a year and practice frequently, you may consider changing grips every other season.
My top rated golf grip:
Golf Tape:
If you notice a spot on your hands getting torn up a bit, it is probably time to utilize some tape during your practice time and your actual rounds.  Start with your practice time to ensure you are comfortable and can have a quality grip that you feel confidence in. 
I always keep tape in my golf bag for those times when my hands are sore.  I am someone that plays and practices a lot.  With a golf simulator in my garage, I hit golf balls close to 300 days a year and enjoy the journey of trying to get better!
Are you senior golf?
Do you need more speed and distance? Check out this excellent option!
How can I prevent my fingers from getting sore?
Learn more about the golf grip and the golf swing.  At the rate I play at, over 300 days a year of hitting golf balls, my hands are free from blisters.  While I do have calluses, that is a good thing, but I do not need tape for every practice session or round.
I do however have a quality grip and replace the grips on my club every other season.  This helps keep my grip tension where it should be and I am able to play the game of golf pain free and do not need to worry about blisters.
If you have an area on your hands where you have blisters from other activities be sure to invest in some tape and check out the quality of different tape.  Below are my top two recommendations to help out if you need tape.
Check price below on amazon:
Will a golf glove help?
Yes, every golfer should highly consider using a golf glove.  Right handed golfers will wear a golf glove on their left hand and a left handed golfer will wear a golf glove on their left hand.  This provides a quality grip and once again confidence that the quality is there to prevent over swinging.
I would recommend not buying a cheap glove and spending at least at the mid tier level in gloves.  The extra quality is vital and will help you play better or at least have the confidence in your grip. 
Once a golfer starts gripping a club too tight from a tension standpoint, the tension increases in the full swing and it hurts the overall motion.
I carry 3-4 gloves in my bag at any time to help in sutionats where it is really hot and sweaty.  The rotation of gloves even in the middle of the round can help a golfer with his or her overall performance and help protect the hands.
The golfer should also consider carrying a large towel and getting half the towel wet and keeping the other half dry.  Prior to every shot, I would recommend wiping down the club with the wet side and then drying off with the dry side. 
This will help remove any oils that the skin may be carrying and any sweat that may have dripped on the club.  Once again, the goal is a quality grip to keep us performing at our highest level and keep our hands in a condition that allows us to practice and play as frequently as we desire!
Recommended Golf Gloves: (Check Price Below on Amazon)
What other items should I carry in my golf bag?
A golfer in addition to the tape linked above and the golf gloves should ensure they have the following items to help with their overall golf grip and to keep their hands and fingers pain free to enjoy the game as frequently as they want. 
Here is a quick checklist: (Recommendations Included)
Rain Gloves
Winter Gloves
Golf Towel
Closing Thoughts: My Secret To Golf Improvement
Let's face it, in order to get really good at golf, we must practice frequently.  About three years ago, I made the leap and invested in a golf simulator build for my garage.  
I went with a SkyTrak Launch Monitor and the TGC software and can now play over 100,000 courses including Augusta, Pebble Beach, Bethpage Black, Whistling Straits. St. Andrews and many other of the top 100 courses in the world.
This golf simulator setup, which is more affordable that you might imagine, has been a game changer.  I can now play golf everyday of the year regardless of rain, snow, cold weather or time of day.  I can practice or play rounds of golf.  I can stand in the 11th fairway at Augusta and with the auto-rewind feature I am able to practice my approach shots from various differences.
It is worth checking out through Rain or Shine Golf as they offer some incredible packages along with financing offers that are difficult to beat.
Some direct links to Rain or Shine Golf for pricing and financing: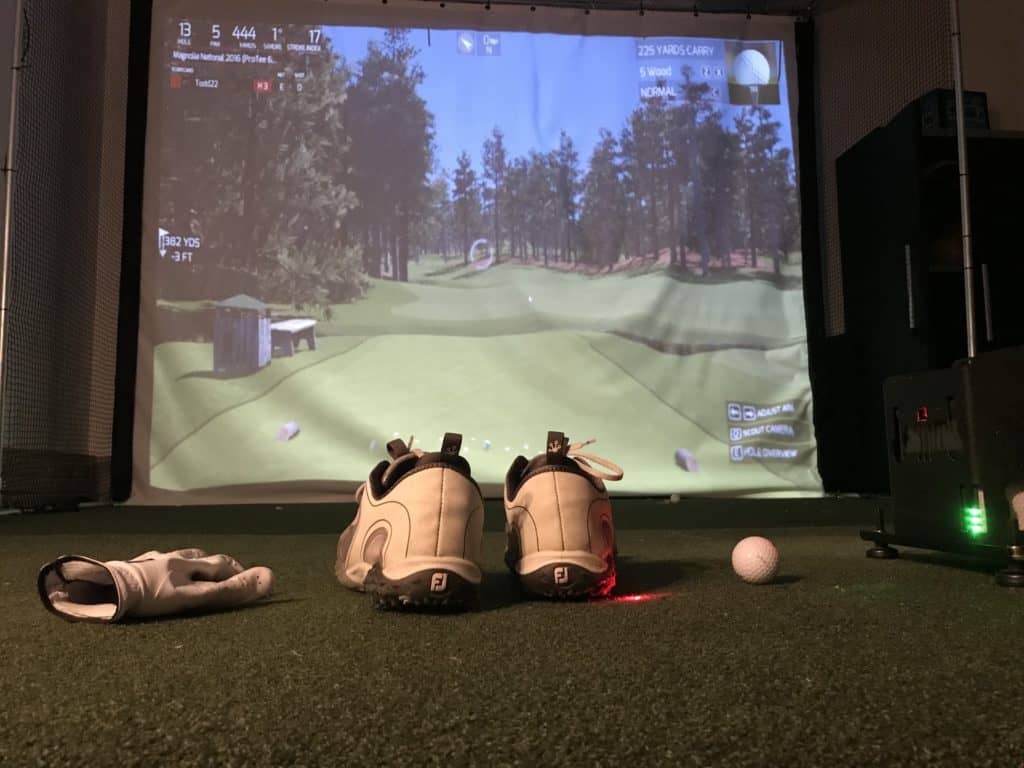 Take Action – What You Can Do Today to Get Better
What does this mean for you?  I believe in the following recipe to get better:
1 – Improve your motion in the golf swing by identifying a golf instructor.  Here are some options:
Here is a list of golf instructors that we have reviewed:
2 – Train to swing faster and improve your swing speed.  Here are some options:
Looking to gain more Speed and Distance in your swing. Two Options:
3 – Understand course strategy and work to break through your next barrier.  Here is a series on breaking through:
We have provided guides on how to break 100, 90, 80 and 70. Check out more below, if interested.
4 – Practice Frequently
Did you know that I build a golf simulator in my garage and have played over 500 rounds of golf on my SkyTrak system?  It has been a game changer and one worth checking out. Here are some of my other posts on golf simulators frequently asked questions: