Golf balls are expensive!
Many people will walk through wooded areas or do anything to avoid buying new golf balls.
However, your game reaches a point, where you prefer a certain golf ball. 
For me, that is the Titleist Pro V1.  The overall performance of this golf ball makes it impressive and a golf ball that I want to play for every round.
I used to settle for something similar, but the time has come where I only want to play the Titleist Pro V1. 
Maybe you have reached this same point and have been searching for an alternative.
Well, I have one for you!
Recently, I discovered lostgolfballs.com and purchased some Titleist Pro V1s to check out the quality and hopefully be able to rely on this website for my golf ball purchases.
Could this site really produce quality golf balls at a discounted priced compared to brand new?  I started with some skepticism and ended up pleasantly surprised and borderline thrilled with the quality that they produced!
December 2022 Update: I have now placed 5 different orders over the past several years (one as recent as last week) and remain impressed with the quality of the golf ball and the customer services provided. Discount codes are usually emailed around different major golf events and certain shopping holidays.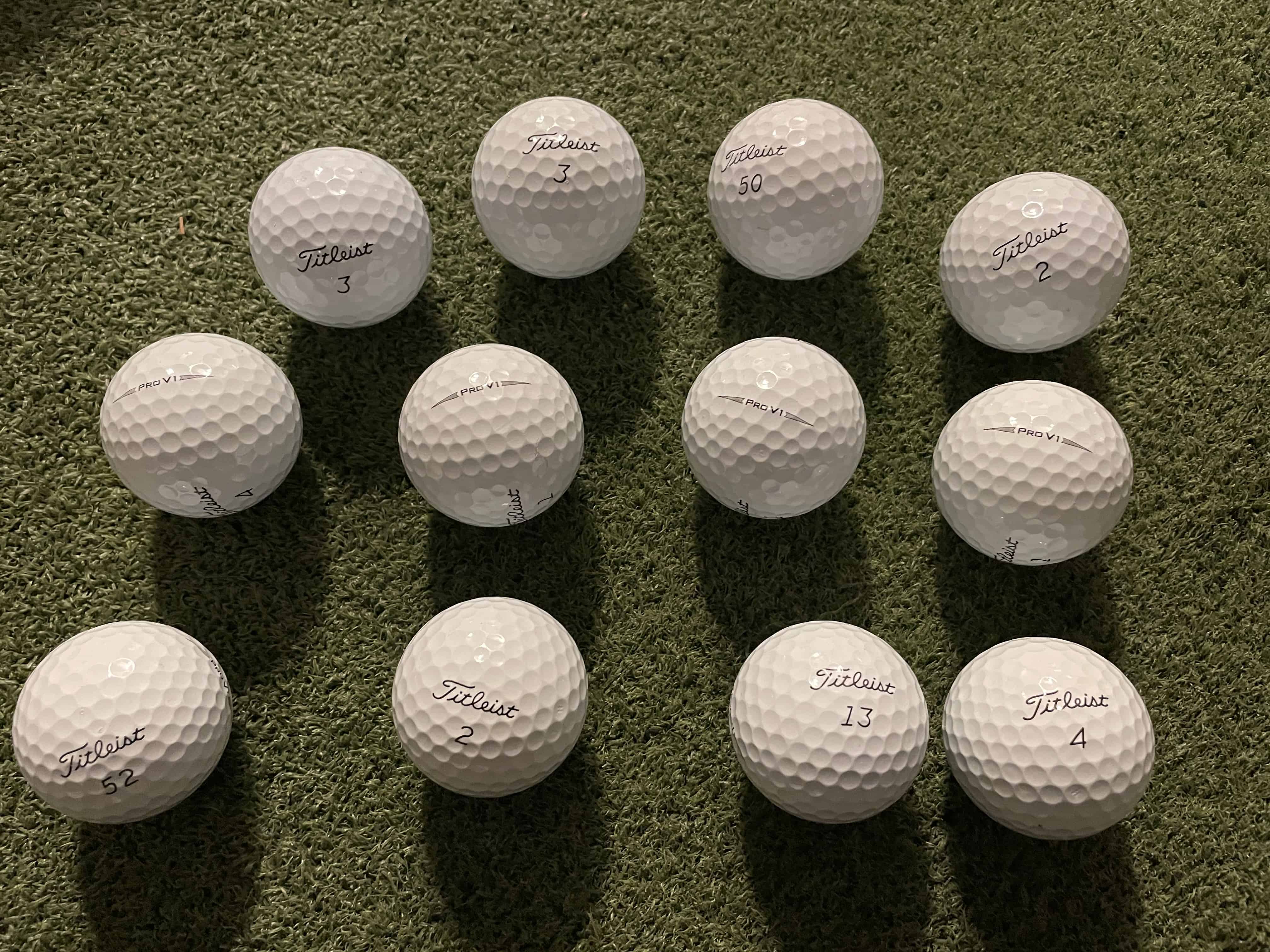 Should You Buy Used Golf Balls?
My experience has been a positive experience and have found the quality and performance of the golf balls to be top notch!  Overall, my experience with lostgolfballs.com was a 10 out of 10 on a rating scale.
LostGolfBalls.com Review
Here is a complete review of lostgolfballs.com.  Topics include:
Pricing comparison
Level of golf balls
Quality of the golf balls received
Ease of purchase
Performance on the course
Would you recommend to others
Pricing Comparison
When one considers that one dozen of brand new Titleist Pro V1s or Prov1x cost close to $50 a dozen and you can get the used or pre owned golf balls at 40% to 50% of the cost per dozen depending on if you choose to go with the highest rated golf balls which is Mint 5A or or the Near Mint at 4A.
Resource: Does it matter what golf ball I used? (Complete Overview)
I have purchased both levels and have been highly pleased with the golf balls that arrived at both the 4A level and the 5A.
| | |
| --- | --- |
| Golf Ball | Average Cost |
| Brand New | 48/dozen |
| Mint 5A | 28/dozen |
| Near Mint 4A | 21/dozen |
Even if I cost was not an issue at all, I would have a hard time not buying the Mint 5A as a great alternative.  I just hope some people continue to buy the brand new golf balls at retail price to ensure that there are plenty of lost golf balls that can be resold on the secondary market!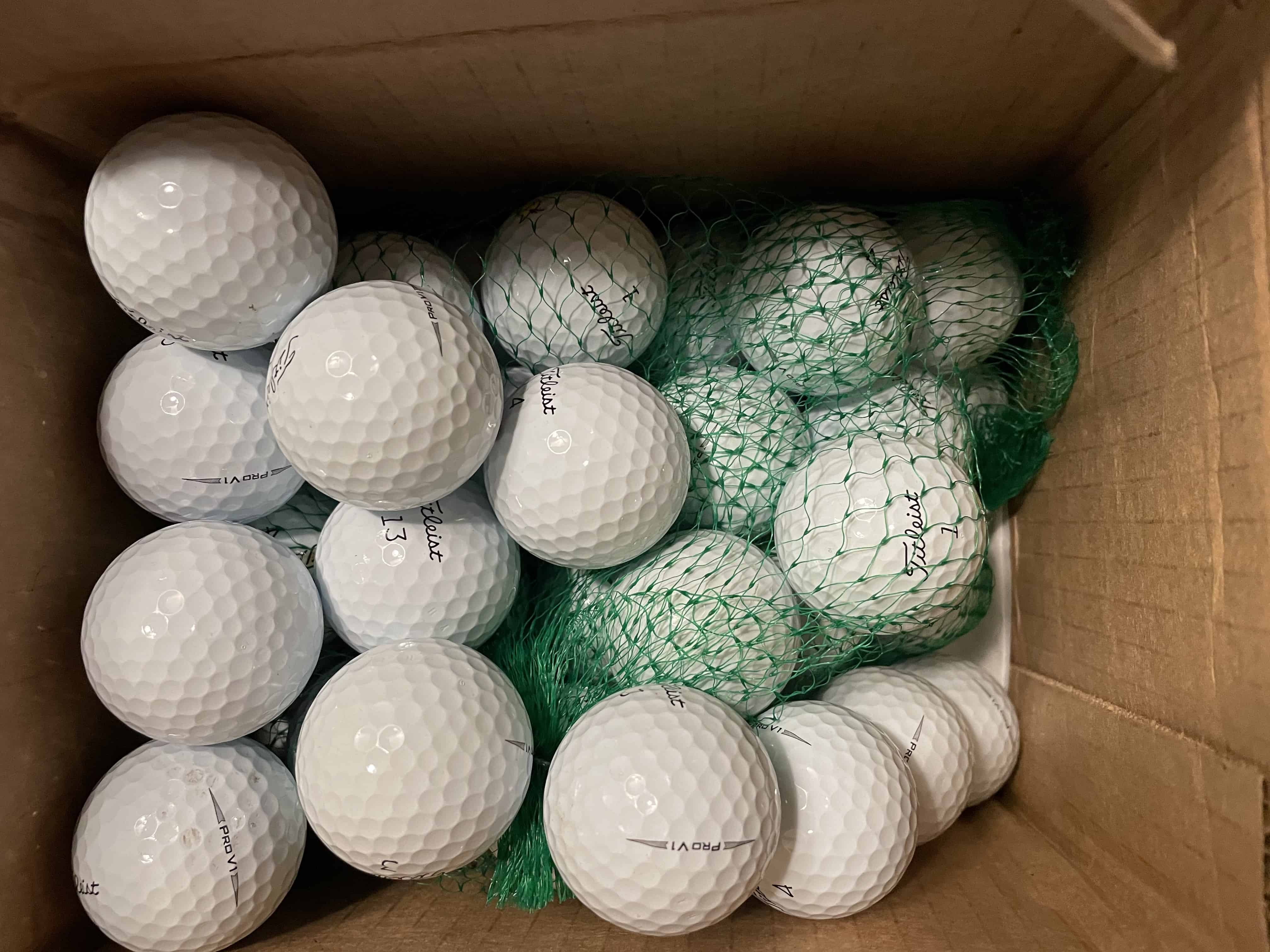 Level of Golf Balls
On their website, the golfer can choose from a variety of different levels all at a different price point.  Within their website, they have a grading scale that shows what you can expect with your purchase.  I have found their grading scale and what is actually delivered to be accurate.  Here are your options:
| | | | |
| --- | --- | --- | --- |
| Level of Golf Ball | Price Point | Condition | Comparison |
| Mint 5A | Highest Price | No or very little wear | To a New Golf Ball |
| Refinished No Logo | Second Level | Factory refinished | Looks Brand New |
| Near Mint 4A | Third Level | Pen markings or logos | Played for several holes |
| Good 3A | Lowest Price | Slight scuffs or blemishes | Played for a longer time |
If you don't mind a logo golf ball and want an amazing price, sometimes more than 50% less than retail the Near Mint 4A is a wonderful option.  If you want the near perfect golf ball that nobody but you would know that it has been used then go with the Mint 5A.  If you are on a tight budget or want some practice balls the Good 3A level might work best for you!
Quality of The Golf Balls Received
The quality compared to the grading scale have been spot on.  I have been thrilled with both my 5A Mint order and my 4A Near Mint order.  On my next round of purchase, I will more than likely go with the 4A Near Mint as I don't mind a pen marking or logo on the golf ball.  The quality was there as I was able to shoot some low scores with the golf balls received from lostgolfballs.com.
Ease of Purchase
I found their website very user friendly and shipping was covered by a discount code that I was able to use.  Overall, the customer experience was positive.  Many times different websites will get on the cost of shipping, but that is not the experience with lostgolfballs.com.  I received the product as promised in a reasonable time in a small box (see below).  The overall experience and ease of purchase would be given a 5 out of 5 rating.
With both of my purchases I ordered 4 dozen.  This level of purchase will often bring in certain discount codes, additional savings or discounts on the shipping cost such as free shipping.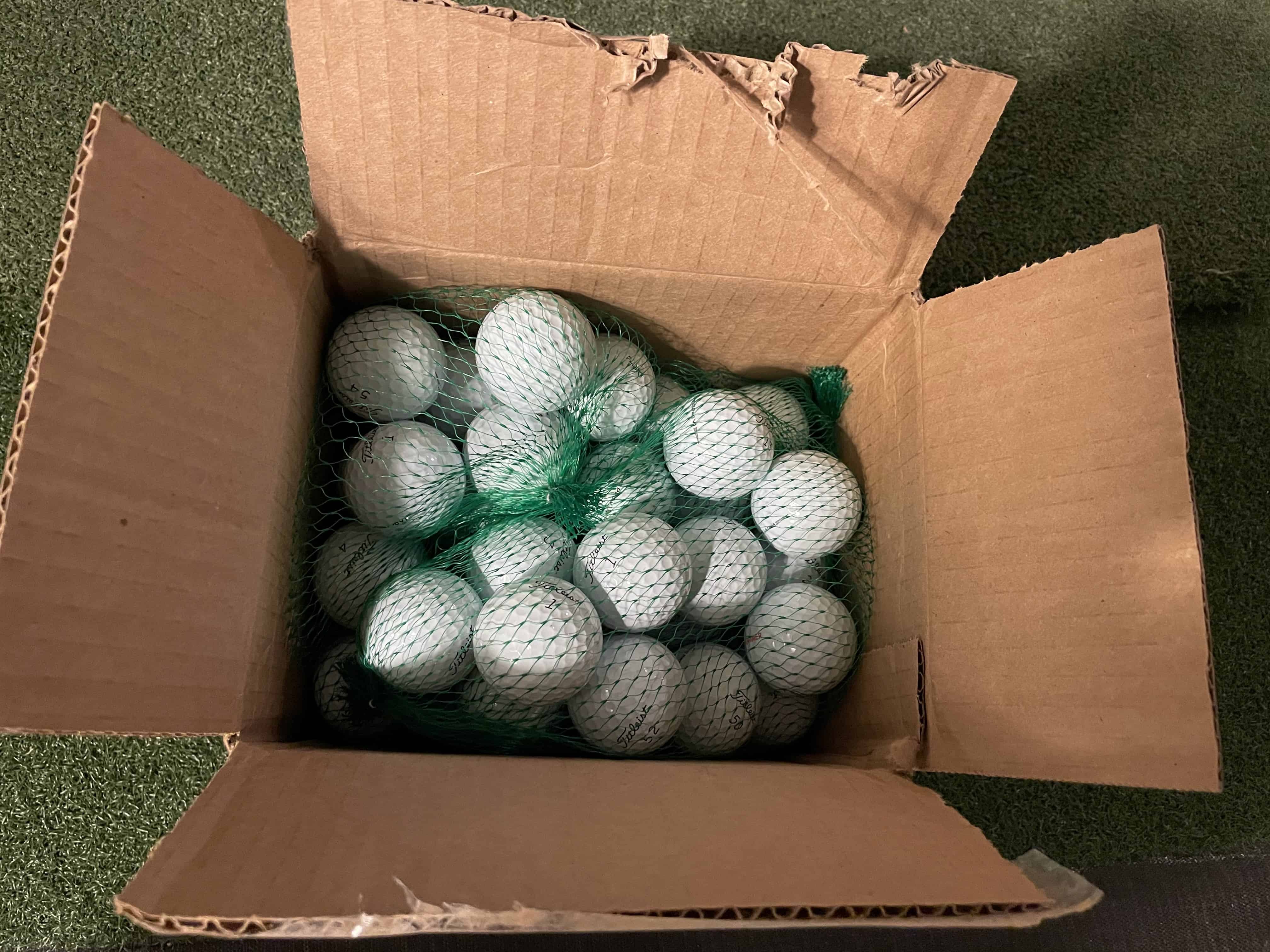 Performance On The Course
I did not notice any dip in performance on the golf balls with the used golf balls that I purchased.  I was able to shoot my typical scores and have confidence in the golf ball.  They have a wide range of golf balls that they offer and as far as the performance of the Pro V1s go, I was highly impressed and was a repeat customer and plan on returning in the near future.
Would Your Recommend to Others
Yes, I say this without any hesitation other than I hope they don't run out of golf balls that I prefer to play.  However, at the rate that many lose golf balls, I probably do not have to fear this!
Final Thoughts
Golf is an awesome game.  Sometimes it can be expensive, but when there are opportunities like this one, it is hard to pass up.  We realize not everyone has an unlimited budget when it comes to golf clubs, golf balls, green fees, etc. and we are always looking for ways to save money and maximize our dollar.  Their service is a true gem that is out there.  My only regret was that it took me this long to find it!
Looking to take your game to the next level? Check out our recipe below:
Take Action – What You Can Do Today to Get Better
What does this mean for you?  I believe in the following recipe to get better:
1 – Improve your motion in the golf swing by identifying a golf instructor.  Here are some options:
Here is a list of golf instructors that we have reviewed:
2 – Train to swing faster and improve your swing speed.  Here are some options:
Looking to gain more Speed and Distance in your swing. Two Options:
3 – Understand course strategy and work to break through your next barrier.  Here is a series on breaking through:
We have provided guides on how to break 100, 90, 80 and 70. Check out more below, if interested.
4 – Practice Frequently
Did you know that I build a golf simulator in my garage and have played over 500 rounds of golf on my SkyTrak system?  It has been a game changer and one worth checking out. Here are some of my other posts on golf simulators frequently asked questions: