I think we can all agree that when we are hitting our driver in play and hitting greens in regulation that golf is much easier and a ton of fun!
Many of us have experienced the round where we are hitting the driver straight and our irons pure.  It often comes down to whether or not the putter is hot that day.
For many golfers, this starts with keeping the driver in play.  Most courses have around 14 par 4s and par 5s total with an average of 4 par 3s.  When a golfer can have 18 legitimate approach shots into greens, their chances of shooting quality scores increases.
If a golfer is punching out from the trees, or having to hit another tee shot due to hitting a ball out of bounds, most scores will quickly plummet.
As the driver does, so does the score typically.  When a golfer can keep the ball in play, they build confidence and off they go on a quality round.  The connection here is that a driver is 45-46 inches long and the most difficult club to hit at times.
How To Keep Your Driver in Play (5 Tips)
Develop a stock shot
Consider your start lines
Have realistic expectations
Use the tee box to your advantage
Swing with conviction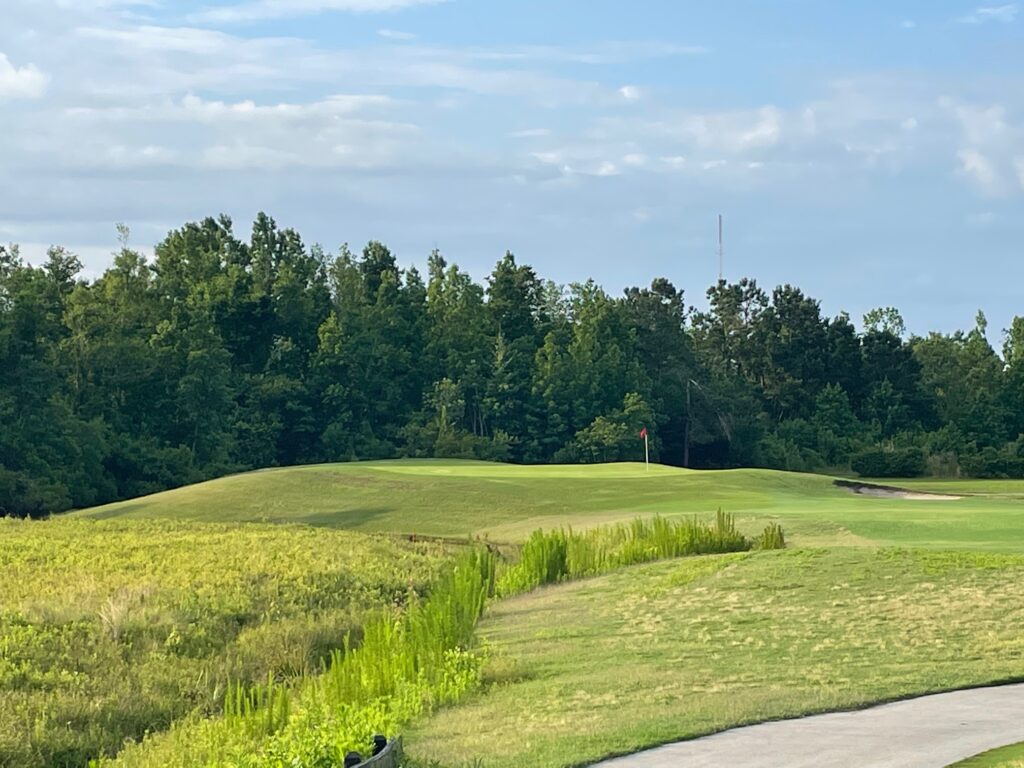 Tip #1: Develop a stock shot
We believe the golf swing has three key fundamentals:
Controlling the low point of the swing
Controlling the start line and curve of the ball
Having enough speed to play the course
The 2nd fundamental above is connected to the stock shot.  A golf who has confidence in the starting line of the shot and what way the ball will curve, can pick the proper aim spots and swing with confidence and conviction.  The worse case scenario is when the golfer stands over a shot with a lack of confidence, often leading to a poor result.
The stock shot can be defined as a slight draw or a slight fade.  It doesn't matter which one you hit, as long as you can hit one of them consistently.
Stock Shot Drill
At the driving range, set up an alignment stick about 6-8 yards in front of you, straight down your target line.
If you have a second alignment stick, set the stick 3-4 feet right of the first stick (for a draw) or left of the first stick (for a fade).
Complete your initial assessment see how many times out of 10 you can start the ball to the right or left of your target.  Pick one side and measure your game at this point.
The goal is to eventually get 7 out of 10 shots to start to the correct side and draw or fade back towards the target.
This drill will help with every club in the bag.  If you can hit a draw or a fade on 90% of your shots, you can play with the confidence and consistency that many golfers are seeking.  Playing golf with a stock shot is one of the most rewarding experiences.  The opposite of this is having no idea where the ball is going to fly, which is one of the most frustrating experiences in golf.
How to hit your driver straighter!
Tip #2: Consider your start lines
When you head to the tee box on a par 4 or par 5 do you automatically aim down the middle of the fairway?  On the surface this might make the most sense, but it actually is not a good practice to get into.  There are two factors that will impact your intended start line.
What shape shot are you playing?
What is the furthest left and right you can hit the shot?
If the golf course is one that you know well, chances are you are familiar with the edges of the hole.
Check out this picture below for an example: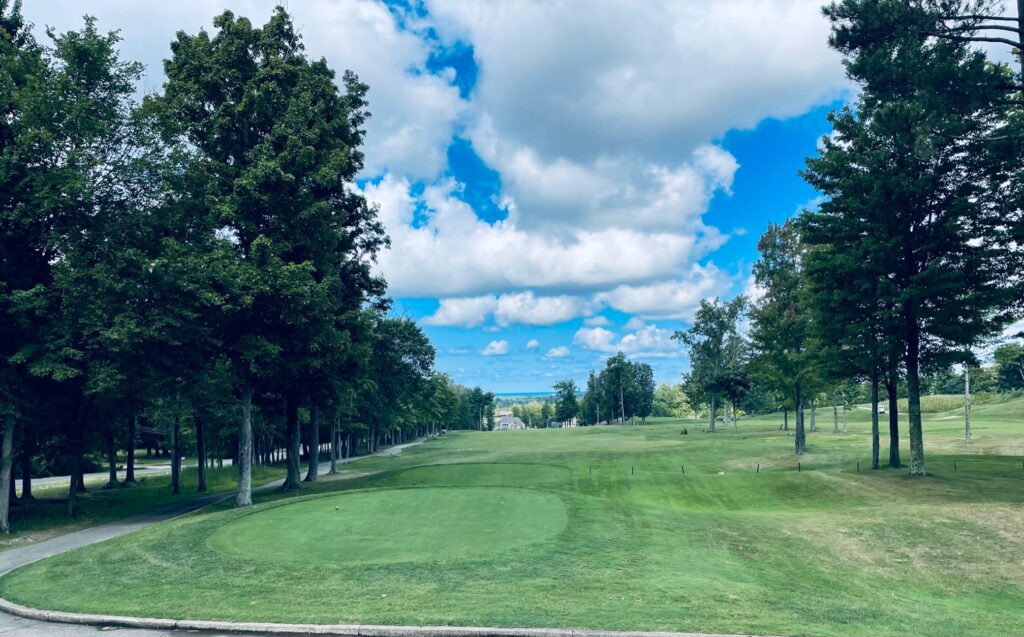 On this hole above, there is out of bounds down the left side and another hole that borders it to the right.  My aim point on this is the right edge of the fairway and here is my thinking:
I normally play a draw
If I hit my normal draw, I am in the middle of the fairway.
If I hit an overdraw, I am in the left rough.
If I hit it straight, I am on the right side of the fairway.
If I push it right, I am maybe on the hole that borders it.
As you can see from the 4 possible results above, my ball is going to be in play.  While some outcomes are more ideal, on this par 5, I still have a chance for a birdie regardless of where my tee shot ends up.  The one play I am avoiding is out of bounds.
Consider the course you play most often and think about what your start line should be based on the two key questions above.
Tip #3: Have realistic expectations
Understand that you might hit a poor drive or two over the course of 14 tee shots on the par 4s and par 5s.  If you hit one in the trees, punch it out and try to save par with an iron shot and a made putt.  Don't let your round get away from you with double bogeys or worse because you hit one or two poor drivers.  
Keep yourself in play and manage your round.  If you watch a PGA Tour event, you will see some poorly hit tee shots!  Don't worry, it happens when you are swinging a 46 inch club.
At the same time, continue to work on the stock shot drill and work to develop the clubface and swing path control that you need to become a great driver of the ball.
Tip #4: Use the tee box to your advantage
Do you give much thought to where you actually tee the ball up within the tee box?  Using the example above, I would go to the left side of the tee box and aim out to the right.  This helps eliminate the out of bounds left even more.  Use the edges of the tee boxes to maximize the angles and eliminate one side of the hole.
At a minimum, give it some thought when you tee the ball up to what your strategy is and where the ideal shot is and where the worst case scenario shot is.  Make the adjustment and use the entire tee box width to your advantage.  Being someone that hits a draw on just about every driver, you can often find me on the left side of the tee box aiming out to the right.  This gives my driver the most room to work with the draw that I hit.
Tip #5: Swing with conviction
Very few quality shots are ever hit when a golf has great indecision over the shot.  While you may fear certain shots, at least give yourself a chance by committing to the shot and making a full swing.  The golfer that gets quick or slows down in order to manipulate the golf club will often end up in the worst place possible.  
If it is a tough shot, don't try to ignore, instead tell yourself you are willing to live with the outcome that happens.  Commit to the shot and then step up and make a swing that is 100% committed to what you have selected.
Hit more greens in regulation!
On my home course, the 14th hole has out of bounds down the right side and you think about that out of bounds the entire time as you are getting ready to hit.  My solution is to aim down the left side and try to hit a slight draw.  There are several results that could happen:
A slight draw puts me in the left rough.
A straight shot puts in the left fairway.
A slightly pushed shot ends up in the middle of the fairway.
An overdraw ends up in the trees left.
I can live with 3 of the 4 being quality shots, and the 4th still providing me a chance to make par.  What I don't want is the ball out of bounds, staring at a double bogey or worse!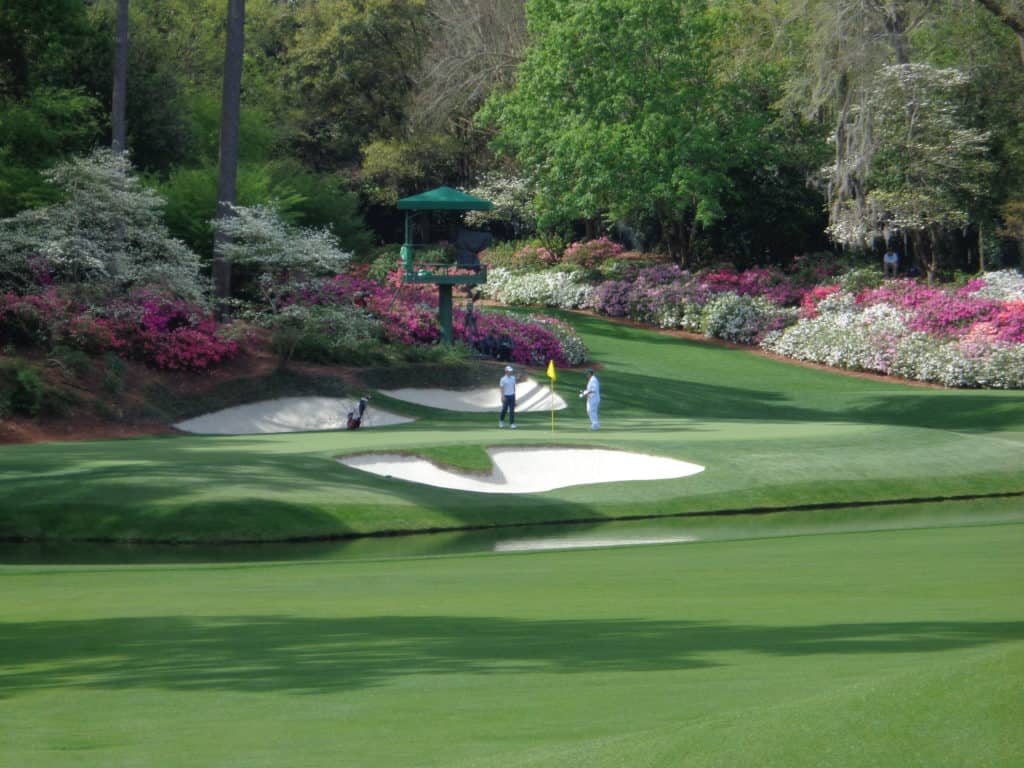 My Secret To Golf Improvement
Let's face it, in order to get really good at golf, we must practice frequently.  About four years ago, I made the leap and invested in a golf simulator build for my garage.  I went with a SkyTrak Launch Monitor and the TGC software and can now play over 100,000 courses including Augusta, Pebble Beach, Bethpage Black, Whistling Straits. St. Andrews and many other of the top 100 courses in the world.
This golf simulator setup, which is more affordable that you might imagine, has been a game changer.  I can now play golf everyday of the year regardless of rain, snow, cold weather or time of day.  I can practice or play rounds of golf.  I can stand in the 11th fairway at Augusta and with the auto-rewind feature I am able to practice my approach shots from various differences.
It is worth checking out through Rain or Shine Golf as they offer some incredible packages along with financing offers that are difficult to beat.
Some direct links to Rain or Shine Golf for pricing and financing:
Take Action – What You Can Do Today to Get Better
What does this mean for you?  I believe in the following recipe to get better:
1 – Improve your motion in the golf swing by identifying a golf instructor.  Here are some options:
Here is a list of golf instructors that we have reviewed:
2 – Train to swing faster and improve your swing speed.  Here are some options:
Looking to gain more Speed and Distance in your swing. Two Options:
3 – Understand course strategy and work to break through your next barrier.  Here is a series on breaking through:
We have provided guides on how to break 100, 90, 80 and 70. Check out more below, if interested.
4 – Practice Frequently
Did you know that I build a golf simulator in my garage and have played over 500 rounds of golf on my SkyTrak system?  It has been a game changer and one worth checking out. Here are some of my other posts on golf simulators frequently asked questions: