The best golf courses will change the hole locations everyday to protect areas of the greens, providing a new challenge to golfers who play everyday and to provide a fresh cut hole that plays in top condition and looks sharp.
Keeping golf courses looking great and playing even better is quite the task for golf course superintendents across the world.
Expectations for the quality of golf courses continue to increase as amateurs see the conditions that the professionals get to play on week in and week out on the PGA Tour.
Places like Augusta make it difficult to manage expectations as Superintendents face tight budgets, unpredictable weather conditions and difficulty in finding quality staff.
The most important area for many golf courses for a high percentage of amateurs are the greens.  The ability for a golf course to keep their greens in great condition, rolling smoothly and at the right speed is important to many golfers.
Wonderful tee boxes or beautiful fairways do not get talked about if the greens are in poor conditions.  Golfers want their greens in good condition.  This includes smooth, fast greens that are challenging, yet close to what a professional might get to putt in during a tournament or what you might find at a private country club.
One of the factors that lead to quality greens is the hole locations and the frequency in which they are changed.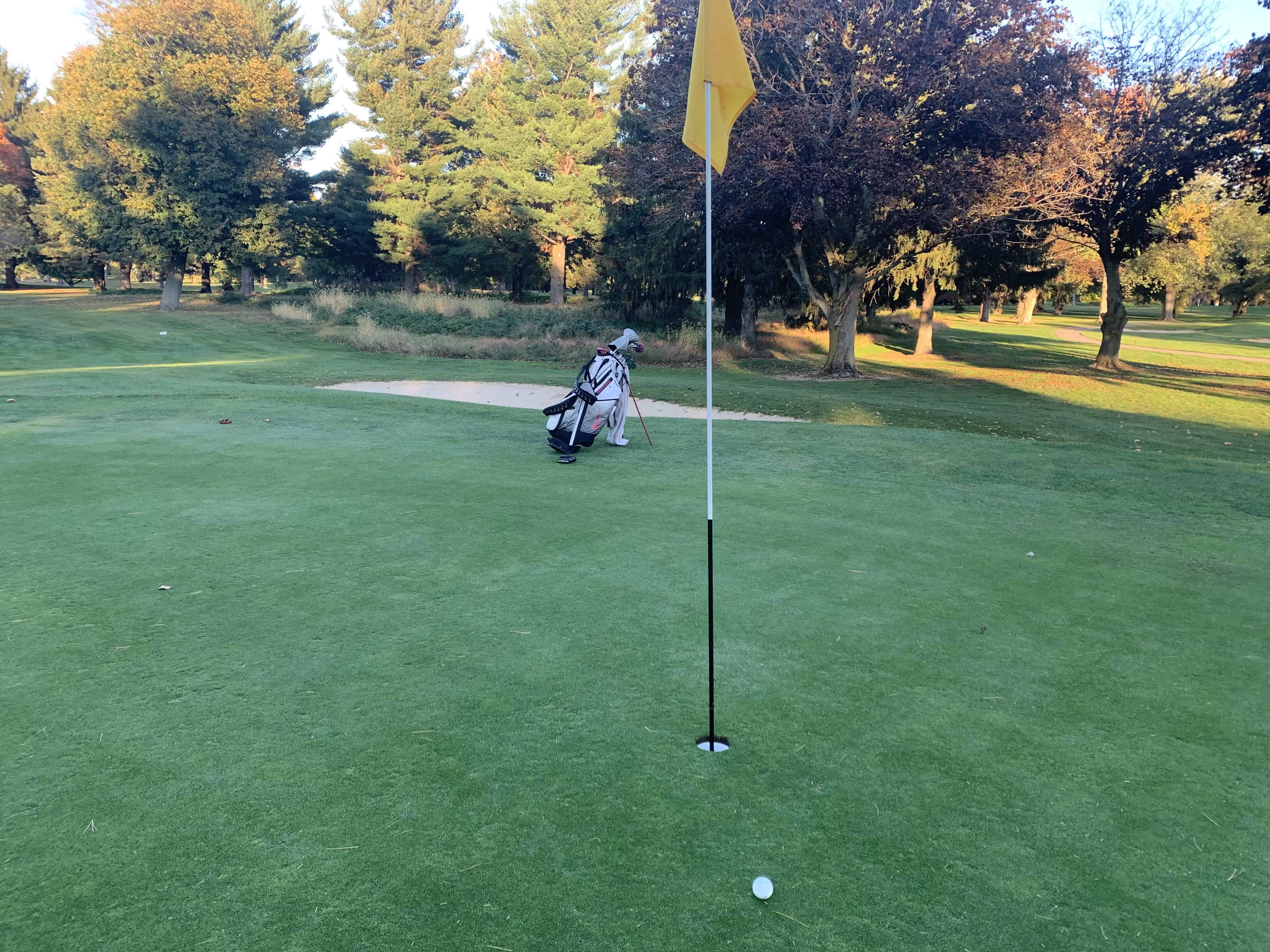 How often do golf courses change hole locations?
Update: It really comes down to the number of rounds on a golf course. If a course has 150 rounds in one, they will need to change everyday. If the course only has 40 rounds, they can extend this time!
Other golf courses might only change 6-12 holes per day and take into consideration how much play took place the previous day, the condition of the hole and the overall condition of the green.
Those golf courses with smaller greens might run out of options on a 7 day rotation and end up with too many plugs throughout the green.
Also, towards the beginning and end of a season when the total number of rounds might be reduced due to weather or available sunlight, golf courses will make adjustments based on this information.
Why do golf courses change hole locations?
#1: Protects areas of the greens
If 200-300 golfers come through a course on a given day and the hole locations are not changed, the area of a green could be damaged due to high foot traffic.  Also, as a new day starts, most golf course superintendents want to give golfers a fresh putting area inside of 20 feet.  The best golf courses are able to have a rotation and the hole can be on the opposite side of the green, providing protection to the area from the previous day.
If a golf course is anticipating fewer rounds on a specific day, they might skip changing every hole location.  The golf courses has to take into consideration the conditions of the greens and the areas available for a new hole location.
#2: Provides a new challenge
Golfers often have a home course.  There are golfers that will play a cours 5-7 days a week.  For those that play everyday, changing the hole location provides a new challenge each and everyday of the week.  Golfers might get frustrated playing the same hole location several days in a row.
#3: Fresh cut hole
The freshly cut hole provides the golfer with the fairest test of golf.  Overtime, a golf hole can become ragged and not sharp, changing the playing conditions from how golf was meant to be played.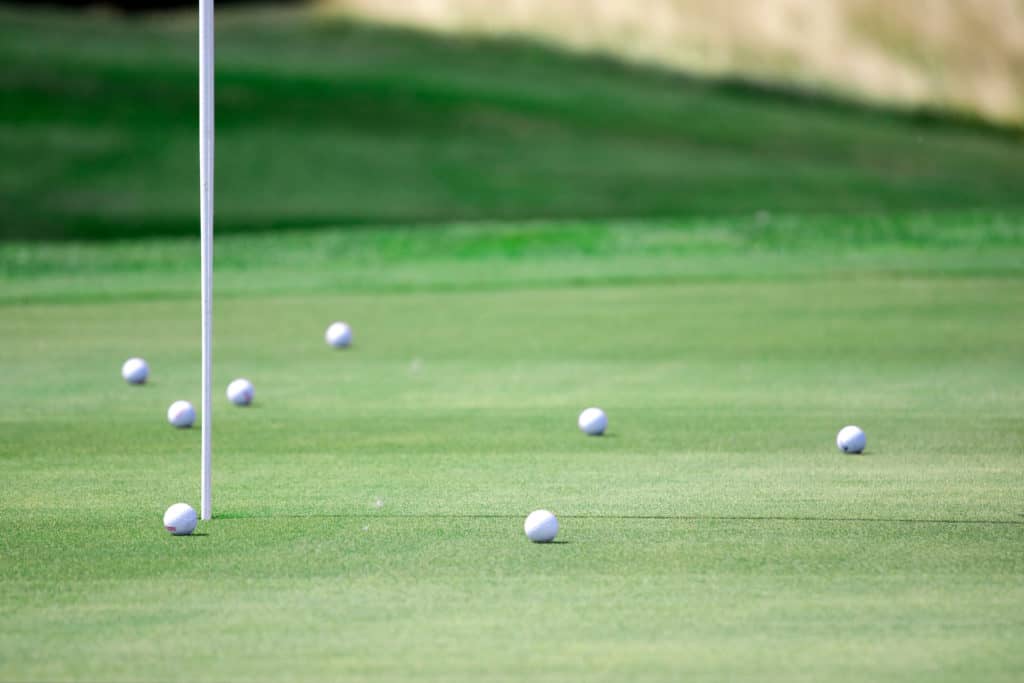 How are hole locations determined in golf?
The best golfers courses have a rotation and have 7 different areas of a green marked for every green.  For example, one day will be the number 1 hole locations, which will vary from green to green.  The next day will be number 2 and so on and so forth until all 7 hole locations are used throughout a week.
Where each number is on each green will vary from green to green.  For example, the number 1 hole location on the first hole might be the front right portion of a green, while on the 2nd hole it might be the back left.  This helps vary the hole location so that not every hole location is in the same spot on a green.  It provides variety and a different challenge for each hole.
The golf courses will provide golfers with the pin location for that day with a version of a pin sheet hanging in the cart when possible.  This gives golfers key information, similar to what a professional golfer receives from the pin sheet they receive at the start of every round.
For a professional tournament, hole locations are determine well in advance after studying previous hole locations and the overall challenge they want to provide over 4 rounds. They take into consideration green conditions, wind conditions and overall traffic patterns.
Tournaments like the Master's have some traditional Sunday pin placements that make it fun to watch every year.
Making Golf Fun: Superintendent's Revenge
Recently, I have heard about golf courses putting the most difficult pin placements in for a specific tournament each year.  I have heard it referred to as the Superintendent's revenge.  This will often consist of hole locations on severe slopes or close to an edge, maybe only giving the golfer 5-6 feet from the fringe.  While most goflers wouldn't want to play golf like this everyday, it does provide a fun challenge once a year!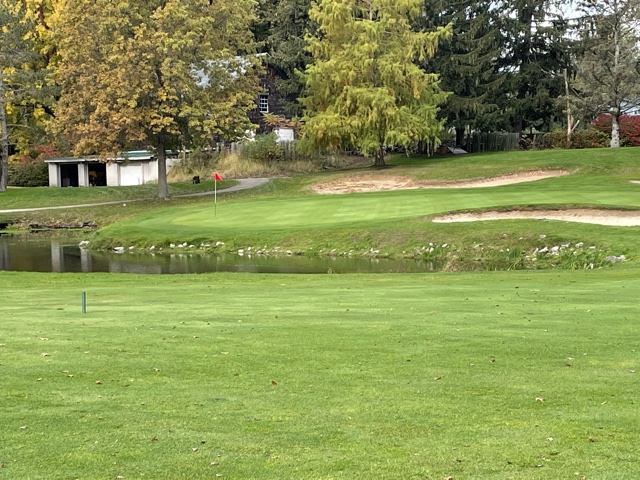 My Secret To Golf Improvement
Let's face it, in order to get really good at golf, we must practice frequently.  About three years ago, I made the leap and invested in a golf simulator build for my garage.  I went with a SkyTrak Launch Monitor and the TGC software and can now play over 100,000 courses including Augusta, Pebble Beach, Bethpage Black, Whistling Straits. St. Andrews and many other of the top 100 courses in the world.
This golf simulator setup, which is more affordable that you might imagine, has been a game changer.  I can now play golf everyday of the year regardless of rain, snow, cold weather or time of day.  I can practice or play rounds of golf.  I can stand in the 11th fairway at Augusta and with the auto-rewind feature I am able to practice my approach shots from various differences.
It is worth checking out through Rain or Shine Golf as they offer some incredible packages along with financing offers that are difficult to beat.
Some direct links to Rain or Shine Golf for pricing and financing:
Take Action – What You Can Do Today to Get Better
What does this mean for you?  I believe in the following recipe to get better:
1 – Improve your motion in the golf swing by identifying a golf instructor.  Here are some options:
Here is a list of golf instructors that we have reviewed:
2 – Train to swing faster and improve your swing speed.  Here are some options:
Looking to gain more Speed and Distance in your swing. Two Options:
3 – Understand course strategy and work to break through your next barrier.  Here is a series on breaking through:
We have provided guides on how to break 100, 90, 80 and 70. Check out more below, if interested.
4 – Practice Frequently
Did you know that I build a golf simulator in my garage and have played over 500 rounds of golf on my SkyTrak system?  It has been a game changer and one worth checking out. Here are some of my other posts on golf simulators frequently asked questions: