For some of us during the winter months, the only option to play golf is a golf simulator.  The difficult and cold winter months make playing real golf unrealistic. With the cost of golf simulators becoming much more affordable in the last decade or so, more and more people are able to make their dream a reality and build their own golf simulator for residential use.  Check out the great deals that Rain or Shine offers.
The process to build a golf simulator takes a decent amount of research, but is very doable.  Here at golfjourney365, we have created many posts that can help guide you through the process and answer many of the frequently asked questions about golf simulators. 
Gone are the days of paying 30-40 thousand dollars and a more realistic cost is now around 5-7 thousand. Check out the current prices on Rain or Shine Golf for their simulator packages.  They have some rather impressive deals that include financing and excellent customer service.
One of those questions that I often hear when people find out I have a golf simulator is…how real is the golf simulator, is it like real golf?  So we reviewed some comparative data and provide some personal insight into Golf Simulator vs Reality.
Let's first start with the data.  I have taken my last 15 rounds on my golf simulator and will compare it to my last 15 rounds in real golf.  Up until this post, I have never compared the data between Simulator Golf and Real Golf and I was shocked to see the comparison.  I knew that simulator golf produces very similar scores to real golf, but I never would have thought it was this close and realistic.
Golf Simulator vs Reality – Data and Analytics
Simulator Golf Score
Relative to Par
15 Total Rounds
Real Golf Score
Relative to Par
72
1
Round #1
76
4
75
0
Round #2
78
6
72
3
Round #3
74
3
81
9
Round #4
71
0
75
3
Round #5
70
-1
73
3
Round #6
71
0
75
3
Round #7
72
0
71
-1
Round #8
73
1
71
-1
Round #9
72
1
72
1
Round #10
74
3
73
3
Round #11
74
3
72
1
Round #12
74
4
72
1
Round #13
72
1
72
1
Round #14
73
3
76
4
Round #15
73
2
Totals





Totals



1102
Strokes
31


1097 Strokes
30
73.47
2.07


73.13
2
Simulator Golf vs Reality – Data Breakdown
Total Strokes (15 Total Rounds) = 1102 in Simulator Golf and 1097 in Real Golf
Total Strokes Over Par (15 Total Rounds)  = 31 in Simulator Golf and 30 in Real Golf

Average Score = 73.47 in Simulator Golf and 73.13 in Real Golf
Average Strokes Over Par = 2.07 in Simulator Golf and 2.0

Overall the numbers speak for themselves, but below I will talk about some of the differences in Simulator Golf vs Reality.  How crazy that after 15 rounds there is only a 5 shot difference? Having never done a data comparison before, I must say I am even more impressed with simulator golf.
Simulator Golf vs Reality – Courses
The courses I play frequently in simulator golf include Pebble Beach, Augusta National, Whistling Straits, Bay Hill, Le Golf National, Firestone and St. Andrews.  I currently use The Golf Club (TGC) Software (Read Full Overview Here on the TGC Software) which has over 100,000 courses and just about every famous or top 100 course in the world and the courses are truly amazing.  I have been fortunate enough to visit Augusta National and play Firestone. The courses look real and Firestone plays pretty true.
One factor that produced the results above is that I typically play from tees that range between 6,300 and 6,500 yards in simulator golf, which is the typical distance I also play from when playing real golf.  I want my simulator experience to be similar to real golf and as someone that hits a driver between 245 and 275, I want to be able to hit the approach shots that I would typically be hitting. Now on occasion, I will play Pebble or Augusta from the tips for a challenge, but I end up hitting many 4, 5 and 6 irons into the greens.  
One of the most fun elements of simulator golf is playing the courses that the PGA Tour is playing that week.  When you watch on television, you have a greater appreciation for the shots the pros are playing.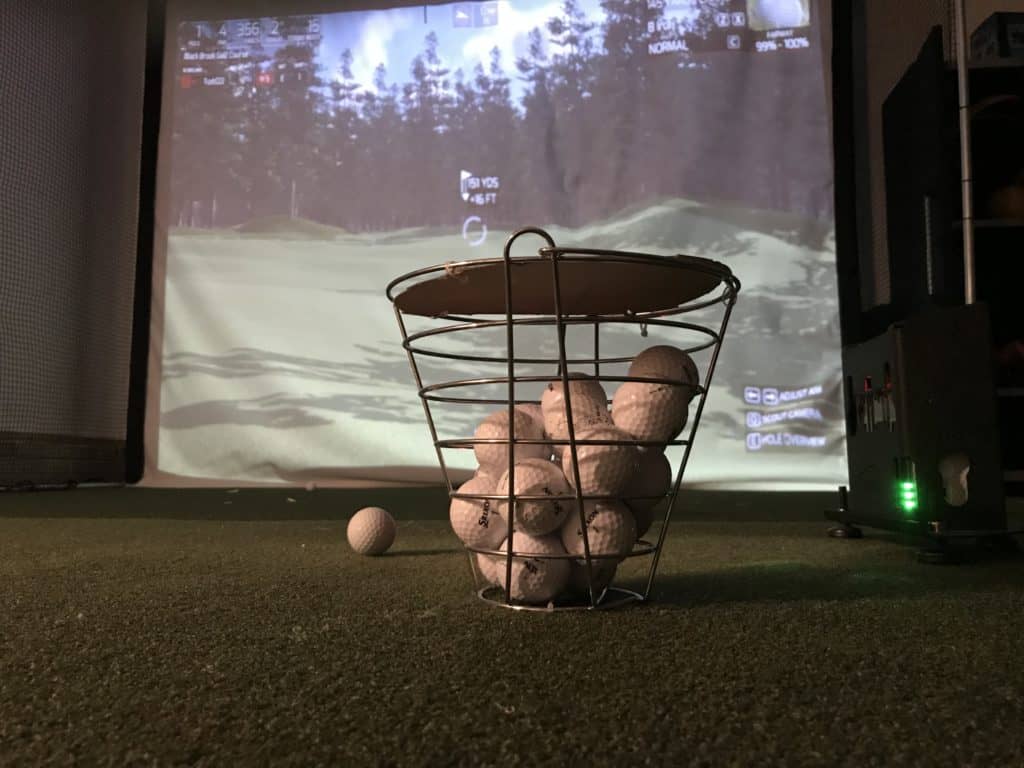 Simulator Golf vs Reality – Weather
As I look through some of my real golf scores, I see a couple of rounds that were impacted by strong wind.  This is a variable that I do not have to face in simulator golf, but could if I were to turn the wind on. Overall, when playing on my golf simulator, I am ultimately seeking feedback on how I hit the shot and with the wind off, I get accurate feedback, which allows me to adjust and get better based on feel and the numbers that are provided through the SkyTrak – Check Current Price Here.
Simulator Golf vs Reality – Fairways, Rough and Sand
While the SkyTrak system that I use does have some reduction when you are in the sand or rough, it is still easier to hit the shot from the perfect lie in simulator golf than when you are out on the course.  For example, Whistling Straits has a great deal of long, difficult rough around the perimeter of every hole, while the SkyTrak does reduce the distance, I don't have to worry about lost golf balls or hurting myself trying to hack out of the rough.
Simulator Golf vs Reality – SkyTrak 2-3 Second Delay
The SkyTrak system has about a 2-3 second delay from when you hit the ball, until when the shot tracer appears on the screen.  Prior to purchasing I thought this would be an issue, but I actually appreciate it because after hitting the shot, I can quickly think how that shot felt and see if my feel matches up with reality.  I would say 9 times out of 10 I can predict the shot distances and line with significantly accuracy. This has provided amazing feedback and is one of the reasons I believe I have improved since purchasing a golf simulator setup for my garage.
Simulator Golf vs Reality – Pace of Play
The pace of play is so much better in simulator golf than real golf.  Think about this, you don't have to walk or ride between every shot and you are able to get into a better rhythm.  Now this might help or hurt depending on if you are playing good or bad that day.
If you get on a good run of shots you can run with that feel and hit some amazing shots.  However, if you get into a rut, you have less time to get yourself out of that rut and can ruin your round faster. You don't have as much time for your self talk – good or bad!  I personally hate playing slow golf and being able to play 18 holes of golf in around 30 minutes is a major plus for me on the golf simulator.  
Simulator Golf vs Reality – Pre Round Warm Up
When playing simulator golf I often hit 10-15 shots on auto rewind to warm up, but when I am playing real golf, I often do not have time to go through a proper warm up as I play many rounds at 6am in the morning during the summer or am rushing from some other commitment if I am playing later in the day.  This helps me get off to better starts on the simulator golf. When I am playing real golf I have to ease myself into the round of golf and figure out what I am doing that day with swing. Golf is a journey and each round is its' own journey for sure!
Simulator Golf vs Reality – Distances
The distances I hit each club is very similar in simulator golf vs real golf.  I hit my 8 iron around 155 in both settings. The one advantage I see in simulator golf is that my drives typically roll more than in real golf.  Living in Ohio, the courses are typically somewhat soft in early spring and they have to water so much in the summer months to keep the course green that 10-15 yards of roll is significant, where in simulator golf getting 10-25 yards of roll on a downhill hole or a firmer courses is not uncommon. 
This leaves shorter distances in the hole, which can help your score. Also I have never lost a ball in simulator golf or have had to spend time looking for a ball you hit too far right or left!
Simulator Golf vs Reality – Wedges
The one area I struggle on simulator golf is the 30-60 yard range.  In real golf I am very much a feel player when it gets to that distances and I use my eyes to gather the distance, get the feel and then trust my body and mind to hit it that distance.  In simulator golf, getting that feel is a bit more difficult. I find that I hit my shots from those distances closer in real golf vs simulator golf.
Simulator Golf vs Reality – Putting
While the putting setup on the golf simulators has come a long way, the difficulty in reading greens and speed can have an impact.  It takes some time, but ultimately you learn to adjust and adapt to the settings and get better at simulator putting the more you play.
Simulator Golf vs Reality – Practice
I find that my practice routines in my simulator is much more beneficial than practicing at a driving range.  The ability to setup at different spots on a course and practice shots from the left side of the fairway that might require a draw or shots from a spot that requires a fade helps me develop that shot and the feel for when I go play real golf.  The auto rewind feature allows me to setup at some world famous par 3s and practice my irons.
I have seen the greatest improvements in my game in my irons because I can stand on #11 at Augusta and hit a 135 yard shot into that green all day and then head to #12, the famous par 3 and hit 8 or 9 irons. The practice feature are impressive.
There is a lot of buzz out there on the importance of practicing golf on a golf course and not at a driving range. On a golf simulator you get the best of both worlds, you can actually play in as little as 30 minutes or practice from areas you want through the auto-rewind feature. Do you struggle hitting a draw off the tee? Simply find a hole that requires a draw and practice your technique.
I have also used my simulator space to increse my swing speed by around 5%. Check out our two recommendations for increaseing speed in your golf swing. You know that everyone would like to hit the driver further!
SuperSpeed Golf – Read our Full Review
Gain 30-40 yards in 30 Days – Swing Man Golf

Simulator Golf vs Reality – Overall
The numbers speak volumes for how far simulator golf has come in providing realistic results and an experience that is fun and amazing. I truly appreciate the 500 rounds of golf I have been able to play in simulator golf and the fun and development of my game that has taken place.  LIke anyone else that works 40-50 hours a week with family commitments as well, the option to head into my garage and play a 30 minute round of golf on some of the best courses is the world is hard to beat!
If you are researching a golf simulator option for your house, check out our many resources linked below as we answer the frequently asked questions about simulator golf.
Interested in Building a Golf Simulator – What Vendor Should I Use?
I would highly recommend Rain or Shine Golf. They have aggressive pricing and frequently have products on sale.  Their customer support is excellent and also have financing programs that allow you to pay off your simulator over so many months.  I greatly appreciate the one stop shopping that is available at Rain or Shine Golf. They sell the Optishot, SkyTrak and used GC2s. Their golf hitting mats are of high quality.
Other Frequently Asked Questions about Golf Simulators?
Other Great Resources to Help You Improve Your Game
We have provided guides on how to break 100, 90, 80 and 70. Check out more below, if interested.
Check out our Recommended Products page on Golf Swing/Training Aids, Golf Balls, Golf Shoes and more.